Badger Spirits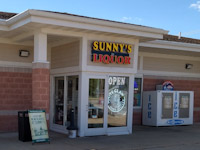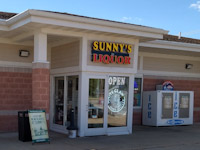 Store
2621 Prairie Ave
Beloit
,
Wisconsin
, 53511-2244
United States
(608) 362-3000 |
map
badgerspiritswi.com
Notes: Monday - Saturday: 10:00am - 9:00pm
Sunday: 12:00pm - 5:00pm
Reviews by EdTheEdge:

EdTheEdge from California
3.49
/5
rDev
-15.1%
vibe: 3 | quality: 3.25 | service: 3.75 | selection: 3.75
Most awesome store that I have found in Southern Wisconsin. Great selection of beers. Tons of mix sixers and a good selection of Founders and Southern Tier. This is a must visit for anyone seeking craft in this area.
They have another store in Janesville which carries pretty much the same product in a smaller store.
Jun 10, 2013
More User Reviews:

gopens44 from Virginia
4.04
/5
rDev
-1.7%
vibe: 3.75 | quality: 4 | service: 4 | selection: 4.25
Straight up liquor store with plenty of beer. Long coolers, long hot shelf and about for more cooler doors near the counter. Friendly enough staff, and the store itself was very well lit, roomy and clean. A few quick glance standouts - Surly, Toppling Goliath, Three Floyds and of course, New Glarus items were available. Nice place to stop for certain.
Nov 14, 2016
FBarber from Illinois
4.38
/5
rDev
+6.6%
vibe: 3.75 | quality: 4 | service: 5 | selection: 4.5
Have to give a shout-out to the guys at Badger Spirits in Beloit. Nothing special looking store, but they've got a great selection of craft beer. Available in six packs, singles or mix your own six packs. They also had an impressive collection of some harder to find top notch beers. Mike was very helpful offering suggestions, tidbits, and advice on finding some harder to find Wisconsin beers. All around this is what you want from a local beer shop.
Apr 27, 2016

ILoveBeerMe from Illinois
4.36
/5
rDev
+6.1%
vibe: 4.5 | quality: 4.5 | service: 4 | selection: 4.5
Just found this place after working 3 miles away from it for almost a year. Something of a beer noob, I didn't recognize all of the crafts they had on offer- somewhere in excess of 75 - most of which are available as a set-price singles mix and match. Also an impressive selection of world beers - which I recognized most all of, but didn't get any as I'm too busy devouring all the domestic crafts I can. Only gripe was that they didn't carry any Stone products. Otherwise, awesome selection for the wilds of the stateline. Woodman's in Rockford has a wider selection, but not in a pick n mix format. Plenty of other alco-bevs, but I was there for the beers! Will defo be back.
Aug 26, 2012

Lemke10 from Wisconsin
3.73
/5
rDev
-9.2%
vibe: 4 | quality: 4 | service: 3.5 | selection: 3.5
I stopped in while heading to a softball game in Beloit. I had heard from a number of beer sales people that they have a nice selection of mix and match so I gave it a try. Certainly a very clean place. There seemed to be 2 people working. Their help wasn't needed since I've worked in a liquor store for over 4 years. There were probably a good 75+ beers in their mix and match section. They also had a good 100ft beer cooler of various 6-packs and a small walk in beer cooler for mass produced beers. Fairly decent selection for a small city, and a lot better than a gas station or small grocery store. Minus almost getting short-changed it was a good expirence. I'm sure I'll stop in again.
Jun 02, 2011
AleWatcher from Illinois
4.15
/5
rDev
+1%
First off-- this place was a little tricky to find... I just put in the address into my Garmin, and figured I'd see it when we got close. Nope. It is tucked behind some other building, and both my wife and I missed it... Twice.
Finally we found it, and pulled up to park.
I was a little hesitant due to how small it looked from the outside, but once inside you see it is actually much larger than expected. The rear wall is about 60 feet long of coolers filled with beer. Facing those coolers on the shelf is mostly more beer. The coolers had a decent selection of Wisconsin beer (and being from IL, that is what I came here for!), and the facing shelves had a decent spread of singles to mix and match your own 6 pack.
I managed to grab 5 each of the Raspberry Tart and Wisconsin Belgian Red, as well as a couple 4 packs of the Cherry Stout from the NG unplugged series. And a 6 pack of Moon Man Pale Ale.
That was it for me... I was hoping to run into more from the unplugged series, but they only had the London Porter.
Either way-- the two fruit beers were both $8.50 for the 750 ML bottles... Which is much better than the $10.99 per that I saw at 2 other places.
The one employee working was quite helpful, and knew what beer he carried. He didn't seem too excited by the beers, but he was familiar with everything I asked about, and was polite and prompt in leading the way to them. Perhaps he is a great employee that just prefers wine?
This place will wow some out-of-towners with the selection of beers we cant get, but mostly just because we can't get them.
Not bad at all though, and if I drive through again, I'll most certainly be happy to stop once more!
Apr 18, 2010
strohme2 from Michigan
3.85
/5
rDev
-6.3%
I visited after buying a car at Bud Weiser Chevrolet (no joke!) to get some beers I can't get in Michigan.
Right off the bat I was impressed at the amount of cooler space and the row of singles available, although they weren't cooled. I also liked the 6pack mixer was one set price instead of charging by the bottle.
Service was average. There was only one guy working at the time and he was hanging out upfront.
Prices were about average too, what I'd expect to pay for a sixer of quality craft beers.
I was able to make it out of there with a case and a half for $66. Not too bad. Overall a good beer store.
Apr 16, 2010

TheSSG from Illinois
3.75
/5
rDev
-8.8%
I have a love/hate relationship with Badger Spirits.
They are about 20 minutes from where I live in Illinois, and they carry WI only bier (that is a great thing).
I really enjoy their selection. It really feels like they go out of their way to maintain a diverse and representative selection.
I also like that they keep most all of their biers open for mix-and-match 6-packs. This helps me try a LOT of different biers for a fraction of the cost.
The prices are a bit high, around $9 for an average 6-pack. That is anywhere from $1-3 more then I usually spend. Not a big deal, but it ads up.
On the plus, every $200 you spend with them you get like $10 store credit, so it helps offset the cost.
My biggest gripe is the freshness.
I saw some Two Brother's Brewery biers that expired in mid-2008. This is early, almost mid 2010.
There really is no excuse for this.
In my area (until Woodman's starting selling them), I generally have a hard time finding Two Brothers and Great Lakes that are not expired, or right near expiring, but this was a bit insane...
That really makes me question the freshness of most of their other bier...I end up second guessing a lot of the bier as I weigh "how much do I want to try it" versus "how long has this probably been sitting here?"
In the same vein, this can work to my advantage. Often when I am seeking a New Glarus Unplugged bier in, say, fall, but I want the one from earlier in the year, I can usually count on Badger Spirits having a few packs still (I find Beloit seems to be slated for distribution later than Janesville).
Overall, I do still go there somewhat often. Mind the dates and you will be in the good. But if you're just after New Glarus, a short trip to the Beloit Woodman's can save you a few bucks.
Mar 13, 2010
Bulkman from Minnesota
4.5
/5
rDev
+9.5%
I was in town visiting family and though this place is on busy Prairie Ave., I never would have noticed it, if not for the big sign out front. It is tucked around the back of a newer building that sits in the old parking lot of the former Shakey's Pizza. Sort of a strange setup for the building, but once inside, you'll be glad you took the trouble finding it.
One full cooler wall of about 40' long devoted to craft beer (except for a small amount of cooler space upfront with wine in it), with a heavy influence on WI beers not found in a lot of other places. One full 1/2 width island devoted to 6 pks of various brews too. The selection is on par with many of the best beer stores back home in the Twin Cities. Dogfish Head, Stone, Bell's, etc...are all represented as well as the best of WI; New Glarus, Tyranena, Capitol, etc...I was thrilled to find Great Lakes Brewing here & snagged a 6er of Edmund Fitzgerald, the highly sought-after porter.
Customer service is excellent, I was asked immediately if I was looking for something in particular, and again after I had been browsing awhile. Upon checking out, the gentleman at the counter thanked me for my purchase & was very friendly in making small talk.
Thankfully, this place is located only about 2 miles from my mother's house, so when I come in town to visit, I go right by it. That is good & bad, as my wallet will likely suffer.
Highly recommended.
Mar 02, 2010

hawks10 from Illinois
4.35
/5
rDev
+5.8%
Stopped in this past Friday morning on my way up to our house on Lake Wisconsin...through some research on beerfly, I found this was probably the best stop right over the border from IL, and within 5 minutes of the highway.
Walked in and was immediately greeted and asked if I needed any help...very friendly. One entire wall is covered in coolers with a great selection of Wisconsin craft beers (the only kind I really cared about at the time). Huge selection of New Glarus, Ale Asylum, Lake Louie, Central Waters, etc...Had a good mix your own six pack selection too, and I believe it was $9, with some good values to choose from.
On checkout talked to two employees for a few minutes, very very friendly...
Would recommend this store to anyone from IL heading up 90 into Wisconsin. Only 5 minutes off highway, big store selection with small store ease and friendliness.
Jun 30, 2009

kdog630 from Illinois
4.15
/5
rDev
+1%
Drove past the place twice before finally seeing the sign by the road. The place itself is to the back of the building.
This place as an excellent selection and the cooler section takes up an entire wall. The person working the register was very helpful and engaging. She told us about some other beers they had that might fit with our slections and about some they would be expecting in the future. Over all, a good experience.
I don't get to Beloit very often, but I'll make a point to go to Badger Liquors when I do.
May 08, 2009

emerge077 from Illinois
4.15
/5
rDev
+1%
Stopped in today on the way home from Madison, this shop is about 5 minutes from the state line. The store was hidden away behind a payday loan place on the corner, with a red LED sign visible from the light at the intersection. "Lake Louie beers are now here!" it proclaimed. Just what I was looking for! I bought some Kiss the Lips IPA, and Central Waters. This is also as far south that I have seen the full line of O'so beers. Other regional WI staples such as New Glarus, Central Waters, Ale Asylum (Ballistic), Capital, Tyranena, South Shore, and a few others. Also Oskar Blues, Stone, and the usual WI goodies. There were singles lined up opposite the coolers for mix-a-six. Prices were $1+ less than in Madison for some things.
The guy working helped me locate the Lake Louie, and I left happy. A great local-owned craft beer stop that isn't far over the border if you're heading up from the Rockford area...
May 04, 2009
zook74 from Wisconsin
4.5
/5
rDev
+9.5%
My favorite new beer store! I just wish it were in town so I could visit more often (actually...maybe that's a good thing).
A great selection of craft microbrews. Lots of single bottles that can be mixed and matched into a custom, reasonably-priced six pack ($8.99 if memory serves). Plenty of rare and hard to find beers. There's always something new to try when I visit and Tony is always offering to order anything that he doesn't stock (though I've yet felt the need to take him up on it).
An excellent beer store that I'll continue to visit. And...as an added perk, there's a punch card that earns you free beer!
Jul 01, 2008
Badger Spirits in Beloit, WI
Place rating:
4.11
out of
5
with
14
ratings