American Brown Ale
| St. George Brewing Company, The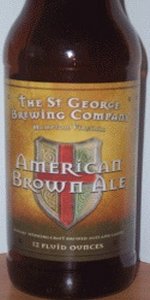 BEER INFO
Brewed by:
St. George Brewing Company, The
Virginia
,
United States
stgeorgebrewingco.com
Style:
American Brown Ale
Alcohol by volume (ABV):
5.50%
Availability:
Rotating
Notes / Commercial Description:
No notes at this time.
Added by asabreed on 01-19-2006
Reviews: 32 | Ratings: 37
3.57
/5
rDev
-6.5%
look: 3 | smell: 3.5 | taste: 3.5 | feel: 3.5 | overall: 4
A: Dark brown, nearly black body with no real head to speak of and very little lacing.
S: Toasty malt and coffee notes, not very powerful. Little bit of a chocolatey and clean profile.
T: Smooth toasted malt flavors with a mocha and slightly hopped tinge for a decent finish. Not extremely robust, but flavorful nonetheless.
M: Light on the palate, almost a bit watery. Adequate carbonation level, not too much.
D: Would have another, and more if used as a session beer. It's not an incredible brown ale, but definitely above average. It does the job in the smoothness department, which enhances its drinkability.
626 characters

3.88
/5
rDev
+1.6%
look: 4 | smell: 3.5 | taste: 4 | feel: 4 | overall: 4
Presentation: 12 oz brown bottle, no dating of any kind, poured into a pint glass.
Appearance: Poured a deep dark brown color, almost black but not quite. The head formed a creamy one finger thick and faded into a thick lace.
Aroma: Roasted malts dominate throughout. There's just a hint of some floral hops but barely.
Taste: The roasted barley is the first thing I got from this, along with some caramel and coffee flavors. Some hoppy bitterness gradually materialized in the middle, and strengthened towards the finish.
Mouthfeel: Thick, almost chewy. The carbonation was in good balance.
Overall: This is a pretty good American brown ale. I'd like it to be a little more sweet, but even with that it's definitely worth trying if you're a fan of the style.
764 characters

3.73
/5
rDev
-2.4%
look: 4 | smell: 3.5 | taste: 4 | feel: 3.5 | overall: 3.5
Poured a very dark brown color into a pint glass. The head was cream colored and about 1/4th of an inch tall, and it left a significant bubbly lace.
The smell was of sweet roasted barley, and this was predominant. I was able to smell some hops, but they were very well masked by the roasty scent.
Taste, The body was very big roasted flavor, but the hops kick in for a nice long lasting bitter finish....this finish toward the end turns slightly sweet and a subtle but present coffee flavor reveals itself.
M/D: This was pretty heavy for a brown ale, and had an almost chewy mouthfeel. The carbonation was on par for what I was expecting from a American brown. I was a little heavier on the stomach than I was expecting as well.
739 characters
4
/5
rDev
+4.7%
look: 4 | smell: 4 | taste: 4 | feel: 4 | overall: 4
Also found this in the Dragon Pack - Poured into a teardrop - Nice dark color - not much head but nice lacing - Nose of dark chocolate carries into the palate and continues with a nice finish - OK so its an American English Brown but it is quite acceptable - I just might have another
284 characters
3.95
/5
rDev
+3.4%
look: 4 | smell: 4 | taste: 4 | feel: 3.5 | overall: 4
Purchased in the mixed Dragon Pack, this was the second best brew in there next to the Porter. Dark mahogany brown with a densely knit cap of wheat hued froth that retains well and leaves some patchy lace.
Aroma is dark, roasty malts, toasted nuts, caramel, cocoa, hints of leather, and some piney hops.
Flavor is well balanced between roasty, caramel malt, chocolate, and a pleasantly bitter nip of pine and floral hops.
Body is between light and medium, with a slick, creamy texture and fizzy mouthfeel from the high level of carbonation. Definately easy to drink and quite a solid offering.
602 characters

3.65
/5
rDev
-4.5%
look: 3.5 | smell: 3.5 | taste: 3.5 | feel: 4 | overall: 4
Iam not sure if this is the same as the brown ale listed here but it says American Brown Ale on the label so I went with it,poured a deep chesnut brown with a thin somewhat fizzy light brown head,aromas of bitter chocolate and raw earthy nut keeping with the American hop profile.Pretty smooth and easy going down lightly sweet up front caramel and roasted nut becomes more raw and earthy in to the finish.A nice brown like I said not sure if it is under the already mentione brown ale review but this is no English brown and says American right on the label.
559 characters
3.83
/5
rDev
+0.3%
look: 4 | smell: 3.5 | taste: 4 | feel: 3.5 | overall: 4
12 oz. bottle from the Dragon Pack, labeled "American Brown Ale," into a pint glass (though yes it's the English style -- I think? Unless I'm wrong this review is for this beer, but we shall see I suppose).
Appearance: Lots of darkness, bubbles, and, again, dark a huge dark amber hue permeating the brew. A vigourous pour but the head dissipates quickly but quietly. Lacing's splotchy, spotty, from the top to the middle, and makes some kickass and crazy patterns. Why is this so damn red? Liking it a lot.
Smell: Some dark malt, slightly toasted, dark bread, yeast, and heavy nuttiness without the sweetness.
Taste: Starts out at a nice and somewhat unexpected meld between malt and hops. Lingering malt sweetness, yeastiness, nuttiness, breadiness, finishing with a fainting hop tinge on the tongue. Quite a balanced but not going out-there-for-the-complexity-and-getting-too-crazy Brown.
Mouthfeel: The carbonation seems just right, but there's a little too much slickness going on, taking away from what I wish was a more full brew in the mouth. Body is medium, and again that makes sense with the carbonation being not overpowering but nearly just right. But the overall slickness factor just seems to take a bit away from it.
Drinkability: Definitely a tasty brown ale. This is personally not my favorite style, but I could surely drink one of these again. And though the complexity's nothing astounding, it's balanced enough to be tasty for what I imagine many people would deem as a session-worthy brew.
1,532 characters
American Brown Ale from St. George Brewing Company, The
3.82
out of
5
based on
37
ratings.