White Cloud Amber Ale
| Sun Valley Brewing Company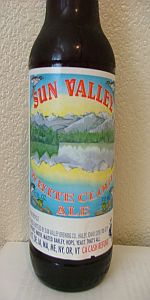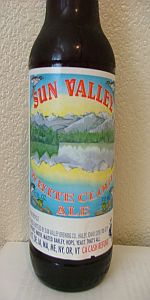 BEER INFO
Brewed by:
Sun Valley Brewing Company
Idaho
,
United States
sunvalleybrewery.com
Style:
Extra Special / Strong Bitter (ESB)
Alcohol by volume (ABV):
not listed
Availability:
Year-round
Notes / Commercial Description:
No notes at this time.
Added by beerguy101 on 09-26-2003
HISTOGRAM
Ratings: 7 | Reviews: 5
Reviews by beerguy101:
3.3
/5
rDev
+15.8%
look: 3 | smell: 3 | taste: 3 | feel: 4 | overall: 4
Medium brown color, small head. Medium bodied ale, spicy flavor, clove and coriander? Malts are slightly sweet, slightly hoppy. Smooth taste. Mouthfeel is full and round. Finish is full and smooth. Aftertaste is slightly malty, Mellow flavor, nice beer.
253 characters
More User Reviews:

1.44
/5
rDev
-49.5%
look: 3 | smell: 1.5 | taste: 1 | feel: 3 | overall: 1
It pains me to trash a beer, but this brewery needs a swift kick in the pants. I arrived in Sun Valley for a wedding and was eager to try the local brew. My first taste of Sun Valley Brewing came with a six pack of White Cloud Ale purchased from a supermarket in Ketchum, about 10 miles from Hailey.
Neither the label nor the holder indicated what kind of beer it was. Was it a White Ale as the name almost implies? Was it a more generic American Ale? Who knows. (I see that on BA it's listed as an Amber).
It poured okay and a quick sniff and sip made me wonder if I was picking up coriander, thus confirming this as a White. But upon second and subsequent sips, I realized it was just off. Oxidized? Probably. Infected? Way more likely.
I hadn't planned on reviewing it because I hoped it was just an isolated incident, but at a bar the next day in Ketchum, I ordered Sun Valley Gretchen's Gold Lager and it was even more sour. For the first time in my life, I returned a beer (luckily they had Moose Drool and Alaskan IPA on draft).
I couldn't finish either of these sour beers (and not like it's brewed intentionally with Brett). I found out that the brewmaster I'd heard of, Gordon, left around 2003. Whoever the new guy is, he needs to clean up the brewery and get back to basics with brewing.
1,303 characters
2.56
/5
rDev
-10.2%
look: 4 | smell: 3 | taste: 2 | feel: 3 | overall: 2.5
12oz from the 16th St. Albertsons for about $1.30.. poured into my small weizen glass.
Descent head and lacing.. atop a polished copper/amber brew.
Nose is minimal across the board.. some maltiness and whiffs of caramel.. maybe some grassy hops, but I could be imagining things.
Weird sour finish.. bitterness is out of wack, but doesn't even neccessarily seem like a "hop bitterness".. more like a metallic flavor at the front of the palate... thin across the board needs alot more malt flavors and hops.. watery.. It reminds me of what my mind thinks a NA brew would taste like.. there are background flavors reminicent of malts, but none of the expected sweetness is there.. this beer really is a mess... I will try to finish, but this may be my first drain pour in a long time.
Sun Valley brewing has needed alot of work for at least the last 3-4 years ... for some reason the locals love them, but seriously.. these recipes need to be dialed in.
954 characters

3.75
/5
rDev
+31.6%
look: 3.75 | smell: 3.75 | taste: 3.75 | feel: 3.75 | overall: 3.75
3.59
/5
rDev
+26%
look: 5 | smell: 3.5 | taste: 3.5 | feel: 3.5 | overall: 3.5
Drank out of a nonic pint glass. Bought a six pack of Gretchen's Gold and replaced one of the little ladies with one White Cloud.
Appearance- Pours a clear rusty burnt orange that breaks to a very metallic looking orange at the bottom of the glass. Nice thick, creamy head that holds very well. Sticky, creamy head laces nicely down the side of the glass. Very attractive.
Smell- Big burst of lightly roasted sweet malts hits the nose. A very subtle citrusy note comes through. Has that same smell that Rogue brews get from there yeast. Also has that same metallic taste that the other Sun Valley brews I've tried had.
Taste- A very sweet, caramely malt taste hits the tongue followed by a very bitter burst of berry/grapefruit. After the initial taste, the citrusy hop bitterness is what takes the flavor over. Slight aluminum taste is hidden under the initial wave of flavors. Finishes with a bitter grapefruit taste on the back of the throat. A very small warming alcohol note comes through in the aftertaste along with subtle floral tone. Slightly astringent.
Mouthfeel- A medium carbonation lends nicely to the very slick, wet feel. Has a medium dry finish that leaves the tongue really noticing the bitterness.
Drinkability- Not bad at all. This beer really reminds me of Rogue's St. Red Ale which I really like. If the store was out of Rogue, I wouldn't hesitate to purchase this bad boy.
1,399 characters
2.85
/5
rDev 0%
look: 3.5 | smell: 3.5 | taste: 2.5 | feel: 3 | overall: 2.5
Dark, ruddy apricot with tangerine highlights. Up top is a better than decent looking beige cap that picks up a hint of pale orange from the beer on which it sits. An attractive lace display is probably the highlight. I thought I was pulling a witbier out of the fridge, but this is clearly a red ale. Hey Sun Valley, maybe you need to think about changing the name.
The nose is malt-dominant, lightly earthy and faintly sweet smelling. I don't believe that hops will be much of a factor. So far, White Cloud Ale is a damn sight better than Gretchen's Gold. Let's hope the good vibes continue.
Gack! The good vibes are gone as soon as beer hits palate. What in the world are these guys doing to their beer out there in Hailey? The nose gave no indication of the nastiness that is White Cloud. Storm Cloud would be a far more appropriate name.
This stuff tastes like a poor quality Oktoberfest (earthy, caramel-like, toasted nutty), mixed with a red ale, mixed with rotten fruit, mixed with a few drops of vinegar. It isn't as abhorrent as my first mouthful led me to believe, but something is still seriously amiss. I can't believe the brewers meant for it to taste this way.
Although the mouthfeel is no great shakes, it probably deserves to be called average. To be more specific, it's light and adequately carbonated. Serviceable is a word that comes to mind.
Sun Valley had two chances to impress me and failed miserably on both counts. White Cloud isn't quite as bad as Gretchen's Gold, but is certainly doesn't deserve to be called good. Why are there no white clouds on the label? Let's wrap this up with a one word summary. Avoid.
1,643 characters
2.48
/5
rDev
-13%
look: 2.5 | smell: 2.5 | taste: 2.5 | feel: 2.25 | overall: 2.5
White Cloud Amber Ale from Sun Valley Brewing Company
Beer rating:
2.85
out of
5
with
7
ratings