Gretchen's Gold Lager
| Sun Valley Brewing Company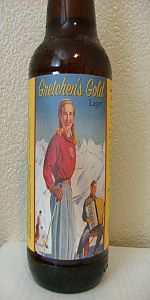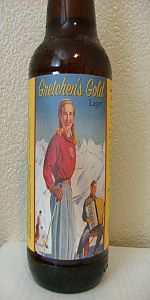 BEER INFO
Brewed by:
Sun Valley Brewing Company
Idaho
,
United States
sunvalleybrewery.com
Style:
Munich Helles Lager
Alcohol by volume (ABV):
not listed
Availability:
Year-round
Notes / Commercial Description:
No notes at this time.
Added by younger35 on 03-10-2007
HISTOGRAM
Ratings: 9 | Reviews: 8
Reviews by jdskinns:
1.46
/5
rDev
-33%
look: 3 | smell: 2 | taste: 1 | feel: 2 | overall: 1
Not trying to trash a beer here, but as other reviewers have said, there's definitely something wrong here.
Had the appearance I would expect from a lager, light in color and translucent.
Smell was definitely off from the beginning. As soon as I took a whiff all I got was sour notes.
Taste was just bad. This had a sour taste that no lager should ever exhibit. I'm 99.9% this should not have tasted like it did.
After dumping the first I opened a second to see if the same problem occured. It was the same way and after reading other reviews I'm thinking this is just a beer that needs a lot of work somewhere along the way.
630 characters
More User Reviews:

1.32
/5
rDev
-39.4%
look: 3 | smell: 1 | taste: 1 | feel: 3 | overall: 1
It pains me to trash a beer, but this brewery needs a swift kick in the pants. I arrived in Sun Valley for a wedding and was eager to try the local brew. My second taste of Sun Valley Brewing came with a bottle of this Gold Lager ordered from a bar in Ketchum, about 10 miles from Hailey where it's brewed.
I ordered this to give the brewery a second chance, since the White Cloud Ale I had the day before was patently awful.
It poured okay and a quick sniff and sip made me sure that the previous day's dud wasn't just a one-off as I'd hoped. I realized it was just off. Oxidized? Probably. Infected? Way more likely.
After a couple sips, I took it back to the bar and told the bartender, saying I wanted to try the local beer, but couldn't drink it. He said it's sort of a sour beer. No Lager is intended to be a sour beer. He added that it's sort of an acquired taste, but happily replaced it with a real beer.
I couldn't finish either of these sour beers (and not like it's brewed intentionally with Brett). I found out that the brewmaster I'd heard of, Gordon, left around 2003. Whoever the new guy is, he needs to clean up the brewery and get back to basics with brewing.
1,181 characters
1.48
/5
rDev
-32.1%
look: 1 | smell: 3 | taste: 1 | feel: 1 | overall: 1
12oz bottle
App: Amber with a frothy white head. A slight haze which is odd. A few dark particles are floating. I hope it's from a dirty glass.
Smell: Honey and apples. Very much like a mead or a white wine. I can't tell if it's pleasant or not, we'll see based on the taste.
Taste: Starts with a bit of a sourness. Ends with a dense, yeasty malt taste. A rather light, dry flavor. Tastes like a first attempt at a homebrew.
A sticky mouthfeel, almost soapy.
This is the first beer I'm going to chuck.
506 characters
2.96
/5
rDev
+35.8%
look: 3.5 | smell: 2.5 | taste: 3 | feel: 3.5 | overall: 3
12 oz from the Coop for about $1.35... poured into my New Belgium goblet.
Aggressive pour left a short lasting 1" white head atop a very clear straw gold brew... no lacing at all.
Aroma is a metallic mix of pale malts and corn... not DMS... just corn... only the bare slightest touch of citrus hops... uninspiring.
Flavor is the same as the nose but with more maltiness... the light/medium body is the biggest attribute of an otherwise very very average brew... On a positive note, this brew does taste pretty fresh.
It's also been a couple years since I've had this one; I had high hopes that Sun Valley has tightened up the operations...but I am disappointed in the end.
676 characters
1.42
/5
rDev
-34.9%
look: 3 | smell: 1 | taste: 1 | feel: 4 | overall: 1
I'm not much for reviewing beers in general, and for the most part I'm not picky. However, this beer was bad enough I had to share my experience.
A friend brought back a 6 pack from his family trip to Ketchum as he knows I love to try new beers.
Decent carbonation. Color of apple juice. In fact, it looks just like apple juice as the head all but vanishes shortly after pouring. The clarity is average with a slight chill haze that clears as the beer warms.
Onto the worst part. The aroma smells like a mixture of yogurt and honey which doesn't really make it offensive, but it I can't believe this was intended. Then there is the taste. Noticeable lactic sourness, combined with a vague buttery flavor and hint of a sherry-like oxidation. Just not tasty a tasty combination. Think carbonated aged California style Chardonnay mixed with yogurt whey and honey.
I have to wonder if lactic acid bacteria made its way into this beer as I also noticed some dusty looking sediment at the bottom of the bottle. Odd as I would assume a lagered beer wouldn't be bottle conditioned.
On the other hand... I wonder if I could use the dregs for a homebrewed sour beer?
1,164 characters

2.75
/5
rDev
+26.1%
look: 2.75 | smell: 2.75 | taste: 2.75 | feel: 2.75 | overall: 2.75
2.53
/5
rDev
+16.1%
look: 3 | smell: 2.5 | taste: 2.5 | feel: 2.5 | overall: 2.5
On tap at brewery. Light, too light, not enough flavor, but would sit against any macro lager. Not much else to say, but this ones also on the bland side.
154 characters
3.39
/5
rDev
+55.5%
look: 2.5 | smell: 3.5 | taste: 3 | feel: 4 | overall: 4
Drank out of a nonic pint glass. Pretty cool picture of some Gretchen chick who was the first American women to win a gold medal in the 1948 Olympics. Nice little story about her on the side.
Appearance- Pours a golden apple juice color. Looks almost exactly like apple juice with the lack of bubbles and head that form. Forms an ultra thin layer of bubbles around the top of the beer where it touches the glass.
Smell- Has a very gentle fruit like qualities. Blueberries and a quite vanilla seem to be the defining quality of this beer with subtle bready malt undertones. Smells sweeter than you would expect.
Taste- A very crisp, unique taste from this beer. It has some underlying blueberry/vanilla tones that taste odd at first. A little bit of maltyness that leaves a very sweet feeling in the back of the throat. Also has a unwanted metallic taste to it. Almost no bitterness to this beer at all leaving the malt sweetness somewhat unbalanced. A very nutty vanilla aftertaste.
Mouthfeel- Very fine carbonation bubbles tickle the tongue nicely. Quite a bit more carbonation from this beer than what I expected considering the look. Feels very crisp, and slick.
Drinkability- This beer is very unique. It has an oddly strange flavor combination that I didn't really like at first, but after a few drinks, grew on me. Not sure of the ABV on this little lady but doesn't seem too high. If I was really craving a unique tasting lager, I might call Gretchen.
1,461 characters
2.33
/5
rDev
+6.9%
look: 3 | smell: 2.5 | taste: 2 | feel: 2.5 | overall: 2.5
This review is one half of Macro Smackdown XXI, the twenty-first such competition between the... uh... less interesting members of the craft beer world. I try to make these AMLs a little more interesting by drinking and reviewing them side-by-side. Neither one of these two is widely distributed, so this is almost certainly the first time they've been directly compared. Lucky me.
Bold gold with a hint of orange. The cap is probably closer to ecru than white, but comes off as dingy white in the end. The foam displays a bit of rockiness as it falls and is pathetic when it comes to lace deposition. The Yuengling product looks noticeably better.
Compared to its competitor, this nose is less aromatic, softer and less grain-like, with a hint of lemon citrusiness. It smells more like an American pale wheat ale than the stated style. The brewpub says that it contains 'a hint of wheat', but I'm not sure it's enough to matter in the end.
I'm not sure what to make of Gretchen's Gold. Actually, I'm not sure that it belongs in a macro lager competition because it doesn't really taste like one. What style is does taste like isn't immediately obvious. It has the blandness on an APWA... and very little else.
There's a hint of lightly sweet pale malt, virtually no hops and an off-flavor that I can't place. There isn't any yeastiness either. This stuff is unexciting in the extreme. It doesn't taste old, although I can't figure out the notch on the label that would confirm that impression.
The mouthfeel is a fraction more full on this beer. Still, it doesn't reach medium and barely reaches light-medium. I like the (hint of a) malt sugar linger. A few more bubbles would help matters.
Prior to the opening bell, I thought Gretchen's Gold had a good chance to win the MacSmack XXI crown. Even though its competitor is nothing to write home about, this Sun Valley beer is so devoid of personality that is comes out the clear loser. That mysterious off-flavor didn't help either. I'm willing to believe that it's better on-tap.
2,038 characters
Gretchen's Gold Lager from Sun Valley Brewing Company
Beer rating:
2.18
out of
5
with
9
ratings