Bar Louie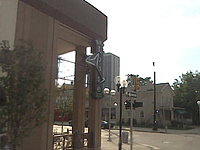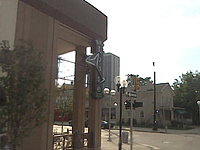 Bar, Eatery
401 E Liberty St
Ste 200
Ann Arbor
,
Michigan
, 48104-2296
United States
(734) 794-3000 |
map
barlouieamerica.com
Notes:
Reviews: 6 | Ratings: 13
3.15
/5
rDev
-12.3%
vibe: 4 | quality: 3 | service: 3 | selection: 3 | food: 3.5
Decent atmosphere, local selection isn't anything better than your average bar these days. Food's OK. There are many other, better choices in Ann Arbor to either get a burger or a beer.
185 characters

3.26
/5
rDev
-9.2%
vibe: 3.75 | quality: 3.75 | service: 1.75 | selection: 4 | food: 3.25
A pretty decent draft selection, though half the time they are out of the beers I want. The food is meh, as expected from this place. Football and other sportd always on and a decent atmosphere. Clean. Gets very busy so get there early. All in all, this is a last resort in Ann Arbor though.
291 characters
3.58
/5
rDev
-0.3%
vibe: 3 | quality: 3.5 | service: 3 | selection: 4.5 | food: 3.5
My friends and I avoided this place for quite some time because it's very chain like. There isn't really anything special about the atmosphere and the food is good but it's not anything special.
What is special is the beer selection. Bar Louie does a great job of having many craft beers on tap and I am very happy that they represent a lot of local Michigan breweries. They had Founders Imperial Stout, Bells Hopslam, and Bells Double Creame Stout on tap which were all beers I hunted around to find. It's also a nice place to go because it's a little ways away from South University, which is where all the college students go to drink.
Having gone here on the Thursday we found a place to sit right away and we all were pleased.
Also family guy was on the tv which is always a win.
788 characters
3.65
/5
rDev
+1.7%
vibe: 4 | quality: 3.5 | service: 3.5 | selection: 3.5 | food: 4.5
The atmosphere of this place is great: dimly lit surroundings, nice urban furnishings, flat screens showing sports games without being obnoxious... the whole place has an air of being a step up from the surrounding Ann Arbor bars. Also, the food is very good: a lot of great appetizers to complement your beers, or something more hearty. The presentation is amazing.
However, I only wish they put the same attention to their beers. For the bottles available, there seems to be a mix of the bad and the good, but mostly the bad: for people who want to try (new) good beers it's hard to differentiate if you don't know which is which. A lot of beers sound "fancy" while actually being a crappy macro-brewed import (i.e. Kronenbourg 1664). Their draft list is better, having a good selection of midwestern craft brews and (some) decent imports. However, again, for people who don't know your beers, it's like a game of roulette. Pick a bad one, and it might be game over.
970 characters
3.85
/5
rDev
+7.2%
vibe: 4.5 | quality: 3.5 | service: 4 | selection: 4 | food: 3.5
This place is a pretty classy place, especially in a college town full of college town beer halls. This place steps it up a bit--a classy decor yet still with a fresh and fun ambiance.
Weekday happy hour from 5-7: most of their finer brews (and not so fine..) on tap are only $2 for a nice full pint--plus their tap selection is much better than the average college town bar--a few locals such as Arcadia and Bells, as well as other micro staples such as Stone and Dogfish Head.
Tuesday nights (all night) $1 Burgers. I know what you're thinking: they must be tiny, right? That's what I thought, but they were solid-sized burgers and pretty good too. Two of them stuffed me pretty well. So that's definitely worth checking out if you're looking for a red hot beef injection.
I last during a happy hour on Tuesday so it was kind of a madhouse--about a 20 minute wait but got a table on the back patio whicih was really nice (TVs outside too.. pretty impressive). Despite the business the service throughout seemed snappy and friendly from beginning to end.
The prices were definitely reasonable for the time when I went, but I'd like to check it out on other nights as well. Bar Louie: a good time!
1,202 characters

3.45
/5
rDev
-3.9%
vibe: 3 | quality: 3.5 | service: 3 | selection: 4 | food: 3.5
Bar Louie moved to Ann Arbor nearly a year ago and has become quite a popular place for many since its opening. Part of a chain of similar restaurants and sometimes I can see many trappings of a mainstream mentality here. Nonetheless, the place does have some redeeming qualities.
First off, Bar Louie although technically not in this category is very close to a sports bar. Their high def t.v.s are always tuned to a sporting event. Sound, however, is usually dominated by pulsating, annoyingly loud music. Suffice it to say that this is not a good place to have a conversation. In the middle of the inside is a pretty large three-sided bar with visible kitchen on the fourth side. I would guess there are about 30-35 seats. When one adds the approximately 30 tables also available, there is quite a bit of space inside. However, during their M-F 4-7 $2 per 14 oz. beer happy hours, it is hard to find a seat. There is also an outside seating area that is quite nice in the good weather.
Service has been bad more often than not. This shortcoming could be due to the busy atmosphere that seems to be most common at the place, and the fact that the majority of patrons don't really care what they're getting (evidenced by the fact that macros are by far the most popular order despite a wealth of craft beers.) For the most part, the bartenders and waitresses are not very helpful and can be quite slow and disinterested. On a couple of occasions that has not been the case, though. While I don't generally care for the service, extra credit does have to be given for their readiness in allowing small tastes of any beer I've asked for.
Beer selection is quite good. There are 40+ taps. The main drawback is that nearly half of them are taken up by BMC and Euro macros. The other half though offer a great selection. Props to the chain for supporting the local brewing industry as well. There are always Bells, Founders, Arbor Brewing, Jolly Pumpkin, and Dark Horse selections on tap. Also a good smattering of non-local craft brewers (Lagunitus, Dog Fish Head, Harpoon, Stone, and Sierra Nevada have all made frequent appearances.) Additionally, there is a good mix of extreme and more routine styles. Belgians, Imperial Stouts and Double IPAs can be found along side Pales, Hefes and IPAs all the time. On the whole the selection offers something for just about everyone. When the bar first opened the bartenders had a penchant for pouring all beers in frozen glasses (really irritated when my first ever beer there--a Founder's Dirty Bastard--was served in a glass with ice on the side). They seem to have amended this practice, though. Food is bar food, but decent. $1 burgers on Tuesday and $2 platter of tater tots are personal favorites.
This is a pretty good beer bar. It is a must visit place during happy hour. Regular hour prices are average or a bit higher than other places. Not quite up to Ashley's standards, but not bad.
2,943 characters
Bar Louie in Ann Arbor, MI
Place rating:
3.59
out of
5
with
13
ratings