Lucky Devils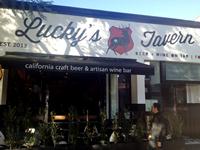 PLACE INFO
Type:
Bar, Eatery
6611 Hollywood Blvd
Hollywood
,
California
, 90028-6207
United States
(323) 465-8259 |
map
luckydevilsla.com
Notes:
No notes at this time.
Added by DogFood11 on 06-03-2006
Ratings: 14 | Reviews: 11
Reviews by charlzm:
4.25
/5
rDev
+11.5%
vibe: 4.5 | quality: 4.5 | service: 4 | selection: 4 | food: 4.5
Visited on Sunday, 1/13/08 at 1:30pm.
Seating was not a problem in this modestly sized restaurant. Modern wood paneling lends a classy air, as do the flatscreen TVs that show random images of surfing, cave diving, desert dunes and "Planet Earth" style nature footage with no sound. No sports networks on the TVs!
The wait staff were very friendly and attentive.
The food was great: I had the Diablo burger and my friend has the Bleu Cheese burger, both made with Kobe beef. Sublime, as were the fries (served with catsup, as it should be).
As for beer, my friend had an Old Rasputin on nitro. I tried to order off their beer menu (all on draft) an Oaked Arrogant Bastard, a Double Bastard, an Avery White Rascal, and a Stone XI. None were available. The problem was an out of date beer menu. These had all been replaced with other brews. I wound up with a Telegraph Porter.
Some people near me were enjoying a bottle of Brother Thelonious. Truly, a great beer selection. Take my word for it; save yourself the trouble of looking at the beer menu and just get up and walk over to the draft handles to see what they have.
Overall, a great place, if a little pricey. With tip, our two burgers and two beers came out to $54.00!!! Ouch!
Everything but the food prices makes me want to come back again.
1,308 characters
More User Reviews:

4.33
/5
rDev
+13.6%
vibe: 4.25 | quality: 4.5 | service: 4.25 | selection: 4.25 | food: 4.25

3.64
/5
rDev
-4.5%
vibe: 3.5 | quality: 3.5 | service: 3.75 | selection: 3.75
Vibe: This craft beer and wine shop is located on the Hollywood Walk of Fame. They have stools at the bar, seats inside, and a few tables in the front. The place was deserted when I got there in the afternoon but they were holding tables for a huge group of costumed people that came in for a Halloween party.
Quality: Beers were served in pint glasses at the proper temperature.
Service: I sat at the bar so service was pretty quick. The bartender seemed knowledgeable about the beers when I asked her a question.
Selection: They had four beers on-tap from the featured brewery of the month, which was Wolf Creek at the time when I went. Local breweries on-tap also included Angel City, Craftsman and Figueroa Mountain. Pliny the Elder was in bottles. Flights of four were available.
Food: I didn't try any food, but saw that they had appetizers, burgers, flat bread pizzas and salads.
Note: The sign and menu refer to this place as "Lucky's Tavern" while it was called "Lucky Devils" on my receipt.
1,009 characters
4.18
/5
rDev
+9.7%
vibe: 3 | quality: 4.5 | service: 4.5 | selection: 4 | food: 4
Atmosphere - A nicely decorated eatery with transitional decor. The first thing you see walking in is a glass case filled with bottles of good beer (Pliny, St Bernardus, Duchesses,Weihenstephaner, etc) and then you see a range of draughts. The place was a little quiet at 1:00 on a Saturday afternoon... I wonder how busy it gets at night?
Quality - Everything is clean, and their beer selection is quite good (very high quality) despite the fact that their beer list is limited in terms of quantity.
Service - Service was fantastic, although it was very slow while I was here; so take that as you will.
Selection- 14 draughts are available, and 30 bottles are available, none of which are macrobrews. This makes it very tempting to give a 4.5 on selection, but the small number of choices forces me to give a 4 here.
Food- I had the margherita pizza, which was very good-natured not the best I've had, but substantially above average. Definitely hand tossed with some mildly burnt edges. For dessert I had a leige waffle, which was soggier than it should be and lacked the rich chewy, sugary crust that it should have. I recommended the pizza but not the leige waffle.
Overall, I would definitely recommended this place to other BAs.
1,239 characters

4
/5
rDev
+5%
vibe: 3.5 | quality: 4 | service: 4 | selection: 4 | food: 4.5
Today was my 6th anniversary and decided to take my wife to Hollywood while the little one is with grandma for the night. I picked Lucky Devils for the food and the beer I found online. I know my wife would like the ribs and the other pork odds and ends and I would like the Belgian selection and the old engine oil for dessert.
Atm- It's a big wide open space with a few cushion bench seats and a bar in the back with about 10 taps and fairly decent bottle selection. Has a huge window that over looks the shadier part of Hollywood Blvd though. My wife did notice an odd hole in the ceiling and next to our table a waiter came twice with keys and unlocked a small cubby hole to get some papers.
Qual- The food was outstanding. I indulged in a Kobe burger with sweet potato fries with a Tripel Karmeliet poured into a Duvel tulip. Although the waiter who bottled poured gave me about two fingers too much head on it. Dessert was an Old Engine Oil which was a nice way to end dinner.
Serv- Our waiter was very friendly and attentive. No complaints other than he didnt hear me correctly and brought the wrong beer to the table. I think I stopped him from opening it but not sure.
Selection- The bottle selection was nice and had a range of brews to try from Belgium to even a couple limited items from DFH and Ommegang.
Food- As I said above, The food was outstanding. I indulged in a Kobe burger with sweet potato fries. The liege waffles were a bit crispy but really were a nice way to end a meal.
Value- It was in between a $$ and $$$ so a $$/2 for me. I knew what to expect going so it wasn't too much of a shocker. Slightly more expensive than say a Cheesecake Fac. but we were in Hollywood too.
1,704 characters
4.25
/5
rDev
+11.5%
vibe: 4 | quality: 4.5 | service: 4.5 | selection: 3.5 | food: 5
A great little gem off the beaten path (sorta). Food is amazing whether it be a Burger or rustica Pizza (which I would strongly reccommend). They have a modest bottled beer list and approx 20 beers on tap. Prices aren't too bad - but this place is definitely a place I'd bring friends to give a crash course on True Beer culture. Beats any place in downtown Hollyweird where you need a reservation or gotta know someone to get in.
With a rustic atomsphere - wood walls - and great music again i'd reccommend any beer advocate in Hollywood to check this place out.
564 characters
3.6
/5
rDev
-5.5%
vibe: 3 | quality: 4 | service: 3.5 | selection: 3.5
The interior of Lucky Devils is wide open, a large window looking at the street, tables scattered about, and a bar that doesn't sit anywhere near the tap handles. At least there's a small outdoor patio where one can take on the sights of Hollywood Blvd (if you wanted to). Maybe I sould talk about the beer...
Abiut a dozen taps are perched where you take your food order, and a refrigerated counter holds about 15 different bottled beers and some dessert goodies. Overall beer selection is pretty good, and surprisngly it's reasonably priced. Most drafts are $4-6 for pints, I saw a thinner glass being used for a couple of the beers. On the taps handles were Black Orchard, Double Dog, Racer 5, Houblon Chouffe, three Craftsman offerings (1903 lager, Heavenly Hefe, Poppyfields Ale). In the bottle were St. Peter's, Moinette, Duchesse de Bourgogne, Avery, Weihenstephaner, and more. Come in for the happy hpour like I did, and get any draft for $4. A pretty good place for beer in Hollywood.
994 characters
3.1
/5
rDev
-18.6%
vibe: 4 | quality: 3 | service: 2.5 | selection: 3.5 | food: 3
A buddy of mine flew in on business from Tulsa last weekend and asked me to show him around. We just happened to spot Lucky Devils while walking down Hollywood Blvd and decided to give it a try.
Inside has a dark bistro type feel that is pretty typical for small restaurants in the LA area. Towards the back is a counter with beer taps and a pastry window full of yummy looking treats. They have a decent selection of tapped and bottled beers for the size of the place. The two that stuck out to me were Stone 12th Anniversary and Double Dog Pale Ale which were on tap. I'm still kicking myself for not sampling at least one of the beers.
Menu had overpriced burgers and BBQ. The waitress seemed friendly enough. I ordered the Diablo Kobe Burger, medium. After what seemed a bit longer than necessary, we were served. The burger was decent but overcooked; the fries were nice and crispy...very good.
This is a neat place with a good atmosphere. I would stop in again to see what was on tap if I was in the area. The food however was average and overpriced.
1,060 characters
2.8
/5
rDev
-26.5%
vibe: 3 | quality: 3 | service: 4 | selection: 1 | food: 3.5
Always on the lookout for a good beer hang in LA we tried Lucky Devils last night. I must first say our waitress was very nice - our disappointment was not with her. Located in a very lo-rent touristy area of Hollywood Blvd.
I'm immediately turned off by a bar if you have to spend the 1st 15-20 minutes doing the "what beer AREN'T you out of" dance. Our poor waitress had to go back and forth multiple times to inform us they were out of just about everything on tap. They did have 1 Craftsman left on tap and a few beers you can get at any good beer store in bottles.
Our dinner order got lost in the ether and took a bit longer than most would tolerate. We all had the Kobe Blue Cheese burger. Not bad but not great. Certainly wouldn't go just for that.
So, I'm sure I won't be going back. A shame really 'cause it is very close to where I live. I just don't understand the logic of printing up a select and medium sized beer list if you're not going to bother to keep it stocked. I realize that some of their customers probably don't care, but some do. If you'll notice the beer list isn't on the website - for a reason I'm sure.
1,136 characters
3.6
/5
rDev
-5.5%
vibe: 2.5 | quality: 4 | service: 3 | selection: 4 | food: 4
This place is in one of the most uncomfortable areas in Los Angeles. It would be bad enough if it were right smack in the middle of the touristy part of Hollywood, but Lucky Devils is several blocks past that, amongst the lamest souvenir shops in a crappy area. (Quick note: If you're visiting LA, you shouldn't spend more than 20 minutes walking around Hollywood. Drive past the Capitol Records Building, stop by Grauman's Chinese Theater, cross the street to check out the Roosevelt Hotel, look down to see a star or two on the Walk of Fame, look up to see the Hollywood Sign, and you've seen enough.)
Atmosphere: There were two other people eating when my friend and I walked in for dinner. It felt uncomfortably empty, much like Westwood Brew Co.
Service: There were two servers and they both waited on us. At times we were neglected, like when I tried to order a beer twice, hopping that it would eventually come to me, while at other times we felt smothered.
Selection: The had a lot of great stuff on tap. Stone Oaked Arrogant Bastard was the special tap, as was Butte Creek X Anniversary Double IPA. The other taps had more Stone, Racer 5, Old Rasputin, a German O-Fest (either Spaten or Paulner), and one or two other good ones. Most of the people who came in ordered Spaten Premium Lager, which was also on draft. They had a nice selection of Germain, Belgian, and American bottles as well.
Food: It's a modern take on a diner so the menu has all sorts of burgers and sandwiches. I ordered a burger with an asiago-garlic spread and bleu cheese. It was good, but I don't think it was quite worth $13 considering the setting. They also have a whole bunch of deserts that looked really good.
Overall: Once I took a sip of the Oaked AB, I wasn't bothered by the neighborhood, the emptiness of the restaurant, the tourists awkwardly walking by, etc. It's worth a stop if you're in Hollywood or you want to try Oaked AB on-tap.
1,950 characters
4.33
/5
rDev
+13.6%
vibe: 3.5 | quality: 4.5 | service: 4 | selection: 4.5 | food: 5
Being a Hollywood local I was excited to hear there was finally a place, stumbling distance from home, with some of the good shizel on tap. To my knowledge, (and please beer mail if I'm wrong) within a 20 mile concentric circle you would be hard pressed to find "micro" anything on tap. Only problem was I had to break a very strict rule; being from Hollywood one must never frequent any establishment on Hollywood Boulevard, which is better left to the tourists and scuzos, but hey, I'd even visit my mother-in-law if she were a member of the Stone Brewery 3 or More Club!
Other than that location is not too bad. "Not too bad" being defined as such: I was able to find street parking less than six blocks away and did not feel my life was on jeopardy walking from the car to the restaurant. The restaurant is done in a retro art deco 50s dinner meets California minimalist nuvo sheesh style. With close quarter table, booth chair setups.
The major disappointment was that they were out of most of what I would have been interested in drinking. My first 10 minutes in the place went something like this: " oh you just ran out of the Stone 10th…how bout the Butte Creek Organic Revolution X imperial IPA you have advertised on the chalk board...oh your out of that too…okay than I guess I'll go with the Racer 5 IPA I see the fancy tap there…oh that's out too…hmm why don't you tell me what you do have…okay not really what I was looking for but if you say it's good , I'll try a sample of the Old Rasputin…cushhh...oh I guess the sound of fizzled Co2 and foam means you're out of that too?" I mean come on guys you only have 13 taps and 4 are a no go…what's up with that??? Still, moving beyond my disappointment of not getting to try something new, I do have to give them props for having Stone Smoked Porter, IPA and Arrogant Bastard on tap. I would have liked to try something new, but plenty of comfort there.
Service was "restaurant" good; the guy was friendly and quick. He hooked me up with an outstanding Kobe Beef Burger with blue cheese and caramelized onions. He did however need a little beeredumaction. After being denied at the tap, I pressed him for a good bottle recommendation, something very hoppy and he came back to the table with bottle after bottle of stouts and Belgium yeasty ales. I finally went with one of the Belgium ales, good, lots of yeast, but really good.
My assessment is this: After 5 months in business Lucky's is a great burger restaurant were you may be able to get a great beer to go with your meal. Lucky's could become a great beer spot if and when they figure out how to keep the good stuff in stock. Than again, were else you gonna go in Hollywood?
UPDATE: I have been back 3 times since this review and have to say that this place is really growing on me! I have been treated to delicious Oaked Arrogant Bastard, Double Bastard and even an Aged Double Bastard. I have raised my selection rating to 4.5 and look forward to going back again and again. As long as they keep the Stone varietals on tap...who cares if they run out of the other stuff ?!?
3,136 characters
3.58
/5
rDev
-6%
vibe: 3 | quality: 3.5 | service: 3.5 | selection: 4 | food: 3.5
Its storefront on Hollywood Blvd. A bit up the street from the super trendy area but still a touristy area for sure. The store front, interior, and signs are nothing to look at. More of a sterile, white tables, attempt at an old school '50's, burger, ice cream type environment. I would reccomend sitting near the entrance where they have a long table that you can watch passerby's as you eat. As you walk in there is a chalkboard above the taps that indicates what is on the rotating taps and some specials.
Service was decent. I don't have all that high expectations with service really so I may be the wrong guy to ask in this category, but it was pretty good overall.
Beer selection for a small place like this was pretty damn sweet. Off the top of my head they had a couple german hefe's, Alesmith Nautical brown, Arogant bastard, Double bastard, Bear Republic Racer 5, Avery Quad, Ruination, and various others on tap that were all worthy. In the bottle they had a few of your standard belgians. Catching my eyes were the Aventinus Eisbock and Bernardus 12.
Food was decent. I had a Kobe Burger w/ a spinach side salad and my wife had the mac n cheese. Both of us were happy. Dont expect anything special as it is mostly an upscale type of short order place, by that I mean that they have hot dogs, hamburgers, salads etc but they are prepared w/ more attention than your typical burger joint.
Prices were in line with what I would expect in Hollywood. I was surprised to get a full chalice of the avery quad for 6 bucks, also a pint of ruination was 6 bucks. Good by me.
I would reccomend this to anyone doing the touristy thing in Hollywood. If you have trouble finding it just ask a local where the Lawrence Welk star is. His star is close to the entrance. Any questions? Beermail me.
1,811 characters
Lucky Devils in Hollywood, CA
3.81
out of
5
based on
14
ratings.