Kahn's Fine Wines & Spirits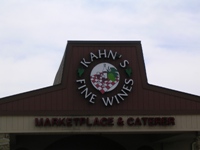 PLACE INFO
Type:
Store
313 E. Carmel Dr
Carmel
,
Indiana
, 46032
United States
(317) 817-9463
// CLOSED //
Notes:
No notes at this time.
Added by zerk
Ratings: 12 | Reviews: 12
Reviews by Southernbrew:
4.45
/5
rDev
+7%
After stopping in 3 other stores between Atlanta and Indianapolis, Kahn's was my last stop of the day, and I'm glad I made it. The store is not very big, but their selection sure is. The focus is definitely on wine, but their beer selection is great too. I saw 3 floyd's, dfh, stone, rogue, etc. They also had a large selection of English beers. Several bombers were available, and while six packs can't be broken, they have several single bottles available for purchase. Let me say something about the service. They were as nice as could be and definitely go the extra mile. I asked if they had any Dreadnaught in back and one guy went back and said he didn't see any. Another guy goes back and miraculously comes back with 2 bombers. If you are traveling through Indianapolis, stop here, you won't be sorry.
809 characters
More User Reviews:
3.35
/5
rDev
-19.5%
This location has now seperated from the other Kahn's on South Keystone avenue and has been renamed "Vine and Table" or something like that. Unfortunately for us, their beer selection has seriously slipped in the last 6 months or so since the change. The cooler doors in the back now feature nothing but macro swill and the import shelves that used to be to the left of the cooler are now gone. They still have a reasonably complete beer selection if you venture into the walkin, but all good beers are relegated there and not out on the floor anymore. Also, the high prices still remain.
Clearly there has been a shift away from beer. The staff told me this was just due to the remodeling and claimed they are going to build the beer back up, but I have my doubts. Time will tell, but in the meantime let's hope that Hop Shop's promise to build up their selection in early 2008 happens so we can still have a great place for retail beers in Carmel.
951 characters

4.65
/5
rDev
+11.8%
I've waited quite some time to visit Kahn's legendary beer cooler, and I was far from disappointed in doing so. Claiming to offer "Over 500 of the coolest beers",I can't say that I counted, but I do not doubt them in the slightest. Organized by country of origin or by state if a microbrew, they offered everything from Dogfish Head, Flying Dog, Unibroue, Three Floyd's, Bell's, New Holland, Stone, Rogue, really too many to list, this is truly a site to behold with your own eyes. Not being a wine aficionado, I did notice I passed the bulk of the store which was comprised of practically nothing but wine. And if their wine selection is anything close to that of their beer, they've got a good thing going for them. Upon checking prices of beers easily found in the Fishers & Carmel area, they were slightly higher than that of other stores, but only by a few dollars at the most on some of the rarer items. On my particular visit, I picked up a Flying Dog Wild Dog Weizenbock, a Three Floyd's Rabid Rabbit, and a Stone Russian Imperial Stout for about thirty dollars. Considering all three bottles were at least 22oz. each, and the Wild Dog is a one-off release, a pretty good deal in my book. Kahn's is truly a spectacle to witness, practically awe-inspiring to those lucky enough to make the visit. If you plan on visiting Kahn's, a couple of suggestions would be to dress yourself warmly if planning on visiting their beer cooler and to keep an eye on your watch, they close pretty early. Will definitely visit again.
1,523 characters
4.65
/5
rDev
+11.8%
After hearing good things about this store for so long, I finally made the trip. Well worth it.
All of the beer is found in the back of the store. Separated my style, region, and bottle size. Within 1-2 minutes of wandering the beer section, I was greeted by Mike, the beer manager. He introduced himself, asked what I was looking for, and explained the layout of the beer section. Because I was just cruising, he let me be but checked in a few times.
As I cruised, I found dozens of beers that I had only heard of before. Lots of imports that were new to me. The walk-in cooler was home to hundreds of domestic micros. Lots of brewers that I had not seen before and lots of brews that I had not seen from my favorite brewers.
The selection was wonderful. I went in with the intention of just browsing (because I made my beer run last night), but left with a few beers. I bought some '05 Stone RIS (to taste with the '06, which should arrive shortly) and Rogue I2PA in the 12oz bottle. Both beers I hadn't found anywhere for a long time.
The only drawback that I saw was the pricing. Most everything that was available elsewhere was cheaper elsewhere, not much, but enough to notice.
Mike even stopped me on the way out to see what I found. He complimented my choices and invited me back. Great visit. Won't replace my usual haunt because of price, but I will stop back regularly to expand my choices.
1,417 characters

3.9
/5
rDev
-6.3%
Hamilton is almost as good and cheaper plus Khans closes at 7!!!
Kahn's should be called Barrels because that is what they got you over before you pay but if you want the hot hooker, ya gotta dig deep. That's why the crack whores are on the corner and not in a hotel room. I shelled out $36 ducats for a bottle of Cantillon Saint Lamvinus. I still have yet to know if it was worth it. I also picked up a few local odd balls but all were high priced. Thank goodness I saved my dough to hit here. Mostly this is a wine store. As a matter of fact, I wandered the store for a good amount of time and heard the sales guy(s) talk wine with wanderers, but nobody walked over to me. Even if they did, I would have had nothing to say, but how did they know?
Selection is decent and Belgian heavy, but Hamiltons has they nearly matched pound for pound.
849 characters
5
/5
rDev
+20.2%
I grew up about 5 minutes away from this place and was shocked to check it out a couple days ago. Yes the place does cater to wine buyers, but I think there actualaly may be more floor space dedicated to beer (huge walk in fridge). I picked up a Westy 8 and a bottle of Deus. The people working there genuinely excited to have another beer dork in the midst. They had a great Belgian selection, did I mention I got a Westy. About 10 different Cantillions and other lambics were also present. American micros were more than represented. Rogue, FFF, Stone, Avery were all there in completion. They had a large amount of 3L bottles and other fun stuff. This place is great. The guy know beer and love talking about it. Cheers.
723 characters
4.15
/5
rDev
-0.2%
Quality: A good selection of singles and a nice variety of Belgians. Nothing out of the ordinary but a nice, big selection.
Service: Two guys came up to me and asked if I had any questions or needed any help. I was just browsing but I felt very welcome. They went out of their way to make me feel at home.
Selection: I was a little disappointed until I found the walk-in cooler in the back. There is a good selection of warm singles and a small cooler out on the main floor but the walk-in cooler is where it's at! A good selection of Indiana brews (Upland, Three Floyds, Barley Island, etc) and a nice selection of craft brews from the Great Lakes region.
Even though they cater to the wine crowd, this place will definitely scratch your beer itch. A "must-see" if you are in the area.
797 characters
4
/5
rDev
-3.8%
I've always wondered what the satellite Kahn's was like and I got the chance to see it this past Wednesday. Truly it is a clone with the inflated wine prices (whoo hoo!) and major single malt display. The only faults are 1) the single selections are much much less visible, you might be able to convince them to break but it'd be alot of effort and 2) No beer guy. He works at the other store.
Overall if you're in this area of Indy i'd suggest rolling over to the other store; the drive is minimal even in relatively heavy traffic, and you can always find positive and good input on many beers you've never tried.
If you're into pure Aesthetics, come here. Its much hoity/rich looking from the outside, but from the contents its part of a great whole.
---
I've changed my mind a little about this store. The walk-in cooler's sweet, and you'll find some oddities/singles/steals in there occasionally. The cheesery is feckin' awesome, and the store's a little more spacious. This is the one i'll be coming to more frequently since its closer, too.
1,058 characters
4
/5
rDev
-3.8%
On my way back from Muncie to Saint Louis, I could not resist stopping in to pick up some beers I can't get back home. Upon the recommendations here, I was greatly anticipating a great store, and was not disappointed.
They advertise that they have over 600 beers in stock, and though I didn't count them all, I won't argue. Although the service was suspect, the selection more than made up for it.
Great selection of both micros and imports, most noticable were Great Lakes, North Coast, Stone, Three Floyds, DFH, Shipyard, Bert Grants, Rogue, Westy, Rochefort, Two Brothers, among others. There is a large walk-in cooler that has lots of cold selections, in both 6-packs and bombers.
My only compaint with the selection is that there were not many single bottle selections. I would love to have put together some mix-a-six packs to sample more beers, but wasn't able to do that.
The best beer store in Indy, stop by when you are in the area.
P.S. Don't forget about their sister store on N. Keystone either.
1,023 characters
4
/5
rDev
-3.8%
Kahn's Fine Wines is by far the best (IMHO) retail outlet for imports and micros in the Indianapolis area. They carry most of the regional micros as well as the bigger ones. The only draw back for me, and it's minor, is that most of the beer is stored in the walk-in beer cooler which is a problem on those lunch time runs from work. The single bottles are mostly kept warm.
The staff is very attentive and has some knowledge of beer. Prices are average to high depending on the beer. I picked up a 22 oz. of Stone - Arrogant Bastard $4.69 and a sixer of Dogfish Head - Shelter Pale Ale $12.49. I noticed that the 12 oz. single of DFH -WWS was almost $10!!
2/27/03 BTW - The Dogfish Head beer was awful (spoiled)! I drank four of the six and poured the rest out. Not sure what the problem was and did not notify Kahn's.
825 characters
4.3
/5
rDev
+3.4%
Yep, it's primarily a wine store. However they have one of the best beer selections in the area. The staff is just as knowledgeable about beer as wine. Walk-in cooler seems to be better stocked every time I come in. In fact, last time was pretty difficult to navigate through the aisles to get to some of the beers. Staff is very knowledgeable and very good to regular customers.
385 characters
4.15
/5
rDev
-0.2%
As you can probably tell by the name, Kahn's is really a wine shop, but they have a very good selection of beers as well. Single bottles are available of beers from Belgium, UK, and Germany, as well as some select microbrews. Kahn's has a good selection of local and regional beers, including Three Floyd's, Oaken Barrel, Upland, Mad Anthony, Barley Island, and Bells. They also have a fairly large walk-in cooler, as most of their beer is kept cold. Prices are pretty average for the area. They also have one person on staff who is very knowledgable about beer.
This is without a doubt the best place to go in the Indianapolis area for selection and quality.
662 characters
Kahn's Fine Wines & Spirits in Carmel, IN
4.16
out of
5
based on
12
ratings.