Blanc Burgers + Bottles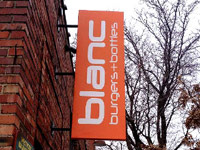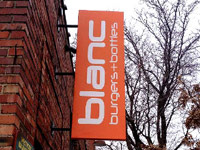 Bar, Eatery
4710 Jefferson St
Kansas City
,
Missouri
, 64112-1836
United States
// CLOSED //
Notes:
Reviews by LambicPentameter:
LambicPentameter from Nebraska
4.11
/5
rDev
-3.5%
vibe: 3.5 | quality: 4.25 | service: 4.25 | selection: 4 | food: 4.25
This was one of the first places I remember really celebrating craft beer in Kansas City, back when it opened as a little joint down in Westport. They've since expanded to the Plaza, as well as a location out South in Leawood, but what makes the great is the ownership's commitment to craft and local beer. The first Smokestack Series beer I ever had was the Two Joker double wit, on recommendation from the owner.
They feature a standing bottle list of several dozen beers organized by style and with accompanying info about country of origin, ABV, brewery. In addition to that list of singles, they also have several taps and some seasonal/off menu beers and a few large format ones as well.
The food, which is comprised of mostly crazy gourmet burgers and fries, also has a beer angle to it. Things like Boulevard Pale Ale battered onion rings, Dark Truth Stout BBQ sauce and Boulevard Wheat buns fill the menu. The will also add new things and provide seasonal food to keep it interesting.
Price is great by gourmet food standards, but may seem a little steep if you get caught up on the fact that it's burgers and fries. The beer prices are about what you'd expect for craft beer in KC.
May 10, 2013
More User Reviews:
Monkeyknife from Missouri
4.28
/5
rDev
+0.5%
vibe: 4.25 | quality: 4.25 | service: 4.25 | selection: 4.25 | food: 4.5
Apr 23, 2015

Hop_God from California
4.74
/5
rDev
+11.3%
vibe: 5 | quality: 4.75 | service: 4.25 | selection: 5 | food: 5
Feb 25, 2015

hwwty4 from Missouri
4
/5
rDev
-6.1%
vibe: 3.5 | quality: 4 | service: 4 | selection: 4 | food: 4.5
I've put off reviewing this place for a couple reasons but its finally time to sit down and write one. The atmosphere is OK. It really is the worst thing about this place. It used to be located down in Westport in a blossoming beer area, in a joint that had a really good vibe. Then it moved to the Plaza. Now its yuppie central. Half the time you have to dodge double wide baby strollers with over-sized, off road tires or large bags of shopping to get to your table. It's decorated in some nouveau art style, that WASP's seem to like. Lots of white and orange. I find it all just off-putting. Why oh why did you have to move locations.
Now that we are past that part, lets get onto the joint itself. First off, their food is excellent. There really is nothing else to say. Designer burgers that will make your taste buds explode. My recommendations: Inside Out, Kobe burger or Surf and Turf. I've never had a bad meal. I've never had anything remotely worse the excellent. The service can be hit and miss. I've had excellent service there, but at the same time, I've had horrible service. Most of the time it's pretty good. The beer selection is the best on the Plaza. Combine that with their food it's worth seeking out. They probably carry about 150 bottles, ranging from the entire Boulevard lineup to Belgians to imports and a farily large selection of crafts from around the country.
Really my only beef was that they moved. Move back to Westport (or better yet, just move to Waldo).
Jul 09, 2011
fltmedic from Missouri
4.33
/5
rDev
+1.6%
vibe: 4 | quality: 4.5 | service: 4.5 | selection: 4 | food: 4.5
This is one of those "nothing to compare" places. Blanc has it's own vibe and style. They do just what they say they will, make you a great burger and fries and serve you delicious craft beers and sodas in bottles. It's their thing and they do it very well.
As a veggie, I don't do a lot of burger joints, but hearing about the sweet potato fries and the bottle selection, I was lured. They have two veggie burger options and a mahi mahi burger for the pescatarians. I had the lentil burger. It was a curry-lentil patty spiced and cooked to a crusty edged perfection served on a Boulevard Wheat bun that was super fresh. It was so large that I had to cut it in half to pick it up and my plan to only eat half was quickly undone by the gluttony inspiring flavors. And if you think you know how good sweet tater fries are, get yourself to Blanc to have the bar raised.
The bottle list is pretty good. There are plenty of styles from which to choose and seasonal selections are available in small numbers. The bar staff and most of the servers know their brews. And best of all, everything is served in the correct glass and at the right temperature for the style. (That's right, not everything is served in a pint glass!)
I've now been to both KC locations a handful of times and have never been disappointed. The staff is always great, servers are excellent rain or shine, slow or busy. I'll keep going back as often as possible!
Jul 02, 2011

mizzouguy from Missouri
3.78
/5
rDev
-11.3%
vibe: 4.5 | quality: 4 | service: 3 | selection: 3.5 | food: 5
This place is a must go to in Kansas City for both food and beer. The beer selection is top notch. As the name implies Blanc only serves bottles of beer. Has a great selection of all the beers that you would expect to be available in the area. They pretty much stock all the beers that are distributed in Missouri. They have a great happy hour which they call local hour, were you get specials on all Missouri beers. They consistently bring in seasonals and are constantly rotating in new stuff. The prices are pretty good, considering you are buying for a restaurant and not a retail take home shop. If you go for the beer stay for the food, it is amazing. Get the inside out burger and have a great beer at the same time.
May 14, 2011
zeff80 from Missouri
4.25
/5
rDev
-0.2%
vibe: 2.5 | quality: 4.5 | service: 4.5 | selection: 4.5 | food: 4
I stopped in on a Saturday afternoon for some appetizers and a a beer. I was not a fan of the atmosphere. It is really white (I know Blanc) and feels too sterile. It actually looked like an IKEA dining area. It did have a nice display of the bottles that they carry. Plus, it had a big chalkboard displaying the "off-menu" brews. Very good quality on the beers. My friends Schlafly Kolsch was very fresh (within a couple weeks). Service was very good. The server brought the correct glassware and did a good job of pouring. Great selection of bottles (they have no taps). I enjoyed my Achel 8 Bruin while my other friend had a Grand Teton Bitch Creek. As for food, the fries were good with a nice aioli. Tried a good chocolate malt, too. Prices were comparable to most beer prices. Food prices were not bad considering it is on the Plaza. It was a nice place to try. Worth a stop if you're on the Plaza.
Oct 06, 2010

busternuggz from California
4.45
/5
rDev
+4.5%
vibe: 4 | quality: 4.5 | service: 4.5 | selection: 4.5 | food: 4.5
Went here for lunch on my KC trip after reading the reviews.
Had a quirky/trendy atmosphere and it was pretty crowded, but it was nice. I had the $100 Burger (just the name, it was actually $15), a burger with red wine braised short ribs stuffed in the middle (!) on a fluffy/crispy focaccia bun. Very good, tender and flavorful and unique. My waiter was very knowledgeable about the beers and was very friendly and attentive. Their beer list is impressive, lots of beers from lots of styles, from locals to imports; only bottles though. Nice Belgian selection, I went with a Kasteel Donker (served in a proper Belgian glass), it went well with the meal (as my waiter suggested it would). The food and beers are a little pricey, but worth it for the quality.
Aug 10, 2010
bort11 from Missouri
4.38
/5
rDev
+2.8%
vibe: 4.5 | quality: 4.5 | service: 4 | selection: 4.5 | food: 4.5
Blanc Burgers and Bottles has been on my short list of places I really, really wanted to go to. I 've heard nothing but good about the place, but just hadn't been able to get out to go. I got there at 5, I was not going to miss out by minutes again. Since I had time to kill I ordered a Gulden Draak Belgian Dark ale and an order sweet potato fries. The salty sweetness of the fries went very well with the dark fruit sweetness of the beer. I then ordered the Bison Burger with a North Coast Scrimshaw Pilsener. That's a damn good burger, and a pilsener was a perfect pairing.
Dec 15, 2009

Billolick from New York
4.18
/5
rDev
-1.9%
vibe: 4 | quality: 4 | service: 4.5 | selection: 4 | food: 4.5
Cross the street from the Foundry, this is a mid sized, bright room, with plenty of windows. Looks like they may have some outdoor space in the rear, but it was not open when we visited. All bottles and plenty of good stuff, from the expected quality locals to a respectable collection of worthy domestics and international choices. They are going for quality, eclectic food paired with quality beer and wine. "paired" being the operative word and their attention to this concept is appreciated and quite respectful of beer. Knowledgable and beer enthusiastic waiter, quite tasty lentil burger, served with 3 sauces..they even offered artisinal chocolates for desert, including one with hops baked in...nice..worth a visit for the quality food, beer and classy but casual athmosphere.
Aug 06, 2009
wardough from Wisconsin
4.6
/5
rDev
+8%
vibe: 5 | quality: 4.5 | service: 5 | selection: 4 | food: 5
I know that this isn't truly a beer bar, but it deserves some credit as advocating beer.
I walked in and it's totally white. I then realized why it was called "Blanc." Wow, am I smart. A server greeted us and said "sit wherever you want." My buddy and I definitely did. The server quickly came over to us and told us about the concept: it's a high end burger place with great beer, served only in bottles. Wow, what a great concept. I got a culinary boner. The crowd was 25-30s ages. Trendy crowd.
The beer list was great. Not awesome, but still great (I think the website has the latest list). We ordered a Abbaye Des Rocs [Brasserie Des Rocs Brune]. The server was very, very knowlegeable about the beers that they had. I was impressed by their beer knowledge and recommendations.
Food: I ordered a Inside out burger ($9) and onion rings. My buddy ordered a Kobe Beef burger ($13) and truffle fries. The food was outstanding. Definitely the best burger and fries that I've had. And this kid has eaten alot of both.
Service: Attentive. Knew their beer. Friendly. Can't say enough.
Here's the best part. We had a Left Hand Custard Float. Yep, they have it on the menu. I was a happy camper.
If you like beer, burgers, and a good environment, seek this one out.
Jun 30, 2008
Blanc Burgers + Bottles in Kansas City, MO
Place rating:
4.26
out of
5
with
14
ratings