Brewer's Dark

J.W. Lees & Co (Brewers) Ltd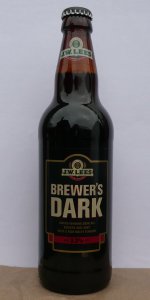 Write a Review
Beer Geek Stats:
| Print Shelf Talker
Style:

ABV:

2.8%

Score:

Avg:

3.41

| pDev:

11.44%

Reviews:

10

Ratings:

From:

Avail:

Year-round

Wants

Gots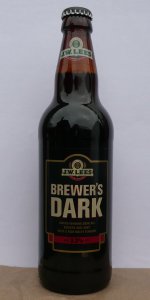 Notes:
Reviews by rulisekmartin:
More User Reviews:
BDTyre from Canada
3.95
/5
rDev
+15.8%
look: 4 | smell: 4 | taste: 4 | feel: 3.5 | overall: 4
Bottle reads 3.2%. Nice dark ruby colour with very little head. Chocolate, burnt sugar scent. Sweet molasses, brown bread and a bit of honey.
Brown bread, molasses and chocolate taste. Plum and raisin hops in the background.
The carbonation is a bit high - I chalk this up to being bottled. Great session mild though - and a true mild too.
Nov 22, 2011
charlatan from Scotland
3.5
/5
rDev
+2.6%
look: 3 | smell: 3 | taste: 4 | feel: 3 | overall: 3.5
500 ml bottle from supermarket with freshness date. Pours a very dark peaty brown with a slightly red tint and minimal head. The nose is grainy with a hint of red wine.
Tastes rather creamy with a delicate biscuity flavour and a hint of wood smoke. The carbonation is of the many small bubbles type, making it feel a little mineral watery, but the taste easily exceeds my expectations. The smokiness (there's even maybe a hint of high quality ginger beer there) adds heft to what otherwise might be a lightweight affair, rendering it rather a sipper.
Apr 04, 2010

seanyfo from Scotland
3.68
/5
rDev
+7.9%
look: 4 | smell: 3.5 | taste: 3.5 | feel: 4 | overall: 4
Pint served by handpump into imperial pint glass at local wetherspoons
A- Dark mahogany colour with 1 finger tan head that reduces to crown after several minutes, lacing is moderate
S- Faint toasted malts, liquorice
T- Toasted malts again, some slight prune and dates. with a gentle hop finish.
M- Low carbonation with medium to full body.
D- Flavoursome mild that goes down easy, with this low abv, its a true session beer.
May 01, 2008
BlackHaddock from England
3.85
/5
rDev
+12.9%
look: 3.5 | smell: 3.5 | taste: 4 | feel: 4 | overall: 4
Brown 500ml bottle, best before 20 Oct 2010, drank some two weeks before then: poured into a straight UK pint glass (Everards Tiger badged).
This is a proper English Dark Mild in every sense.
Dark ruby red colour, although unless held up to the light it appears darker. A good deep tan coloured head sat on top, the head giving some good lacing.
The aroma is malts all the way, as is the taste, rich but not sickly, hints of chocolate and esters of liquorice help to make sure the flavours stay interesting, even though it is only 3.5% ABV.
Easy to drink and well worth trying.
Oct 17, 2010
StJamesGate from New York
3.32
/5
rDev
-2.6%
look: 3 | smell: 3.5 | taste: 3.5 | feel: 3 | overall: 3
Rosey brown with a loose cola-like sand head that's gone in a flash. Nose is char, fig and a sharp earthy scent, like black soap.
Meat juice, some brown sugar, tar and liquorice, then slight barky hops.
Black jelly bean finish, a roasty sweet hit and numbing linger. Round, thin, fizzy, slight chew.
Now at 2.8%.
Watery and sharp. Just can't seem to get the flavours going without, well, some malts. I'll take my milds at +3%.
May 31, 2012
aidanskinner from Scotland
2.48
/5
rDev
-27.3%
look: 2.5 | smell: 2 | taste: 2.5 | feel: 3.5 | overall: 2.5
500ml bottle poured into pint glass.
A - thin head that quickly dissipates, no discernable lacing. Nice dark ruby colour when the light catches it, dull dark brown otherwise.
S - very little going on, not unpleasent but only a vague impression. Like walking past a bakery. On the other side of the road.
T - equally little going on here I'm afraid. It's not bad, just... dull. Nothing to report.
M - OK, bit light, bit fizzy.
O - Meh. It's not a bad beer. But it's not very good either. Given a choice between this and a macro lager I'd pick this, but I'd rather a Guinness...
May 13, 2011
AEK from Wales
3.4
/5
rDev
-0.3%
look: 4 | smell: 4 | taste: 3 | feel: 3 | overall: 3.5
500ml brown bottle poured into a JW Lees Bitter pint pot.
A. Red-brown in colour with a tan head.
N. Chocolate malt and coffee are very prominent along with fruity malt.
T. A faint touch of chocolate mixed with some fruity notes. Taste soon disappears. It states liquorice in the taste on the label but I couldn't detect any.
M. Thin, but that is only to be expected with a beer that is only 3.5% ABV
D. A light, easy drinking dark mild beer that has the faintest touch of carbonation
May 01, 2010

jazzyjeff13 from England
3.23
/5
rDev
-5.3%
look: 4 | smell: 3.5 | taste: 3 | feel: 3.5 | overall: 3
A 500ml bottle with a BB of Jan 2012. The label states that the ABV is 3.2% (probably reduced due to the recession).
Poured into a Guinness pint glass. A very dark ruby hue that looks black unless held to the light; medium carbonation levels are visible. Produces a thick off-white head with a creamy texture which lasts for several minutes. Aroma of dark roasted malt with hints of coffee, chocolate and dried fruit.
The taste is mild, slightly sweet malt. Faint notes of dried fruit, but none of the roasty hints from the nose. No hoppy aromas or bitterness. Mouthfeel is smooth and creamy. Not much aftertaste.
An OK ale, particularly as it's a mild, but not flavoursome enough to excite me. The roasted malt aroma makes it smell better than it tastes; which is rather bland. Decent, but don't go out of your way to try it.
Mar 12, 2011
flyingpig from Scotland
2.68
/5
rDev
-21.4%
look: 3.5 | smell: 3 | taste: 2.5 | feel: 2.5 | overall: 2.5
When held to the light turns out to be a dark, deep mahogany colour with a brownish-white bubbly head.
Some dark roasted malts & coffee on the nose which are backed up with a sort of fruity malt type smell. Along with this there is a smell of bread and hints of liquorice.
Sweet roasted malts that match the nose make up the initial taste of this mild ale & this is followed hints of liquorice too but not a lot else after this other than a sort of fizz water taste.
Medium bodied with slightly more carbonation than I would have liked from this one. It is slightly chewy & has a fair amount of fizz.
This one seemed to be lacking in every area without actually being bad in any either. Bland & average really; not one that I can recommend.
1001 Beers Blog:
http://abarwithnoname.wordpress.com
Sep 06, 2011

EmperorBevis from England
3.7
/5
rDev
+8.5%
look: 3.5 | smell: 3.5 | taste: 4 | feel: 3.5 | overall: 3.5
My favourite beer style from the nearest brewery to me,
I must remain objective.
Poured into a dimpled handled pint pot for full effect, just missing a pipe really. Struggled to get a head that soon went probably due to the fairly low carbonation which suits the style this isn't pop for the kiddies this is mild for the pops.
Nice malted barley refreshing taste with a slight charcoal burnt sugar aftertaste.
This is a good standard dark mild a reet cooking beer if you know what I mean. Very drinkable, extremely sessionable and just right for a quick drink at 3.2%
My main quibble is its nearly £2 a bottle when something like this, with its heritage should come in a 4 pack at £3 in total.
Does nobody remember the main point of mild?
Oct 09, 2011


Brewer's Dark from J.W. Lees & Co (Brewers) Ltd
Beer rating:
81
out of
100
with
14
ratings