Hamilton Beverage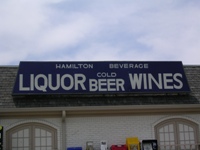 PLACE INFO
Type:
Store
2290 E 116th St
Carmel
,
Indiana
, 46032-3215
United States
(317) 844-0872 |
map
Notes:
No notes at this time.
Added by zerk
Ratings: 10 | Reviews: 8


3.94
/5
rDev
-1.5%
vibe: 3.5 | quality: 4 | service: 4.5 | selection: 3.5
A: A typical looking store. Reminds me of a grocery store section. Nothing specatcular but clean. When going through the store, you have to pay attention as things are cramped together.
Q: The quality was fine for the brews I purchased but I am not sure about some of the others since I did not try them. I can say I did not see dusty cans or bottles anywhere.
Ser: The service was just fine. Quite engaging and knowlegable when you ask them a question. Once they are done answering, they let you be.
Sel: They have a decent selection of brews, including many Three Floyds, Bells, DFH and some other locals. It offers a ample amount of domestic craft beer over a multitude of styles. There are no real 'whales' here, but plenty of brews to choose from which is just fine by me.
Overall this is a nice stop if you are north of Indy. This should be able to satisfy most beer drinkers, both craft and non-craft drinkers alike. This is a great stop if you like wine and liquor too. Their wine selection seems to be their bread and butter.
1,039 characters

4.3
/5
rDev
+7.5%
I stopped by today because I was forced to go in the direction due to construction. I was pretty pleased to stop in. They had several FFF beers that you may not find at most other places. This is mainly a liquor/wine store, with probably only an 1/8th of the store being devoted to beer but what they have is quality over quantity. Most of the beer they have is cold but they did have a craft rack and one shelf of crafts six packs. They did even have a couple retired beers, so I'll have to stop by again. The employees were very helpful, even willing to see if they could order a few things. The only thing was that it was a little pricey but for the quality of what they carried, it's not a big downer. It's definitely worth the stop.
737 characters

4.8
/5
rDev
+20%
Props go out to this place in a big way! Got there around 10 am on a Saturday and the were already open and rarin to go. The two guys working were very informative and dedicated alot of time to me when they found out I was from out of town. Provided me TONS of info on the local(Indiana) brew scene and brews they had available, even provided me info on other beer/ brewery locations and helped me make selections from their stock. Really great place and even greater people! Will be back for sure when we head back there(Indy) next year! PS a thank-you also goes out to BA for having this listed on beerfly so us lost out of towners got some sort of direction.CHEERS!
668 characters
3.9
/5
rDev
-2.5%
After following my GPS to the Hop Shop in north Indy, only to realize it was closed before 10:00 on a Friday night (???) I remembered this place a few miles north from when I was in the area numerous times before (when my beer tastes were much different).
Decent selection of cold stuff, more diverse range on the warm shelves. A lot of stuff I'd only heard of, and having a long ride home the next day, wasn't crazy about trying. Mix-n-match specials on a lot of stuff too. I picked up a cold six of Goose Island's Nut Brown Ale and a warm six of Thirsty Dog's Leghumper (an impulse for the name and picture on the box more than anything else). At $13 a sixer I figured I'd give the bottles away as gag gifts. After reading the reviews and being a fan of a good porter, I thought better of the gifting idea, and I'm glad I did. But back to the store review....
Staff consisted of a guy walking around seeing if anyone needed help and a very friendly lady behind the counter seemed new to the area but was very friendly and talkative, distracting the fiance while I did my best to blow another $20 on beer, so that's another plus.
A few hours later as I enjoyed my second Nut Brown Ale I finally realized that they were bottled in early 2008. Doh! Old beer or not, I'll go back the next time in I'm in the area because they saved me when the Hop Shop let me down.
1,366 characters

3.85
/5
rDev
-3.8%
Hamilton was about a mile from my hotel. At least it was easy to find...at least for this BlitheringIdiot. Plenty of parking is plus. Inside, the beers are straight back and to the left.
Solid selection at least while in Carmel, IN. I found some Avery, a few local surprises, Bell's Two Hearted, and even a selection of Rochefort and Belgians. Believe it or not, there were a few bottles of Sam Adams Utopias for $90 a pop. Cheap! I shoulda grabbed one or two oh, well. I really dug their single bottle offerings.
Folks were friendly. They have great hours open til 10pm weeknights. Maybe the 3rd best beer store that I found in Indy next to their formidable foe, Khans that has beeter selection, but is even more pricey.
Ya gotta pay for quality.
759 characters
3.5
/5
rDev
-12.5%
I would consider this place to be one of those "appearances can be deceiving" type places. It is located in an out-building next to shopping center and connected to a cellular phone store. I only stopped in after reading a review here.
I have stopped in a couple of time now and aside from being a little cramped for space they carry a pretty descent selection of micro's from across the country as well as imported selections and they are grouped and labeled on the shelf accordingly. (I am usually looking for US micro's.) Beer is available warm or cold with most being warm. They also have growlers from Barley Island Brewing up in Noblesville, IN.
I don't think they move a lot of product here, so lookout for the dust accumulation on those bottles!!
I think prices are average to high and I have not experienced any service short of a positive comment on my selection when checking out.
901 characters

4
/5
rDev 0%
This is a great place to stock up on beer because not all of it is chilled in the cooler. The staff seems to be knowledgeable and the prices are average to good as far as other stores in the area are concerned.
210 characters
3.55
/5
rDev
-11.3%
Hamilton Beverage has a good, and varied selection of imports and micros, focusing more on Germany and England. They also have a several local and regional beers. Also, many beers are available as singles, enabling you to try out new beers without shelling out a lot of cash. They are most impressive, however, if you need large quantities. Their list of 1/4 and 1/2 barrels alone consist of probably 40-50 micros and imports. My only compaint is that their staff doesn't have a good knowledge of the beer they sell. I once asked if they had any good deals on cases of Micro... the person I asked replied "We have a good deal on Killian's right now..." I've consistantly found this to be a problem there.
712 characters
Hamilton Beverage in Carmel, IN
4
out of
5
based on
10
ratings.