The Malt House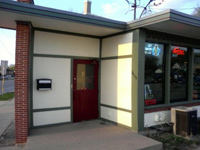 PLACE INFO
Type:
Bar, Eatery
2609 E Washington Ave
Madison
,
Wisconsin
, 53704-5025
United States
(608) 204-6258 |
map
malthousetavern.com
Notes:
No notes at this time.
Added by DaPeculierDane on 06-29-2008
Reviews: 28 | Ratings: 64
4.44
/5
rDev
-0.9%
vibe: 4 | quality: 4.5 | service: 4.5 | selection: 4.5
I'm a big fan of the place. Good beers, good turnover in the selection (sometimes so quick that I miss beers I wanted to try!), not cheap but certainly reasonable prices for beers that may not be available on draught elsewhere in the area, and friendly bartenders. The absence of TV is a good thing.
The beer selection turns over often enough that I decided to blog the draught list at http://malthousefan.wordpress.com
(disclaimer: not an official website, no financial interest in the place, blahblahblah)
I don't promise to get every change posted or update it after every single time I visit, but I'll aim for updating it a few times a month, as feasible. Enjoy.
Now go have a beer!
690 characters
4.64
/5
rDev
+3.6%
vibe: 4.5 | quality: 4.5 | service: 4.5 | selection: 5
I don't think I really need to write much--the other posts have described this place quite nicely. I stopped in with some friends on a late Saturday afternoon to discover an amazing array of tap offerings (we didn't even try any bottles, although certainly there are plenty of options there, too. The Malt House is the very epitome of "laid back beer bar." No distractions, just good beer, good service and good conversation if you're willing to engage your fellow patrons (and isn't that usually better entertainment than the big game). I understand it can get pretty crowded later in the evening, although there were only about a dozen or so in the bar during our visit.
672 characters
4.4
/5
rDev
-1.8%
vibe: 3.5 | quality: 5 | service: 3.5 | selection: 5
Located in the old Union House. If you want porn, it's kiddie corner across E. Washington. This place looks like an awesome dive (and it used to be, depending what "awesome" means), but now the interior and windows are full of signs for beers that 99% of the populace have never heard of or even recognize as beer. I appreciate that.
Don't come here for the big game, or for bar games, or for pumping the juke full of dollars. No TVs, no pool table, darts, shuffleboard, or jukebox.
Come here simply for the beer.
I appreciate that even more.
It's a bit old school with a bar stretching basically the length of the place, and maybe fifteen tables in front of it.
Drink and converse. That's all there is to do here.
This might be a snoozer if the beer selection wasn't so phenomenal. The bottled list is 100 or so deep. Everything from local stuff to $30 bottles of rare Belgians (and when I say "rare", I mean that they are not found in any other establishment in Madison...bar, store, anywhere).
The tap list brings stuff from the States and Abroad. It'd be silly for me to enter what they got since it changes weekly. Just trust me when I say that there's plenty of stuff here that can't be found anywhere near here, and you will not be disappointed.
The tap prices range from $4 for most things brewed here (with a few higher ABV offerings going for $5), up to $7 for the bigger Belgians. Bottles vary from about $4 up to $30+ (as I've already mentioned). Some seem like deals, some are on the steep side. Overall, it's a hair more expensive than Maduro. But there is also more selection and rarity here.
No food to be had, so look elsewhere for that.
I've long griped about the lack of true beer bars in Madison. With this, Dexter's, Maduro, Brasserie V, and a few other upstarts (notably, Alchemy). That's no longer a valid complaint.
The East Washington corridor- from the exit off I 90/94 to the Capitol- is a wonderful beer trek with a couple short jaunts, starting at Ale Asylum, hitting Malt House, Dexter's, Alchemy, and ending at the downtown Great Dane. That's probably the best route for travelers to experience Madison's finest beer establishments.
And selection-wise, this is probably the best of them all.
Absolutely stop here when in Madison.
2,272 characters
4.36
/5
rDev
-2.7%
vibe: 4.5 | quality: 4.5 | service: 4 | selection: 4.5
This is the type of bar i prefer to drink in. I don't need T.V. or obnoxious music. You deffinatly won't find that here. It's small with a historic dark wood Bar and new europian taps. The atmosphere evokes the old world. You can find some really rare beers here as well, hence the price, along with some local and old standbys. The best part is that there all serveed in the Proper Glass. The service staff is informative to say the least. Since the owner used to be the pres. of the MHTG, you'll find plenty of home brewers here too. The Lack of T.v's aide in the easy of conversation and apperation of what our holding in front of you. There is an Atm. It's kind of hidden in a dark corner near the Front door. The place is to small for food but you can order in.
This is the spot to come for a unique experiance with good beer, but hede my warning you can drink for value but if your seeking rarity (Cantillion Iris) it is a bit pricy. It is worth very cent.
963 characters
4.58
/5
rDev
+2.2%
vibe: 4 | quality: 4.5 | service: 5 | selection: 4.5
Ventured over here on foot after visiting Alchemy on Atwood. Located in a somewhat desolate area, across from a rather shady "adult emporium". Large Chimay sign outside was a clue to the quality beer to be had inside.
There were some exclusive taps here for the Great Taste weekend, such as Jolly Pumpkin Weizen Bam, O'so imperial Saison, and Grumpy Troll Maggie IPA. Other local craft options and Belgians too. Big chalkboard in back listed the taps. Vast bottle selection here, something for everyone. The interior was larger than I expected, low drop ceiling, wood paneling on the side walls. We only stopped in for a couple rounds, but I noticed plenty of beer decor, like De Dolle posters, and a few other scattered signs. Lots of tables and chairs, they also had some cheese plates out on the bar, that was a nice touch. Sid the bartender was really great, friendly and helpful even when it was busy.
I'd go back sometime to see what was new on tap.
2009 edit: Malt House is consistently solid, i'd recommend them over Brasserie V if you're looking for Belgians.
1,072 characters
4.18
/5
rDev
-6.7%
vibe: 3 | quality: 4.5 | service: 4 | selection: 4.5
located at east washington and milwaukee street - not too far from the capitol square and just a few minutes from my lady-friend's house. It's not a beautiful area of the city, and is an odd choice for this type of bar in my opinion
atmosphere: a little awkward to arrive at with u-turns and obscure parking lots to deal with. the interior comes with an aroma of aged urine which i guess is what happens when you have a really old bar like this. there is some belgian beer swag on the inside but otherwise nothing really special to set it apart
quality: tons of great beer - thats for sure. my girlfriends st bernardus wit had some dust on it but it still tasted great. no crap beer on tap and minimal in the bottle. In my opinion, madison lacks on bars like this with huge bottle lists - nicely done
service: i think there is some overlap with this joint and the old wonders pub, based on eavesdropping. service was fine, but the place was pretty slow
selection: pretty strong. There were 14 taps i think - 7 belgians and 7 wisconsin beers. The wisconsin beers were a little weird to me (tyranena brown, ng naked, furthermore proper, and some others that didnt excite). the belgians were fairly standard (chimay tripel, duchess, and some others). While standard, its still a pretty nice stash. The bottle list is small print and double sided and really hits home on a lot of good stuff (stone ruination, stone oaked arrogant, all of the st bernardus rotation, goose island premiums, and TONS of other goodies). best bottle selection in town probably
food: i dont think there is any
value: some things seemed really fair (bells TCOA and sparkling ale for 4$) while other belgians were a bit steep. overall, it was pretty fair but 6$ for a bottle of ruination and 7$ for a st bernardus wit was pushing it
overall - a place to keep an eye on and a strong addition to the scene
1,881 characters
4.2
/5
rDev
-6.3%
vibe: 4.5 | quality: 4 | service: 4 | selection: 4.5
I have visited the Malt House several times since it's opening earlier this summer. It is in the building that used to house the Union House Tavern (the sign is still up at this time). The selection of beers on tap is good, with 6 belgians and 9 micros, most from the area, on tap. There is also a cooler with a good variety of micros and imports. The atmosphere is similar to a local pub, with the emphasis on good beer and conversation. There are no televisions and little food available at this time. The bar and back bar were recently redone and look great. The church pew seating by the window is a nice touch too. Parking is a little tough, but enter from Milwaukee St and there are plenty of spots most nights. All in all a great addition to the beer scene on the east side of Madison.
792 characters
4.3
/5
rDev
-4%
vibe: 4 | quality: 4.5 | service: 4 | selection: 4.5
I've been to the places a couple of times since it opened. I rather like it. No televisions and a really nice old bar. The selection is good as well with beers I haven't seen in Madison, like the De Dolle Bos Keun in bottles and the Cantillon Lou Pepe Framboise on tap. The bottles are stored in a fridge at the proper drinking temperatures as well, which is a nice touch. A good addition to the Madison beer scene.
The exterior is a bit worn down and the parking lot is pretty jacked up. Also it is a little difficult to figure out where to pull in from east washington street. Overall, a very pleasant place to have a drink.
627 characters
The Malt House in Madison, WI
4.48
out of
5
based on
64
ratings.