Dismiss Notice
The Black Sparrow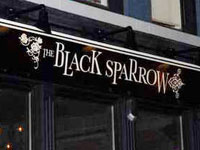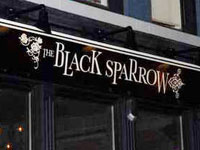 PLACE INFO
Type:
Bar, Eatery
223 Main St
Lafayette
,
Indiana
, 47901-1261
United States
(765) 429-0405 |
map
blacksparrowpub.com
Notes:
No notes at this time.
Added by emerge077 on 06-29-2008
PLACE STATS
Reviews:

15

Ratings:

pDev:

13.11%
HISTOGRAM
Ratings: 19 | Reviews: 15
4.63
/5
rDev
+8.4%
vibe: 5 | quality: 5 | service: 4 | selection: 4.5 | food: 5
You never know who you're going to run into at Sparrow. Everyone, from 20-somethings, to 50-somethings (60-somethings?) freely mingle, chat, and enjoy drink and food together.
The tap beer selection is awesome (and changes often). "No crap on tap" is their motto, and it's true. I would add the sub-motto "... but we'll be happy to sell you crap in a can." but that's just me. ;)
The food is incredible. Steak Frites. Awesome Fish-n-Chips. Every month or so, they do a Sunday brunch featuring local chefs (and usually mostly local food).
There's really nothing to NOT like here, unless you can't handle smoke at all. They do allow smoking and people do take advantage of it. It's a bar! :D
693 characters

4.85
/5
rDev
+13.6%
vibe: 4.5 | quality: 5 | service: 5 | selection: 5 | food: 4
The Sparrow is a quality bar located in Lafayette, across the street from the restaurant Red 7 and around the street from beer bar Chumleys. It features a different atmosphere than any of the other bars that Purdue students may venture to, especially across the bridge. The room with the bar features a weathered brick wall and they feature the beers they have on tap on a chalkboard. They generally have excellent beer on tap. They have six taps but regularly feature Three Floyd's specialty beers as well as Dogfish Head's specialty beers and various beers by Founder's. The best selection I've ever seen there at once included Bell's Hopslam, Three Floyd's Dreadnaught, Founder's Double Trouble, and Crazy Horse Double Crooked Tree IPA. They also have high quality craft brews in bottles such as Founder's Breakfast Stout and Chimay. The atmosphere is more mature than anyone from Purdue is used to. Some say it's a "hipster" bar but that doesn't bother me. The one downside is that you can smoke in Lafayette but that's about it. Their beer selection is excellent and the bar gives off a great vibe. Some of the more experienced bartenders really know their stuff and are fun to talk to. If you like good beer and are stopping by The Black Sparrow, definitely stop in to see what craft beers they've got on tap.
1,315 characters
4.28
/5
rDev
+0.2%
vibe: 4.5 | quality: 5 | service: 3 | selection: 4.5 | food: 4.5
Excellent hipster bar with daily specials. They go out of their way to get rare/interesting beers, and buy local, seasonal, and organic products. Beer selection changes often and they get the best stuff from around the region and the country. Servers are often very knowledgeable, and if not will find someone (usually the bartender) who is. Also an excellent selection of craft spirits and creative cocktails mixed expertly. Local and touring bands welcome and invited -- there's a link to schedule your band/artist on the website.
I bring visiting friends and family all the time and eat twice or three times a month here myself. Beers seem to stay on the blackboard list only as long as their one or two keg supplies last, and I often call to find out what's new on tap. One of few places where I will follow the bartender's recommendation, and trust their taste.
This spring, the special was asparagus with poached egg, which doesn't seem like a big deal until you taste it. Last week I had a garden salad that had local beets, roast green onions and garlic, butter lettuce, and goat cheese and I think about it every lunchtime. Pizza special this week was locally cured salami. All excellent.
1,199 characters

4.72
/5
rDev
+10.5%
vibe: 4.5 | quality: 5 | service: 5 | selection: 4.5 | food: 4
It is a cliché but, I Love This Bar!
The Black Sparrow is the place to go in Lafayette, IN
A- This bar is very welcoming, a fair amount of places to sit and stand. The crowd is a very nice group full of new and familiar faces. The few draw backs are that it can get pretty smoky later at night and very crowded if their is live music.
Q- I think you are getting what you pay for here and it is worth it. The beer is of the highest quality with 8 rotating taps. They support local and get great beers in to support their "No Crap On Tap" slogan. The bottled selection is great as well.
S- All of the servers and bartenders are very friendly and knowledgeable! Service is fast, even when there is a huge crowd.
S- Well... I kind of already covered this, but again the beer selection is great! I also sometimes indulge in a liquor beverage here and they have one of the largest high quality selections in this area as well.
F- I have really liked everything I have tried. They have small plate appetizers, sandwiches, specialty pizzas, and high quality dinner specials. I only scored this section low because while the menu is great it is small.
V- Very reasonable on drinks and food. Food ranges from $5-$12 Beers on tap are usually $4-$6 Mixed drinks I am not too sure on but my usual is $3 at well and $5 with my liquor choice. They also have cocktails that are a bit more pricey around $7-$9 but they are very good!
1,426 characters
4.78
/5
rDev
+11.9%
vibe: 4.5 | quality: 5 | service: 4.5 | selection: 5 | food: 4.5
Let's start with the beer. There are 8 rotating taps, and the motto is "No crap on tap". They're not kidding. They typically have the current Goose Island special release (e.g. Matilda, Pepe Nero, etc), something from Founders, other IN breweries like the new Sun King in Indy and the local People's Brewing. There is also often something Belgian, or something hoppy, or Rye, or ... oh you get the point. Prices range from about $4 a pint for the regular ABV local stuff to about $6 -$7 for the rare high ABV stuff. I think the most I've paid is $8 for a 12oz Kentucky Breakfast Stout. There is also a nice bottle selection which you can read on their website, but that's not why I go there. One of the reasons I started going there was because they had a IIPA week last fall where all 8 taps were IIPAs, which I thought was the coolest thing ever.
The bartenders and waiters are fairly knowledgeable. The seem to have a general idea of what they are serving, and if it's something a little odd they'll go find out more and typically offer to let you sample some.
I think they play music, maybe not. They do have bands some evenings, but there aren't any TVs. The place actually takes up two narrow building with one side being the bar area and the other side the The inside is usually pretty dark, and it gets smokey at night, which is why I deducted a half point there.
The menu is simple, but the food is quite good so no complaints. It's mostly sandwiches and pizza, but it's fresh, almost gourmet, and not that reheated Sysco crap I see so often.They will typically have a couple of more complete dinner specials (i.e. meat and potato type plates).
There is a place around the corner with like 50 taps, and a lot of them are good beers, but I gravitate towards The Black Sparrow. I guess it's not how big your draft system is, but how you use it.
1,858 characters
4.19
/5
rDev
-1.9%
vibe: 4.5 | quality: 4.5 | service: 3.75 | selection: 4 | food: 4.5
Black Sparrow is a cool joint. It would fit right in if it were in Chicago, but it's in downtown Lafayette, which makes it even cooler. Atmosphere on early Sunday evening was laid-back, not too crowded, though there were a few smoking at the bar. Lighting was dim with eclectic art on the walls, and show posters advertising live music. The walls were exposed brick and cutaway plaster, which lent a bohemian sort of vibe. Lighting was sort of minimal and industrial (vertical metal lightbulb cages). There were a few tables opposite the bar, and larger ones in a second room off to the left, which also housed the kitchen in the rear.
8 taps had some good stuff flowing, I opted for a People's Maltser, which was solid. They had a firkin of 2 Hearted on the bar also, but sadly it was long in the tooth. From Sun King they had a Doppelbock. Bottle list had many quality options like Aventinus, FFF Dreadnaught, Ommegang, etc., around 40 total.
There was no one behind the bar when we arrived, and I waited awhile for anyone to show up and serve up a beer (with cash in hand). After a "got ID bro?" I finally got a damn beer... Our server was much better and really on the ball, and he chatted beer with us for awhile.
Food was tasty, creative and homemade, the BLT&E was excellent with a side of sweet potato/corn/crab soup. Margherita pizza was good too, almost tasted wood-fired.
All in all, worth a detour off I-65, or if you're headed to Purdue.
1,457 characters
4.26
/5
rDev
-0.2%
vibe: 3.5 | quality: 5 | service: 3.5 | selection: 4.5
best tap list in town in my opinion. they don't have the most, but they definitively have the quality. "no crap on tap" written in caulk above the ever changing tap list. they often rotate and keep a lot of quality local beers going. got a great cream dream double ipa from sun king that was awesome the other night. they got a keg of KBS that i heard was gone in about four hours. plenty of bottle from FFF and founders which is perfect for me. the bartenders are great and very knowledgeable about beer. the place does occasionally get really busy, so the service can suffer to a degree. i've never had a chance to try the food here, but i've only heard great things about it. there is smoking but it doesn't get out of control unless they are super busy. a must stop if you are in the area.
793 characters
4.2
/5
rDev
-1.6%
vibe: 3 | quality: 4.5 | service: 4.5 | selection: 4.5 | food: 3
This place is a little niche in downtown Lafayette and I had heard about their selection of draft beer and their strict following of "No crap on tap!" I had to check it out. Very comfortable place with awesome beer. They only have a few taps but each one is quality craft beer. Very impressed. Although the prices are high, it is to be expected with the caliber of beer served. A pint of World Wide Stout was still cheaper than just buying a bottle... Great place to check out and to check out often becasue the drafts are constantly rotating.
543 characters
4.36
/5
rDev
+2.1%
vibe: 4.5 | quality: 4.5 | service: 4 | selection: 4.5
Visited 08/30/2008.
I stopped by the Black Sparrow to meet a friend while I was in town overnight. Because this place did not exist the last time I visited Lafayette, I had no idea what to expect. To my pleasant surprise this is a serious beer lover's pub.
Upon entering, you quickly realize that this pub is broken up into several small spaces, as an old pub would be. The bar is on the right and to the left are a few tables and a doorway into another room where the live music/DJ operate.
The bottle selection is really great (50 beers!) and the night I was there the draft selection was great too. It was a solid mix of regional craft brews as well as imports (hefes, hoppy stuff, strong Belgians, etc).
Prices were very reasonable/fair. The only real downside we found with the place was that it became VERY crowded, very quickly on a Saturday night and the cigarette smoke was a bit overwhelming. All in all a great pub though, and one I will surely visit again.
972 characters
The Black Sparrow in Lafayette, IN
Place rating:
4.27
out of
5
with
19
ratings