Oak Barrel Aged Weisse
| Outer Banks Brewing Station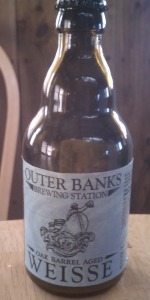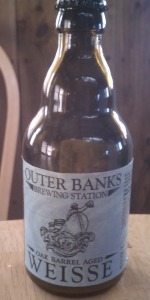 BEER INFO
Brewed by:
Outer Banks Brewing Station
North Carolina
,
United States
obbrewing.com
Style:
Berliner Weissbier
Alcohol by volume (ABV):
2.50%
Availability:
Limited (brewed once)
Notes / Commercial Description:
No notes at this time.
Added by n2185 on 06-07-2012
This beer is retired; no longer brewed.
HISTOGRAM
Ratings: 14 | Reviews: 6
Reviews by Urbancaver:
4.05
/5
rDev
-0.7%
look: 4 | smell: 4 | taste: 4.5 | feel: 3.5 | overall: 3.5
Thanks Stephen!
The review is only based on aroma. Because its so odd
Smells like when your great dane goes swimming in the Atlantic ocean wearing old gym sock and you dry him off with a sweaty towel and then ring it in to a glass. Fucking weird but tasty
256 characters
More User Reviews:


3.99
/5
rDev
-2.2%
look: 3 | smell: 4 | taste: 4 | feel: 4.5 | overall: 4
A: Pours a hazy straw yellow with two fingers of white head that fades into a frothy ring with no lacing.
S: Tart and sour aromas dominate, reminiscent of a tart sparkling wine. White grapes and lemons with some faint underlying sweet and bready notes.
T: The flavor is also reminiscent of a really tart sparkling white wine. There are some white grape flavors before sour and tart fruit notes kick in. Light funk and barnyard flavors bring up the finish with some acetic notes as well.
M: Light body with lively carbonation, this beer is as light, crisp, and dry as a sparkling wine and it accents the flavors very well.
O: A surprisingly good beer with tons of flavor despite its meager 2.5% abv. It's very impressive that they imparted so much flavor into such a light beer.
789 characters

4.08
/5
rDev 0%
look: 4.5 | smell: 4 | taste: 4 | feel: 4.5 | overall: 4
Batch 1, courtesy of MordorMongo, thanks Scott. Tickables ftw. It pours a light bodied, super cloudy pale, pale milky gold. The nose is dry, tart, and overloaded on brett. This is hands down one of the driest, funkiest Berliners ever. The flavors are light and quick. It's dry yeast for days. I.dig it. It's.overly dry for the style but I like it. The brett is evident. It's everywhere. It's dry and lemony. It drinks really light and is fit for a.larger bottle. Overall this is a really nice Berliner. I'm glad o could try it. It brings the funk that others don't.
565 characters


4.05
/5
rDev
-0.7%
look: 4 | smell: 4 | taste: 4 | feel: 4.5 | overall: 4
Poured from 330mL bottle into a tulip. Bottled on 11/2011.
Appearance: light golden hue with a moderate haze and a good effervescence. head is a thick finger of frothy white foam. Pretty good!
Smell: very light malt aroma; you can tell it's a low-ABV drink. There's a huge funk here with a light but appropriate sourness. This thing was barrel-aged 14 months according to the label; that's pretty ambitious for such a light drink. The funk is starting to grow on me, but it's a little unorthodox for a Berliner weiss.
Taste: dry, malty flavor with a sourness which is moderate but big compared to the malt. Funk is dialed back a little bit from the aroma but is still definitely present. There's also a great wheatiness in the aftertaste which I really like. Different, but good!
Mouthfeel: light body with a massive carbonation and creaminess. Big and refreshing, just like the style should be.
Overall: I really like this beer, but the funkiness kind of detracts a little bit for me. Still, worth a try for any fans of the style.
1,036 characters
3.42
/5
rDev
-16.2%
look: 4.75 | smell: 3.25 | taste: 3.25 | feel: 4.5 | overall: 3
Thanks to Wissler for sharing this with me. I must have just missed out on being able to buy this at the brewery because the other barrel aged wilds were available but not this one (the one I wanted to try the most of all their brews.)
The brew pours a very pale yellow color that appears pretty clear. Upon closer inspection, there is some fine flakes stuck in suspension. A thick white froth holds atop supported by rising bubbles. A swirl revives the cap that holds with impressive retetion for the style.
The aroma of this brew while cold starts off like your typical berliner. A bit lemony and bready. However, that fairly abruptly turns funky and becomes very similar to the other vitus reductus brews. I dont know if the character imparted here is the grapes used or the barrels but it isnt the most appealing. It smells like a musty damp basement. Mold and mildew immediately come to mind with an afterthought of wet leather and wet dog.
The flavor is a little better since that mold basement character doesnt fully transcribe from the nose to the taste. It is mildly lemony and tart with a vinous aspect thrown in there. Instead of being clean, crisp and refreshing this one is a little dusty around the edges. A pretty significant brett influence is found that distracts from the brew instead of complimenting it. An aftertaste of wet wood is left lingering in the mouth with strange funkiness.
This is a light bodied brew with a modest about of carbonation that is tingly across the tongue and perfect for the style. This is a unique one for sure. The sheer amount of character packed into this offering is noteable, its just a shame that combination of wood and grape reduction just didnt quite do it for me like I thought it would. Thanks again Josh for sharing.
1,779 characters


4.47
/5
rDev
+9.6%
look: 4 | smell: 4.5 | taste: 4.5 | feel: 4.5 | overall: 4.5
Batch 1 (Brewed 9/2010, Bottled 11/2011)
Sampled 6/2012
A: This poured a cloudy pale straw with some white head.
S: It smelled like very tart chardonnay and sour apple, with some fresh wheat and unripe apricot and funky oak and vinegar.
T: It tasted like very sour apple and tart chardonnay and unripe apricot, with some vinegar and fresh wheat and funky oak. It had a crisp and clean and very tart aftertaste.
M: It was slightly thick with lots of fizzy carbonation. Very champagne-like body.
D: This was an excellent Berliner-weisse, more like a gueuze or dry champagne than anything. Delicate yet bold and complex scent and taste. Refreshing body and lasting finish. Must be sipped, but is a delight. Could probably age forever, but great now. Highly recommended, if you can find it.
787 characters


Oak Barrel Aged Weisse from Outer Banks Brewing Station
Beer rating:
4.08
out of
5
with
14
ratings