Beverages & more!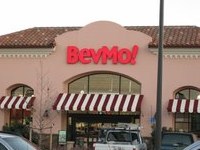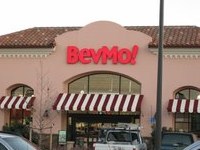 Store
1502 Froom Ranch Way
San Luis Obispo
,
California
, 93405-7211
United States
(805) 786-4892 |
map
bevmo.com
Notes:
Reviews by Beerandraiderfan:
Beerandraiderfan from Nevada
4.15
/5
rDev
+1%
One of the more impressive Bevmo's I've been to. Spent $60 without needing anything. They were doing a tasting of Saranac. While the beer, how do I say it, "sucked," it was nice to eliminate 6 beers from a pure intrigue perspective. I mean, now I know not to waste $14 on a sampler pack, by the little $1 investment. Cool.
Selection is big, wish, like all Bevmo's, that there was more of a selection in regards to regional beers, but what can you do?
I got carded in line, and even asked my birthdate! Thanks for making me feel young bro! Everyone was real helpful and cool, which is sometimes the antithesis of Bevmo. They still had Mirror Mirror, Black Butte XXI, Caldera IPA (never seen that in a Bevmo before). The Stone Anniversary was listed, but not available.
Jun 28, 2010
More User Reviews:


gelasin from California
4
/5
rDev
-2.7%
vibe: 4 | quality: 4 | service: 4 | selection: 4
Jul 10, 2014
MilwaukeeCrusher from Wisconsin
4.07
/5
rDev
-1%
vibe: 4 | quality: 4 | service: 4.5 | selection: 3.75
Burned some time here after spending the night in SLO and wanting to go to an Indian restaurant about noon. Selection was ok, but my understanding is beer distribution in California is regional. I picked up a few bottles on recommendation and bulk of my reserve for later. Firestone Walker, Ballast Point off the top of my head, but no Alpine or Kern River (found out later distribution for both very limited). Probably reasonably priced for a broad purchase of beers and good for locals.
Mar 15, 2013
UCLABrewN84 from California
3.73
/5
rDev
-9.2%
vibe: 4 | quality: 4 | service: 3 | selection: 4
I visited this location over Labor Day weekend. One of the nicer BevMo locations I have been to, this particular location was well laid out and things were displayed and stocked with care. It seems as if all the beers I was looking through were fresh with very few dusty bottles around the store. Service was average as most BevMo locations are. The selection was good, with some bottles I haven't seen anywhere else before. Prices are pretty reasonable as most BevMo locations are. Worth checking out, especially for the area.
Sep 07, 2012
Pardishcreel from California
4.7
/5
rDev
+14.4%
Its a bevmo in a collage town, whats that mean lots of beer. Nothing I care for more then lots of beer.
It may be the nostalgia factor that dose me in for this place, but my first unibroues were bought here. Those beers got me started on the path to enlightenment from yellow fizzy beer, to real beer.
This place helps you get some of the harder beers to find. they even have it broke down by country so its easy to find. In a store the size of some grocery stores but filled with nothing but alcohol how can you really go wrong.
Aug 17, 2010
Swimsum from Oregon
4.35
/5
rDev
+5.8%
This BevMo is located in the Irish Hills Shopping Complex off Los Osos Valley Road. First I must say this, when this BevMo first opened the beer section wasn't all that impressive. Since then it is becoming better and better thanks to RJ and all his hard work to get good beers up here in SLO. This review will be based off how BevMo is now, not how it used to be.
This place is huge, made up of wine, liquor, beer, and assorted other party stuff like cheese, glassware, other snacks, and other drinkware accessories. They have a huge list of kegs available which can be found on a list by the front door. Never bought one here so cannot comment on that service. Their glassware selection isn't as good as some other the other BevMo's I've been too but there is still plenty here that you'll be able to find the right piece of glassware.
The service is very nice and always willing to help. Every time I've been standing looking at beer and an employee walks by they always ask if I need help. If I know that a certain beer is in the back, I'll ask for it by name and have never had a problem with them coming back saying they didn't have it or couldn't find it. BevMo host a beer tasting on Fridays for $2, getting to try 6 different beers and the server is always friendly and will talk to you about the beer.
The beer selection itself is impressive. If you've never been to a BevMo it's hard to really explain just how much is here. Easily over 500 different beers and there is no way I'd be able to ever give you an exact number. There are four full rows of beer and another two half rows. The selection is separated by region (Europe, specific European counties, Latin America, American craft, and BMC). There are 5 coolers full of beer with bombers, six packs and cases in. One is wine, another is imports, and the final three are American (two craft and one BMC). Cases are all around the beer isles. There are usually two displays set up, one in the front of the store and one more toward the middle (closer to the beer isles). These usually rotate depending what's in stock or if a holiday is upcoming. As I noted before, the selection here is getting better each time. We were able to get approximately 10 cases of Deschutes Mirror Mirror when many others were getting very few. Also new in are DFH, Oskar Blues, expanded Rogue selection, and more and more limited released or seasonal beers. Again I must thank RJ for all the hard work on this.
Overall it's hard to beat BevMo SLO for the SLO area in terms of selection. Sandy's does have some beers that cannot be found at BevMo and granted SLO isn't the best distributed to area in CA but I think we are getting better. If you happen to find yourself traveling though SLO and spending a few days in the area, a BevMo stop is a must to get some good beers.
May 12, 2009
barleywinefiend from Washington
4.05
/5
rDev
-1.5%
Ok..so BEVMO employees arent the saviest people when it comes to beer. I say.."Hey..do you have any Old Numbskull coming in anytime soon?"...employee says "Huh?" Lets face it. They are younger college crowd that likes the hard A and a paycheck. I have been to numerous BEVMOS and its all the same. With that being said, RJ, a local craft beer lover has been in charge in recenmt months and this place has donea 180. The selections are awesome and keep getting better everyday. However, they do carry the biggest variety on the Central Coast for the best prices.
Located in a shopping plaza off of 101 just as you get into SLO. Its the typical BEVMO. The selection ranges from Stone, Anderson Valley, AleSmith(sometimes) Butte Creek, SN, Marin, Moylans, Big Sky, Bison, Anderson Valley,Speakeasy,Anchor,Bear Republic,Alaskan,North Coast, Lost Coast,Drakes, Lagunitas, Green Flash,Mendocino, Humboldt,Firestone, Rogue. They also have a decent selcetion of Belgians and good selection of Euros. Do not expect to find any specialty beers here. They have craft beer that appeals to the masses. The prices are cheaper than any other beer store within 100 miles. TRUST ME! The service is crap but it is cheap and on the Central Coast you cant be picky because we gets NO BEER from SD, Washington, Oregon(except Rogue) and East Coast beers?? Forget about it! I enjoy coming here because the selection is big but not special.
Apr 05, 2009

ThreeWiseMen from California
4.3
/5
rDev
+4.6%
Nothing compares to BevMo!... nothing! While I'd love to see a local business with a larger selection and comparable prices, that's just never going to happen. BevMo! is an alcohol warehouse. They sell a wide variety of beer and they sell it for reasonable prices (some exceptions exist).
This review was entirely rewritten May 28, 2009.
This BevMo's beer guy, RJ (Grabbin2nd), is awesome! RJ is a craft beer fanatic and has been improving this BevMo's selection since he came aboard several months back. Thanks to his relentless badgering of beer distributors, we central coasters have been able to taste the likes of Mirror Mirror, Dorado Double IPA, Marin Star Brew, Hop Henge, Red Chair IPA, Brandy Barrel Aged Angel's Share, Maharaja, DFH 60/90/Midas Touch/Palo Santo Marron, etc. Another worker, Eric, makes personal trips down to SoCal BevMos to bring up offerings from AleSmith, Pizza Port, Left Coast, and other fine brewing companies. These guys have made such a huge difference in their time here. The other workers are pretty cool, but many don't know much about craft beer. Alex may be an exception...
I always spend too much money when I make a stop here. This may be the best BevMo in California.
Jul 08, 2008
Beverages & more! in San Luis Obispo, CA
Place rating:
4.11
out of
5
with
11
ratings