Horny Goat Horny Blonde
| Horny Goat Brewing Co.
BA SCORE
76
okay
33
Reviews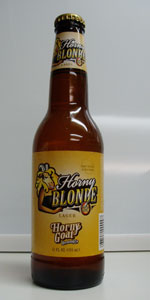 BEER INFO
Brewed by:
Horny Goat Brewing Co.
Wisconsin
,
United States
hornygoatbrewing.com
Style:
Light Lager
Alcohol by volume (ABV):
5.00%
Availability:
Year-round
Notes / Commercial Description:
No notes at this time.
Added by BeerFMAndy on 01-23-2010
Reviews: 33 | Ratings: 145
3.11
/5
rDev
-2.8%
look: 4 | smell: 3 | taste: 3 | feel: 3.5 | overall: 3
I'll thought a horny blonde sounded nice...
This blonde, despite being a lager and not a blonde ale, actually looks pretty attractive. It pours a bubbly bright gold with a surprisingly tall eggshell white head. The retention is excellent.
I'm hoping that the beer isn't hopeless after my first whiff. It smells like fizzy foam, with fleeting dashes of lemon, crackers, and a dash of skunk. It is better than a macro aroma despite it's relative lack of passion.
It's got enough flavor to keep me interested. Slight bitterness from noble hops keep things earthy and slightly bitter from beginning to end. A bit of diacetyl and lemon peel accent the dry flavor.
The feel is pretty silky and finishes nice and dry. The carbonation isn't in the mouth as it is visually.
It's really pretty smooth, and it's got more flavor (especially hops) than I was anticipating. So for that, I give it credit. It's not an award winner, but it is gone in 2 minutes, and that certainly aids in it's overall impression.
1,004 characters
2.92
/5
rDev
-8.8%
look: 4 | smell: 2 | taste: 3 | feel: 2 | overall: 4
Pours a pale yellow color, quite a bit of foamy white head. Smells lemony sweet. I enjoyed this beer. But won't go out of my way to get one from the store. But if on sale, and If you looking for something to slam it would be good for you to go for it man.
255 characters
3.89
/5
rDev
+21.6%
look: 3 | smell: 4 | taste: 4 | feel: 3.5 | overall: 4
Got this at the Party Mart just down the road from my house in Lake Mills, WI.
Pours a pale yellow color, quite a bit of foamy white head. Smells lemony sweet. Nice light bodied beer with a good clean taste. I enjoyed this beer. Very drinkable, I'll buy this beer again if I see it.
283 characters
3.06
/5
rDev
-4.4%
look: 4 | smell: 3 | taste: 3 | feel: 3 | overall: 3
picked this up in what i thought was a mixed six...i was wrong
a: pours a golden color with about about a quarter inch of white head that disappears quickly leaving only a trace of lace around the edge of the glass and a touch in the middle of the beer. there are a lot of carbonation bubbles rising to the top of the beer throughout the tasting
s: lemony sweet aroma there is merely a hint of citrusy hop bitterness to balance
t: lemony sweet flavor, hop balance is not really detectable in the flavor
m: light bodied beer, average carbonation
overall, this is a decent beer but not one that i will get again
615 characters
2.79
/5
rDev
-12.8%
look: 4.5 | smell: 3 | taste: 2.5 | feel: 3 | overall: 2.5
The look of this beer is like a lager, yellow. The aroma smells like bananas, maybe a hint of apples. It tastes like a light lager. There isnt much of a honey taste in this beer. The mouthfeel is very light. It tastes like there really isnt any flavor there. This is how light lager is suppose to be. But even with a light flavor, you need balance. When the beer is on the tounge it doesnt taste smooth.
403 characters
2.6
/5
rDev
-18.8%
look: 3 | smell: 3 | taste: 2.5 | feel: 3 | overall: 2
Eh. Poured with decent white head and some lace. Color is a clear amber. Aroma is heavy banana, crackers, biscuit malt. Flavor is similar to aroma. Body is ok and so is carbonation. Finish is like flavor too. The banana thing is too much. Not a session beer.
258 characters
3.22
/5
rDev
+0.6%
look: 3 | smell: 3.5 | taste: 3 | feel: 3 | overall: 3.5
Pours a clear gold color with a medium white head.
Nose is an assertive banana/peach/yeast. Smells more like a Belgian ale than a blonde lager.
Medium bodied with a mouthfeel that is clean, fresh, crisp and with a citrus character.
Flavors are medium to big yeasty white bread with bitter grapefruit flavors and undertones.
Finish is a pleasant grapefruit-pine.
This is a very simple but well made beer and is extremely drinkable and would likely be pleasant for most. I'm a fan of much bigger beers and of extreme beers. Yet, this one, as simple as it is, was quite pleasant and appealing.
600 characters
2.29
/5
rDev
-28.4%
look: 3.5 | smell: 2 | taste: 2 | feel: 3 | overall: 2.5
12 oz bottle poured into a Pilsner Glass. 3069 printed on the neck. No other info.
A - This pours completely clear golden yellow with a one-and-one-half finger white head. Decent retention and some creamy lace left on the glass.
S - A little spritz of skunky funk comes out of the freshly cracked bottle. Beyond that I pick up grainy, adjuncty smelling malts with a kiss of honey.
T - The flavor has the same small skunky hint to it with a kiss of honey. Again, it also has a grainy, dried corn adjunct flavor.
M - Very light-bodied and watery. A bit slick across the tongue and fully carbonated giving the finish a real sharp kick.
D - I'll never have it again. The Horny Blonde isn't their worst beer but it's not worth having. If, for some reason, you find yourself in a predicament where it's the only option, it wont kill you. Of course, after a few, in the morning you may wish it had.
906 characters
Horny Goat Horny Blonde from Horny Goat Brewing Co.
3.2
out of
5
based on
145
ratings.