Dismiss Notice
Horny Goat Nutcracker
| Horny Goat Brewing Co.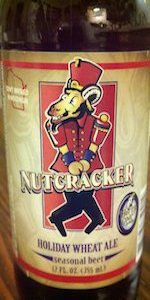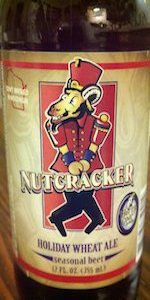 BEER INFO
Brewed by:
Horny Goat Brewing Co.
Wisconsin
,
United States
hornygoatbrewing.com
Style:
Weizenbock
Alcohol by volume (ABV):
7.00%
Availability:
Winter
Notes / Commercial Description:
No notes at this time.
Added by BeerFMAndy on 12-17-2010
HISTOGRAM
Ratings: 7 | Reviews: 7
None found.
More User Reviews:

2.3
/5
rDev
-27.9%
look: 3.5 | smell: 3.5 | taste: 2 | feel: 2.5 | overall: 1
This is an odd beer.
Pours a merky amber color. No head and no lacing.
Aroma is sort of vegetable like. Smells boozy. Kinda apricot ish. Not very good smelling.
Tastes nothing like it smells. It has a smoked meat aftertaste. Like meat loaf. Little bit of spice in the beggining. Not very good.
Mouthfeel is again too low on carb.
Overall I will probably pour the rest of this beer down the drain. Not very good. Tastes like a homebrew gone wrong.
451 characters

3.97
/5
rDev
+24.5%
look: 3.5 | smell: 4 | taste: 4 | feel: 4 | overall: 4
Poured a slightly cloudy amber brown, light sticky head with decent lacing.
The smell is very much that of traditional weizenbock, very banana and clove and super fruity with just a hint of smokeyness in the back.
The flavor is nicely balanced with traditional Weizenbock flavors along with some nice smokey undertones poking through to balance out the big banana fruit forwardness. A lgith noble bitterness in the finish balances it out nicely.
The mouthfeel has a nice medium chewiness to it.
Very drinkable, my favorite horny goat to date.
546 characters
3.4
/5
rDev
+6.6%
look: 3.5 | smell: 3.5 | taste: 3.5 | feel: 3.5 | overall: 3
12 oz bottle poured into a weiss glass. 3150 on the neck. No info.
Look, another Horny Goat brew with sophomoric sexual innuendo in the title. These brews definitely AREN'T marketed to a certain crowd.
A - Hazy brown wood with golden-ish highlights., Nutcracker is topped by a short-lived stout off-white head. Some nice lace adorns the glass.
S - German yeast offers up classic notes of banana, a touch of clay, and suggestions of white pepper. Dirty straw, wheat, and Vienna-like malts provide the base. Not a bad start actually...
T - The yeast settles down just a bit in the flavor but still gives the same offerings as the aroma. Soft wheat and dirty straw once again provide the base of this beer with a bit of maltiness poking out. It's almost like there's a very mild splash of hazelnut syrup/flavoring in this. Thankfully it's fairly subdued.
M - Well-carbonated and soft from the wheat, the body has a sort-of creamy feel with a moderately cloying sweetness to the finish. Some alcohol comes through retro-nasally but the bottle doesn't advertise the alcohol percent (surprisingly).
D - Not bad at all, I'm fairly shocked by this Horny Goat offering. I grabbed a single of it and it's not something I'd want to drink often (cause there's no way I'm supporting this company with my money) but this beer isn't absolute garbage like the rest of their line-up. The sweetness gets a little cloying towards the finish.
1,428 characters
3.64
/5
rDev
+14.1%
look: 3.25 | smell: 3.5 | taste: 3.75 | feel: 3.5 | overall: 3.75
A - Poured out a clear, golden-orange color with a slight haze. It had a small, off-white head of foam that left some sudsy trails of lace.
S - It smelled of wheat, yeast and sharp spices. There was a mild maltiness to the nose.
T - Wheat, yeasty and some spicy bite. It was slightly nutty with some sweet caramel malt.
M - It was crisp and very sharp. A medium bodied ale with some alcohol heat and a dry finish.
D - I've only had two Horny Goat beers, but this is by far the best I've had from them. Well done.
516 characters
3.67
/5
rDev
+15%
look: 3.5 | smell: 4 | taste: 3.5 | feel: 4 | overall: 3.5
I've had mixed results with this company. I'm fine with Point brewery.
Phenolic spiciness greats the nose. At first a bit of pepper but that didn't seem to stay. Banana noted too. A little vanilla. Wheat and malt base. A soft smoky quality intermingles. Fine enough aroma.
Quite cloudy and amber with orange and gold. Smallish but apparently dense head, but it does seem to leave rather quickly.
Funny and unexpected flavors. Got a little shot of smoke more a moment - seems to be part of the dryness in the finish, which is fairly significant. Phenols are more subdued than in the aroma. This is a pretty complex beer, in which yeasty spiciness seems to dominate and blends with the smoked malt (which fortunately is never too strong). As with the aroma a bit of vanilla. A rather rich beer, so I figure one will be satisfying.
Fully carbonated with a filling quality, but reasonable soft and smooth.
This is worth a try. The bit of smoke flavor is interesting and blends pretty nicely. This is probably one of the better beers for this outfit.
1,046 characters
2.94
/5
rDev
-7.8%
look: 3 | smell: 4 | taste: 2.5 | feel: 3 | overall: 2.5
Geez, I really thought they are on to something here. Poured with a nice medium sized tan head with almost no lace. Color is a medium to dark deep amber. Aroma is banana, peat, malt, spice. Flavor is dominated by sweetness, but also has smoke, spice. Body is ok and so is carbonation. Finish is like flavor. Too sweet for me.
325 characters
2.41
/5
rDev
-24.5%
look: 3.5 | smell: 2.5 | taste: 2 | feel: 3 | overall: 2.5
Pours hazy copper-orange with a slight head that doesn't hang around long.
Aroma is grainy caramel malt, banana and clove, hints of smoke and chocolate, date and raisin dark fruit. Surprisingly herbal and barnyard funky. Reminds me of an Orval.
Taste is similar to the nose. Bready malt and the banana clove as expected. The dark fruit is comparatively subdued. Finishes with a metallic herbal funk that lingers.
Mouthfeel is light-medium bodied.
Very unusual. There seems to be some off flavors.
501 characters
Horny Goat Nutcracker from Horny Goat Brewing Co.
Beer rating:
3.19
out of
5
with
7
ratings