(512) THREE
| (512) Brewing Company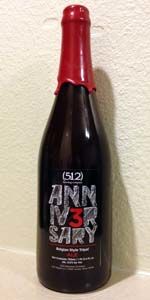 BEER INFO
Brewed by:
(512) Brewing Company
Texas
,
United States
512brewing.com
Style:
Tripel
Alcohol by volume (ABV):
9.50%
Availability:
Limited (brewed once)
Notes / Commercial Description:
For our 3rd Anniversary release we knew we had to pull out all the stops. Please welcome to the family… (512) THREE Belgian Style Tripel! Brewed in the spirit of the abbey ales of Belgium, (512) THREE pours a deep golden with a dense, creamy white head. The authentic Belgian yeast strain produces a complex, spicy palate that balances ripe fruity esters with bready malts and firm but subtle hops. Our house-made liquid invert sugar contributes an effervescent mouthfeel that finishes smooth and silky but enticingly dry, barely betraying its nearly 9.5% ABV/VOL!
Added by Mora2000 on 10-13-2011
This beer is retired; no longer brewed.
Reviews: 12 | Ratings: 96
3.62
/5
rDev
-10.2%
look: 3 | smell: 3.5 | taste: 3.75 | feel: 3 | overall: 4
This beer can be drank on tap or through the bottle. It has a clear dull golden color and is highly carbonated. It has a sweet smell with a caramel taste/malty taste. Overall this beer has a full body with a dry aftertaste. Good warm weather beer!!!!
250 characters

3.69
/5
rDev
-8.4%
look: 3.75 | smell: 3.5 | taste: 3.75 | feel: 3.75 | overall: 3.75
DISCLAIMER* I've only recently begun seeking out new and different craft beers, ,so I'm not an expert, at all...
I found this beer at Craft & Growler in Dallas, TX. The bartender recommended I add this to my flight, which consisted of Dogfish Head Bitches Brew, Deep Ellum Wealth & Taste, and Community Mosaic. He assured me that if I enjoyed Dogfish Head and Wealth & Taste that this would be a great choice for a lighter beer (not as dark as Bitches Brew or W&T), but would carry some power.
I completed my flight (four 5 oz glasses of each), and I was really impressed by the taste of the 512 beer. It goes down smoothly, but there's a hoppieness to it, so you know you're drinking beer. I'm not 100% sure what a Trippel is, but I've had a few other varieties, and they were more pungent. This was very pleasurable.
Ultimately, ,when I left the establishment, I decided to go home with a growler. Between the 512 and Dogfish Head's Bitches Brew, it would be a hard choice -- except for the fact that the Dogfish Head was nearly 3X the price.. and, although very tasty, wasn't particularly more memorable than this one... I didn't get the Wealth & Taste because it's very very flavorful, and I wasn't sure I'd be able to drink all of it in 48 hours.
So, yeah.. I highly recommend!
1,286 characters
3.72
/5
rDev
-7.7%
look: 3.75 | smell: 3.5 | taste: 3.75 | feel: 4 | overall: 3.75
A: After two days in my 16 oz growler, this pours a nice, slightly hazy copper-orange. Perhaps the two days got rid of the carbonation, for there's not much here.
S: Coriander, orange peel, banana, and Belgian yeast create a nice aroma.
T: Dried banana, butterscotch, and a slight herbal tinge. Pretty nice.
M: Pretty full-bodied and creamy, this is a really drinkable brew.
O: This is pretty solid. I will be trying it again a bit fresher, and I bet it will only improve.
480 characters
3.78
/5
rDev
-6.2%
look: 4 | smell: 3.5 | taste: 4 | feel: 4 | overall: 3.5
On tap at the Flying Saucer in Fort Worth.
The beer pours a slightly hazy golden color with a large white head. The aroma is wheat and grain with some Belgian yeast notes mixed in. I also get a little orange citrus in the aroma.
The flavor is a mix of wheat, biscuit malt and grain with some banana and spice notes. I also get a little bit of citrus and some Belgian yeast. The alcohol is noticeable but not overwhelming.
Medium mouthfeel and medium carbonation.
472 characters
4
/5
rDev
-0.7%
look: 4 | smell: 4 | taste: 4 | feel: 4 | overall: 4
Cloudy straw colored pour with lots of carbonation and minimal head. Very yeasty flavor upfront. Cloves and banana are the first flavors that hit. Has some lemon and grainy bread in the medium body as well. Finishes a little sweet and has some yeasty flavors in the aftertaste. Really nice tripel.
297 characters
4
/5
rDev
-0.7%
look: 4 | smell: 4 | taste: 4 | feel: 4 | overall: 4
Had on tap at Major League Grill in Beaumont, TX.
Poured a hazy golden honey with a finger of bright white head.
Light and sweet. Bananas, apples and some spice. Belgian yeast as well with some grains and or wheat in the background.
Taste is very light & fruit forward along with some banana... Reminds me of a more alcohol forward Hef. some nice spices in the back along with a nice wheat flavor.
Medium body with a moderate amount of carbonation. Sweet tongue coating aftertaste.
Overall, this was a nice beer. Nothing to complain about, but not much to brag about either. Easy to drink and pretty refreshing for the high abv. Worth trying if you see it on tap.
668 characters
4.02
/5
rDev
-0.2%
look: 3.5 | smell: 4 | taste: 4 | feel: 4.5 | overall: 4
Had this on tap at the Holy Grail after work. Good beer selection and good food. The THREE is very (512). Solid beer that's hard to complain about. I'm not sure that I'd clamor for them to make this again, but I'd order it over a lot of beers if it was around.
The beer is a hazy straw color. I always have a hard time judging a beer unless I pour it myself... Still, this doesn't stand out to me in any way.
The nose is banana upon first whiff. Much more than I expected. Further approaches find some booze, wheat and black pepper. I'd call it solidly bold.
The taste is banana, but that's matched by an aggressive wheat/straw flavor. The spices come last and round out the beer. The spices are clove and pepper according to my palate.
The THREE is very drinkable and solid. Let's leave it at that.
803 characters
4.04
/5
rDev
+0.2%
look: 3.5 | smell: 4.5 | taste: 4 | feel: 3.5 | overall: 4
Lovely balance, and balance is unappreciated. Fruity pebbles in the nose as the aroma wafted up from an orange pour. Sans much head, but the carbon dioxide is there aplenty. Not too estery, not too much bittering. Just balance. Eminently drinkable thanks to a complete lack of cloying sweetness, with a bit of a sweet tart finish (the yellow ones, not those shit purple ones). Clean, clean, clean on the back-o-the-tongue. Man what a fun beer, and don't confuse its balance with lack of character. A tripel I'd get again and again. I am so 512's bitch.
552 characters

4.12
/5
rDev
+2.2%
look: 4 | smell: 4.5 | taste: 4 | feel: 4 | overall: 4
Poured into a sniffer at Freetail.
Appearance: Pours a hazy golden yellow with a white head about a centimeter thick that clings to the side of the glass and leaves a thin lacing over the top of the beer.
Aroma: Spicy and yeasty with hints of coriander, clove, and citrus.
Taste: Spicy, earthy, and slightly citrusy.
Mouthfeel: Medium body with medium carbonation.
Overall: I normally don't care for Tripels, but I actually enjoyed this one a lot and could see myself drinking more of these.
500 characters

4.23
/5
rDev
+5%
look: 4.25 | smell: 3.75 | taste: 4.5 | feel: 4.25 | overall: 4.25
Very light on the aroma: mild wit, very light fruitiness.
Good strong Belgian triple flavors. Malty, fruity, with a very mild Belgian-style tartness. Mild hops with a more full bodied finish. A very nice Belgian Tripel with excellent flavors. A very enjoyable rendition. Now, give me a Brett infused version ;)
310 characters

4.35
/5
rDev
+7.9%
look: 4 | smell: 4 | taste: 4.5 | feel: 4.5 | overall: 4.5
Not the biggest fans of Triples, but I really enjoyed this one.
A: 2 fingered soapy white head with little retention topped this partly cloudy golden yellow brew. Bubbles continue to rise throughout the tasting.
S: Banana, some citrus notes, spices and herbs accompanied by belgian yeast.
T: Cloves and other spices are robust, but the fruity sweet backend really helped balance the brew.
M: Loads of carbonation, medium/light bodied with a slight burn from the booze.
O: A great beer for an anniversary.
509 characters
4.45
/5
rDev
+10.4%
look: 4.5 | smell: 4.5 | taste: 4.5 | feel: 4 | overall: 4.5
On tap at Queen Vic in Houston, TX.
A: Pours a slightly hazy bright and vibrant golden/orange color. A two finger white head forms with excellent retention. Rings of sticky lace is left down the glass.
S: Fruity, estery yeast up front. Bananas and pears. Peppery spice with some phenols. Lightly sweet with some dry grassy hops as well. Love the aroma.
T: Follows the nose with some peppery, spicy, phenolic yeast. Fruity esters of banana and pears. Some hops, and a lingering sweetness.
M/D: A medium body that could have a bit more carbonation. Dry, clean, and smooth. So easy to drink. The alcohol is not noticeable at all. A great sipper.
An excellent Belgian Triple. This gives Real Ales Devils Backbone some competition. All Around excellent, and I hope 512 continues to make this because it is one of the best American made versions I have had.
853 characters
(512) THREE from (512) Brewing Company
4.03
out of
5
based on
96
ratings.