Shaggy Bock
| Grand Canyon Brewing Company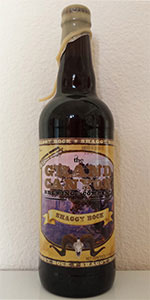 BEER INFO
Brewed by:
Grand Canyon Brewing Company
Arizona
,
United States
grandcanyonbrewingco.com
Style:
Bock
Alcohol by volume (ABV):
6.20%
Availability:
Winter
Notes / Commercial Description:
22 IBU
Added by lackenhauser on 01-04-2013
Ratings: 13 | Reviews: 4
Reviews by tjsdomer2:

3.46
/5
rDev
-4.4%
look: 3 | smell: 3.25 | taste: 3.5 | feel: 4 | overall: 3.5
Appearance: Nice solid brown in color. Very flat overall with zero lacing, foam, or carbonation.
Smell: Hints of sweet molasses and fruity raisins.
Taste/Mouthfeel: Excellent resiny stickiness, followed by a coffee- or wine-like tannin mouthfeel. Flavor has a hint of pine and a bitter coffee touch.
Overall Drinkability: A light bock, if that is possible.
359 characters
More User Reviews:
3.98
/5
rDev
+9.9%
look: 4 | smell: 3.5 | taste: 4 | feel: 4 | overall: 4.5
Found this at the campstore while in the national park. I have not seen it anywhere else all week in my AZ travels either. No info on their website, anywhere about the beer. I see a bock listed on BA but not Shaggy Bock. I assume it is a winter seasonal. Contains "the flavor bomb"-a small plastic shell with a pice of oak inside. Gimmick? Hard to say at this point...bottle states "classic bock style uses Pilsner malt we smoke with locally obtained Alligator and Shaggy bark Juniper wood then aged in the fermenter with toasted oak". "The flavor bomb is packed with medium roast Oak sticks aged in this very bottle". Sooo...
Very nice, dark chestnut color. Medium level of smoke in the aroma. Mild bacon notes. Very nice, stron and solid malt. Touch of caramel. Enough smoke to be noticeable but not over done. Smoke tends to linger a bit. All about the malt here-a very faint hop bite. Nice and clean in the finish. Solid mouthfeel. A really nice beer, the smoke adds just enough depth to make it quite drinkable. Cannot see the smoke ever being overwhelming even after a few. Curious to the abv on this. Wish I had scored another bottle. Worth picking up for sure.
1,169 characters

4.07
/5
rDev
+12.4%
look: 4 | smell: 3.75 | taste: 4.25 | feel: 4.25 | overall: 4
Pour is very dark brown with a creamy head. Smell is of slight oak with a lot of malt maybe little nutty note. Taste is very smooth, I get a lot of malt and background oak flavors, slight nuttiness to it also. The beer has taken on a very smooth finish and easy to drink. My bottle is dated Jan 2015 so this has some age on it. I am very happy with this beer, I have not seen too many bottles around my stores and found this last one hidden on bottom, very pleased with this beer. I would say this is a great beer to have with a cigar.
535 characters
3.75
/5
rDev
+3.6%
look: 3.75 | smell: 3.75 | taste: 3.75 | feel: 3.75 | overall: 3.75




3.25
/5
rDev
-10.2%
look: 3.25 | smell: 3.25 | taste: 3.25 | feel: 3.25 | overall: 3.25
3.54
/5
rDev
-2.2%
look: 4.25 | smell: 3.25 | taste: 3.5 | feel: 3.5 | overall: 3.75
22oz dateless bomber bottle that had yellow wax around the cap. The label has a picture of the Grand Canyon. It's had to see the canyon because there's a tree in the way and the name of beer in big bold letters on top of that. The back of the label has three separate paragraphs. The first two talk about the beer and the last one talks about the brewery.
When poured into a Big Eddy (please don't laugh) Snifter, this Bock was a dark cherry amber with some faint orange highlights at the bottom. It appeared to pour a black color, but the light showed me this beer's true color. On top was a creamy 3/4 of an inch off white head of foam. It was one of those colors where it wasn't white, but it wasn't tan/khaki either. It had pretty good retention that left behind a tiny foamy string of rings and small blots of lace.
The aroma was toasty and a little oaky at the same time. Up front was the toasted malts followed by a whiff of oak, a drop of milk chocolate, and a subtle fruitiness at the end. That's all folks for the aroma!
You'd think a beer with the words "Flavor Bomb" would have a ton of flavor in it. No, those words are reserved for the piece of oak stick in the bottle. Despite having a piece of oak in the bottle, the beer wasn't all that oaky. I found it to be more sweet and toasted than oaky. The taste kicks off with the toasted malts. These malts are then quickly followed by a nice caramel sweetness. Following that was a bite of milk chocolate, a mild fruity crispy hop bitterness, and oak. Not terribly interesting, but at least it wasn't dull or offensive.
This was a medium bodied Bock with lively carbonation, and a semi sweet aftertaste of toasted malts and oak. This aftertaste won't linger on for too long before it decides to go away.
The bottle with the wax seal and the oak stick inside was more interesting than the beer itself. I didn't think the oak stick contributed much oak flavor to the taste or the aroma of the beer. The only thing the oak stick contributed is possible splinters on your tongue. Would I drink it again? No thanks! At least the beer wasn't terrible and a drain pour.
2,132 characters
Shaggy Bock from Grand Canyon Brewing Company
3.62
out of
5
based on
13
ratings.