Red Tractor
| Shooting Creek Farm Brewery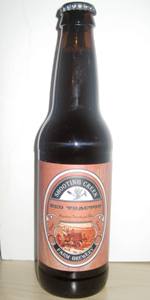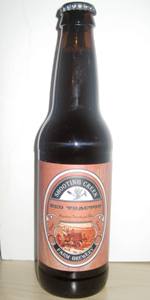 BEER INFO
Brewed by:
Shooting Creek Farm Brewery
Virginia
,
United States
Style:
German Altbier
Alcohol by volume (ABV):
5.50%
Availability:
Year-round
Notes / Commercial Description:
No notes at this time.
Added by Metalmonk on 04-24-2009
HISTOGRAM
Ratings: 9 | Reviews: 9
Reviews by wchesak:
3.37
/5
rDev
-5.3%
look: 3 | smell: 3.5 | taste: 3.5 | feel: 3.5 | overall: 3
Poured into a Unibroue tulip glass
A - dark copper color, little of the off colored head forms, bit of initial lace but soon disappears
S - black pepper, earthy hops, cold chicken broth, some rye
T - bit of caramel, some roast malt, dry rye malt flavor that rolls into dry, bitter hops flavor
M - medium bodied, somewhat crisp, finishes smooth, lingering flavors
D - more complex than I expected, one of the few beers I have had of this style, certainly will be willing to try this again
492 characters
More User Reviews:
3.88
/5
rDev
+9%
look: 4 | smell: 3.5 | taste: 4 | feel: 4 | overall: 4
According to the label: "brewed with heirloom flint corn grown at the brewery." (Shooting Creek grows many of their own ingredients, including the hops in their IPA.) I think the corn disqualifies this altbier from falling within the German purity law, but this is from Floyd, VA where they do indeed do things a bit differently.
Deep rusted brown/red, with a half-inch creamy head that takes awhile to settle. Only a few minor dots and blurbs of lace.
Aroma is musty and earthy, a little bit of toasty malt and a lot of something I can only liken to seaweed. Slightly peaty.
Creamy and caramel-like at its foundation, doughy malts recall a warm breakfast sweet roll, and there's mild bitterness adding an earthier element to the flavor. Something herbal and tea-like weaves through. An extremely likable flavor that's fully satisfying although not complex or cluttered.
Round and creamy in the mouth, slightly buttery texture and just a little dry. Even though it thins out quickly, its boldness adds to the rich and bready aspects of the flavor.
Shooting Creek are now the closest brewery to my home, being a 50-minute drive north. The fact that they're apparently brewing quality stuff is a real bonus. Long may they brew.
1,242 characters
3.68
/5
rDev
+3.4%
look: 4 | smell: 3.5 | taste: 3.5 | feel: 4 | overall: 4
altbier brewed with heirloom Flint corn grown at the brewery
a: piraat snifter, thin coating of off-white carbonation, deep amber-red in color, good retention
s: dark toffee, nutty and earthy toasted malts, dark bread, mealy dark cereal grains, grassy noble hop tea, glimpses of date sugar
m: carbonation just over medium and a touch prickly at first, turning creamy, body medium
t: malty, leafy toffee, nutty dark bread, slightly sweet but quickly cleaned up by a grassy noble hop flavor, mildly bitter, briefly metallic in the drying finish
d: just fine, a nice alt, and nice to sample an in-state brewery that hardly makes it out of their county
single from Vintage Cellar in Blacksburg
695 characters
3.09
/5
rDev
-13.2%
look: 2 | smell: 3 | taste: 3.5 | feel: 2.5 | overall: 3
Notes: poured from 12 oz. bottle to pint glass.
A: this hazy, dark amber brew was highly overcarbonated, requiring several pour-and-waits and leaving a mountain of billowy, tan foam but very little lacing.
S: tart, fruit aroma that gives way to faint caramel and a hint of chocolate.
T: thankfully, the tartness of the nose of this brew is less prominent in the flavor. The taste is clean, mildly sweet, and features caramel, some roasted malt, and faint finish of coffee and chocolate.
M: a very light and highly carbonated beer that fades quickly from the palate.
D: overall, a decent and palatable beer with a flavor profile that's pretty distinct. Would like to compare this American version head to head with a classic German altbier.
744 characters

3.66
/5
rDev
+2.8%
look: 4 | smell: 3 | taste: 4 | feel: 4 | overall: 3.5
Interesting, kinda weird beer.
Deep mahogany with three-finger, off-white head.
Good yeast in the aroma but otherwise has lager scents.
Each sip is a little different on this one. At times I get prominent herbal hops but on other sips I get coffee and roast. And it drinks like a creamy lager too. There's also raisin and sourdough tastes. A lot going on. The flavors don't blend, but in a way that makes it more enjoyable.
Just kind of an odd duck, but a good beer. I'd have it again, but I wouldn't seek it out.
519 characters
3.85
/5
rDev
+8.1%
look: 3.5 | smell: 3.5 | taste: 4 | feel: 4 | overall: 4
A 12 oz. bottle, sent westward by Metalmonk a couple weeks ago; poured on this gloriously sunny afternoon to a pint glass. My second taste from Shooting Creek Farm, a brewer of 'American Farmhouse Ales'.
Label: "Floyd County Alt-Beer, top fermented and cold lagered, with a characteristically crisp flavor profile. Brewed with heirloom flint corn grown at the brewery, unfiltered for maximim flavor and freshness."
A: Chestnut/amber with a few fairly strong streams of carbonation. Head is short (under a finger) and short-lived, dropping to rim-hugging cream and thin swirl of ivory. For an 'unfiltered' brew, it's surprisingly clear.
S: Mostly malt: roasted nuts, toasted bread crust, faint cinnamon applesauce(?).
T: Very earthy. Dry baked bread, almost salty at first. Hops add spice, lots of it - black pepper, dusty nutmeg. Only enough sweetness in the finish, a slightly flowery honey. If I say it tastes like 'dirt' that sounds bad, but it kinda does...like what I would imagine a sip of organic 'compost tea' might taste like. But I really like it...perhaps in a former life I was an earthworm... :)
M: Flavor-filled, seems to linger around and thicken. Is time passes, the spiciness tends to rest on the tip of the tongue. Medium body, enough zesty carbonation.
D: Found this to be an enjoyable brew: good/strong flavor and feel. Easy to drink - at 'just' 5.5% I'd have another (and, thanks to Jeff, I DO have another). Well done, SCFB.
1,453 characters
3.7
/5
rDev
+3.9%
look: 4 | smell: 4 | taste: 4 | feel: 3 | overall: 3
Rich mahogany color with red hues. It's not very bright. I may have inadvertently dumped some live yeast from the bottom of the bottle, but this yeast is very testy and doesn't cake to the bottom like many other craft brews. It reminds me of my homebrew, and I appreciate that. The head is off-white to tan in color and persistant.
It smells very malty and roasty right up front. There's a nutty marshmallow aroma in there as well. I don't detect any hop notes really. Very pleasant.
Very rich nutty flavor. This beer tastes huge for it's mere 5.5%. Most of the flavor is coming from roasted malts, caramel malts, amber malts, etc. There is a slight drying/bittering flavor at the end of the taste that is refreshing and keeps you coming back.
Mouthfeel is a bit too big, which definitely brings down the drinkability of this one. I really like it, but I think a 6 pack would last a while in the fridge. For me it's a one at a time beer.
940 characters
3.25
/5
rDev
-8.7%
look: 3.5 | smell: 3.5 | taste: 3 | feel: 4 | overall: 3
A - Deep rich dark chocolate with a hint of burgundy when held up to the light. Less than a quarter inch of a light tan head. Some small amount of lacing.
S - Earthy, a smell of roasted nuts. When the beer warmed up, there was a hint of sweet fruit.
T - Roasted nuts, smoky, earthy. Hops didn't seem to match.
M - Creamy and at times even velvety.
D - Not balanced well, especially the hops at the end.
406 characters

3.57
/5
rDev
+0.3%
look: 3.5 | smell: 4 | taste: 3.5 | feel: 3 | overall: 3.5
Deep mahogany color with good clarity. fine head dissipates almost instantly and leaves no lacing.
Nice nutty and roasty malts dominate the nose. Some herbal hops show up front and give way to a big sweet roasty finish. Simple but tasty.
Very big body with very low carbonation.
280 characters
Red Tractor from Shooting Creek Farm Brewery
Beer rating:
3.56
out of
5
with
9
ratings