Snapping Turtle IPA
| Shooting Creek Farm Brewery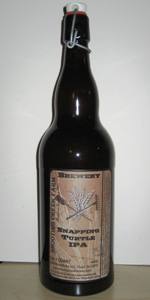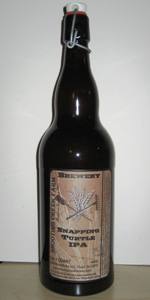 BEER INFO
Brewed by:
Shooting Creek Farm Brewery
Virginia
,
United States
Style:
American IPA
Alcohol by volume (ABV):
5.40%
Availability:
Year-round
Notes / Commercial Description:
No notes at this time.
Added by on 07-06-2009
HISTOGRAM
Ratings: 10 | Reviews: 7
Reviews by BuxMontBeerLover:
3.63
/5
rDev
+0.6%
look: 4 | smell: 3.5 | taste: 3.5 | feel: 3.5 | overall: 4
Picked up a bottle at the Vintage Cellar in Blacksburg, VA. Since it was a local brewery to the area (Floyd, VA) I decided to give it a try. Purchased back in October 2010. Just enjoying in December 2010 so I'm not sure this affected the overall taste.
Enjoyed in a Dogfish Head Signature Glass while putting up the Christmas Tree.
A - Very cloudy, amber color. Highly carbonated. Poured half a glass and had to stop since the head almost overflowed the glass. Massive head lasted a good 2-3 minutes before I poured in the rest of the bottle. Decent lacing on the side of the glass.
S - Not an overly citrusy smell that I normally associate with an IPA. In fact, more of a sweet, malty smell is the dominate odor coming off the beer.
T - Not bad but not what I would consider an impressive IPA. Not very hoppy at all...more on the malty side with sweet undertones. Slightly sour, piney taste. As noted this was purchased in late October and wasn't tasted until mid-December. Not sure if this affected the taste. Not a bad taste but not an IPA taste that I'm used too.
M - Very carbonated. Thin tasting, not overly heavy. Leaves a slightly bitter taste on the tounge.
D - Tough call...Not a bad beer but not what I would consider a great IPA. It is very drinkable due to it's low ABV and not overly heavy consistancy.
Overall: Was very cool to try a locally brewed beer from the area we visited (we were in the Roanoke/Blacksburg area in October for a NASCAR race) but in the end, much better examples of IPA's out there. Would I drink again? Sure, but I wouldn't seek this out like I do other IPA's.
Cheers!
1,617 characters
More User Reviews:
3.75
/5
rDev
+3.9%
look: 3.5 | smell: 3.5 | taste: 3.5 | feel: 4 | overall: 4.5
Thanks to Kels for this brew.
12oz. brown bottle poured into an imperial pint.
A: Grapefruit peel color on the pour. Decent sized pearly white head with good retention and some lacing.
S: Light citrus and light resins. Plenty of grassy and floral hops.
T/M: Weak bitterness level, more of an APA. Light citrus with the pleasant grassy and floral notes. Light bready malts to balance, even though there's not much bitterness... tasty malts, though. Body is about medium with smooth carbonation.
D: Drink easy and lower ABV. Lack of bitterness hurts it a bit, though.
570 characters
3.68
/5
rDev
+1.9%
look: 4.5 | smell: 4 | taste: 3 | feel: 4.5 | overall: 4
Serving Type: bottle. As in: big-ass quart-size flip-top bottle. Couldn't resist.
Pours a super-fluffy/creamy inch-thick head...almost looks like froth from hard-poured farm-fresh milk. Ochre color is lightly clouded, presumably hop-hazed. Head retains for about two very fluffy minutes before sinking to a quarter its original size, and there it stays. For what it's worth, it's the best looking Shooting Creek beer so far.
Hops are gentle but not flimsy. They're on the citrusy side, and there's just a slight hint of caramel malt backing up the main feature. A little bit of breadiness that reminds of flaky/buttery pie crust. Flowery essence too, probably more of the hops talkin'.
First couple seconds of the sip and I was completely smitten. Those seconds offer a fruity, slightly pine-y, solid but pleasant hop character backed up by creamy caramel...then a rude, grassy/citrus rind bitterness comes slamming in and smacks the tongue around, leaving all kindness and subtlety behind. This grassy, astringent, strained and just plain weird bitterness continues right through to the finish. It's not plastic-y, and retains the earthy nature of everything Shooting Creek does, but it needs some work.
Feels wonderful, just like a good IPA should...creamy, lightly bubbly, slick and...well, just about perfect.
I know a "3" score on Taste is usually read as "bad," but it's not bad -- just a little off center, with some good elements and some not-so-good ones. The hops just need a rethink/readjustment next time around. There's great potential for this to be one of the best IPAs in the entire state of Virginia; the other, non-flavor aspects are very good. Being such a small brewery, I assume their stuff can vary from batch to batch, so I'll be keeping my eye (tongue) on Snapping Turtle. (Uh, I think I get why it's called "Snapping Turtle" now...)
1,864 characters
4.06
/5
rDev
+12.5%
look: 4 | smell: 4.25 | taste: 4 | feel: 4 | overall: 4
Poured from a 12 OZ bottle into a pint glass. Appearance - the beer has a murky amber color with a large white head. Aroma- has a slight citrus aroma with a lot of malt blended in. Taste- A subdued IPA with not an overwhelming hop taste. I found this to be very enjoyable. Overall, a highly recommended Virginia beer to try.
329 characters

3.6
/5
rDev
-0.3%
look: 3.5 | smell: 3.5 | taste: 3.75 | feel: 3.5 | overall: 3.5
3.25
/5
rDev
-10%
look: 3.25 | smell: 3.25 | taste: 3.25 | feel: 3.25 | overall: 3.25

3.5
/5
rDev
-3%
look: 3.5 | smell: 3.5 | taste: 3.5 | feel: 3.5 | overall: 3.5
3.73
/5
rDev
+3.3%
look: 4.5 | smell: 4 | taste: 3.5 | feel: 4 | overall: 3.5
Poured from a humongo 1-liter swing-top ($2 deposit ~ wow!) into a thrice-refilled pint glass, a bottle sent by Metalmonk a *few* months ago - lovingly neglected (yes, that IS oxymoronic) in the back corner of the fridge, though thoroughly appreciated, ever since.
A: Vibrant and golden, the faintest of hazes beneath what is simply a stupendous-looking pile of white cream. 2-fingers at least of goopy meringue, sticking in firm rings and lasting a l-o-o-o-ong time. Ample carbonation without being overly busy ~ pretty close to a 'perfect' look.
S: Mmm...drifting scent of sweet orange and lemon sorbet, honeysuckle and a whiff of rose-y perfume and scotch pine. The mildest detergent/soap-suds in the finish or an even higher score could have been earned.
T: Pithy with lemon and tangy with resin, this is certainly a flavor-forward mouthful from the first sip; I'm impressed by how well this has retained its hop character, given the prolonged stay in the fridge. Juicy and a touch of honey sweetness, more flowers (see 'smell' above) and then a bitter pith. Something here reminds me of the fresh grapefruit I picked in Arizona last year; something else harkens to handsoap - and that, unfortunately, is my lasting impression.
M: Crisp and airy right away, softening to a silkier feel. Razor-thin coating yet a medium body. Just like the look, there's enough lively carbonation without becoming overbearing.
D: Likable/drinkable IPA with pleasant hops and a balance caramel maltiness. Something a little odd in the finish prevents an overwhelming urge to return, but a reasonable alcohol level and some high-flying traits make tis a worthy choice. Good job, Shooting Creek, & thanks again, Jeff.
1,707 characters
3.03
/5
rDev
-16.1%
look: 3.5 | smell: 3 | taste: 2.5 | feel: 4 | overall: 3.5
Tried this at the Virginia beer Festival in Richmond. Snapping Turtle is a very distinctive IPA: Visually it is light amber in colour (a little cloudy) with a thin white head. It's hoppy but there is something else in there that sets it apart from other IPAs. I think that it must be the rye grains which give the "different" flavour. I enjoyed half a pint but I do'nt think I could drink this one all night
407 characters
3.89
/5
rDev
+7.8%
look: 3 | smell: 4 | taste: 4 | feel: 3.5 | overall: 4
12 oz. bottle poured in Duvel tulip.
Beer poured a deep golden orange with a huge head that lingered for some time. May have been the way I poured it but not sure. Very nice lacing with this one.
Very strong hop aroma. A pretty even mix between citrus and pine with a sweet malt smell
The taste is very hop forward. More of a pine presence in the taste followed by citrus such as pineapple.
Very drinkable beer. Glad to see this local craft brewery producing some high quality brews.
487 characters
Snapping Turtle IPA from Shooting Creek Farm Brewery
Beer rating:
3.61
out of
5
with
10
ratings