Wildflower Wheat
| Shooting Creek Farm Brewery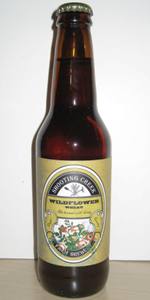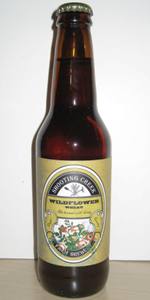 BEER INFO
Brewed by:
Shooting Creek Farm Brewery
Virginia
,
United States
Style:
German Dunkelweizen
Alcohol by volume (ABV):
5.40%
Availability:
Year-round
Notes / Commercial Description:
No notes at this time.
Added by kels on 07-07-2009
HISTOGRAM
Ratings: 5 | Reviews: 5
Reviews by wchesak:
3.24
/5
rDev
-4.1%
look: 2.5 | smell: 3.5 | taste: 3.5 | feel: 2.5 | overall: 3
Poured into a pint glass
A - copper color with an inch of head, left some head, nothing dunkel about it so far
S - big wheat smell, some slight banana smell as well as yeast, however its hard to get passed the wheat
T - body is much more like a pale ale minus any really hint of hops, the banana/bubble gum taste becomes more apparent in the taste then the nose
M - medium bodied, decent carbonation
D - this is not a dunkelweizen, however for what is worth, its pretty good - it seems like a American wheat mixed with a pale ale fermented with German weizen yeast
569 characters
More User Reviews:
3.2
/5
rDev
-5.3%
look: 3.5 | smell: 3.5 | taste: 3 | feel: 2.5 | overall: 3.5
Pours a creamy but fairly thin head, which leaves a few lace splatters. Color is a hazy brownish gold leaning toward copper and even orange hues. But "dunkel"? Haha, ach, nee...
Aroma, while not tremendous, has its attraction. Something earthy and intensely herbal comes to the nose, very flowery. Perhaps that's the wildflower honey used? A mild layer of caramel hangs in the back.
Herbal/flowery elements and honey play nicely together on the tongue, with a very mild malt base, a bit toasty. Everything is just very polite, and while there's nothing out of whack, once past the first couple sips, I begin to lose interest. Despite the nearly exotic flowery character, the base is your basic average American wheat beer. A bit ho-hum, although nothing overly offensive. The plastic-y taste in the finish is close to awful, but the lingering honey sweetness helps offset that.
Mouthfeel has the gentleness of a good wheat beer, but the body is pretty thin while the carbonation lent an opposing tingle that just didn't match up. Not only is there something plastic-y in the finish, but that carries over the feel as well. Feels all wrong and confused to me.
As the other reviewers have noted, this is NOT a dunkelweizen, even if the label claims it's an "American version of the classic German dunkelweiss." It's an American wheat and one that is to be commended for its use of local ingredients. Is it a great beer? No, but maybe it would've tasted better on a steaming summer day than a chilly autumn one. Ultimately, I've had two of these in as many days, and I have trouble getting a good sense of it. I'm just not intrigued enough to want to try again...
1,664 characters
3.83
/5
rDev
+13.3%
look: 3.5 | smell: 3 | taste: 4 | feel: 4 | overall: 4.5
Picked this beer up at the Vintage Cellar in Blacksburg, as I'd like to start trying the local beers. I was surprised to see that the Shooting Creek website lists it as dunkelweiss - I would not have necessarily guessed that from actually experiencing it. Seems more like an American Pale Wheat Ale. While it isn't overly true to style (yielding the lower rating), I would still recommend trying this.
Appearance: Pour is a toasty, lighter shade of golden brown. The beer is a little hazy, and the 1 finger white, fizzy head quickly fades to a filmy skim. Spotty lacing hangs around the walls of the glass and slides into the moderate ring of white foam that sits on top the beer.
Smell: Aroma isn't very strong, but some good, toasty malts and breadiness come through. Notes of sweet honey and floral hops start to develop as the beer warms a bit.
Taste/Mouthfeel: I really enjoy the taste of this beer. The flavors are soft and light and pretty well balanced. Upfront I can taste honey and and sweet floral and citrus hops. The bready character of dunkels I've really enjoyed doesn't come through much at first, but starts to develop in the aftertaste. The malts are distinctly toasty, and keep the beer light. The feel is light, bright and refreshing.
Drinkability: Very high. This is a nice mild ale along the lines of Three Floyds Pride and Joy. Again, not sure it's the best example of a german dunkel, but I'll take their take on it any day.
1,463 characters

3.25
/5
rDev
-3.8%
look: 3.5 | smell: 3.5 | taste: 3.5 | feel: 2 | overall: 3
Picked up a bottle of this about 6-7 weeks ago on a trip to Blacksburg, VA and am just now getting around to trying it. Pour is from the bottle into a pint glass.
Appearance: Pours a light coppery color and comes with a very shallow white head that fades immediately to a thin skim and uneven skim; body shows virtually no carbonation and there appears to be some sediment floating around; a thin loose lacing tries to hold on but can't do much of anything and slips back into the glass.
Smell: Toasty and grainy, yeasty and a little grassy.
Taste: Light, toasty wheat-like grains and a mildly sweet malty backing; a slightly metallic taste lingers far in the back if I hold the beer in the mouth long enough; nothing special or remotely attention grabbing - I must say I'm a tad disappointed.
Mouthfeel: Thin and watery, no carbonation (feels almost flat). Blah.
Drinkability: Flavor isn't necessarily bad, but it's not really good and the mouthfeel makes it really bland and unappealing. While perhaps I let the bottle sit a bit long, I feel that I've had other beers sitting in the fridge or in the closet for months at a time and when I crack them they're still great, and this one just doesn't hold up. Sad day, but at least there's thousands of other beers in the world to make up for this one.
1,306 characters
3.37
/5
rDev
-0.3%
look: 3 | smell: 3.5 | taste: 3.5 | feel: 2.5 | overall: 3.5
12 oz. bottle, poured to a pint glass, first beer on Thanksgiving 2009. As others have noted, this is listed on the label as an 'American Version of the Classic German Dunkelweiss' [more comments below], brewed with wildflower honey and unfiltered 'for maximum flavor and freshness'. Thanks to my Shooting Creek pimp, Metalmonk, for the hook-up!
A: Copper orange, an amber warmth. Decent head, around a finger of whitish cream, but very little carbonation. In a couple minutes, we're down to a broad crescent and mini-flecks of sticking lace. Most disturbing about the 'unfiltered' nature: snowy debris sprinkled with larger flakes. Hmmm, all in all, just an OK look in general, regardless of a questionable 'dunkelweiss' tag.
S: Lilting honey sweetness, grass/wheat, a doughy malt, all very light. As a warms, fruity pear and sugared applesauce if you sniff closely enough.
T: Toasted malt is dry/crusty...honeyed baked wheat. Likable spice, a tingly tart-fruit tang in the finish. Again if we're talking 'dunkelweiss', there's none of the banana/clove/fruit character found in the traditional versions, yet it's still an enjoyable 'wheat' beer.
M: A little thin with a lethargic carbonation. Coating malt with a dry bitterness in the finish.
D: Despite some flaws, an easy one to consume; moderate alcohol level and some intriguing flavors. Not a must-have, but worth a try. I'd have another without an arm twist.
1,421 characters
Wildflower Wheat from Shooting Creek Farm Brewery
Beer rating:
3.38
out of
5
with
5
ratings