Pumpkin Ale
| Shooting Creek Farm Brewery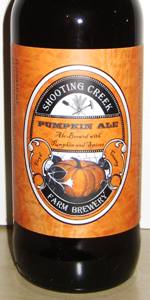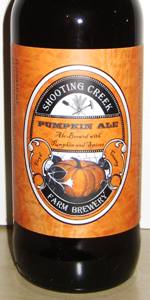 BEER INFO
Brewed by:
Shooting Creek Farm Brewery
Virginia
,
United States
Style:
Pumpkin Ale
Alcohol by volume (ABV):
6.00%
Availability:
Fall
Notes / Commercial Description:
No notes at this time.
Added by VaTechHopHead on 11-01-2009
HISTOGRAM
Ratings: 6 | Reviews: 6
Reviews by DarthMalt:
4.23
/5
rDev
+5.5%
look: 4.5 | smell: 4 | taste: 4.5 | feel: 4 | overall: 4
Peter, Peter pumpkin beer geek,
Had a beer that ran out last week;
He thought he was in pumpkin hell
But Shooting Creek is just as swell.
Just when you thought you were out of good Pumpkin Ale, along comes a micro in your back yard that does just the same trick.
Pours deep amber, almost red, with a dense foam that maintains a lovely espresso 'crema' all the way down. Great musty aroma. Smooth and clean with an expertly integrated spice/hop interweave culminating in an accented, spicy bitter at midtaste. The must breaks sideways and down leaving a great aftertaste of fall flavors.
Delicious.
To paraphrase the Bros.
- This aint no pumpkin soda beer!
659 characters
More User Reviews:
4.27
/5
rDev
+6.5%
look: 4 | smell: 4.5 | taste: 4 | feel: 4.5 | overall: 4.5
From the label: "made exceptional with...heirloom pumpkins. Enjoy cold or at cellar temperature." I guess this sample is somewhere between cold and cellar temp, as I took it out of the fridge and let it sit about 20 minutes before opening.
Rusty red-orange color with a modest head that thins to a skim quickly. Head color is somewhere in the off-white to tan area. Lace dots left here and there on the glass. A quick swirl brings a creamy head back to life.
Smell is wonderful, and exactly how I like a pumpkin ale to smell: pie spices, whipped cream, and, yes, pumpkiny! A big, robust nose with all those elements in equal measure.
Flavor is exactly as the nose promises, not too spicy, plenty of the holiday squash in there, slightly bitter and with a nice offsetting milky sweetness. Only reason I didn't give it a 4.5 for Taste is the flavor succumbs quickly to a dry, grassy, unripe vegetable bitterness that carries into the finish. Found a similar problem with Shooting Creek's Snapping Turtle IPA, but there it was much more pronounced.
Awesome mouthfeel, having the round, slick and very creamy texture that I like in a pumpkin ale.
Shooting Creek's best beer yet. Can't wait to see if they improve it next year, as that could be mindblowing. A must-try for aficionados of the style.
1,299 characters
3.5
/5
rDev
-12.7%
look: 4 | smell: 4 | taste: 3 | feel: 4 | overall: 3.5
Just got 2010 bottling. Cellar temperature into a small wine glass.
A: Amber-red with a khaki, creamy head that skims fast. Lacing settles quickly and swirling doesn't bring it back to life.
S: Like a sachet of 'Fall'. A touch of squash and spice gives way to fallen leaves and crisp, dry autumn air with a whiff of potpourri.
T: Intense pureed peppered pumpkin (say that 5X). The sweetness is buried under vegetable bitterness. Green and earthy at the same time. Grass on the finish.
M: Lightly carbonated with a subtle creaminess and slight puckering effect. Tingles the gums and warms the throat.
D: The smell is the best part for me. This beer is missing a lot of malt and hop characteristics that make beer enjoyable for me, as evident from their absence from this review. A true vegetable beer. Squash a few, but try others.
837 characters

4.07
/5
rDev
+1.5%
look: 4 | smell: 4.5 | taste: 4 | feel: 3.5 | overall: 4
From bottle purchased at Vintage Cellar to shaker glass
A suprise hit, as it was not something I was looking for.
Nice head, but nothing substantial.
The nose was just killer, I'd put it up against some of the best in-style, though it's certainly not Pumking.
The taste was spot-on. One of the most authentic pumkin ales I've had. Not over the top and not too all-spicy. Just right and even better as it warmed.
The mouthfeel and drinkability were just fine, though I wouldn't want to down more then one or two in a sitting.
Overall this is a killer pumpkin ale. I love stumbling across beers like this - ones I had no prior knowledge of and blow me away. Cheers to Shooting Creek on a job well done!
706 characters
3.97
/5
rDev
-1%
look: 3.5 | smell: 4 | taste: 4 | feel: 4 | overall: 4
A - Deep brown/reddish in color, little head and lacing, but has a nice hazy appearance to it.
S - Huge spices and pumpkins upfront. Hints of brown sugar, maple syrup, and candied pecan.
T - Pumpkin flavors explode at first taste but then the palate gets overwhelmed from spices...cinnamon, brown sugar, nuts. Nice bitter flavor from the pumpkin but not much hop presence.
M/D - Medium body, not much carbonation, very smooth.
For such a small brewery this is a very impressive pumpkin ale!
502 characters
4.03
/5
rDev
+0.5%
look: 4.5 | smell: 4 | taste: 4 | feel: 4 | overall: 4
12 oz. bottle, poured to a pint glass. Another taste from Shooting Creek, courtesy of VA's Finest, Metalmonk.
Attractive orange label, adorned with a...pumpkin! From the side: "Flavored Ale... A traditional Autumn Ale made exceptional with hops and heirloom pumpkins". Let the 'exceptional' commence...
A: Really gorgeous deep auburn, shades of crimson, a slight haziness with few bubbles rising.. A crown of dusty tan, builds to almost 2-fingers before a lazy ebb, leaving delicate strands of lacing. Creamy ring holds fast, surrounding a thin swirl of film.
S: A cakey pumpkin spice, muffins and baked bread without being too sweetened.
T: Big bready malt, a dark rye-spice. Gingerbread, dusty nutmeg: both are built around a 'pumpkin' base of starchy butteriness and earthy gourd. Mildest citrus (orange), cinnamon stick/bark in the finish. I like the 'roughness' of this beer, a sorta dirty/edgy rendition.
M: Pretty crisp, a busy swarm of carbonation and a prickly spiciness. Medium body, lingering bitter spices. Even the burps are tasty!
D: Very nice pumpkin beer, one of the better versions of a style I lack best when the spices are hearty and dry and the semblance to 'pie' is downplayed. I'll look forward to having this next fall; thanks, Jeff!
1,262 characters
Pumpkin Ale from Shooting Creek Farm Brewery
Beer rating:
4.01
out of
5
with
6
ratings