Le Serpent

Snake River Brewing Company & Brewpub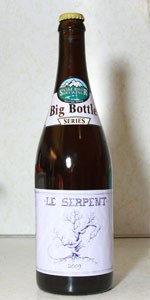 Rate It
Beer Geek Stats
| Print Shelf Talker
Style:

ABV:

8%

Score:

90

Avg:

4.29

| pDev:

9.79%

Reviews:

14

Ratings:

From:

Avail:

Retired (no longer brewed)

Wants

Gots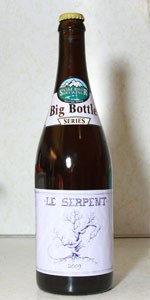 Notes: Cory's endeavor into the realm of Flanders style sour ale. Extremely rare, inoculated with multiple souring organisms and laid down in French oak barrels for over one year, Le Serpent is an example of a Belgian sour brown at it's finest. On draft in the pub for a short time and also hand-bottled and bottle-conditioned. There is a very limited quantity of 750 ml bottles available for take away. Act quickly to experience this exotic beer style!
stevoj from Idaho
3.99
/5
rDev
-7%
look: 3.75 | smell: 4 | taste: 4 | feel: 4 | overall: 4
Normal sour aroma, pours out a brown amber, minimal head, fruity taste, grapes, equal parts sweet and sour. Rerate 11/14/15 from 2009 vintage. Two ratings from different years
Nov 15, 2015
UCLABrewN84 from California
3.55
/5
rDev
-17.2%
look: 3.25 | smell: 3.75 | taste: 3.5 | feel: 3.5 | overall: 3.5
Bottle pour at the post-FWIBF bottle share held at the Adelaide Inn in Paso Robles, CA.
2012 vintage.
Pours a murky reddish-brown with a foamy khaki head that settles to wisps of film on top of the beer. Small dots of lace form around the glass on the drink down. Smell is sour with malt, cherry, and funk aromas. Taste is much the same with slightly sour malt and cherry flavors on the finish. There is a mild amount of acidity on the palate with each sip. This beer has a lower level of carbonation with a slightly crisp mouthfeel. Overall, this is a pretty good beer that is solid but fairly mild for a sour.
Jun 05, 2014
StJamesGate from New York
3.98
/5
rDev
-7.2%
look: 3.75 | smell: 3.75 | taste: 4 | feel: 4 | overall: 4.25
Dark amber with loose tan film.
Barrel, bright red berry, and some balsamic on the nose.
Candy sugar, red berry and orchard fruit, tart cherries and a vinegar hit.
Hint of vanilla in the finish and tart linger.
Lt-med, dry, clean.
Bright and easy. Fruit more than wood. A skilled take on a difficult style.
May 05, 2014
dirtylou from New York
4.25
/5
rDev
-0.9%
look: 4.25 | smell: 4.25 | taste: 4.25 | feel: 4.25 | overall: 4.25
750ml bottle, split
'09
bachelor party
Dope label - amber-orange body. Aromas of acidic and tart cherry, oak, funk. Not extremely sour - notes of vinegar, acidic fruit, cherry, wood, peach. Seems to have aged pretty nicely - nice tartness and solid oak/fruit interplay
Dec 31, 2013
Siriusfisherman from Vermont
4.22
/5
rDev
-1.6%
look: 5 | smell: 4.25 | taste: 4.25 | feel: 4 | overall: 4
2010 Bottle #33
Appearance: A deep, ruby red with a two-finger white head. Absolutely gorgeous.
Smell: The aroma holds a nice bouquet of fruits, peach and some cherry perhaps. There is also and underlying sweet malt and a a funky vinegar note that seems to be taking on a cheese character.
Taste/Mouthfeel: The taste starts off with a quenching yet moderate acidic bite and flows into the peach, grape, and cherry-like characters. The cheesy note found in the aroma is not evident in the flavor. It has a dry yet smooth and lingering finish, leaving you to want another sip.
Overall: This is a superbly drinkable beer, it is high on alcohol for the style, but still maintains drinkability. Although I did not have it young, I imagine one would find it to have aged well, there is very little to complain about with this brew.
Dec 25, 2012

mdaschaf from Indiana
4.15
/5
rDev
-3.3%
look: 4.5 | smell: 4.5 | taste: 4 | feel: 4 | overall: 4
Picked up from Snake River, bottle #49. Brewed in 2010.
A: Pours light brown, hazy, with a small light brown head with decent retention and nice lacing for a flanders.
S: Cherries, cherry skin, apple, and plum, some vinegar and slight acidity. Mixed in is a little caramel and vanilla as well.
T: Nice cherry flavor with a bit of apple, peach, and apricot. Just a little bit of vinegary sourness, some cinnamon and other spices. Gets much better as it warms.
M: My only gripe with the beer is that it is a touch thin, but a minimal problem. Not overly sour, but a nice and light vinegar/sourness.
O: Glad that I picked this up. Definitely gets better as it warms. A tasty Oud Bruin, would love to try the cerise version.
Oct 27, 2012
mikeyv35 from New York
4.62
/5
rDev
+7.7%
look: 4.5 | smell: 5 | taste: 4.5 | feel: 4.5 | overall: 4.5
Date: 09/25/12
Type: 750ml. Bottle #41
Vintage: 2009
Glass: Ommegang Tulip
Planned on keeping this one in the cellar for a bit more, but my hand was forced when my elbow knocked it off of a low shelf in my cellar, causing the cap to lift and start leaking. Anyway, was looking forward to sampling it anyway.
Pours a brown mahoghany in color w/ ruby hues that produced a big 2 finger tan head that left nice lacing. Aromas of caramel malts, vinegar, cherry skin, wet socks, and oddly cinnamon/clove. The taste starts w/ caramel, cinnamon, and clove, which leads into wet socks, and finishes w/ vinegar and sour cherry. Medium bodied and lush w/ appropriate carbonation. Drank my glass w/ ease and could have easily polished off the bottle and have been looking for more.
Overall, awesome brew! Maybe the best I have had of 2012. This brew is perfectly balanced w/ sour/sweet/spices.
Sep 25, 2012

pokesbeerdude from Colorado
4.25
/5
rDev
-0.9%
look: 4 | smell: 4 | taste: 4.5 | feel: 4.5 | overall: 4
Big thanks goes out to Bitterbill for sharing this with mkorpal and myself at the Library Bar in Laramie, WY. Bottle #17 if I remember correctly 2009 batch. (short review)
Poured a turbid ruddy brown with practically no head. Smell was acetic with notes of cherries and wood, slightly funky, but mainly leaning towards the sour side. Sour with a nice cherry profile, reminiscent of La Folie with the acetic acid qualities. Not overly puckering, but nice. Sour and fruit were definitely the highlights here. A very nice sour beer that would probably benefit from a little more time in the cellar. Starting to hit its stride, and very enjoyable.
May 25, 2012

mothman from Minnesota
3.67
/5
rDev
-14.5%
look: 3.5 | smell: 4 | taste: 3.5 | feel: 4 | overall: 3.5
Thanks to kbutler1 for sharing this one. 2009 #71
Pours a light layer of beige head. Color is am amber golden orange.
Aroma: Oaky with spice and vanilla. A lot of cherries; both sweet and sour. A bit of acidity and vinegar.
Taste: Sour and acidic. Cherry sweetness. Tart. Oaky with vanilla and spices. Caramel with a bit of malt.
Mouthfeel: Sour and tart. Light to medium bodied with a low to medium amount of carbonation. Ends clean.
Overall, a decent beer with a lot of good flavors. Easy drinking. A medium level of complexity.
Nov 15, 2011

brokensail from California
4.1
/5
rDev
-4.4%
look: 4 | smell: 4 | taste: 4 | feel: 4 | overall: 4.5
Thanks for sharing this, Bobby.
A: The beer pours a hazy amber color with a finger of just off-white head.
S: Rather fruity, much more so than most Oud Bruins I've had. Lots of peach, cherry, apricot, and plum notes. A heavy lactobacillus note along with some definite acetic character. Very mild malt sweetness.
T: Intensely fruity on the palate, too. More of the same peach, apricot, and cherry flavors with a moderate funkiness. Some hints of sweet toffee malt with a light grass note. Decently acetic with a touch of vanilla.
M: Medium bodied with a fairly high level of carbonation.
O: A nicely done sour. I've wanted to try this and the cherry version, and was pleased that they were as good as I had hoped.
Sep 01, 2011

HopHead84 from California
4.12
/5
rDev
-4%
look: 4 | smell: 4.5 | taste: 4 | feel: 4 | overall: 4
8/27/2011
Bottle shared by Bobby at Woodshop Classix, thanks!
A: Hazy dark red with a modest white head.
S: Tart and lactic cherry with oak and a dash of acetone. Peach and apricot are evident. Lots of vinegar and a dash of vanilla.
T: Highly acetic with much vinegar. Cherry blends with peach and plum. Oak is evident. There's a moderate lactic sourness and a matching tartness. Finishes moderately acetic with mild tannins.
M: Medium body with upper moderate carbonation.
Overall: A touch too acetic but good nonetheless.
Aug 31, 2011
BARFLYB from Pennsylvania
4.2
/5
rDev
-2.1%
look: 4 | smell: 4 | taste: 4.5 | feel: 4 | overall: 4
Thanks to LIVEFAST for bringing this to a recent tasting.
Le Serpent came to me looking bronzish/ tanned brown with some orange highlights, a bit of white foam on top, not much stick. Smell is of a bugged up beer. Lacto springs out along with some funk and berry scents. A bit of lighter citrus and wild yeast strains, alot of them. Holy moly this is sour. Le serpent has yeast, lacto/brett, with cherry, white grape, some vanilla from the wood and it's sour, bracingly so. There is alot going on, hard to nail it down. Feel is light but pretty spritzy and effervescent. kinda ruff, bitey and puckering. Even with the rough feel of this, i could drink a whole lot more of it.
Aug 04, 2011

JAXSON from Pennsylvania
4.32
/5
rDev
+0.7%
look: 4 | smell: 4.5 | taste: 4.5 | feel: 4 | overall: 4
I believe this was the regular, non-cerise version. Poured rust orange with a medium head. Vibrant nose of berries, orange skin, lime, just a lot of pleasant citrus in the nose. Really bright flavor with great citrus especially lime, citric acidity. Sharp, bright, fruity, sour. In a way reminds me of some Russian River stuff with the light, champagne like body and refined citrus acidity. T20, even? Good stuff.
Jul 14, 2011

KaiserTrey from Wyoming
4.57
/5
rDev
+6.5%
look: 4.5 | smell: 5 | taste: 4.5 | feel: 4 | overall: 4.5
This one gets a low (but virtually irrelevant) drinkability score due to the funky, sour, earthy, and dry character of the style. They really took the souring agents (brett and cherry) to the max. This took the gold in sours at the GABF and deserves it. Really pushes the envelope on what "sour" beer really means. I drank this beer while it was on tap and it was exceptional. It had a much more attractive tan head at the time so I thought it fair to judge the appearance based on that. Although, I just drank the bottle that I've had in the cellar for a year and the appearance had decreased. The Le Serpent has turned into an aromatic and flavorful powerhouse. The first sip was like a giant pissed off cherry punched me square in the chops. It definitely brings the funk on the nasty dunk.
Jan 28, 2011
Le Serpent from Snake River Brewing Company & Brewpub
Beer rating:
90
out of
100
with
50
ratings