Brauerei Keesmann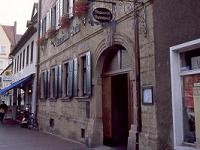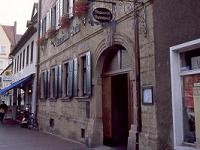 PLACE INFO
Type:
Brewery, Bar, Eatery
Wunderburg 5
Bamberg
, 96050
Germany
(0951) 981-9810 |
map
keesmann-braeu.de
Notes:
No notes at this time.
Added by Bierman9
HISTOGRAM
View: Beers | Place Reviews
Ratings: 13 | Reviews: 9
Reviews by Domingo:

4.04
/5
rDev
+1.3%
vibe: 3.75 | quality: 4.75 | service: 4 | selection: 3.25 | food: 4.25
(EDITED in 2017 to account for multiple additional visits:)
Because of the nature of how beer culture in Bamberg works, I think most of the brewery reviews should be pretty similar. Keesmann is no different. They're tucked into a strange angled street between Konigstrasse and the river. They're also directly across the street from the far more well known (and equally good) Mahr's.
When you walk in there's the typical dining room to the left with a window for ordering beers. The dining room isn't too big, but the "waiting hallway" is roomy, well lit, and furnished with large wood kegs made into tables. There's also a large patio-style biergarten in the back with table service.
While they have a display case in the back showing a whole range of beers, but they usually only have 2 on tap (Herren and Sternla) and 2 (Hell and Weiss) in bottles. Their flagship Herren Pils is absolutely stellar and is easily one of the best beers in town. It's my personal favorite and it might even be my favorite beer, period. Their other draft beer, Sternla defies normal style definitions. It's somewhere between an amber lagerbier and a dunkel. It's darker and maltier than any other lagerbiers in the area, but it's definitely not a dunkel either. Whatever you want to label it, it's pretty good but it's not as good as Herren.
While a lot of places were shooting for an older look, Keesmann was pretty modern looking with the additional lighting, newer wood décor, and fairly recently renovated biergarten.
Like most other breweries in Bamberg, they proudly feature beer-centric cuisine. I've never actually had a bad meal at and of the breweries in Bamberg and I've eaten at almost all of them. In the grand scheme of things Keesmann is one of the better ones, but it's tough to say any of them is a "best" or "worst." I can tell you that their platter of meats and their schnitzel variations are terrific, though.
Also worth noting – they do growler fills at Keesmann. Can't say I've seen that done anywhere else in the area.
Worth the trip over for the Herren pils alone, plus the prices are low. 2.30 for a 1/2L is about as cheap as you'll see. As you'll quickly realize, Mahr's is literally across the street, too. Tough to imagine a better 1-2 punch than Herren Pils and Mahr's U.
2,312 characters
More User Reviews:

3.96
/5
rDev
-0.8%
vibe: 4 | quality: 4 | service: 4 | selection: 3.75 | food: 4.25
Like many of the other German pubs that we visited, this place is more like a restaurant that serves beer than as a brewpub with a bar. There is no bar, however beer is brewed at this facility although you don't see the equipment. But there's nothing wrong with that. We liked the vibe here because it seemed to have a Bavarian look to it, and the service was good even though it was a busy lunch time crowd.
There were 6 beers available plus two no-alcohol beers and a radler, but we still had a long day ahead of us to visit other places and drink more beers, so we chose to order a half-liter pour of the Herren Pils and the "Sternla" Lager. (They offer quarter-liter pours in addition to the 1.0 and 0.5 sizes, although the Weisse was available in only the 0.5 and a 0.31 size.) We liked both beers, but the Herren Pils was the clear winner.
We decided to eat light at every stop this day to keep soaking up the alcohol, so we each ordered a bowl of soup. Very good! If our soup can be used as the basis for a Food rating, we gave a B+ score to that category. We really liked this place and would encourage any BA member to visit when in Bamberg.
1,159 characters

4.59
/5
rDev
+15%
vibe: 4 | quality: 5 | service: 4.75 | selection: 4 | food: 5

3.75
/5
rDev
-6%
vibe: 3.75 | quality: 3.75 | service: 3.75 | selection: 3.75 | food: 3.75
4
/5
rDev
+0.3%
vibe: 4 | quality: 4 | service: 4 | selection: 4 | food: 4
From the outside, this place is intimidating. A door into a large building. Once you are inside, it is a standard Bamberg Brewery guesthouse. Great food and great beer. I love the place. A great family runs it. I generally have a beer in the corridor at one of the barrels they leave for locals and watch folks come in and leave. Clean and well run. They definitely fill growlers (German style).
404 characters

3.88
/5
rDev
-2.8%
vibe: 4 | quality: 4 | service: 4.5 | selection: 3 | food: 4
Stopped here on a warm Wednesday evening in Bamberg. It is very similarly formatted like the other pubs in Bamberg. The brewery is in the back, then a biergarten, then a stubehall, then some seating. I sat in the biergarten.
I tried the famous Herren Pils and the not as good Sternla Lager. I also had the Blaue Zipfel to eat. The beer and the food were both good quality, as was the service.
The prices were the typical inexpensive Baberg prices, the atmosphere was relaxed.
Overall I would recommend this place, a solid stop in Bamberg.
541 characters
3.5
/5
rDev
-12.3%
vibe: 3 | quality: 3 | service: 4.5 | selection: 3.5 | food: 3
The guestroom is clearly renovated in the last 20 or so years, and feels sort of like going to applebees. High modern ceiling, and light airy and clean inside. There are some dead animals on the walls to have some of the effect of an old Bamberg pub, but it just doesn't get there for me.
You can also get a beer at the window and stand at some barrels in the hallway/courtyard. I'd recommend that to improve the atmosphere.
Decent crowd at lunchtime. I had an omelette, which came quite burnt and a little greasy. I do generally like my eggs overdone, though, and it was still tasty. I imagine that most people would send it back in a fancier place.
The beer I had (sternla) was fine, but not really up to the local standard.
729 characters
3.8
/5
rDev
-4.8%
vibe: 3.5 | quality: 4 | service: 4 | selection: 3.5
Almost opposite MAHRS Brewery, and about 25 minutes walk from the Station, though easy to find with help of a map. Probably better to come here on the way back to the Station, finishing in Mahrs before going back!
Two rooms and beer garden to rear, the usual wood panelling and scrubbed tables, with some standing room in the outside corridor. Friendly pleasant atmosphere full of locals at time of visit. We had the Keesmann Herren Pils, which was light, crisp and with slightly bitter hoppy finish, very refreshing and decent price.
It appeared as though the "lady" of the house sat at table with the locals chatting and keeping "order!" We did not eat here, but the food looked very good with generous portions and seemed popular the with locals.
Definately worth a visit, and being 'off the tourist trail' likely to get a seat and table! Then cross the road to Mahrs for the final and best beer!
JohnW
B'ham UK Sept 2008
929 characters
3.95
/5
rDev
-1%
vibe: 3.5 | quality: 4 | service: 4.5 | selection: 3.5 | food: 4
This brewery is not too far on foot from the centre of Bamberg - if you know where you are going. It's beyond the area covered on the tourist map that you are given in town, so we ended up wandering and asking direction for an hour or two.
As you walk in, there is an undercover area where you can buy beers through the "take-away" window, and to your left is the bar/restaurant.
The beer and food were good, and the staff very pleasant. Small wierd antlers on the walls.
Worth the walk,and a bonus is another brewery is just across the road.
542 characters

3.94
/5
rDev
-1.3%
vibe: 3.5 | quality: 4 | service: 4 | selection: 4
Located near Mahr's and directly across the street from the "big red church" (Wunderburg).
This place was much brighter than the other places in Bamberg. Scrubbed wood floors and tables. Typical goat skulls and horns adorn the walls. High ceiling with no beams. Curtains on the windows. Many regulars here, and I even saw a stammtisch where they were playing cards as they enjoyed the bier.
As in the other places in town, there were a few biers offered on tap as well as a couple of bottled biers. I tried the Pils, which was very good. Unfortunately I did not have time to sample more here.
The service was very prompt and efficient.
Definitely stop in this place when visiting Mahr's a little down the street.
726 characters
3.8
/5
rDev
-4.8%
vibe: 3.5 | quality: 4 | service: 4 | selection: 3.5
Getting to Keesmann will take you about 20 minutes by foot from the Bahnhof and then along the river. Good find, and Mahr's is right across the street! Enter from the street and you are first in the "Schwemme", an outdoor (though covered) area where you can order a Bier from the window and drink standing at a huge Bier-barrel stand. Further on you come to a courtyard with a mini-Biergarten. The dining room is to the left as you enter from the street. It is a bright, airy, woody room, with the expected old-style furnishings and decorations. Available here are a Pils, Helles, Weizen, Dunkles and a seasonal Bock. Steins and glasses are also available for sale. Comfortable, easy-going place, and the Pils is real tasty! Prosit!!
overall: 3.80
atmosphere: 3.5 | quality: 4 | service: 4 | selection: 3.5 | food: n/a | $$
79
828 characters
Brauerei Keesmann in Bamberg, Germany
Brewery rating:
3.8
out of
5
with
64
ratings