Dismiss Notice
Colorado Native Amber Lager
| AC Golden Brewing Company
BA SCORE
83
good
59
Reviews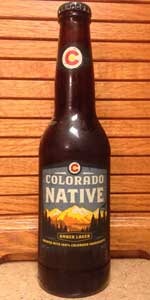 BEER INFO
Brewed by:
AC Golden Brewing Company
Colorado
,
United States
|
website
Style:
American Amber / Red Lager
Alcohol by volume (ABV):
5.50%
Availability:
Year-round
Notes / Commercial Description:
Colorado Native is a hand crafted lager made with all Colorado ingredients that celebrates the joys of life in Colorado.
Hold up a pint of Colorado Native and drink in its amber lager color, brought to life with pale and caramel malts from our famous Moravian 2-row barley. We painstakingly balanced its malt character against select Chinook, Centennial and Cascade hops to create a perfectly balanced, full-flavored beer. A lager yeast fermentation gives Colorado Native a slight fruitiness, complementing a citrus aroma note from a late kettle hop addition. Everything then comes together to deliver a clean taste and dry finish that is very drinkable by itself, or paired with your favorite foods.
Added by Domingo on 04-05-2010
Reviews: 59 | Ratings: 203

3.85
/5
rDev
+5.8%
look: 3.5 | smell: 3.5 | taste: 4 | feel: 4 | overall: 4
Poured a nice coppery amber with a decent head that didn't last long. Thin skiff of foam stuck around throughout.
Aroma is nicely malty, with a bit of toast and bread crust. Not a lot of hops in the nose, but there is a hint that something is there. Overall it's very clean on the nose.
Taste is remarkably balanced. Very clean malt, with again the bready, toasty flavor coming to the fore. There are hops in here after all. Not "in your face", but noticeable. The beer is far from bitter, but the hops serve to give this one character, and balance out the sweetness of the malt. Quite well done. No mistaking this one for a macro lager. It has some "oomph" to the flavor.
The mouthfeel has just a tiny bit of heft as well, again distinguishing it from its macro cousins. It won't be mistaken for alcoholic spring water, let's put it that way.
This is really rather well done. Not earth shattering by any means, but then it's an amber lager. It isn't supposed to redefine craft beer. As it is, it's a good beer worth trying. Nice to see the big boys know how to do good beers too, eh?
★
1,088 characters
4.18
/5
rDev
+14.8%
look: 4.5 | smell: 4 | taste: 4 | feel: 4.5 | overall: 4.5
Pours a half finger of off white (lightly tan) head over a brilliant orange-light amber liquid. Smells fruity hoppy with a mild biscuity malt character way underneath. Hop aromas were oranges, mild lemon, tropical punch, and cherry sweet-tart.
Tastes wonderful. Light malt, strong hop flavor, and clean hop bitter that is crisp at the end like you get in a good czech pils. Each of these dimensions is balanced with the others, though the carbonation makes too strong of an acrid sting (so, swirl the beer to address that concern). Malt is mostly bready sweet with a hint of light-colored caramel. Hop flavor is lemony, earthy, grapefruit pithy, and a light hint of basil sweet. The pith works quite well with the clean hop bitter. By the end of the glass, the beer is coming across as quite hoppy bitter, almost to the point of minerally. I wonder if the brewer added calcium carbonate during the mash. The aftertaste sees a reappearance of the malt sweet. Md light body and very drinkable (keep in mind that I'm quite a hop-head).
★
1,033 characters

3.73
/5
rDev
+2.5%
look: 4 | smell: 3.5 | taste: 3.5 | feel: 3.5 | overall: 4.5
Reviewed 5/28/10
Poured into a pint glass. Crystal clear, ambered color body. White head.
Smell was mildly malty with hints of caramel. Slight butter aroma. Mild hoppiness.
Taste had hints of caram and a mild biscuity, earthy flavor. Extremely mild hop finish that seems floral. Mild malt sweetness. Smooth and clean.
Mouthfeel had some mild stickiness. Light body, medium carbonation.
Drinkability was very good. Clean beer, well balanced. Good summer session beer.
★
471 characters

3.9
/5
rDev
+7.1%
look: 3.5 | smell: 3.5 | taste: 4 | feel: 3.5 | overall: 4.5
A: Bright, clear copper/amber color. Poured a 1 finger coarse white head that dissipated to thick skim and held. Lazily decanted. Spots of lacing.
S: Bready malt, but not strong. Light floral hop aroma; primarily citrus zest, but some spice as well. Also hay and grass.
T: Sweet bready malt and caramel up front. Transitions to a light citrus zest. Bread lingers a bit in an even bitter finish.
M: Light body. Moderate carbonation. Crisp and fairly clean with just a bit of malt flavor lingering in the finish.
D: Easily drinkable with all the well-blended balance of a good lager. Light abv helps too.
★
606 characters
3.6
/5
rDev
-1.1%
look: 3 | smell: 3 | taste: 4 | feel: 3 | overall: 4
On tap at Old Chicago Westy. Color was somewhat of an amber (amberish if that's a word); a slight floral aroma. Hoppier than most Coors' products--very surprised. Taste was slightly sweet and quite quaffable. A pleasant surprise. Doubtful I'd buy a sixer of it but if I'm "forced" to choose amongst a few BMC offerings, I'd look for this one.
★
342 characters
3.8
/5
rDev
+4.4%
look: 3.5 | smell: 3.5 | taste: 4 | feel: 3.5 | overall: 4
Finally found this one in the mix six cooler so I figured I'd give it a try. Not at all what I was expecting. Poured a nice copper-amber color, with a bit of ecru foam. Aromas of sweet malt and caramel. Nothing too overwhelming on the palate, but a very nice malty body, with just a hint of spicy hops. A very pleasant surprise.
★
328 characters
3.99
/5
rDev
+9.6%
look: 3 | smell: 4 | taste: 4 | feel: 3.5 | overall: 4.5
Bought at Mile High in Belmar at $6.99 for a sixer. I like that it is an all CO made beer.
Smell is bready with a light flowery and citrusy smell from the hops. Definitely not in your face like a PA or IPA.
Taste is a little sweet, bready from Munich-type malts. Fair amount of bitterness and a light orangey/grapefruit flavor from the hops. The sweetness makes me think of crystal-type malts, but I pick up only subtle caramel flavors
Drinkability is high. I could take down a lot of these this spring.
A good lager with some hops presence that has a good malt backbone that makes me think of a marzen. Price point is about right. I like this better than SA Noble Pils and Boston Lager which I think it competes with. Definitely worth a try.
★
748 characters
4.08
/5
rDev
+12.1%
look: 4.5 | smell: 4 | taste: 4 | feel: 3.5 | overall: 4.5
Had to try one for muhself, and I am actually impressed.
Beautiful amber color, head fades quickly. Wonderful malt aroma, munich and honey? Malt backbone, quick hop bite, finishes nice and smooth. Easily sessioned. Might... actually... buy.
Bottom line, I wanted to hate it, and I can't find much fault with it. Kind of reminds me of Boston Lager. Kind of octoberfesty as well. All and all, damn solid brew.
★
411 characters

3.83
/5
rDev
+5.2%
look: 4 | smell: 3.5 | taste: 3.5 | feel: 4.5 | overall: 4.5
This is the 3rd lager that's seen a bottled release from the Coors "craft" unit under the name AC Golden. I honestly liked the other two, so I'm looking forward to this one.
Pours a copper color with a really bubbly 1" head from a normal pour. The carbonation seems a tad bit heavy initially, but it calms down quickly and it does manage to lace the glass and stick around.
Smells hoppier than expected. Slightly sweet bready (Munich?) malts and American hops. It's a little familiar to be honest.
Oh...now I get it. It actually tastes a lot like Sam Adams Boston Lager. Dare I say it might be a tiny bit hoppier, but that's the inspiration. Bready and sweet up front, robust hops in the middle, and a finish that's dry with a little bit of lingering hop bitterness.
Easy drinking and tasty.
I could handle a couple at a time and not get sick of it.
It loses points for originality, but that isn't a BA score :)
I'd say it's a fine take on a Sam Adams-like brew that's no cheaper and with slight advantages/disadvantages in a few areas.
EDIT: I did a side by side, and this beer's hop profile from the 3 C's gives it more of a new world fruitier nose/taste (while the Boston Lager has more old world floral), but the two beers are pretty similar. Native definitely has more overall bitterness for better or worse, though.
Another interesting note. This beer is made with all Colorado ingredients from Monte Vista barley to hops from near Montrose. On tap I've found this brew to be a good go-to in the summer. Good stuff from Coors? Yes!
★
1,539 characters
Colorado Native Amber Lager from AC Golden Brewing Company
83
out of
100
based on
59
ratings.