FivePine Porter
| Three Creeks Brewing Co.
BA SCORE
82
good
10
Reviews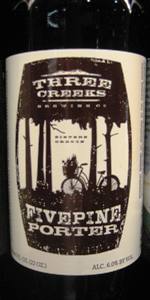 BEER INFO
Brewed by:
Three Creeks Brewing Co.
Oregon
,
United States
threecreeksbrewing.com
Style:
American Porter
Alcohol by volume (ABV):
6.00%
Availability:
Rotating
Notes / Commercial Description:
No notes at this time.
Added by msubulldog25 on 03-19-2011
Reviews: 10 | Ratings: 35

2.88
/5
rDev
-18.4%
look: 3 | smell: 2.5 | taste: 3 | feel: 3 | overall: 3
A- More brown than black, mostly a dark brown coffee hue. Light tan cap, a bit creamy, virtually no lacing or head retention.
S- Light aromas of milk chocolate, mild dark bread, and barley. Slight roasty notes and dark breads.
T- Initial tastes of faint smoke, followed by a smooth, creamy chocolate flavor mid-palate. I felt the taste was a bit darker and didn't quite match the nose or appearance. Finishes with a slim coffee roast, subtle dark malts, and more chocolate.
MF- A bit thin with some creamy texture. Low carbonation and a dry astringent character left over on the palate. A bit like black coffee.
A fairly subtle and straightforward brew. Nothing overwhelmingly dominant in the flavor profile, which promotes easy drinkability. Simple. Could improve with some coffee or maybe oak aged?
806 characters
3.03
/5
rDev
-14.2%
look: 3.5 | smell: 3 | taste: 3 | feel: 3 | overall: 3
Dark brown with dark amber highlights. Good amount of head that goes quick to lacing. Appropriate for a porter. Nice chocolate in the nose, but something off here as well. Tast follows with dark roast malt (chocolate), but somewhat astringent. Mouthfeel suffers from the astringency as well. Better than some things trying to pass for porters, but on the whole average.
369 characters

3.4
/5
rDev
-3.7%
look: 4 | smell: 4 | taste: 3 | feel: 3 | overall: 3.5
[Suggested Glassware:]
The pour was a dark muddy brown with a slight reddish hue and a large (2-3 finger) light brown fluffy head that receded slowly, down to a nice thick cap which basically lasted throughout and produced some really excellent full sheets of lacing.
The aroma was of a dark roasted malt and a bold leathery yeast with notes of molasses, milk chocolate, dark roasted coffee and a hint of ash.
The taste was extremely roasty and a little bitter sweet with a large malt presence and notes of molasses and chocolate pretty much throughout, progressing into a slightly bitterer taste with a strong milky coffee ending. The flavor lasted a good long time following the swallow, with a roasty choc-coffee taste left lying on the taste buds.
Mouthfeel was just a bit beyond medium in body and quite creamy in texture with a carbonation that barely exceeded medium in intensity.
Overall this brew started with a delicious aroma and fantastic look, but ultimately tasted pretty average for a chocolate porter. Although I will say it was still a decently chocolaty and rather creamy, which made it and enjoyable and easy drinking beer...
http://www.facebook.com/KAJIIsBeerReviews
1,192 characters
3.5
/5
rDev
-0.8%
look: 3.5 | smell: 3.5 | taste: 3.5 | feel: 3.5 | overall: 3.5
On tap at E-San Thai in Portland.
A very dark brown with a dense and creamy brown head with excellent retention and nice lacing. The nose opens roasty and creamy with caramel, brown sugar, coffee grounds, a moderate acidity and chocolate. Nice. The palate opens sweet, roasty and with coffee , cocoa and caramel. Medium in body and with a long, creamy finish, this beer has lingering flavors of cocoa, coffee grounds and a touch of raisin. Solid.
449 characters
3.53
/5
rDev 0%
look: 3.75 | smell: 3.75 | taste: 3.5 | feel: 3.5 | overall: 3.25
A: Dark brown. Slight haze. Low cream head. Medium carbonation.
S: Wet rot from pine with strong wet vanilla. Slightly sweet.
T: Sweet and vanilla up front with some chocolaty notes. Mild char bittering follows like cold coffee. Finishes slightly funky of wet wood or decomposing dried leaves. Not a great finish, but still a lot of good parts here.
M: Finishes slightly dry and fairly clean. A bit thick and viscous.
O: Okay. I felt it was a tad over roasted at times. Too much of a sweetness background lends to a muddled flavor at the back of the tongue. Not bad, but not a repeat.
588 characters
3.55
/5
rDev
+0.6%
look: 3 | smell: 3.5 | taste: 3.75 | feel: 3.25 | overall: 3.5
on tap at the brewery
Nice coffee brown, opaque with only a rim of tan foam. Smells of roasted and toasted malts, chocolate a bit of coffee and some sweet prunes. Flavor is robust with toasted malts, some cocoa, some sweetness, and a touch of soil. A little thin for the style with low carb and a nice only slightly dry finish. Nice beer.
339 characters
3.68
/5
rDev
+4.2%
look: 4 | smell: 3.5 | taste: 3.5 | feel: 4 | overall: 4
Very dark brown with ruby highlights. Good, creamy tan head with decent head retention.
Milk chocolate with a touch of earthy roast. Good.
Smooth chocolatey malt with a hint of roast and light coffee. Quite creamy and balanced.
Medium body with silky smooth carbonation. Good.
A really solid beer and the best of the bunch at the pub. Chocolatey, smooth and silky.
368 characters

3.8
/5
rDev
+7.6%
look: 4 | smell: 4 | taste: 4 | feel: 3 | overall: 3.5
22 oz bottle from Fred Meyers, Wilsonville. $4.29 Dark mahogany brown body with a very attractive light tan head..that is thick and creamy. Good and rich dark chocolaty aromas..along with roasted hazelnut and cream. Taste is much the same as the aroma but more dark french roast coffee aspects..the chocolate remains strong though. The mouthfeel however lets the beer down starts great and luscious than quickly fades to an almost watery finish. Good beer however.
464 characters
3.8
/5
rDev
+7.6%
look: 3.5 | smell: 3.5 | taste: 4 | feel: 4 | overall: 3.75
bottle courtesy of Rathakem from probably about a year ago. enjoyed from a beer hunter taster tulip.
a - brew was super carbed...when i opened it, the gas nearly rushed from the bottle making a huge fizzle sound and a pop. no liquid geysered, but the pour yielded more than half the glass of foamy head. once things got under control, there was a nice watery black under a nice greyish foamy head. as i sipped the brew, streaky chunks of lacing clung to the glass.
s - nose is definitively porter with a good char. decent chocolate notes over black malt.
t - the chocolate is not overwhelming, but certainly leads in the flavor...but blends nicely with the roast and char.
m - the feel is fairly full for a porter while still keeping the char. kind of toes the line of a stout.
o - overall, forgot about this bottle and am glad i opened it tonight since it is fully hitting the spot. this was a pleasant surprise and quite enjoyable and easy drinking.
956 characters
4.04
/5
rDev
+14.4%
look: 3 | smell: 4 | taste: 4.25 | feel: 4 | overall: 4
Poured from 22oz bomber into pint glass.
A - very dark brown, almost black, half inch off-white head, some lacing.
S - heavy chocolate, roasted grains, slight caramel, faint bit of hops
T - weaker than the scent chocolate, caramel, more hops than I was expecting.
M - Medium bodied, appropriate carb, slight but of chewiness is nice.
Overall - A solid porter. good value and will be buying again.
402 characters
FivePine Porter from Three Creeks Brewing Co.
3.53
out of
5
based on
35
ratings.