Oak-Aged Fayston Maple Imperial Stout
| Lawson's Finest Liquids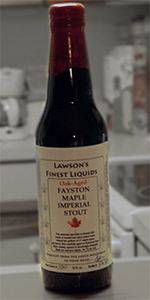 BEER INFO
Brewed by:
Lawson's Finest Liquids
Vermont
,
United States
lawsonsfinest.com
Style:
American Double / Imperial Stout
Alcohol by volume (ABV):
10.10%
Availability:
Limited (brewed once)
Notes / Commercial Description:
All bottles released 2012 with glossy labels, red wax, and no bottle numbers or signature, were aged in a Buffalo Trace barrel that was first used to age Utopias.
Added by kingcrowing on 11-12-2009
This beer is retired; no longer brewed.
Reviews: 30 | Ratings: 83

4.3
/5
rDev
+12.3%
look: 4.5 | smell: 4.5 | taste: 4 | feel: 3.5 | overall: 5
A big thanks to Stowehop for bringing this extremely rare bottle to Europe for us!! You are the best! The first bottle of this beer probably opened in Europe during a beer evening with papaeugene. Bottle # 28 of 48.
Look: very dark brown, almost black, with a small brown head which leaves a nice lacing.
Smell: Stong maple syrup, coffee, vanilla, roasted malts, and oaky.
Taste: Nice full roasted bitter coffee, maple a present but less present than in the smell, hoppy and roasted malts. Clear oak barrel(bourbon?) and a bit sharp bitterness in aftertaste.
Mouthfeel: Incredibly smooth and easy to drink for and 11 abv beer. A bit watery body and very low carbonation.
Overall: I wish the body would be a bit fuller, than it would be one of my favorite imperial stouts. However, I really enjoyed drinking this one, and I would like to recommend it to everybody that likes this style. The smooth maple in this style makes it unique, especially in for European beer drinkers!
982 characters

3.93
/5
rDev
+2.6%
look: 4.5 | smell: 4 | taste: 4 | feel: 4 | overall: 3.5
Bottle 15 of 48. Awesome. Thanks to sleepydave for bringing this over.
Pours a dark, dark brown with a thin tan head. The head and lacing actually look like they flecks of gold in them. Beautiful.
On the nose is alcohol infused chocolate, roasted dark malts and then notes of sweet sugary goodness, most likely from the maple syrup. Smells very rich, dessert like.
Roasted dark and chocolate malts showcase much of the bitterness in this beer. The oak really comes through as well with lots of woodiness. Overall, this stout is a strong mixture of dark malt and wood. The maple syrup takes the back seat, but its sweetness is noticeable at times. Alcohol is also apparent, but not too strong.
Mouthfeel is smooth and rich with light carbonation and warming alcohol.
Drinkability is pretty good. This is a stiff stout, especially with the large dark malt bill and the strong oak. With these characteristics and the 10% ABV it is definitely a sipper, but an enjoyable one.
Overall, this is a pretty awesome brew from a relatively new brewery, which is exciting to see. The flavor was maybe a little more on the bitter side than I would like and the oak was a little on the strong side, but those are fairly minor complaints. I don't know if Lawson's has any plans to tweak the recipe, but I think they have a really good start on this one and I will definitely be picking up more if I can find it.
1,401 characters

4.08
/5
rDev
+6.5%
look: 4.5 | smell: 4 | taste: 4 | feel: 4.5 | overall: 4
Thanks to Sean Lawson for bringing his great brews to the Montpelier Farmer's Market to celebrate his 100th batch!
I believe this was bottle 15 of 48 of batch#100 (12oz bottle), although I can't quite recall offhand. Long story short is it's an EXTREMELY small batch size. So I can't help but feel a little privileged to have tried it.
Shared between Abuliarose, Sisuspeed, and myself. In my opinion this is a very well done brew. Up there with some of the top stouts easily. If this got out into distribution I would be picking it up over abyss, old rasputin (even the XII), stone, and otter creek without even a question.
A pour into my White Birch tulip revelease it's as pitch black as it should be topped with a beautiful mocha/espresso head. The head starts rather nicely but quickly dissipates into a quarter inch or so of creamy milk chocolate foam within a few moments. Very well done, spot on for the style.
Smells very much of oak, maple sugar (those two gallons of syrup really come through!) along with the caramel and toffee notes. The roastiness is there, but it melds with the oak initially. I pick it up much clearer in the finish of the smell, right on the tail end. Nearly no alcohol on the nose.
Taste is very roasty at first, but as in the smell it melds with the oak in the intro. Along with the maple sweetness it makes for a vivid charred maple barrel feel. The tastes all play well, but the maple sweetness can be overpowering at times. But I find a slight cloying nature to alot of stouts. There is always a taste that takes the forefront to mask the alcohol, from first touch to aftertaste.
Extremely nice mouthfeel! Velvety, smooth, again up there with some of the best I've had. I find the carbonation to be spot on for the style and any more may wreak havoc with the maple flavors in my opinion. I'd give a lower drinkability score but when I had one of these during a superbowl party I went through it very very quickly. This is definitely a sipper, but it's a treat in and of itself.
A very high class offering from such a small operation. I believe this could fool many a people at a blind tasting with some of the big dogs.
If the sweetness were toned down a bit and maybe some very slight bourbon flavor added to the chips, this would be perfection in my opinion.
But in it's own right as a dessert stout, it's absolutely wonderful.
2,378 characters
4.03
/5
rDev
+5.2%
look: 4.5 | smell: 4 | taste: 4 | feel: 4 | overall: 4
A- Pours a jet black body with a thick one finger creamy brown head.
S- Scents of wood, maple, heavily roasted malts.
T- Caramel malt, a touch of char, oak, and just a hint of alcohol. Very smooth for 10%.
M- Medium viscosity, however carbonation a bit coarse for style.
D- A solid IS that if it had a touch more age and smoother carbonation would be fantastic.
365 characters
4.43
/5
rDev
+15.7%
look: 4.5 | smell: 4 | taste: 4.5 | feel: 5 | overall: 4.5
Pours black with a small light brown creamy head. Nose is oaky, malty and sharp.
Taste is awesome! Very mellow, oaky and sweet. Very easy to drink, super smooth and not boozy at all. One of the best stouts I've had in a long time, you'd have no idea this was 10%.
266 characters
Oak-Aged Fayston Maple Imperial Stout from Lawson's Finest Liquids
3.83
out of
5
based on
83
ratings.