Starkbier!
| Lawson's Finest Liquids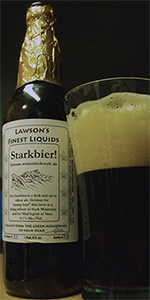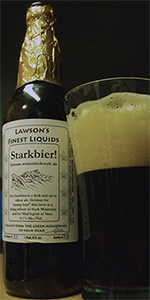 BEER INFO
Brewed by:
Lawson's Finest Liquids
Vermont
,
United States
lawsonsfinest.com
Style:
Weizenbock
Alcohol by volume (ABV):
8.10%
Availability:
Rotating
Notes / Commercial Description:
German for "strong beer" Lawson's weizenbock style ale is a dark, spicy, and strong wheat bier. It is brewed with all imported German malts, noble hops, and special weizen strain of ale yeast. A fitting tribute to Stark Mountain and her mad legion of fans.
Added by Brad007 on 11-30-2009
HISTOGRAM
Ratings: 7 | Reviews: 6
None found.
More User Reviews:

3.73
/5
rDev
+0.3%
look: 4 | smell: 3.5 | taste: 3.5 | feel: 4.5 | overall: 4
Thanks again go to Sean Lawson, not only for brewing but for coming out to the Farmer's Market to celebrate his 100th batch!
Bottle #29 of batch #99 poured into my generic wheat beer/hefe glass.
A very frothy root beer-esque head rises quickly and sticks around for a good bit before subsiding, but surprisingly it retains all it's original thickness and consistency down to a single centimeter of luscious foam.
At first glance, it's a nice dark brown. Bring it up to the light however, and a beautiful ruby/amber color is seen throughout the entire beer. Also the light really makes you appreciate the surprising clarity of this brew. As you pull it back into normal room lighting, the blackness returns from the center outward.
The nose reveals a deep plum note mixed with a good bit of banana and of course a nice dose of wheat malt as well. A hefty aeration (ie swirl) reveals a bit of alcohol to poke forward. The banana sweetness really saves the smell on this one for me.
The taste begins with a rather neutral wheat flavor but then a very light sweetness peeks out. The ending is bit odd though, I get a bit of a heavy astringency. On my palate this seems a little overpowering, but I remember the tasting I had about three weeks back being much less bitter on the finish. One thing I must point out is the alcohol is extremely well hidden on the tongue.
The mouthfeel is very nice. Exponentially smooth from start to finish. It doesn't coat your mouth, but the flavors do stick around a bit. Drinkability only took a hit due to the smokey nature I seem to get from this, although truth be told I really have trouble rating drinkability as I rarely session.
It's a very good brew I feel. One I'd happily drink again and I have. Struck me almost as smoked porter meets dunkelweizen, I just wasn't expecting the smoke/astringency. I also found this beer very hard to describe on the tongue, the nose I had to do some digging but I did pull a few notable aromas, whilst I feel the taste could benefit from a little more complexity and a little less astringency.
2,076 characters
3.88
/5
rDev
+4.3%
look: 4 | smell: 3.5 | taste: 4 | feel: 4 | overall: 4
22oz bomber poured into a lawson's pint glass!
Pours a nice very dark almost black color with a thin but creamy head that's light brown. Nose is sweet, wheaty, a bit boozy and slightly spicy.
Mouthfeel is very creamy, smooth and rich. Taste has a strong wheat taste, which is great for the style although not my favorite type of flavor. The wheat makes it super drinkable for this style, and it's got just a subtle hint of spiciness.
435 characters
4.06
/5
rDev
+9.1%
look: 3 | smell: 4.5 | taste: 4 | feel: 4 | overall: 4
A: Dark brown, with waaayy tomuch carbonation as it took about 15 minutes to pour to glass with a slow pour because the hed rose so quickly. The head was off white brown and fluffy
S: Nice caramel note along with some biscuity sweetness and a roasted note and a touch of bitter chocolate. Also a bit of smokiness and some crisp herbal hops
T: The earthy hops come out first followed by lots of biscuit notes before the roastiness and caramel.
M: A bit lighter in body than I expected, but there is no heat and some creaminess.
D: Pretty quaffable and quite enjoyable. I dont need to have it again but am happy to have had the opportunity
641 characters
3.41
/5
rDev
-8.3%
look: 4 | smell: 3 | taste: 3.5 | feel: 3.5 | overall: 3.5
Appears a dark mahogany with a small white head that slowly fades into a mild collar. Scattered bits of lacing are left around the glass.
Smell is of caramel, coriander, tart wheat, biscuit notes, and cocoa. A touch of creamed corn.
Taste is of the aromas with some brown sugar, over-ripened bananas, cocoa, cola, and spice.
Mouthfeel is medium bodied, sweet, and overcarbonated a bit.
385 characters

4.12
/5
rDev
+10.8%
look: 4 | smell: 4.5 | taste: 4 | feel: 4 | overall: 4
Pours a dark brown color with a thin one-finger head into my fluted tulip. Nice presentation.
Aroma is full of clove, banana and wheat. Very nice. Alcohol is present underneath but otherwise, good aroma.
Taste is full of clove and wheat with a touch of brown sugar as well. Alcohol warmth is well-hidden but carbonation seems a bit high.
Flavors give way to a mouthfeel full of molasses. Carbonation is a bit of a factor but otherwise, it's pretty decent.
A good example of the style. My only criticism would be that I was hoping for more of the clove and wheat flavors to present themselves.
605 characters
3.83
/5
rDev
+3%
look: 4.5 | smell: 4 | taste: 3.5 | feel: 4 | overall: 4
Bottles shared with a couple BA buddies, poured to tulip.
A: Dark brown with nice one inch head.
S: Spicy and malty. An interesting nose but it's hard to put my finger on.
T: Nice malty character with spice in there. I'm not getting much if any fruit. I think I'm just having a hard time verbalizing what is going on with this one. Though, maybe not ironically, my friends agree.
M: Nicely carbed and active. A little bitter at the ending.
D: Surprisingly smooth and drinkable for 8.1%. Not my favorite offering but could probably use to know more about the style. Have had Aventinus a few times on tap so I'm not completely uninformed but will need to do more research on this style.
693 characters
Starkbier! from Lawson's Finest Liquids
Beer rating:
3.72
out of
5
with
7
ratings