Paradise Ale
| Lawson's Finest Liquids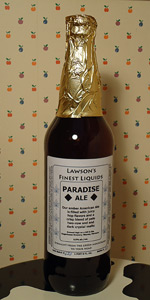 BEER INFO
Brewed by:
Lawson's Finest Liquids
Vermont
,
United States
lawsonsfinest.com
Style:
American Amber / Red Ale
Alcohol by volume (ABV):
6.00%
Availability:
Rotating
Notes / Commercial Description:
No notes at this time.
Added by kingcrowing on 03-13-2010
Reviews: 9 | Ratings: 24

3.9
/5
rDev
-5.6%
look: 3.75 | smell: 3.75 | taste: 4 | feel: 3.75 | overall: 4
Amber ale isn't necessarily my favorite beer but I really enjoyed this one.
Poured from the bottle to a snifter.
Medium amber color, nice head on this.
Aromas were pleasant, not too strong, nice malt notes.
Flavor was mellow, some lingering mild bitterness, some mellow sweetness. Some fruit but not fruit forward.
Mouthfeel was good, just right level of carbonation.
Overall, a satisfying amber ale, well crafted by Sean.
422 characters
4.3
/5
rDev
+4.1%
look: 4.5 | smell: 4.5 | taste: 4 | feel: 4.5 | overall: 4.5
Picked up at the Warren Store while on a beerventure with JLindros. Poured into my Duvel tulip.
A - Pours a nice crystal clear typical red amber hue that goes hand in hand with the style. The darker off white head though was very nice. Dense and creamy two fingers that left ALOT of sticky side lacing. Very, very nice.
S - Very nice amber here. Sweet malts, but not too sweet, with very nice hop resins. Good, wet hop aromas, great balance of pine and grapefruit along with a touch of caramel. Well done.
T - Taste, for me is tricky. Working from end to start it has a very very nice lingering bitter hop oil finish that just clings to the pallet. Actually my favorite part. So the middle though is a bit firmer on the caramel and malt sweetness. Again, not super sweet by any means but still sweet. It all starts with nice pine and faint citrus. This actually grows on me the more I drink it. Quite balanced with that nice strong bitter finish. Definitely super fresh. Slightly a bit too bready for me buried in the middle of the flavour that prevents it from being a 4.5.
M - Mouthfeel is spot on for an amber and for a Lawson's Finest. Crisp, clean carbonation, lingering bitterness. Very drinkable and refreshing.
O - Initially when I heard that this was the Lawson's available I was disappointed. An amber ale? Ehhhh. Pleasantly surprised by this one. Shocked to see its been THIS long since they distributed/brewed this beer. Quite pleased with this.
1,462 characters

3.45
/5
rDev
-16.5%
look: 4 | smell: 4 | taste: 3 | feel: 3.5 | overall: 3.5
I got this a long time ago in a BIF. I'm sorry I can't quite remember who from or which one. I'm very excited to finally get around to it though!
A: Amber pour, yellow on the sides with a nicely sized white head. Very thick, the head sticks around for a good while, lacing nicely down the side of the glass.
S: Grassy hops with a bready malt backbone. Honestly the malts seem to be quite prominent, but that could easily be because of how long I've been holding onto this.
T: The hops aren't present at all. Pretty much all bready malts, dry, and a bit boozy. I perhaps held on to this a bit too long.
MF: Light body and very nicely carbonated. The booze on the back end is not off-putting.
O: I wish I drank this earlier. Could have been a top notch beer.
761 characters
4.38
/5
rDev
+6.1%
look: 4.5 | smell: 4 | taste: 4.5 | feel: 4.5 | overall: 4.5
I appreciated akorsak bringin this back from Vermont and letting me benefit by sharing the wealth of good Vermont beer. I popped this while brewing an oatmeal stout and shared with tenderbranson69. Poured cool into a willybecker.
the color is deep copper with great clarity and microfoam like you might see atop a latte. The bead is ultrafine and thick foamy lace clings well. The smell is pungent with hops -slight piney vegetal aroma w/ some citrusy orange rind notes and light toasted grain aroma w/ some floral hop accents. The feel has a very smooth bitterness and subtle toasted texture with subtle acidity and mild sweetness w/ a very long dry finish.
The taste is incredible w/ light pine as hinted at in the nose and a subtle taste of toasted grain. The biscuit really adds dimension and a gentle vegetal hop leads to a moderate citrus flavor. The light resinous floral quality of the hop has some slightly citrus bitterness which lasts long into the dry finish. I really enjoyed this a lot, an outstanding Pale and I love the amount of hops and malt crammed into this, a pretty huge pale flavor-wise, almost and IPA taste-wise. I would welcome this if I ever get the chance again - Kudos Lawson's! Thanks again to Adam for the chance to try this.
1,260 characters

4.37
/5
rDev
+5.8%
look: 4.5 | smell: 5 | taste: 4 | feel: 4 | overall: 4.5
Review from notes 2/6/11.
A: Pours a slightly hazy, deep amber color with a dense white head on top. The head starts off at about one finger in height, but dissipates to 1/2 finger that lasts for a long time. Very nice lacing down the sides.
S: Crisp hop aroma with lots of citrus and pine. The bitter citrus aroma transitions to some caramel and some roasted malts.
T: The hop flavor is not as strong as the aroma let on. The citrus flavors include grapefruit and some orange peel. The finish is slightly bitter and spicy from the hops. A little bit of caramel mixes in on the back end as well.
M/D: Medium bodied with a dry finish, slightly bitter. Nice lively carbonation. Overall a really easy drinking beer, has a great flavor. As others have noted, it reminds me of Nugget Nectar, slightly less hop forward though.
827 characters

3.68
/5
rDev
-10.9%
look: 4.5 | smell: 4 | taste: 3.5 | feel: 3.5 | overall: 3.5
22 oz gold foil topped bomber into a pint glass. Batch 179: Bottle 90. Huge thanks go to akorsak for generously hooking me up with this bottle. Thanks Adam!
Pours a clear copper, with several large foamy fingers of billowy off-white head. This settles down into a rich creamy finger, which stays very frothy and leaves back a ton of lacing that hangs on the sides of the glass in a sticky latticework. The aroma is leafy, spicy, and piney, and is funneled up the nostrils with an airy floral feel to it. Bitter smelling grapefruit moves in next before giving way to some sticky caramel sweetness and a slight roastiness. Maybe no mistake though that there is a very dry and hop driven bouquet on this.
The taste mostly follows along, with a dry biting bitterness that is full of green grapefruit, resins, and lingering spice. There is more balancing sweetness here, courtesy of some juicy citric fruit and more malty notes of caramel and toasted bread. As mentioned before though, this has a VERY dry finish on this, with plenty of spice and green bitterness sticking in the mouth. The mouthfeel is medium bodied, with an aggressive carbonation that prickles the mouth and pops that assertive hop character that much more. Maybe this is even a little too sharp in spots. There is some slickness across the back of the throat that helps ease the body some and that 6% feels right on, giving this some presence on the palate but still keeping that ABV held to just a tiny bit of warmth being felt.
You know I really liked this for the most part. A hoppy American Amber with some attitude and a relatively easy drinking nature to for a 6% beer. My only concern with this was the overly sharp feel at times and the rather intense dry bitterness that occasionally combined to give this a bit too much of a kick. I think that I would have liked to have this wee bit fresher but this is overall still a pretty darn GOOD example of the style.
1,940 characters
4.47
/5
rDev
+8.2%
look: 4 | smell: 4.5 | taste: 4.5 | feel: 4.5 | overall: 4.5
A foil-wrapped bomber. Bottle 95 from batch 179.
Thank you, Warren Store.
A: The ale opens with a minor hiss. On pour in my tumbler, it is an amber sight to behold. Clear and bright, the ale sits beneath a craggy dense white head. Over two fingers on first pour, it is leaving plenty of lace behind.
S: I sniffed the bottle immediately after opening, ahh the deliciousness of hops. Citrus and pine, and plenty of each, are resiny and thick. I think that I'd be content just to smell the ale.
T: But then again, why sniff it when it's meant to be drank. Biscuity caramel flavors are paired with bold hops. Those hops aren't as sharp as in the nose but they don't slouch. Citrus is strong, grapefruit and orange peel, undercut by an oily pine flavor. The hops are strong but balance is the key, leaving each sip without too much (or too little) bitterness. I am stunned by this one. Watch out Nugget Nectar, you've got company!
M: Deliciously hoppy, the amber is at once bold and accessible. The hops are very flavorful, sweet and bitter all at the same time. A pleasantly bitter finish lingers.
D: Another incredibly flavorful beer with a lower alcohol level. Plenty of hops but the all-important element of balance. A strikingly powerful ale.
1,247 characters

4.5
/5
rDev
+9%
look: 4.5 | smell: 4.5 | taste: 4.5 | feel: 4.5 | overall: 4.5
22oz Bomber picked up by a friend at the Warren store!
Appearance: Pours a blazing light copper with a 2 finger beige crown that shows some retention and good lace.
Smell: You get a hop blast as you are pouring this one! Grapefruit, wet grass, and a touch of pine over a fairly biscuity malt.
Taste: I'm getting waves of grapefruit hop bitterness, bready malt, dank juicy resinous hops, and a nicely executed bitterness in the finish.
Mouthfeel: Well carbonated and crisp! Medium bodied.
Drinkability: Going down like water!
This is a fantastic offering from a fantastic Brewery.
Home Run Sean!
602 characters
4.69
/5
rDev
+13.6%
look: 4 | smell: 5 | taste: 4.5 | feel: 4.5 | overall: 5
22oz bomber poured into a perfect pint glass.
Pours a cloudy amber/mahogany with a nice fluffy one finger head with a lot of real nice lacing. Nose is fantastic, it's got a nice light maltiness to it as well as a very complex hop bite.
Wow, taste is phenomenal! Very hoppy and bitter but it's got this very bready thick maltiness that really rounds it out and makes it super drinkable. Great beer!
403 characters
Paradise Ale from Lawson's Finest Liquids
4.13
out of
5
based on
24
ratings.