Liquid Sunshine Ale
| Lawson's Finest Liquids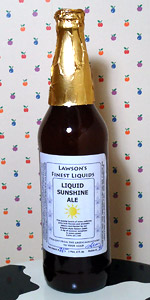 BEER INFO
Brewed by:
Lawson's Finest Liquids
Vermont
,
United States
lawsonsfinest.com
Style:
Saison / Farmhouse Ale
Alcohol by volume (ABV):
5.00%
Availability:
Rotating
Notes / Commercial Description:
No notes at this time.
Added by glid02 on 04-15-2011
Reviews: 8 | Ratings: 18
4.38
/5
rDev
+4.5%
look: 4.5 | smell: 4 | taste: 4.5 | feel: 4.5 | overall: 4.5
Thanks to Heath for this bottle, bottle 63 from Batch 219.
A: The saison is brilliant, golden yellow. The lightness of the ale, paler, allows the bubbles to clearly stream though. The haziness that runs through the ale is more temperature than sediment and gradually disappears. A thin white head, wispy, leaves a few legs behind.
S: The nose is musty, a dry spiciness that has pepper and light breads. Yeast brings that mustiness, not quite funky but not your run-of-the-mill strain either. The yeast is vibrant, giving the saison a strong scent. Hoppiness, still present, adds a citrusy burst. Grasses too, along with zest. The lemon is especially evident as the saison warms.
T: The saison's body is light but complex. The mustiness of the yeast drives a significant aspect of the flavor, lending some citrusy. Light biscuity malts come through, soft and sweet. Citrus, lemon in particular, picks up with each sip. The citrus leaves my mouth rather dry time and time again. Lemon zest builds sip after sip, adding more flavor. Peppery coriander adds to the flavor profile. Very light, the ale isn't heavy and plodding. Instead it leaps off my tongue. Lemon lingers as the lasting impression.
M: How a saison should taste, this one packs a sweet citrusy punch without getting too strong. The brightness of the ale comes through in every sip, a delicious saison.
O: A beer like this deserves a coda. Lawson's knocked this one out of the ballpark, citrusy and musty and fantastic. And only 5%? Wow.
1,503 characters
4.3
/5
rDev
+2.6%
look: 4.5 | smell: 4.5 | taste: 4 | feel: 4.5 | overall: 4.5
Big thank you to Kegatron for gifting me with this bomber. Thanks Heath! Rare Batch #219, Bottle #65. Poured into a snifter, this brew appears a light golden yellow color with 2 fingers of fluffy white head that slowly recedes leaving thick patches and finger-like patterns of lacework on the glass. A constant, vigorous stream of carbonation rises to the surface and aids in the solid retention this beer has. Quite a beautiful looking brew that has brilliant clarity.
The smell of this brew is pretty darn nice. It boasts a tropical fruit scent that I imagine would be the dirty hybrid offspring if a pineapple had relations with a pear. There is a faint apple skin scent mixed in there as well along with some grassy hop character, earth, and sulfur. The grain characteristic to this brew is reminiscent of straw which leads into the typical barnyard characteristic expected of this style. Once warm, some peppery quality comes out in the nose and a touch of lemon zest.
The taste initially hits with the same intro as the aroma. It is fruity with a minor pineapple flavor leading towards pear and apple skins. Some herbal to grassy hop flavoring is present before the minor onset of contrasting bitterness. Here is where the yeast finally shows some peppery spiced aspect mixed with hay-like grains. As the brew comes up to temperature there are some earthy flavors present that are a kickback to the dry grain flavoring and grassy hop character. It finishes quite crisp with grassy bitterness lingering on the tongue edging you to take a sip and get back to those initial fruited flavors.
This is a medium to light bodied brew with a lively amount of carbonation. Prickly at times on the tongue but never overdone. The alcohol is perfectly incorporated. This is an awesomely balanced brew. It completely morphs and evolves across your tongue. It starts fruity goes to bitter then spiced and finishes dry leaving you wanting to take more in. This brew is a contender for being one of the better session-able saisons I have had. I think if the ibus were cut back a little bit to let more of the yeast character come through this would be an insane offering. Regardless I am super appreciative to have the chance to try it. Thanks again Heath!
2,248 characters

3.94
/5
rDev
-6%
look: 3.5 | smell: 4.5 | taste: 3.5 | feel: 4.5 | overall: 4
Bomber courtesy of aparris85 into a tasting glass.
A: Hazy pale amber body with a thin head of fine white foam. Pretty good retention and lace. Ok.
S: Very nice aroma of fruity + spicy hops. Pineapple and pepper. Awesome.
T: Sweeter than the smell, with vanilla + caramel malt joining with the tropical fruit hops. Thick, bitter finish. Weird astringency on the aftertaste. Ok, but a bit of a letdown after the amazing nose.
M: Medium body, pleasantly full of fine carbonation. Very nice.
O: Solid, refreshing beer, but the aftertaste kept it from really wowing me. I can't wait to try Double Sunshine.
Cheers!
616 characters

4.5
/5
rDev
+7.4%
look: 4.5 | smell: 4.5 | taste: 4.5 | feel: 4.5 | overall: 4.5
22 oz gold foil topped bomber into a tulip glass. Rare Batch # 219. Bottle # 70.
Pours a brilliant crystal clear gold in the glass, topped with 2-3 fingers of rich bright-white froth. This retains with nearly a thick finger-width of froth, leaving back heavy and sticky patches of lacing down the sides. This looks like summer in a glass! The aroma is grassy and bright with citrus flavors in the nose, with some peppery spice adding some extra pizzazz throughout. There is a touch of sweeter fruit on the edges, while the malts are putting off supportive underlying notes of biscuits and an even little touch of egg. This is breezy, flavorful, and very nice feeling in the nose.
The taste has a crisp and bright feel across the tongue, with notes of juicy grapefruit and more bitter citrus rind. There is just a near perfect balance here as well, with a sweet graininess that just lingers on the edges of the profile, evening the bitterness while still keeping the focus on those fresh hop flavors. Spice is present here but it's seems a little more complimentary than it was in the nose, just sprinkled through the profile and adding a little extra zest to that already zesty bitterness and lingering in the finish to slightly intensify an already dry and lightly bitter finish. The mouthfeel is medium bodied; maybe even a little lighter, with a lively carbonation that prickles the mouth with flavor. Some hoppy oils lay underneath, helping keep this crisp but also extremely smooth on the palate. That 5% ABV is just perfect here for the overall refreshing feel that is obviously being sought with this.
This might be one of the most appropriately named beers that I've ever had. Bright, crisp, refreshing, and hugely quaffable, this was literally like a beam of sunshine sitting in my glass and then going down my throat. No shit! I love the execution here as well, with that extra yeast strain adding just the perfect amount of additional thirst-quenching quality to an already well balanced and approachable APA base. This is fantastic stuff that I could literally drink every day of the summer!
2,113 characters

3.9
/5
rDev
-6.9%
look: 4 | smell: 4 | taste: 3.5 | feel: 4 | overall: 4.5
I was tickled pink to see 1 remaining bomber of this on the shelf at the Warren Store around 1pm on Friday.
Appearance: Pours right between straw and a hazy golden with a 1 finger white crown that displays some retention and lace.
Smell: Small floral notes, a whisper of spice (white peppercorn?) that is more likely due to a belgian yeast ester than actual spice added and the faintest note of egg. My favorite aspect of the brew for sure. I'd give it a 4.2 if I could so I'm rounding down a bit.
Taste: Same as the nose but I get some slightly grassy hop bite in the finish that I didn't detect in the nose. This comes off as a saison / XPA hybrid to me but I'm not really sure if that is what the brewer intended. As a saison / xpa hybrid, this brew is like a spork - a pretty good spoon and a pretty good fork but when deconstructed neither isolated facet is particularly great. I'd give it a 3.7 if I could, so I'm rounding down a bit.
Mouthfeel: Light body, well carbonate, crisp and very refreshing.
Overall: Very drinkable (which is how I score my "overall")
The belgian yeast culture leaves a lot to be desired. Very drinkable but very confused. This one isn't claiming to be a pale, XPA, or IPA but seems to have been crafted in a way that wants to cling to those roots.
1,286 characters

4.3
/5
rDev
+2.6%
look: 4.5 | smell: 4.5 | taste: 4 | feel: 4.5 | overall: 4.5
Many thanks to jctribe25 for procuring and forwarding this straight to my saison-ticking maw!
Batch 215, bottle 75. Poured from a 22oz bomber into my Troubadour tulip.
The misty aureolin liquid dawns in the glass, coated by a bright ivory rocky crenellation with outstretched tendrils of thick ropey lacing. Stiff peaks and superior retention.
Bright fruity aromatics suggesting citrus, pineapple, and perhaps berries are joined by a wave of pink peppercorn from the yeasty phenols. A touch floral as it warms.
Earthy peppery palate entry suggests Brett; grapefruit zest and alfalfa arrive next bringing a moderate bitterness with them from the hops. Vanilla, clove, and white tea notes lead into the cutting finish.
Effervescent and well attenuated - quite flavorful while sticking to a sessionable level of alcohol (something most modern examples of the style have strayed from).
Reinvigorating, bright, aptly named ale which shows a reverence for tradition and craft while still having the brewer's unique (hoppy/estery) stamp. Fresh, glowing, summer in a bottle.
1,076 characters

4.34
/5
rDev
+3.6%
look: 4 | smell: 5 | taste: 4 | feel: 4 | overall: 4.5
Thanks to Thirstybird for cracking this one open. Pours a vibrant orange with a hazy clarity and a quarter inch, bright white head that dissipates into a soapy/bubbly skim. There is quite a bit of sediment present in solution. The nose on this beer is exquisite - flowery, herbal, lightly spiced and delicate all at once. Taste follows nose - it all coalesces nicely, but the flavor profile is a bit more muted than the nose would suggest. Mouthfeel is light-medium with a pleasant, lively carbonation and some citrus astringency. This is a wonderful domestic farmhouse on par with the better Belgians. It is delicate, floral and light and most refreshing. If you are a fan of the style, you must experience this brew.
718 characters
4.1
/5
rDev
-2.1%
look: 4 | smell: 4 | taste: 4 | feel: 4 | overall: 4.5
Bottle shared by Corey – thanks! If I remember correctly the bottle count was around 144.
Pours a hazy golden color with a two-finger white head. The head recedes into a thin layer on top leaving decent lacing.
Smells of light malts with large amounts of floral hops and crisp grassy notes.
Tastes similar to how it smells. Light malt flavors kick things off and are joined quickly by moderate amounts of bready flavors. Midway through the sip fresh grassy hops work their way into things along with hints of deeper earthy hops. The hops carry through to a crisp ending.
Mouthfeel is good. It's got a nice thickness with smooth carbonation.
Drinkability is very good. I finished my glass quickly and could easily have a few more.
Overall there was nothing that stood out as exceptional in this beer but it was well done and easy to drink. Worth a shot.
862 characters
Liquid Sunshine Ale from Lawson's Finest Liquids
4.19
out of
5
based on
18
ratings.