Vermont Maple Sunrise Ale
| Lawson's Finest Liquids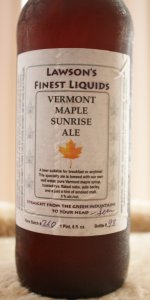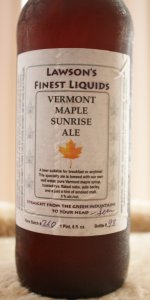 BEER INFO
Brewed by:
Lawson's Finest Liquids
Vermont
,
United States
lawsonsfinest.com
Style:
Fruit / Vegetable Beer
Alcohol by volume (ABV):
5.00%
Availability:
Spring
Notes / Commercial Description:
No notes at this time.
Added by vtblackdog on 06-03-2011
HISTOGRAM
Ratings: 13 | Reviews: 8
None found.
More User Reviews:
3.78
/5
rDev
+8.6%
look: 3.75 | smell: 3.75 | taste: 3.75 | feel: 4 | overall: 3.75
3.5
/5
rDev
+0.6%
look: 3.5 | smell: 3.5 | taste: 3.5 | feel: 3.5 | overall: 3.5

4.05
/5
rDev
+16.4%
look: 4 | smell: 4 | taste: 4 | feel: 4.5 | overall: 4
On tap at American Flatbread Waitsfield
A - slightly hazy bright orange with a blanket of light cream colored foam on top. Nice lacing as I drank
S - definitely dominated by maple and some biscuity notes. There's a little spice which I initially thought was the hops, but after thinking for a bit, it seems more like rye. A little butter and slight mustiness show up with some time, but this is a welcome complexity.
T - just a beautiful level of sweet vanilla and maple. Not overpowering and there is only the slightest hint of bitterness, but it balances well.
M - medium bodied, but still felt very light and drinkable. Carbonation was a bit on the low end, which helps the drinkability.
O - I wouldn't consider this a super sessionable beer in the summer because of the residual sweetness, it's not quite as refreshing. However, if it wasn't 90+ degrees, I would love to put away a few of these. Not sure if this batch is different than the other previous reviews, but I feel like this is a fantastic, flavorful and very drinkable brew. Only complaint is that I can't smell or taste the smoke.
1,102 characters

3.2
/5
rDev
-8%
look: 3.5 | smell: 3.5 | taste: 3 | feel: 3.5 | overall: 3
For some reason I really like the Lawson's labels.
A - Orangish/brown beer with a small white head that left behind some random lace.
S - Not really a lot of maple on this, more like apples with some bready malt. Not a ton going on here.
T - Not really much going on here. Kind of malty with a little bit of apple and maybe some maple. Kind of boring.
M - Medium bodied with moderate carbonation.
O - Not offensive, but not good. Not really much maple in here either, which kind of defeats the point of having a maple beer.
528 characters

3.36
/5
rDev
-3.4%
look: 4 | smell: 3 | taste: 3.5 | feel: 3 | overall: 3.5
22oz bottle into Portsmouth snifter. Batch 210, bottle 98. Thanks goes again to the great SneezyAchew for both beer and glass.
A: Pours a dark pumpking orange with about two fingers of cream colored head that faded into a wispy film and left a few spots of soapy lacing down the glass.
S: Light notes of apple juice, maple syrup, and a touch of spice which could be the rye.
T: Pretty light in flavor. Malty overall with an interesting combination of spicy rye and sweet maple. Not a whole lot going on. Maybe a touch of orange and white grape juice. The flavor falls off in the finish.
M: Super ample carbonation that really froths up in my mouth. Light body and a light mouthfeel with a fair amount of slickness.
O: Overall I would call this beer bad, it's just not very exciting. A rare miss from Lawson indeed. Carbonation makes it hard to drink, and while the flavor is good, I don't really want to drink a second bottle. Still one of my favorite brewers though. Cheers!
983 characters
3.16
/5
rDev
-9.2%
look: 4 | smell: 3 | taste: 3 | feel: 3 | overall: 3.5
A - a hazy orange/gold ale look. A medium density head formed and then slowly faded. No lace left.
S - a bit cheesy and then a sweet scent from the maple. Not sure what to expect from the taste!
T - a bit on the bland side. I'm not sure what to compare to but I didn't get much taste. A little maltness and a slight maple.
M - Very thin and a bit above average on carbonation.
O - This one is not my favorite Lawson's. Maybe because I didn't have it at sunrise?
473 characters
3.52
/5
rDev
+1.1%
look: 3.75 | smell: 3.5 | taste: 3.5 | feel: 3.5 | overall: 3.5

3.5
/5
rDev
+0.6%
look: 3.5 | smell: 3.5 | taste: 3.5 | feel: 3.5 | overall: 3.5

3.28
/5
rDev
-5.7%
look: 4 | smell: 3.5 | taste: 3 | feel: 4 | overall: 3
From 11/05/11 notes. Brought to a small tasting. Poured from a 22oz. bottle into a snifter. Rare batch 221, bottle 61.
a - Pours a dark mahogany brown color with one inch of off white head and moderate carbonation evident.
s - Smells of fruity malts, sweet fruit and light sweet brown sugar, maybe maple, and bready malts. Nice with the sweetness, but not too strong, and not a ton going on.
t - Tastes of bready malts, raisins, figs, grains, and very light fruity malts. Not offensive at all, but very bland. The sweetness from the nose is gone, and I'm not getting any maple at all. Overall an average taste and a step down from the nose.
m - Medium body and moderate carbonation. Pretty easy to drink.
o - Overall just a pretty average beer. I've enjoyed almost everything I've had from Lawson's so far, but this might be my least favorite of their beers that I have tried. It isn't bad, but it is light and bland, and doesn't have a lot going on. Not much maple at all and very lightly sweet in the nose. Wouldn't seek it out again, though wouldn't turn it down at a tasting.
1,084 characters

3.53
/5
rDev
+1.4%
look: 4 | smell: 3.5 | taste: 3.5 | feel: 3.5 | overall: 3.5
Batch 221, Bottle 61...shared by someone at a recent tasting. Dan maybe, thanks!
Beer is brown and hazy with a thin tan head of small bubbles, wispy head, some lacing, low carbonation, low retention.
Aroma is sweet, a little nutty, nice, malty.
Beer is medium body and sweet on the palate, a decent little brown ale. Mild stone fruit flavors, a little raisins, not sure what else, it is a little underwhelming but I still liked it. Not my favorite Lawson's but a good one.
476 characters

3.16
/5
rDev
-9.2%
look: 4 | smell: 3 | taste: 3 | feel: 4 | overall: 3
Thanks to ChrisPro for sharing this one. Batch #221, Bottle #8. Served in a Heady Topper glass.
A - A finger of white foam settles to a thin cap, leaving swathes of lace. Hazy dark orange beer.
S - Tastes like a mediocre homebrew. Apples, sugary malt, minimal hops, and no apparent maple at all.
T - The taste seems super bland. Nebulous malt, hint of maple. I didn't get any of the advertised rye or smoked malts at all.
M - Medium body, moderate carbonation, smooth texture, and no alcohol. No problems here.
D - This is just plain boring. Tastes like a homebrew that didn't work out as planned. No problems or off-flavors, just not very interesting.
657 characters

3.48
/5
rDev 0%
look: 4 | smell: 3.5 | taste: 3.5 | feel: 3 | overall: 3.5
Bottle shared by mdfb79. Thanks Dan.
The beer is dark orange with a finger of white head that leaves moderate lacing on the glass. The aroma is of sweet malt, maple, vanilla. Some vanilla, maple, malt, perhaps raisins in the flavor. It's pretty sweet. Decent, though unexceptional, a small serving is plenty. Some booze in the finish. Light to medium bodied. Overall, an OK brew, but probably not something I would have again.
427 characters
Vermont Maple Sunrise Ale from Lawson's Finest Liquids
Beer rating:
3.48
out of
5
with
13
ratings