Kiwi
| Lawson's Finest Liquids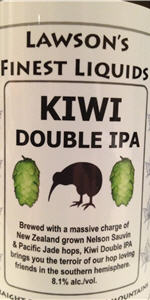 BEER INFO
Brewed by:
Lawson's Finest Liquids
Vermont
,
United States
lawsonsfinest.com
Style:
American Double / Imperial IPA
Alcohol by volume (ABV):
8.10%
Availability:
Rotating
Notes / Commercial Description:
No notes at this time.
Added by Pinknuggets on 12-16-2012
Reviews: 40 | Ratings: 241

3.91
/5
rDev
-8.6%
look: 4 | smell: 3.5 | taste: 4.25 | feel: 3.75 | overall: 3.75
The beer pours a clear golden amber with a thin wispy white head. The nose has an almost negligible hop profile with a touch of sweetness from the malt...slight notes of cardboard. The taste is quite nondistinct with a lot of bitterness upfront followed by a touch of bitter pineapple in the finish. It's an interesting beer, a relatively well balanced IPA, but not a win in my book.
383 characters

4.68
/5
rDev
+9.3%
look: 4.5 | smell: 4.5 | taste: 4.75 | feel: 4.75 | overall: 4.75
copper color pour. not really much of a head, slight lacing.
smell of concentrated citrus, didn't smell as hoppy as other Lawson offerings.
strongest tastes are grapefruit and a nicely balanced touch of malt. might appeal to those who like a bit more juice mixed with their hops.
feel is juicy, oily, and slick - which is my personal trifecta.
just outstanding, my second favorite Lawson's after Double Sunshine. i'd love to put them next to each other some time. it's much smoother than Hopzilla and even Triple Play.
Easily in my top 5 DIPAs.
549 characters
4.27
/5
rDev
-0.2%
look: 4.5 | smell: 3.75 | taste: 4.5 | feel: 4.5 | overall: 4.25
Big thanks to baconsausage for this bottle... my first Lawson's beer...
A: Pours a cloudy lemon yellow with about a half finger of white head. The foam settles quickly, leaving some solid lacing along the edges of the glass. This is a nice looking double ipa.
S: The nose is huge hoppy pine, mild citrus, and quite a bit of onion. I'm not a huge fan of the onion notes, but right now it's not too overwhelming.
T: The beer starts off wet and refreshing with mild lemons right up front. But immediately following as a big burst of super dank piney hops. I get some mild onion, but it's not the main flavor in this brew.
M: Medium bodied beer. It has some heft to it, but it's incredibly drinkable. I can't believe how easy this beer is going down.
O: This is a really nice beer, and I'd drink it again in a heartbeat, but it's not my favorite flavor profile for the style.
876 characters

4.46
/5
rDev
+4.2%
look: 4.25 | smell: 4.5 | taste: 4.5 | feel: 4.25 | overall: 4.5
Pours quite nicely into my CBS snifter. A thick two fingers of white head accentuates the top of the cloudy yellow-orange body.
Nose is fresh cut citrus and pine with a light sweetness.
What a mouthful! Pine and grapefruit up front with a distinct pine finish. Clean and light malt backbone, barely present. Almost an immaculate finish with no yeasty off flavors to distract from hopperfection.
Mouthfeel is clean and stripping. Tart and truly palate cleansing.
Overall, another stellar brew from Lawson's. In my memory, it's right up there with Double Sunshine. However, without a side-by-side tasting, I may never know.
626 characters

4.39
/5
rDev
+2.6%
look: 3.5 | smell: 4.5 | taste: 4.5 | feel: 4 | overall: 4.5
Kiwi double IPA pours a hazy amber color with a small, creamy head on top. The foam fades away quickly leaving behind only a few spots of lace on the glass.
The aroma is loaded with grapefruit citrus and tropical fruit (mango, pineapple). Some bready malt notes are also present.
Each sip of this full bodied beer is chewy and creamy on the palate. Moderate carbonation. The flavor is fairly well balanced between citrus hops and caramel malt. It begins with grapefruit citrus and tropical fruit. Like the aroma mango and pineapple are present. Towards the end sweet caramel malt and a touch of bread appears. It finishes dry and moderately bitter with grassy hop flavors. Once gone the grassy bitterness and grapefruit citrus lingers on the palate.
This is a very tasty beer that's more balanced than other DIPAs.
817 characters
4.35
/5
rDev
+1.6%
look: 4.5 | smell: 4.5 | taste: 4.5 | feel: 4 | overall: 4
A: Pours a hazy golden orange to copper in color with some orange and golden yellow highlights along with a light amount of visible carbonation. The beer has a finger tall pillowy off-white head that slowly reduces to medium sized medium thick patch of moderate sized bubbles, extremely thin film covering the majority of the surface of the beer, and a thin ring at the edges of the glass. Moderate to significant amounts of lacing are observed.
S: Moderate aromas of hops - tropical/pineapple, citrus/grapefruit, and just a slight hint of floral.
T: Upfront there is a very light flavor of caramel malts with just the slightest hint of sweetness but that is followed by the dominant flavors of hops. I get a moderate to significant amount of citrus/grapefruit, followed by moderate amounts of tropical/pineapple, and some light notes of floral and spicy hops. Light to moderate amounts of bitterness in the finish that slowly fade away.
M: Slightly less than medium bodied with moderate amounts of carbonation. Light amounts of dryness in the finish.
O: This is a very enjoyable DIPA that any hophead would really enjoy - wonderful aromas of flavors from the hops without any aggressive or overwhelming bitterness. Overall the beer is pretty well balanced, easy to drink, and one I would gladly have again.
1,311 characters

4.38
/5
rDev
+2.3%
look: 4 | smell: 3.5 | taste: 5 | feel: 4 | overall: 4.5
Pours a light copper colour, not much clarity, with an off white finger of head that leaves only traces of lace. Dissipates to a grouping of soupy bubbles.
The aroma is somewhat resinous, with bits of tropical and herbal hop notes, and a predominant maltiness coming through.
BOOM! That is heavenly...zesty hop punch straight in the teeth, then some tropical fruits, herbal hops, some floral-ness, some resin, a stark, but not too lingering bitterness, and a clean malt profile just to even things out. Delish!
Has a light/medium body, good carbonation and overall pleasant palate presence.
Smells good, taste is epic, overall excellent.
644 characters

4.45
/5
rDev
+4%
look: 4.5 | smell: 4.5 | taste: 4.5 | feel: 4 | overall: 4.5
Pours bright orange with a slight haze. 2 fingers of soapy off-white head leaves great retention and solid chunky lacing down the glass.
Very good aroma typical with other NZ hopped beers I've had. Lots of tropical fruit and pineapple with grapefruit hanging in the background. Also a bit more of a floral/soapy nose than I usually associate with these hops.
Lots of grapefruit bitterness up front on the palate. Lush juicy tropical fruit then grabs hold along with a slight caramel presence. Lots of mango and pineapple throughout. Finishes a bit floral with good lingering bitterness.
Medium mouthfeel and carbonation. A little bit of a fuller body works well with the juicy tropical fruit profile.
Very enjoyable beer. Not on the level of Double Sunshine, but pretty close. Lots of complex flavors I'd recommend to any hophead.
834 characters

4.42
/5
rDev
+3.3%
look: 4.5 | smell: 5 | taste: 4 | feel: 4.5 | overall: 4.5
This beer pours a nice light copper color with decent head and minimal lacing. I love the aroma of this beer. It is in line with my favorite. The taste at first is not what I expected. It lacks at first but as it warms the flavor I like come shining through.
258 characters

4.08
/5
rDev
-4.7%
look: 4.5 | smell: 4 | taste: 4 | feel: 4.5 | overall: 4
22oz bottle poured into a Russian River stemmed "-tion" chalice.
The beer pours a really nice bright copper color, hues of gold, orange and straw, fairly clear complexion with a slight chill haze. A nice thick soapy, frothy head sits atop the beer that has great retention and leaves behind a great webbed network of lacing. The aroma is very nice, lots of juicy tropical fruit aromas, pineapple, mango with some grapefruit mixed in as well, nice bright floral bouquet blends nicely with some resinous pine, a bit of spiciness from the Nelson Sauvin hop, and some nice sticky yet sweet malt character. The flavors are just as exciting, really bitter earthy hops lead quickly to the bright floral flavors and the really juicy tropical fruit flavors, fresh pineapple and mango are really delightful with some nice acidic citrus at the finish. A touch of malt and alcohol sweetness is present, but never detracts from the beer. The body is nice and full, medium carbonation, a bit of soapiness, everything you'd expect from a Double IPA.
Verdict: Rock solid IPA from Lawson's, a notch below Double Sunshine, but this is really great in it's own right. The flavors are really balanced, and I love the fresh juicy fruit qualities, a perfect treat for the holidays!
1,267 characters
4.1
/5
rDev
-4.2%
look: 4 | smell: 4 | taste: 4 | feel: 4 | overall: 4.5
22 oz bottle. Thanks to Gene for bringing this back for my from his Vermont trip. It was poured into my Brooklyn Brewery tulip.
Kiwi Double IPA pours tangerine, with a little bit of haze to it and some goldenrod highlights. About two fingers of lightly frothy white foam cap the beer, sticking around for a minute or two before fading. Intricate webs of lacing are left in its wake. The hop bouquet emanating from the glass is fantastic, it's just a little bit tame for a double IPA. There's plenty of mango and, yes, kiwi, joined by a good helping of that signature white wine aroma from the Nelson Sauvin hops. The briefest swirl of caramel greets my palate before a potent wave of bitterness crashes through. The hoppy back end ha some of those same tropical fruit notes from the nose, but they're dominated, just a bit too much, by the Nelson supplied gooseberry. Had they used more of some of the other hops and less Nelson, the flavor would just about be flawless, as everything else is there. The body is well dried out for the style, but I do find myself wishing the carbonation was just a little more lively. I bumped the "overall" score for Kiwi Double IPA up to a 4.5 because most of the other categories were close to being scored a 4.5, and the beer deserved more than a 4 overall score. Unlike Double Sunshine, which I find to be a bit over-hyped, this is a top notch imperial IPA.
1,396 characters
4.2
/5
rDev
-1.9%
look: 4 | smell: 4 | taste: 4.5 | feel: 4 | overall: 4
bomber into 2012 SAVOR tulip. no bottled on date found, however i know this shit is fresh.
A: slightly hazed orange body. head is bright white. retention is moderate and lacing is a tad minimal.
S: pungent. citrus. grapefruit. cantaloupe. dont know too much about pacific jade hops, but i am not recognizing any distinctive nelson sauvin aromas, so im lead to believe they are a bit overpowering here. a few fusel alcohols.
T: the hop flavor is cloying. citrus and grapes. there is a distinctive white wine flavor. vinous. the bitterness lingers towards the finish for a moment then vanishes to dryness.
M: mild/average carb on a medium body.
D: not getting nothing that is shouting kiwi flavor to me, but im sure that name was merely used due to the nature of where these hops are from. regardless, a solid brew from lawsons, but not their best.
856 characters

4.23
/5
rDev
-1.2%
look: 4.5 | smell: 4 | taste: 4 | feel: 5 | overall: 4.5
22oz bottle purchased at Montpelier Farmers' Mkt 48hrs ago 12/15/12. Poured into HF stemware drank at various temps btw 54-61F.
A: Slightly hazy, golden honey, light orange, one finger head - toothy white head. Beautiful looking beer. Nice lacing as I drink
S: Not as punchy on the nose as I expected but probably because it's been in the bottle a bit (no date) - week or two? I've drank Alpine Nelson's over a few weeks from bottling and this seems like similar nose muting. Draft prob sniffing more aggressively. Honeydew melon, white grapes, herbal (more Jade influence here?), light grapefruit rind, white wine, some sweet malt presence. Warmer it gets the more grapefruit I smell.
T: Sweet honeydew melon, citrus and awesomely balanced (not too much!) maltiness slowly segues into grapefruit and white wine, which artfully morphs into an earthly and herbal bitterness. Just when you think that's it another bite of grapefruit on the finish. Not drying though. Well done!
M: Slick and luscious yet clean--nice carb. Lawson nails the mouthfeel yet again, but with the addition of that signature Nelson effect that I have a hard time describing. The one I also get in Kiwi Rising and to some degree with Alpine Nelson (in the latter case I think the rye mutes this a little). Damn close to perfect in my book. A little alcohol on the tongue, but barely. So drinkable it's crazy. Which this wasn't my last bottle.
O: If I had this on draft or a week earlier it might be in my top tier. Or maybe it's my lack of familiarity with Jade. Either way theres just a little something keeping it from totally flooring me like Double Sunshine did. Which is to say this beer is better than 99.9% of beers ever made! If you can get it drink as much as you can.
1,754 characters

4.2
/5
rDev
-1.9%
look: 4 | smell: 4 | taste: 4.5 | feel: 4 | overall: 4
22oz bottle purchased at the Lawson's farmer's market release on Saturday. Poured into Lawson's snifter. First tried on draft at Three Penny Taproom, but this review is live from the bottle.
A- Pours a golden brown, slightly grapefruit color with about a finger's worth of white frothy head that recedes decently fast. Nice consistent carbonation. Some light lacing.
S- Greeny hops, pine, grapefruit, a bit floral but a little bit more bready, some malts, nicely balanced but not as aromatic as I was hoping for.
T- Greeny hops, pine, grapefruit, tangerines, honey, some bready malts, nicely balanced, finishes slightly bitter. Nice balanced aftertaste of bready malts and greeny hops.
M- Medium bodied, nice carbonation, easy to drink.
O- This beer is very good for a DIPA, definitely one of the better ones I've had but I still prefer Hopzilla and Double Sunshine more. I could have used a little bit more hops and I actually prefer Kiwi Rising from Jack's Abby more, however I will admit this beer is a little bit more balanced. I definitely recommend checking this beer out, you will not be disappointed. I think I preferred it on draft at Three Penny better then the bottle though.
1,191 characters

4.25
/5
rDev
-0.7%
look: 4 | smell: 4 | taste: 4.5 | feel: 4.5 | overall: 4
On tap at three penny taproom
A: golden honey color that is translucent but cloudy with a puffy white head
S:fresh floral hops you can smell some malt and fruitiness in there too
T: lots of straight up hop flavor not juicy or fruity but just straight hops with a little bit of a weird barnyard after taste but not always there
M smooth oily and very drinkable goes down very easy no alcohol at all
O: really solid dipa from Lawson's I like it a lot but I think hopzilla and double sunshine beat this one out if you can get your hands on it wort a try
569 characters
Kiwi from Lawson's Finest Liquids
4.28
out of
5
based on
241
ratings.