Paradise Pale Ale
| Lawson's Finest Liquids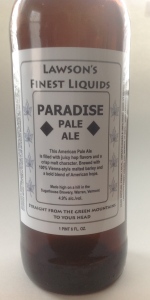 BEER INFO
Brewed by:
Lawson's Finest Liquids
Vermont
,
United States
lawsonsfinest.com
Style:
American Pale Ale (APA)
Alcohol by volume (ABV):
4.90%
Availability:
Rotating
Notes / Commercial Description:
No notes at this time.
Added by jaasen64 on 12-16-2012
Reviews: 14 | Ratings: 79

3.48
/5
rDev
-15.1%
look: 3.75 | smell: 3.25 | taste: 3.5 | feel: 3.75 | overall: 3.5
Thanks Moll. Beer served in a Lawson's tulip, thanks Paul. Beer is amber / dark amber with a thin head of small bubbles, low retention, low carbonation, low lacing.
Aroma is a little buttery, a little hoppy.
Beer is nice in the weight but overall a bit disappointing. Hops are light, malt is higher than I expected. Moving on.
328 characters
3.68
/5
rDev
-10.2%
look: 4 | smell: 3.5 | taste: 3.5 | feel: 4 | overall: 4
22 oz gold foil topped bottle. Served in a Lawson's snifter.
Pours a clear copper amber with a finger of dense creamy head. Doughy and caramel malt nose with piney and earthy hops. Doughy body, German malt, light caramel sweetness and resiny and pine bitter finish. Medium creamy body with strong carbonation and a sticky dank finish. Tastes like an aggressively hopped ESB. Not bad, but would pass on again.
409 characters
3.9
/5
rDev
-4.9%
look: 4 | smell: 4 | taste: 3.75 | feel: 4 | overall: 4
A-clear amber color with a nice white head and decent lacing
S-citrus, pine, malt, hints of sweetness and earthiness
T-bready malt, lemon, orange, slight sweetness, hoppy astringent finish
F-medium body with moderate carbonation, clean
O-a solid pale ale, but I prefer their IPAs
283 characters

3.98
/5
rDev
-2.9%
look: 4.5 | smell: 4 | taste: 4 | feel: 3.5 | overall: 4
22oz bottle poured into a Lawson's snifter. Bottle courtesy of Jared - thanks for picking this up for me!
A - Pours an extremely clear medium amber color with a tightly bubbled thick finger of creamy colored head that shows good staying power...head slowly fades to the surface and leaves lots of foamy lacing on the glass. Good looking pale ale!
S - Really nice hop aroma here...loaded with citrus and pine - smooth and a bit herbal. Hop aroma is so even and balanced - potent but not overpowering. Balance of lightly sugary sweet aromas and touches of grain beneath the hop layer.
T - Sharp hoppy bitterness up front - herbal, earthy and a bit medicinal. Toasted and bready malt flavors catch up with the hops and smooth things out but recede in the finish to leave behind the medicinal bitterness into the finish and beyond. Mild sugary sweetness in middle with well placed citrus and pine hoppiness.
M - Medium bodied with a lowish mid-level carbonation that is rather creamy and lacking of any assertiveness or tingle on the tongue. Thickly hoppy with plenty of hop bitterness and a strong resiny feel and taste throughout, especially in the finish with a long lingering bitterness after the swallow.
O - Another fine offering from Lawson's. I always enjoy finding full flavored beers that check in under 5% ABV. At 4.9%, this just makes that threshold, but is quite sessionable from an alcohol presence standpoint. The resiny and medicinal bitterness reduce the drinkability for me...this isn't a smooth pale ale. It takes a bit of work, but the effort does pay off. Doesn't go down as easy as I'd like, but it does invite you to savor each sip rather than quaff it quickly. I'd prefer a bit less sharpness to the hop flavors, but I think I'd still come back to this again if another bottle presents itself to me.
1,824 characters

4.04
/5
rDev
-1.5%
look: 3.5 | smell: 3.75 | taste: 4.25 | feel: 4.25 | overall: 4
Thanks to dujayhawk for this one. Reviewed from notes. Poured from bomber into a CCB pint glass.
A: Clear burnished copper with a half-finger white head atop lowish visible carbonation.
S: Overall seems muted. Citrus and grassy hops over some sweet bready malt.
T: Citrus rind, pine bitterness, some grassy and dank hops. The malt presence is sweet but not caramel, and bready. The onion and/or spice hop character increases as the beer warms. Hop bitterness in the hang, but this doesn't seem overdone.
M: Heavy body for a pale ale. Low alcohol presence, and good carbonation sensation.
O: The Vienna malts are an interesting twist to a pale ale. I think it works pretty well in here. It allows a sweet malt presence without the caramel flavors that I think clash with most American hops. Enjoyable, but I don't know that I'd run out for another one.
856 characters
4.13
/5
rDev
+0.7%
look: 4.5 | smell: 3.25 | taste: 4.25 | feel: 4.75 | overall: 4.5
Thanks to Phil for this one. 22oz. bomber into a Heady Topper pint glass. Shared with schen9303.
Pours a .5 finger frothy white head with good retention. Beer is a clear, dark mahogany. Lacing is patchy and thick with great stick. Really good looking brew.
Nose is pine, brown sugar and citrus hoppiness. Moderately aromatic. Decent.
Opens citrus and brown sugar. Sap hop bitterness towards the middle with a touch of bark. Some cane sugar and caramel notes at the finish with a bitter, resiny hop aftertaste. Very solid.
Light bodied with ample carbonation. Spritzy and quenching in the mouth and crisp and refreshing going down. Dry finish with a sticky, lingering aftertaste. Super drinkable.
A very interesting pale ale with great balance in the flavor and an almost perfect feel for the style. Pretty under-the-radar. Worth seeking out.
850 characters

4.15
/5
rDev
+1.2%
look: 4.5 | smell: 4.5 | taste: 4 | feel: 4 | overall: 4
Bottle to hfs sniffer
A: amber to orange colored tan colored head that goes away quickly
S:lot of fresh hop aroma there is some topical fruit mainly melon but its not a strong smell more balanced
T: the hops do not shine through as much I'd like as the malt does shine through but without being over powering but not the perfect balance
M: smooth and oily goes down very easy but not the greatest finish no bitterness but also not clean
O:this is a real solid session beer I could def go for one of these after a day of skiing
534 characters
4.18
/5
rDev
+2%
look: 4.5 | smell: 4 | taste: 4 | feel: 4.5 | overall: 4.5
New bottle release picked up last Thursday.
Pours a rich creamy 1.5 finger head that holds retention well, nice layered lacing, brilliantly clear copper amber color.
Nose has nice fresh hops, floral and grassy mostly, with a hint of citrus, spicy hops and resins, and just a touch of sweet amber aromatic almost toasty malt underneath.
Taste starts with the malt presence, amber toasty almost bready but not quite. Then hops, nice floral hops, plenty of spicy hop flavors, chewy earthy hops as well, with light citrus, a bit of pine, and some hop resins and oils. Bitterness is decent but not overbearing, the hops turn grassy and malts a little doughy as it moves to the finish, which is also drier, long lingering bitterness with hop oils and resins, spicy hops linger as well with just a bit of citrus and pine.
Mouth is med to fuller bodied, decent carb, light hop oil.
Overall nice, a well balanced hop to make ratio where the malts present a decent flavor without trying to steal the show, and hops really come through with nice American hop characters, and fresh hops. Fairly bitter but drinkable.
1,109 characters

4.18
/5
rDev
+2%
look: 4.5 | smell: 4 | taste: 4 | feel: 4.5 | overall: 4.5
Paradise Pale Ale pours a clear, dark copper color with a medium sized, stiff head on top. As the foam disappears a thick netted pattern of lace clings onto the glass.
The aroma is hoppy with notes of orange and lemon citrus with a touch of pine. The hop aroma fades quickly, but some nice biscuit notes take its place.
Each sip of this medium bodied beer is soft and creamy on the palate with moderate carbonation. The flavor is very well balanced between orange & grapefruit citrus, pine and toasted, bready malt. A little tropical fruit is also present. It finishes dry, mildly bitter with some grassy notes. Once gone the sweet malt and grassy bitterness lingers on the palate.
This is a very well balanced, easy to drink beer. It's a great everyday session beer that could be enjoyed with almost any occasion.
817 characters

4.18
/5
rDev
+2%
look: 4 | smell: 4 | taste: 4.25 | feel: 4.25 | overall: 4.25
Bottle shared by Paul. Thanks man. Served in a Lawson's Finest Liquids snifter because that's how this guy rolls.
The beer is golden copper in color with nearly an inch of white head. The aroma brings a balance of bready malts and piney hops, with the hop character taking a slight lead. I really enjoy the flavor of this beer. Beautiful balance and finish. Biscuits and floral notes. Light in body and smooth sailing on the palate. Another tasty brew from Vermont. Good times.
482 characters
4.33
/5
rDev
+5.6%
look: 4.25 | smell: 4.25 | taste: 4.25 | feel: 4.5 | overall: 4.5
I wish I could drink this everyday, and I think this puts zombie dust to shame in a lot of ways. this is the perfect all day American pale ale, plenty hoppy with a nice citrus profile, balancing malt that isn't sweet, and a wonderful feel. the pour is a little hazy, honey to copper on color, big thick foam white head on top that slowly relaxes. the nose is bright hops, light and oily, fresh and intense, with fruity elements and that classic grapefruit essence. the taste is the same, but im shocked how light this beer is to drink and in terms of alcohol. its a total session champion, with the hops being both thirst quenching and totally satisfying, so fresh and clean on the finish, its not often hops shine like this. perhaps lawsons is the new master of the hop, everything ive had from them has been expert, and I think this one really deserves some more attention. on tap at the farmhouse tap in Burlington, such a fantastic place to drink on a rainy day. this is exquisite, and I need more!
1,002 characters

4.47
/5
rDev
+9%
look: 4 | smell: 4.5 | taste: 4.5 | feel: 4.5 | overall: 4.5
I assume this is the new more sessionable incarnation of the former Paradise Ale (retired) with a lower abv and listed as a pale ale.
This particular version according to Sean Lawson was cask conditioned with a little bit of maple syrup for fermentation and a bag of dry hops was added. Keg tapped by Sean himself and poured into pint glasses at Three Penny Taproom.
A- Slightly translucent/hazy amberish brown that almost has a cider like appearance, about a half-finger of white frothy head with nice retention that recedes to a thin layer and leaves nice layered lacing. Consistent rising carbonation. Doesn't exactly look like your typical APA, but looks appealing non-the-less.
S- Lots of dry hops, grapefruits, pine, sweet malts, maybe a hint of maple syrup, extremely well balanced.
T- Dry hops, grapefruit, pine, sweet malts, finishes with a slightly bitter lemon finish. Packed with flavor and one of the most balanced APAs I've had.
M- Medium bodied, nice carbonation, extremely sessionable and smooth.
O- This was fantastic, one of the best pale ales that I've had. Easily right up there with Edward if not better. I could knock back a few pints of this without a problem. Very hoppy yet extremely well balanced with sweet malts, reminded me a little bit of the Alpine IPAs. This beer is great example of how masterful Sean Lawson is at brewing. I definitely recommend trying this out.
1,402 characters

4.6
/5
rDev
+12.2%
look: 4.5 | smell: 4.5 | taste: 4.75 | feel: 4.5 | overall: 4.5
Lawson's Finest Liquids - Paradise Pale Ale
Look - Pours a hazy deep copper amber with a good sized soapy head that dissipates quickly and leaves rings and chunks of lacing.
Smell - Snappy malts and biting similar to Summit oniony hop character, along with a few others. It has stones for an APA for sure.
Taste - Crisp malts and juicy hop body behind it, a nice piney bitter comes in after. What a refreshing (and forward) taste! Zero breadiness, which is a good thing here.
Mouthfeel - Rests pine super bitter hoppy. Dry and crisp. No booziness whatsoever. Sessionable but not in the typical watered-down sense but in a full flavored but lower-ABV sense, which is a rarity and praise is due for that.
Overall - This is the second best "sessionable" pale ale I have had next to HFS Edward. This Paradise is just that, almost magical in quality. 100% recommend this brew if you are looking for a full flavored but lower ABV brew.
934 characters
4.65
/5
rDev
+13.4%
look: 4.75 | smell: 4.75 | taste: 4.5 | feel: 4.75 | overall: 4.75
Pours is mostly clear amber with a fluffy one and a half finger Navajo white head that reduces to a permanent cap in a matter of minutes, lively carbonation, great lacing in the imperial pint glass.
Hop forward aroma with a distinctive malt tone lurking within: this has a crisp aroma of juicy hops with a delightful lemon zest vibe. Slightly floral, juicy and inviting nose for an APA.
Flavors are snappy and crisp, exceptionally well balanced with a generous amount of quality hops and Vienna style malted barley which never degenerates into that dreaded sweet bread and melon flavor. The lemon zest and floral qualities from the hops are front and center here.
Pleasant moderate bitterness moves to the back of the palate after the swallow, this is an easy drinking APA with excellent carbonation.
Mouthfeel is light to medium, dry finish, easy drinking: not at all chewy, great balance.
I think other reviewers have not been fair to Paradise Pale Ale because they are expecting the HUZZAH quality of the Double Sunshine: this is an American Pale Ale and an excellent one at that, and needs to be reviewed as such. I'd stack Paradise Pale Ale up against just about any APA out there, and while it isn't quite as amazing as Hill Farmstead Edward IMO, the vast majority of others fall far below the quality level of this small batch craft specialty.
1,354 characters
Paradise Pale Ale from Lawson's Finest Liquids
4.1
out of
5
based on
79
ratings.