5 Beers For 5 Years - The Packaging Team - Gose Ale
| Cigar City Brewing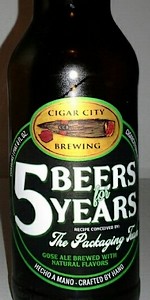 BEER INFO
Brewed by:
Cigar City Brewing
Florida
,
United States
cigarcitybrewing.com
Style:
Gose
Alcohol by volume (ABV):
not listed
Availability:
Limited (brewed once)
Notes / Commercial Description:
No notes at this time.
Added by mattvandyk on 03-14-2014
This beer is retired; no longer brewed.
Reviews: 6 | Ratings: 97
4.35
/5
rDev
+6.9%
look: 4.25 | smell: 4.25 | taste: 4.5 | feel: 4.25 | overall: 4.25
As the gose style continues to claw its way out of the grave, it finds favor in the capable hands of Cigar City. Without tinkering much with what's great about the understated complexities of the traditional northern German "salt" beer, authenticity exudes from this 5 Beers rendition from their Packaging Team.
Pale straw and catching the eye with a lightly hazed sepia tint, the beer's frothy swath of foam projects the tart and tangy foundation of citrus fruit and with a light waft of sea air. Flowery with citrus perfume and delicate spice, the earthy nose is swayed with an alluring fragrance.
To taste, the beer's wafer-thin wheat sweetness slowly dissolves to reveal a taste that's familiar to childhood sweetheart candy. As its powder-fine confectionate tone lifts, the clean sourness of key lime, kiwi and honeydew begin to seep in. Sour white grape, under-ripened orange and crabapple round out the dry and sour tone with hints of yogurt and white wine. But its the roundness of salinity that gives the its savory connection to the palate that begs for rapid succession in drinking.
Light bodied, but with a return of whole wheat, the taste is supportive and creamy but with effortless weight on the tongue. Bright and acidic, the ale is superiority thirst quenching and delightful with culinary art. As its playful earthen finish concludes, it leaves echoes of burlap and musty cork in its wake. It's an ideal ale for sushi and delicate fish pairings.
1,466 characters

4.32
/5
rDev
+6.1%
look: 4.25 | smell: 4 | taste: 4.5 | feel: 4.5 | overall: 4.25
Reviewed from notes. Poured from bomber into a Cigar City snifter.
A: Light yellow to straw-colored, and hazy. Forms just over a finger's worth of white head that fades fairly quickly, and has a fair amount of visible carbonation.
S: Light citrus, tart, wheat with some husk, and a bit of sour and funk.
T: Wheat malt, lactic tartness, lemon-lime citrus. A moderate amount of salinity for style, and some sour with just a touch of funk on the back end. Tart citric lemon-lime flavor in the hang with some savory salty flavor as well. It tastes less grainy than the smell suggested.
M: Light body, medium carbonation sensation, and low alcohol presence.
O: This was really good. In my opinion, hands down the best of the 5 Beers release from Cigar City. A good execution of a refreshing style.
797 characters

4.28
/5
rDev
+5.2%
look: 3.75 | smell: 4.5 | taste: 4.25 | feel: 4.25 | overall: 4.25
650ml bottle, dated 2/7/2014. Poured into a blue font CCB snifter 7/6/2014.
A- Hazy, cloudy straw yellow body that pours with a initially fizzy half finger white head with a very short retention time. No lacing, looks quite placid.
S- Lemon, papaya, a touch of salt, a decent bit of lactic acid and light funk. Smells juicy yet balanced out by the salt. Nicely tart, I could smell this all day.
F- Lemon, tart lacto, wheat, spices, slight leather, a bit of sea salt but certainly not ocean water-level sea salt, some orange peel. Very complex but at the end of the day, I love it because it is simply refreshing.
M- Medium in body, slightly undercarbonated compared to others of the style. Very drinkable, refreshing on a warm summer night. Finish is wheaty sea salt with some tartness.
O- The sea salt is a bit restrained and the fruit-like flavours are predominant here, accompanied by just the right amount of lactic acidity. I might actually prefer this one to Westbrook's take because the salt takes a backseat to the juiciness and tart lacto.
1,054 characters

3.6
/5
rDev
-11.5%
look: 3.5 | smell: 3.5 | taste: 3.5 | feel: 3.5 | overall: 4
Picked up during our recent Florida visit, very happy to see these in the tap room for sale when we arrived. The style has been growing on me steadily. 22 oz. bottle split with my wife.
The pour is a light, corroded yellow with visible carbonation racing along the edges of the sludge. Nose arrives with a spritz of tart lemon, plenty of saltiness, beach sand (I swear!), citrus. This actually smells like a tiki hut on Clearwater Beach. Srs.
5 Beers for 5 Years - Gose tastes less like beer than a watered-down version of a drink you'd buy at a late-night bar in Jamaica. Close to a carbon copy of the nose (no, that term didn't originate in Outlook, you young heathens), the bulk of the beer announces itself with a tart lemon charge cut with gentle citrus, & that combo runs all the way to the finish. Tang of tasty sea salt arrives right on the finish, but builds slowly sip after sip until it's much more evident once half the glass has been polished off. So easy to drink.
A nice, good, solid beer with the complexity of a single-celled organism. The price point precludes it from playing to its strength - a lawnmower beer - but it would make a damn fine one.
1,172 characters

2.86
/5
rDev
-29.7%
look: 3.25 | smell: 2.75 | taste: 2.75 | feel: 3.5 | overall: 2.75
There are 2 entries for this that probably need merging (the other is Margarita Gose). Anyway...Bottle from Tipples. Pours hazy yellowish green with a one finger fizzy white head that dissipates quickly. Super salty and tangy sour aroma, light like notes, some crackery pie crust. Flavor is super tangy up front, salty finish with a bit of lime. Long dirty and unpleasant wheat finish lingering on the palate for waaay too long. Kind of gives this a bit of a bile and vomit note to it. The dirty finishes seems to go away as I get into it a bit, but still not a huge fan. Light bodied with nearly spritzy carbonation. Maybe I'm just not a big fan of Goses, but I have had others that weren't offensive like this one. Going to be tough to suck this one down...might be a drain pour for me.
792 characters

4.6
/5
rDev
+13%
look: 4.5 | smell: 4.5 | taste: 4.75 | feel: 4.5 | overall: 4.5
Received in a trade from Madnismo…another stellar selection
Straw color with decent fizzy head. Scent is lemony/limey. Taste is just like a margarita, with a great malty backbone. Delicious. Would have liked a bit more of a salty presence, but nicely done. Mouthfeel is well carbonated and tart. Overall, this is up there with the Westbrook selections, but not quite there.
Enjoyed.
387 characters
5 Beers For 5 Years - The Packaging Team - Gose Ale from Cigar City Brewing
4.07
out of
5
based on
97
ratings.