Guayabera Citra Pale Ale

Cigar City Brewing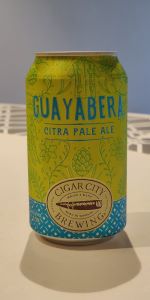 Write a Review
Beer Geek Stats:
| Print Shelf Talker
Style:

ABV:

5.5%

Score:

Avg:

4.07

| pDev:

7.37%

Reviews:

215

Ratings:

From:

Avail:

Year-round

Wants

Gots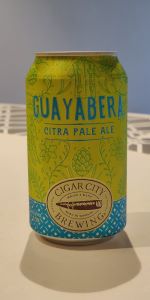 Notes: Traditional throughout Latin America, the guayabera shirt combines style, functionality, form and tradition in it's four-pocketed design. We at Cigar City feel the same reverence and appreciation for the guayabera that we do for the Citra hop varietal, an ingredient that imparts notes of tangerine, lime and berries to this traditional American Pale Ale. The exclusive use of Citra hops in this beer creates a flavor that's at once unique and recognizable, while it's dry, crisp character and moderate alcohol make it as refreshing and functional as a crisp linen guayabera.
Reviews: 215 | Ratings: 913

4.31
/5
rDev
+5.9%
look: 4.25 | smell: 4.5 | taste: 4.25 | feel: 4.25 | overall: 4.25
On tap at the brewery.
Golden in color with some haze and plenty of white, spongy head. Great retention.
Lots of fruity, dank Citra hops in the nose and palate. Low bitterness and light malt. Easy drinker with plenty of fresh Citra.
Great beer and uber-fresh at the source. Too bad no glass growlers or Crowlers available to go.
332 characters
4.73
/5
rDev
+16.2%
look: 4.75 | smell: 4.75 | taste: 4.75 | feel: 4.5 | overall: 4.75
One of my favorite pale ale's. Great city hop flavor. Perfect pale for those hot summer days. Very crisp with citrus notes that aren't too overwhelming. Really solid beer.
171 characters
4.25
/5
rDev
+4.4%
look: 4 | smell: 4.5 | taste: 4.25 | feel: 3.75 | overall: 4.25
12 oz pour on tap Guayabera Cotta Pale Ale
A: hazy body very small creamy looking head body is a dirty Apple cider in color
S: lemon, light grass, cantaloupe, peach but not quite more like apricot and a light berry smell
T: lots of grassy lemon with lighter notes of honey and ripe melon like cantaloupe ending with a slight candied resin taste
M: lighter to medium nice bit of raw hops on your palate in the finish
O: amazingly good citra forward pale ale, zombie dust look out. If you like citra hops you will love this
531 characters

4.25
/5
rDev
+4.4%
look: 4.5 | smell: 3.75 | taste: 4.5 | feel: 4.25 | overall: 4.25
Had on tap at the brewery in Tampa last weekend, and enjoying again from a CCB Hydro Flask growler purchased and filled on the way out. Still fresh as ever and with plenty of carbonation. Poured into a tulip.
L: Pours a very pretty hazy bright golden apricot color with a solid bubbly white head that recedes to a fairly sticky ring leaving intermittent lacing.
S: Bright citrusy hop aroma of sweet lemon and grapefruit with a piney twang and a touch of cattiness.
T: Just like biting into a wedge of fresh, juicy grapefruit. Big Citra hops smack into the tongue with tangy grapefruit and lemon flavors buoyed up by effervescent carbonation and a sweet backbone of malt. The hops shift toward piney resinous tones as the taste evolves, the bitterness making a late appearance rising to a moderate level and lingering on the tongue. If I didn't know any better, I would've pegged this for an IPA, and I believe it very much borders on that classification.
F: Medium-bodied with a good amount of effervescent prickly carbonation complementing the bold citrus flavors. Satisfying and quite quaffable for the intensity of flavor. This could be a session ale if you don't easily tire of the bold taste of big citrusy hops.
O: Mmm, Citra. Call me biased, but I do love that hop, and Guayabera is as flamboyant a showcase for its qualities as I've yet had the pleasure to enjoy. Another very tasty effort from the crown jewel of Florida's craft brewing scene. It ain't no Jai Alai, of course, but this is quite an enjoyable beer and I recommend it to any visiting the brewpub.
1,574 characters
4.31
/5
rDev
+5.9%
look: 4.25 | smell: 4.5 | taste: 4.25 | feel: 4.25 | overall: 4.25
One of my long-time favorite APAs, especially for a low(er) ABV offering. Had it on tap at Cigar City multiple times, and now very happy to see it available in cans in my local Nashville market. Pours a gorgeous light orange-copper with a slight haze and a small white head that dissipates quite quickly and really only provides a few random spots of soft lacing down the glass.
Smell is all citra, incredibly sweet and citrusy, with fresh grass, pine resin, a little berry, and a lot of dankness. This is a semi-balanced beer, so there's some definite breadiness and cracker notes, as well.
Given the lower ABV the taste profile doesn't match the bigness of the aromas, but it's incredibly bright and refreshing. I get orange and lemon and bitter pith up front, followed by a splash of sweet citrus and sweet biscuit, then the dankness sets in with some resiny pine and lemongrass, with bright grapefruit providing the chaser that leads to a long-lasting bitterness mixed with a little tartness. Very easy to sip this one quickly if you like it juicy and pithy.
Feel is stickier than the light look would suggest, with just the right amount of carbonation and a very silky feel. Coats the tongue and teeth well, which makes that pithy, bitter aftertaste linger even longer.
Just a rock solid beer that I love coming back to and am never disappointed by, even in a world where pushing the limits of hoppiness, bitterness, and/or juiciness has become the norm.
1,471 characters
4.37
/5
rDev
+7.4%
look: 2.5 | smell: 4.25 | taste: 4.5 | feel: 5 | overall: 4.5
American pale ale brewed with citra hops. This was my first taste of this hop variety. The notes of citrus are outstanding. This beer is a must have for citrus lovers.
167 characters
4.49
/5
rDev
+10.3%
look: 4.25 | smell: 4.5 | taste: 4.5 | feel: 4.5 | overall: 4.5
Solid Citra pale ale. I wish I could compare it with Pseudosue or Zombie Dust but it is what it is. I think my favorite Citra pale ale is still Zombie Dust. Nice juicy (mainly orange juice) pale ale. Pushes the limits of a pale ale for sure.
241 characters
3.81
/5
rDev
-6.4%
look: 3.75 | smell: 4 | taste: 3.75 | feel: 3.75 | overall: 3.75
cool to have so many cigar city beers around town this weekend for the beer festival, thats always a treat. this is a citra hop pale ale, and looks to be not double, but triple listed on their page here. we really need to find a way to get that slop cleaned up. in any event, its a nice beer, but not worth a long wait in a line, fortunately there was enough around town that this was skippable at the festival itself. pale in color with a little haze, and nice and heady, white and lasting. it smells like citra all the way, but without that urine property i sometimes get from this strain. its clean despite having some body, and is carbonated well enough to cut the florida humidity. citra is more obvious in the nose than the taste, still there in the flavor, but far less convincing. it ends up being on the little generic side considering the following these guys have and the stoke levels that always accompany any of their beers. i liked it, found it refreshing, well balanced, and real drinkable, but i dont see what all the fuss is about, at least not with this particular brew.
1,088 characters
4.69
/5
rDev
+15.2%
look: 4.5 | smell: 4.25 | taste: 5 | feel: 4.5 | overall: 4.75
On tap and also from Crowler. Pours slightly cloudy with a good head head and mild citrus aroma. Taste is light citrus with a clean finish and becomes increasingly refreshing as you continue to drink it. Perfect citra hop finish. Not quite pseudo sue but an awesome pale ale that blows away CCBs other offerings in this category. Much better than invasion and tony Janus and as soon as they can it, CCB will hit another spectrum of drinkers who find jai alai and other offerings too malty. A special beer for CCB, which already has the best stouts an awesome brown ale and solid IPA offerings. Check another box
611 characters
3.35
/5
rDev
-17.7%
look: 3.5 | smell: 3.5 | taste: 3.25 | feel: 3.5 | overall: 3.25
Appearance: Golden, maybe a tinge of amber and fairly clear, capped by a thinnish, white head.
Smell: Garden variety pale malts with aromatic hops smelling of green herb of the kind bud variety, sharp citrus and some pine.
Taste: Pale malts, minor hint of toasted grains, a bit bready. Little showing of malty sweetness. Robustly herbal, pulped citrus fruits and (again) some pine. Moderate bitterness. Hop flavors and their imparted bitterness carry one through the finish.
Mouthfeel: Medium-bodied. Medium carbonation.
Overall: It's a hoppy ale, alright.
560 characters
4.07
/5
rDev 0%
look: 3.5 | smell: 4 | taste: 4.25 | feel: 4 | overall: 4
32 oz. growler poured into a wine glass.
Appearance - Hazy orange. Medium white head. Nice surface wisps.
Smell - Lots of orange citrus hops. Doughy malts.
Taste - Orange hops and a lightly sweet pale malt. Mild bitterness in the finish.
Mouthfeel - Medium body. Creamy mouthfeel. Rather heavy for a pale ale.
Overall - Simple but delicious. Great citra hop flavor.
370 characters

4.25
/5
rDev
+4.4%
look: 4.25 | smell: 4.25 | taste: 4.25 | feel: 4.25 | overall: 4.25
Pours a slightly cloudy pale brass yellow with a bit of fine head. Bright lemony citrus in the nose. Taste is light piney citrus with vegetal bitterness at the tail end. Clean finish.
186 characters

5
/5
rDev
+22.9%
look: 5 | smell: 5 | taste: 5 | feel: 5 | overall: 5
Appearance: Hazy gold color, thin, white head that dissipates quickly
Smell: Big, juicy, fresh, tropical fruit.
Taste: Matches taste. Big, juicy, fresh tropical fruit with a bready, sourdough flavor. Delicious.
Mouthfeel: Clean, crisp, fresh mouthfeel.
Overall: I really enjoy this style. I consider Zombie Dust the gold standard. I think I like this better than Zombie Dust. I look forward to doing a side-by-side comparison. Kudos to Cigar City for making another exceptional beer!
488 characters
4.6
/5
rDev
+13%
look: 4 | smell: 4.5 | taste: 4.75 | feel: 4.75 | overall: 4.5
One of the better pale ales I have ever had. If you were to tell me this was and IPA I would have no trouble believing you. There are wonderful smells of orange marmalade, citrus rind and even prominent piney notes on the nose. The flavor follows suit with tons of citrus and fresh grassy tones that really carry an amazing character. On the back side of the palate develops a beautiful sweet cracker like feel that is just so attractive and unique for the style. This is such a complete and complex beer for a pale ale.
525 characters

4.75
/5
rDev
+16.7%
Really incredible beer. Poured from a 32oz Crowler the day after it was canned. The Citra hops shine through in this one!
Appearance - pours a fluffy, 2-3 finger head that recedes gradually with good lacing. Color is dark amber and slightly hazy.
Smells of wonderful Citra hops. Some grapefruit, but more guava, mango, and apricot.
Taste follows the smell. There's some sweetness from the malts, but again, this is a Citra forward beer. Tropical fruits and grapefruit with a grapefruit pith bitterness. The flavor changes as the beer warms, but it all tastes good. Amazing even. Close to Trillium Fort Point.
Mouth is a tiny bit on the syrupy side for me. It's solid, but if it were lighter and a bit more carbonated I'd like it even better. Probably slightly better right on tap.
Overall this is an awesome APA. Very hoppy with the perfect amount of bitterness. If you're lucky enough to find this on tap, get a crowler fill or two!
938 characters
Guayabera Citra Pale Ale from Cigar City Brewing
Beer rating:
91
out of
100
with
913
ratings