Seasonal Creep
| Cigar City Brewing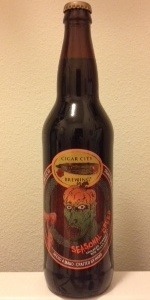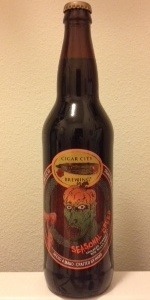 BEER INFO
Brewed by:
Cigar City Brewing
Florida
,
United States
cigarcitybrewing.com
Style:
Pumpkin Beer
Alcohol by volume (ABV):
8.30%
Availability:
Limited (brewed once)
Notes / Commercial Description:
An insidious beast that Seasonal Creep. A few days here. A week there. Before you know it you are hanging a Christmas stocking on your Jack o' Lantern and hiding painted eggs in the pumpkin pie. But there is no use fighting. Be still and let the cold claw of Seasonal Creep seize your palate with a tumult of chocolate, pumpkin, and spice flavors. Label artwork designed by Roger McKelvie
This beer is retired; no longer brewed.
Reviews: 10 | Ratings: 92

3.63
/5
rDev
-9.7%
look: 3.75 | smell: 3.75 | taste: 3.5 | feel: 4 | overall: 3.5
Reviewed from (very long-standing) notes. Drank in October 2015. Poured from a 22 oz. bottle into a Cycle Brewing snifter glass.
A: Hazy to murky brown, with a low level of visible carbonation and a finger's worth of white head that fades quickly.
S: Chocolate and toasted malts up front. Then pumpkin pie, and a very mild smokiness in the back end with mild clove and nutmeg.
T: Chocolate and pumpkin with light allspice and cloves. Toasted sweet malt body. It finishes with just a bit of lingering spices and a touch of hop bitterness to balance out more pumpkin and dark chocolate sweetness.
M: Nicely full-bodied without being sticky or under attenuated. Alcohol presence is restrained, and carbonation sensation is a somewhat higher than expected.
O: A pretty decent pumpkin beer. While along the same lines as TREAT, it isn't nearly as good. Nothing I'd go looking for again particularly.
899 characters
4.24
/5
rDev
+5.5%
look: 4 | smell: 4.25 | taste: 4.25 | feel: 4.25 | overall: 4.25
Don't confuse this for the "Seasonal Sneak" - this is far superior. There was a Cigar City tap handle with no name written in, and being a fan of theirs I ordered it and was then told it's called "Seasonal Creep" - I was worried the bartender meant "Seasonal Sneak" and almost sent it back because that is by FAR the worst beer I've ever had from Cigar City. It was a pleasant surprise to taste the nice balance between chocolate Brown Ale sweetness and Pumpkin Ale spice, but without the "old lady perfume" quality of some of the worse pumpkin beers. This one's well balanced, like a chocolate take on CC's "Good Gourd". Unlike Good Gourd there's not much pumpkin flavor, it's more of a chocolate beer with fall spices.
721 characters

3.78
/5
rDev
-6%
look: 3.75 | smell: 3.75 | taste: 3.75 | feel: 4 | overall: 3.75
An interesting change from the standard pumpkin beer. Pumpkin spices aren't too overwhelming, which is a good thing. The chocolate leans more towards bakers chocolate, more roasty and less sweet than expected. Well balanced. Flavors work well together without one aspect overwhelming the others. A beer that shows it can be great without having to be in your face or extreme.
376 characters

4.47
/5
rDev
+11.2%
look: 3.75 | smell: 4.25 | taste: 4.75 | feel: 4.25 | overall: 4.5
22oz bottle poured into a goblet
A- pours a deep ruby-brown color with a small creamy off-white head that retains long after the pour, eventually settling into a ring around the glass
S- a robust malty aroma of cocoa, brown sugar, toasted nuts & caramel provide a base for the pumpkin spicing aromas, with notes of cinnamon, nutmeg & allspice, with a hint of clove
T- strong malty base with tons of caramel, chocolate, brown sugar, molasses & toasted almond. The spicing kicks in mid-palate with nutmeg leading the way, and cinnamon & clove complementing. As it nears the finish, I pick up some vegetal notes, along with what seems like some piney hop notes. The finish is a near perfect mix of sweet malt and pumpkin spicing
M- medium-thick body with moderate carbonation leads to a creamy mouthfeel that continues into the finish, slightly warming linger
O- one of the best pumpkin beers I've had in a while, CC knows their pumpkin beer
951 characters

3.93
/5
rDev
-2.2%
look: 3.75 | smell: 3.75 | taste: 4 | feel: 4 | overall: 4
Out of a bottle into my tulip.
A – Caramel brown with some red highlights. Off white head with some retention and spotty lacing.
S – Certainly has the Halloween like spices in the nose. Allspice, cinnamon, nutmeg.
T – Nice burst of chocolate up front which was a surprise as I didn't detect any in the nose. All the spices next following the nose exactly. Roasted malts. Very light sweet taste at the end.
M – Lively on the palate with medium carbonation.
O – Good solid brew here. Love the flavor profile but of this type of spiced beer isn't your thing this isn't for you. For me its great. Easy drinker.
626 characters
4.05
/5
rDev
+0.7%
look: 3.75 | smell: 4.25 | taste: 4 | feel: 4 | overall: 4
thanks to Seth for sharing this crowler, enjoyed chilled in a glass.
The color is deep auburn /copper with brown highlights and light head with average bead. The smell is excellent with lots of spice up front with caramel in the back and pie-like pumpkin smell. The feel is great with more spice in the initial texture with sweetness mid palate and nice balance for the abv.
The taste brings a lot of depth with a nice amount of spice with fresh quality nutty malt in the imperial strength yet not extremely spice-heavy with a smoothness and real spice in the taste. This is a very good pumpkin ale easy to quaff for the strength wonderfully drinkable.
653 characters

4.52
/5
rDev
+12.4%
look: 4 | smell: 4.5 | taste: 4.75 | feel: 4 | overall: 4.5
A: Dark brown, 1 inch khaki head, spotty lacing
S: Pumpkin, cinnamon, clove, malts, a little chocolate. Pumpkin pie is what comes to mind.
T: Pumpkin pie, chocolate on the end of the taste, spice, sweet malts
M: Medium, good carbonation
O: Really excellent. A different spin on your traditional pumpkin ale and it totally works. Loved the tour and really fresh beer at cigar city.
390 characters

4
/5
rDev
-0.5%
look: 4 | smell: 4 | taste: 4 | feel: 4 | overall: 4
From 07/01/15 at the brewpub in Tampa.
Interesting...lots of chocolate, pumpkin, yams, vegetables, spices, and roasted malts. A good and interesting beer, though not outstanding.
179 characters

3.49
/5
rDev
-13.2%
look: 3.75 | smell: 3.5 | taste: 3.5 | feel: 3.75 | overall: 3.25
Not what I was expecting. A bit too early for a pumpkin beer if you ask me.
Got two bottles I need to deal with.
Will be sitting on one till the flavors develop more.
Lucky for me, good gourd just came out!
210 characters
3.69
/5
rDev
-8.2%
look: 3.5 | smell: 3.75 | taste: 3.75 | feel: 3.25 | overall: 3.75
On tap at Castaways. Served in a snifter. Reddish brown. Medium khaki head. Strong pumpkin aroma. Brown sugar and pumpkin pie spice. Rich and sweet up front. Pumpkin and chocolate. Cinnamon overwhelms quickly. Almost excessively spiced. Leaves a grainy finish. Medium body. A little boozy. Flavorful beer. A welcome change from the sweetness of Good Gourd.
356 characters
Seasonal Creep from Cigar City Brewing
Beer rating:
4.02
out of
5
with
92
ratings