Trousseau

Cigar City Brewing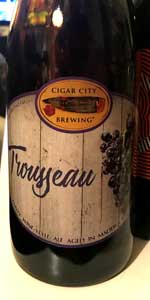 Write a Review
Beer Geek Stats:
| Print Shelf Talker
Style:

ABV:

12.3%

Score:

92

Avg:

4.2

| pDev:

7.38%

Reviews:

14

Ratings:

From:

Avail:

Retired (no longer brewed)

Wants

Gots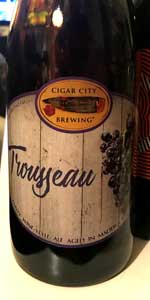 Notes: A truly unique trans-atlantic pairing, Trousseau is a barley wine-style ale aged in wooden barrels sourced from the Madeira islands off the coast of Portugal. The beer's nose of plums and toffee is perfectly complimented by vanilla and caramel-covered apple aromas from these barrels not frequently used for aging beer. Oxygen ingress during the barrel-aging process helps to accentuate flavors of tawny port, raisin pudding and toffee in this viscous, contemplative sipper.

Boccu from New York
4.35
/5
rDev
+3.6%
look: 4.25 | smell: 4.25 | taste: 4.5 | feel: 4.25 | overall: 4.25
Pours brown with a small head. Aroma of Carmel, wine and toffee. Taste follows the nose with some grape juice. Very tasty barley wine. Look forward to more from them.
Oct 05, 2017

CHickman from New York
4.45
/5
rDev
+6%
look: 4 | smell: 4.5 | taste: 4.5 | feel: 4.25 | overall: 4.5
Bottled 06/27/16, it pours brown color with a small tan head that faded slowly and didn't leave any lacing.
Smells of caramel, toffee, brown sugar, red wine, candied sugar, rum or some other dark booze. Resembles a port wine or a mix of barleywine with red wine or oaky wine barrels.
Taste is delicious. It's a sweet and boozy mix of grapes, merlot, red wine, caramel, toffee, brown sugar, gummy bears, candied sugar, rum or some other dark booze, currants, raisin and a bunch of dark fruit. Some earthy notes and grains trail before more sweetness kicks in that is tart and slightly funky. The Trousseau grapes play well with the hops to mask the ABV and bring out a ton of complexities. Creamy and warming as it slides down, it gets sweeter as it warms up.
A huge thanks to Pat for sharing this rare brew, it was really damn good.
Oct 05, 2017

IckyT2012 from Florida
3.83
/5
rDev
-8.8%
look: 3.75 | smell: 3.75 | taste: 3.75 | feel: 4 | overall: 4
Pours a murky and unappetizing brown. Smell follows appearance. Tastes like a damn coca cola, compliments of the madeira sweetness. I suppose that's an accomplishment of sorts if that was your intent, but this is no better than a mediocre barleywine for me.
Jul 05, 2017

macrosmatic from Florida
3.93
/5
rDev
-6.4%
look: 3 | smell: 4.25 | taste: 4 | feel: 3.25 | overall: 4
Reviewed from notes. Poured from a 750 mL bottle into an El Catador Barrel-Aged glass.
A: Turbid brown - so turbid it's essentially opaque. No real visible carbonation or head formation. This isn't pretty.
S: Big and boozy, like port wine. Oak tannins and sweet malts, some caramel and maybe more toffee. Notes of vanilla as well. Sorghum and molasses in the background adds to the sweet smells.
T: Strong port booziness up front, with big dry woody tannins. Fruity vinous red grapes, toasted sweet malts and caramel. Dark fruits mix with milder sorghum, and some brown sugar in there as well. Sweet vinous fruitiness lasts through hang, and it's only partially balanced by more dry wood.
M: A full sticky body, with very low carbonation sensation. Despite strong notes of alcohol on the nose, the alcohol flavors in the palate are well-integrated.
O: This wasn't my personal preference by any stretch, but it's reasonably good. The madeira/port barrel presence is strong, but the base was big enough to take it. I wish it was a little more carbonated. Sweet but complex, but it does stop just short of cloying.
May 21, 2017

Sabtos from Ohio
4.6
/5
rDev
+9.5%
look: 3.5 | smell: 4.75 | taste: 4.5 | feel: 4.5 | overall: 5
Body is really muddy prune juice topped with a tan, soft permanent blanket.
The smell on this is simply seductive! Smokey caramel, cedar, prune, raisin--but spiced and mature--with vanilla.
Taste is caramel, sophisticated and complex brandied prune, raisin, a little smoked wood, cedar, nut, and natural light maple. Complex as all hell, and a little hot.
Moderate to full body, with a soft fizz, finishing dry.
Top. Tier. BW. One of the best I've ever had.
Mar 26, 2017

ThickNStout from Georgia
4.14
/5
rDev
-1.4%
look: 3.75 | smell: 4 | taste: 4.25 | feel: 4.5 | overall: 4
750mL bottle acquired through the El Catador Club. Bottled 6/27/16. Served in a Cigar City Teku.
Pours an opaque rust brown with about two fingers of fluffy ecrue head. The froth slowly dissipates to some splotchy surface cover and rocky crown that imparts some wide curtains of lace.
Aromas of fruity madeira, wet wood, toffee, caramel, dark fruit and vanilla. It has a beckoning sweetness that I like.
The English barleywine and madeira barrels collide on the palate with incredible sweetness. Candied raisins, caramel, toffee, oak, cereal, leather, vanilla, port, brown sugar and a slight nip of alcohol.
Full, pillowy, tongue coating feel with dull carbonation. Aftertaste of madeira, toffee, dark fruit and oak.
Trousseau is another strong entry in Cigar City's growing list of strong, sweet, barrel aged barleywines. Borderline too sweet even for me but still quite delicious with plenty of dark fruit notes.
Feb 27, 2017
Jeffo from Netherlands
4.18
/5
rDev
-0.5%
look: 2.5 | smell: 4.5 | taste: 4.5 | feel: 3.5 | overall: 4
Got this one from desp recently.
From a 750 into a snifter
Barley wine style ale aged in madeira barrels
APPEARANCE: Pours a 1+ finger, medium looking but very fizzy off-white head with decent retention. Very murky pour, and it sits an opaque rust in color with no real carbonation evident. Head slowly fades to a full wisp and ring. A ring and splotchy wisp remain until the end but leave no real lacing down the glass. Kind of mediocre but nothing wrong, per se.
SMELL: Lots of red fruits, caramel, toffee, and plenty of port wine on the nose. Bold and aromatic. Some oak and vanilla aromas from the wood as well. Very fruity with plenty of caramel sweetness and port.
TASTE: Port, red wine, red fruits and caramel sweetness up front. Flavorful and plenty of boozy port. More red fruits and port at the swallow, some alcohol as well, moving into a bold and lingering finish of red port wine, oak and vanilla, caramel, toffee, fruity flavors and alcohol. This is pretty consistent through and through. Flavorful and somewhat boozy.
PALATE: Medium body and carbonation. Creamy enough on the palate, a little light, goes down fine with a bit of a burn and finishes somewhat mouth-coating. Some decent heat lingers.
OVERALL: This is quality stuff. Wine barrels are hit or miss with me, though red wine and port usually fair better than white wine. This one works great, and the barrel character is pretty well balanced through the nose and flavor while the base barley wine still plays an important role. Another well-made barrel aged beer by CCB, and yet another example of why these guys are my favorite brewery in the US. Thanks again desp!
Feb 12, 2017

rodmanfor3 from Vermont
4
/5
rDev
-4.8%
look: 4 | smell: 4 | taste: 4 | feel: 4 | overall: 4
Another underwhelming barleywine from Cigar City's El Catador club.
As a free pour of beer, Trousseau served its purpose, but if I was a paying member of a beer club and I kept getting beers like this, I would probably complain to the brewery.
Jan 16, 2017

maximum12 from Minnesota
4.4
/5
rDev
+4.8%
look: 4 | smell: 4 | taste: 4.5 | feel: 5 | overall: 4.5
Celebrating signing up for Round 5 of the El Cat club by popping this 750ML bottle open. Sampled at D-Day thanks to moth man & loved it; time for a full pour. Split with my wife.
Pour is clay runoff with just enough carbonation to prove it's not a still beverage. The nose is like grapes & vines & a puff of July Vernazza air. I'd like to go where this smell originates.
Trousseau is El Cat at it's best. Tastes exactly like a port/Madeira barleywine you'd build in your head. The port is rich, tawny, grapes swimming in a primordial ooze of alcohol. The oak has a bit of bite mid-palate - how does CC get so much wood in their beers? Do they line the bottles with it? Toffee, caramel, sweet malts, dry, dry, can sugar, non-grape dark fruit. The barrels mop up & finish this all night long. Thick. Chewy. Would have been happy to drain the entire bottle myself. I might have taken an extra ounce or two. Don't tell my wife.
I love port. I love barleywine. I love El Cat. I love Cigar City. And more than that, I love this beer. And I love all of you. Good night.
Nov 06, 2016

mothman from Minnesota
4.35
/5
rDev
+3.6%
look: 4.25 | smell: 4.25 | taste: 4.5 | feel: 4.25 | overall: 4.25
Brown caramel color.
Tons of port and wine flavors. Big red grape and caramel notes. Toffee. Tons of oak and wood. Tannins. Dark dried fruits.
Warming and smooth.
A very nice beer. Love the barrel flavors.
Oct 14, 2016
Alieniloquium from Florida
3.43
/5
rDev
-18.3%
look: 4 | smell: 3.5 | taste: 3.5 | feel: 3 | overall: 3.25
750 mL bottle. Murky brown body with a big khaki head. Smells of nutty malts, lots of caramel, oak, raisins, and some grape, but doesn't smell that intense. Tastes really sharp. Grapes and wine. Lots of oak. Sweet brown sugar and raisins. Sharp oak and red wine. Just shy of acidic. Heavy and sweet, but sharp flavors cut it significantly. I dunno about this. It is a complex beer, but not easy to drink.
Aug 23, 2016
danh53 from Florida
4.48
/5
rDev
+6.7%
look: 4.5 | smell: 4.5 | taste: 4.5 | feel: 4.25 | overall: 4.5
Fantastic barrel notes on this. I get toffee, some barrel char, and oak dryness throughout. It has the barleywine flavor profile - caramel, malt, raisin, prunes, and brown sugar. it's sweet, but the oak helps to balance. Madeira flavor is dark, rich grapes. It's a flavor that is prominent in the beer, but it never feels artificial or out of place. It's a big beer with a full mouth feel, but it's surprisingly easy to drink. That maybe due in part to the low carbonation which is the only slight knock I have against this beer. Everything else about it makes it a prime candidate for aging, but I wouldn't risk aging long term unless you don't mind ending up with a flat beverage. It's not flat now, but I could see it going the way of the 2011 BA Warmer Winter they had on tap right before this was released.
Aug 22, 2016

PsilohsaiBiN from New York
4.66
/5
rDev
+11%
look: 4.5 | smell: 4.75 | taste: 4.75 | feel: 4.5 | overall: 4.5
This is outstanding. Tastes like KH/BCBBW '13 with some Port wine influence at the end. Feel is thick and silky smooth. Smells like the most amazing dark fruit, with caramel, vanilla, cocoa, toffee and brown sugar. Taste follows suit. This beer blew me away.
Aug 06, 2016
CaptCleveland from Ohio
4.15
/5
rDev
-1.2%
look: 3.75 | smell: 4.25 | taste: 4.25 | feel: 4 | overall: 4
750ml bottle, dated 5/27/2016, shared at the Bottlehouse in Cleveland Heights, Ohio.
Red, dark amber to brown elixir poured into snifter. Quick off white head to thin rim. Scant lacing, legs along the vessel walls.
Complex aroma of dark fruit (plum, raisin), sweet caramel, vanilla, toffee, fudge and tawny port.
The dark fruit creates a canvass for the sweet fudge, caramel and subtle oak. The vanilla and oak come through as the beer warms. Slight alcohol/port burn.
Medium to full body, a bit of a chew, carbonation is low as expected.
This starts as a well made barleywine but the Madeira barrels provide a nice oak, port flavor that melds well with the base beer.
Jul 21, 2016
Trousseau from Cigar City Brewing
Beer rating:
92
out of
100
with
94
ratings