Warmer Winter Winter Warmer - Bourbon

Cigar City Brewing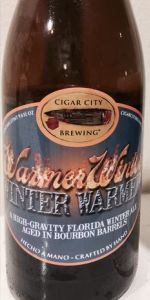 Write a Review
Beer Geek Stats:
| Print Shelf Talker
Style:

ABV:

12%

Score:

88

Avg:

4.08

| pDev:

8.33%

Reviews:

12

Ratings:

From:

Avail:

Retired (no longer brewed)

Wants

Gots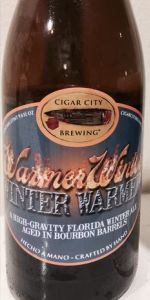 Notes: El Catador Club Exclusive

A small amount of the 2015 version of our perennial cool weather strong ale was put into white oak bourbon barrels: A boozy nose of dates, raisins and red apple is complimented by light wood aromas and a touch of vanilla while the palate of this huge beer boasts molasses, brown sugar and maple syrup flavors and a drying, tannic finish from extensive aging in white oak bourbon barrels.
4.42
/5
rDev
+8.3%
look: 4 | smell: 4.5 | taste: 4.5 | feel: 4 | overall: 4.5
Mom picked this one up from the brewery a couple years back. Thanks, guys!
From a 750 into a snifter
Vintage: 2016
A high gravity FL winter ale aged in bourbon barrels
APPEARANCE: Pours a 2+ finger, medium looking, creamy but crackly off-white head with great retention. Body is a clear auburn or burnt umber brown with lower levels of carbonation evident. Head slowly fades to a full wisp cap and clings to the glass. Splotchy wisp remains until the end leaving some solid lacing down the glass as it empties. A little over carbonated off the bat, but good looking, otherwise.
SMELL: Big nose of bourbon, alcohol, oak, vanilla, caramel and toffee aromas, with some milk chocolate, molasses and dark fruit as well. Really candy-like and lots going on.
TASTE: Sweet up front with lots of caramel, toffee and bourbon barrel initially. Oak, some alcohol too, with dark fruit, molasses and brown sugary sweetness. Booze and bourbon at the swallow with a big and bold finish of bourbon, oak, vanilla and coconut flavors, sweet toffee and caramel, milk chocolate and some sweet brown sugar and dark fruit flavors. Spicy alcohol as well. Quite flavorful and the barrels are really nice.
PALATE: Medium body and medium carbonation. Creamy on the palate, goes down smooth and finishes sticky for sure. Some decent heat lingers.
OVERALL: Good stuff and this 2016 is really enjoyable right now. The barrels are solid and the base beer is probably good on its own. This is a winter warmer and barley wine blend, but with the barrel character on top of it, you could pretty much just describe this as a darker barley wine. Really good and well worth the trouble if you're a fan of the style. Thanks again, ma!
1,710 characters
3.99
/5
rDev
-2.2%
look: 3.75 | smell: 4 | taste: 4 | feel: 4 | overall: 4
El Catador Club - Bottled in 2016.
A - Pours a hazy, raisin brown color with very thin toffee colored lacing.
S - Raisins, dates, figs, vanilla, brown sugar, and molasses.
T - Maple, some woodiness, figs, vanilla, molasses, brown sugar, raisins, figs, dates, and a substantial amount of warming on the way down. On the very end after the heat dies down a little there is some piney bitterness.
M - Rich, silky texture and very thick/heavy. Sits sugary and sticky on the lips, and coagulates on the tongue.
O - Old Ales aren't my gig but this one is solid and 'do enjoy the barrel aged personality of this beer.
617 characters

4.1
/5
rDev
+0.5%
look: 4 | smell: 4 | taste: 4.25 | feel: 4 | overall: 4
Pouring a prune juice color but filling to dark brown-copper, then nearly black, this has a dense, fluffy two-finger blanket that leaves some stalactite layers of lace.
Tobacco, prune, light barrel, dark grape, deep char, fine brandy, caramel, maple, and brown sugar. This is a complex, gut-warming beer that bucks the holiday beer trend and isn't trying to bludgeon you to death with the entire spice rack.
This is a well-crafted, mature indulgence that's great for a cold evening.
484 characters
4.12
/5
rDev
+1%
look: 4 | smell: 4.5 | taste: 4 | feel: 4 | overall: 4
This one pours a fairly dark brown, with a small head, and no lacing.
This smells quite sweet, with a good level of bourbon, lots of dark fruit and berries, sweet caramel, and lots of woodiness.
This would be very hard to take down alone, but luckily I didn't have to do that. It's quite sweet, with delicious berry desert flavors, port and bourbon, raisins, and oak.
This is medium bodied, a bit slick but pretty drinkable anyway.
I could tell that is may be starting to decline, but right now, it's quite nice.
516 characters

4.56
/5
rDev
+11.8%
look: 4.25 | smell: 4.5 | taste: 4.75 | feel: 4.25 | overall: 4.5
Nose is spice and bourbon. Nice silky mouthfeel. Taste is........Whoa! Much better then expected after reading some of the reviews. This is really outstanding! Much better than the original. A very nice surprise.
212 characters

4.61
/5
rDev
+13%
look: 4.5 | smell: 4.75 | taste: 4.5 | feel: 5 | overall: 4.5
750ml bottle poured into an El Catador snifter. Bottle dated 08/26/16 etched on the side of the bottle neck. Aroma is sweet malt and molasses with oak and bourbon notes from the barrel. The taste starts out with a quick and lingering wave of sweetness with a warming finish. This barrel aged version of Warmer Winter is thicker (more body) and more sweet than the non-barrel aged version of this beer. The bourbon barrels give it another added layer of complexity.
464 characters
3.18
/5
rDev
-22.1%
look: 4 | smell: 3.5 | taste: 3.25 | feel: 3 | overall: 2.5
750 mL bottle. Deep brown with a big khaki head. Smells of bourbon, nutty malts, brown sugar, lots of booze and sugar. Tastes of bourbon, lots of oak. Strong caramel malt and brown sugar throughout. Bitter back end. Heavy and boozy. Very heavy. Very much a struggle to drink because of its size. Dessert in small quantities, but undrinkable in any quantity larger than that.
374 characters

4.13
/5
rDev
+1.2%
look: 4.25 | smell: 4.25 | taste: 4 | feel: 4 | overall: 4.25
Pours two shades shy of black with a quarter inch, khaki-colored head that quickly disperses into a skim. Nose expresses cocoa, dark fruits, molasses and bready notes. Taste consistent with nose with the addition of sugar molasses and a hint of spice. Mouthfeel is light-medium in body with a mild, even carbonation. Overall, really quite tasty - could probably benefit form a little more time in the cellar.
412 characters
4.39
/5
rDev
+7.6%
look: 4.5 | smell: 4.25 | taste: 4.5 | feel: 4.5 | overall: 4.25
750ml El Cat bottle into two Savor tekus with Lisa. Dark brown with big head and nice lacing. Smells of really sweet toffee, caramel, and molasses. Some bourbon, toasty oak, and a touch of booze. Taste is really sweet. Fig and bourbon hits first, big caramel in middle, and finish is a lingering oak - pretty dry finish considering the sweetness of the rest. Feel is chewy and thick, medium low carb. This is a great beer, right on the verge of being too sweet. Should hit its sweet spot over the next 3-9 months.
513 characters

3.72
/5
rDev
-8.8%
look: 4 | smell: 3.75 | taste: 3.5 | feel: 4.25 | overall: 3.75
750mL bottle acquired through the El Catador Club. Released late August 2016. Served in a Cigar City teku.
Pours an opaque mahogany with two and a quarter fingers of dense cream hued head. A milky layer remains across the surface and the full halo imparts a good deal of lacing.
Smells of bourbon, wet oak, toffee, faint citrus peel and hearty, bready grains. I enjoy the additional sweet notes from the barrel.
Sweet, wet, oaky bourbon is the leading flavor. Dark fruit, toffee, leather, cereal grain, earthy aged hops, bread and a modest,occasional smack of booze.
Full, almost outright thick, feel with soft carbonation. Bourbon soaked oak, cereal and dark fruit in the aftertaste.
A strong play by Cigar City to improve my enjoyment of their winter warmer. Admittedly the base has not been a favorite of mine but the barrel aging really helps Warmer Winter in my opinion. A sweet, barrelled mash up of English barleywine, winter warmer and hops.
959 characters

3.43
/5
rDev
-15.9%
look: 4 | smell: 3.5 | taste: 3.5 | feel: 3.5 | overall: 3
Self-medicating after a Christmas with my malfunctioning extended family unit. 750ML bottle split with my thankfully sane wife.
The pour is dark red cross-bred with muddling brown. The nose is oak-on-oak - like paddling an oak canoe across an oak lake with oak nose plugs. Holy wood.
Winter Warmer Warmer Winter - Bourbon Barrel Aged is a barrel with a touch of beer thrown in. Bourbon for miles. Oak for miles. Underneath the staves is rich caramel, light spicing, raisin juice, vanilla. Thick, but half a bomber is sufficient.
This is so much barrel it's almost nothing else. Luckily, I like barrel, but this barrel rolls over the base beer. Good.
658 characters
4.83
/5
rDev
+18.4%
look: 4.75 | smell: 4.75 | taste: 5 | feel: 4.5 | overall: 4.75
dank barrel flavor. full mouthfeel, vanilla and oak nose, beautiful head. The spices balance an otherwise forgettable genre. Another excellent release from Cigar City
166 characters
Warmer Winter Winter Warmer - Bourbon from Cigar City Brewing
Beer rating:
88
out of
100
with
51
ratings