Special Socks

Cigar City Brewing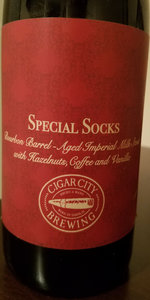 Write a Review
Beer Geek Stats:
| Print Shelf Talker
Style:

ABV:

12.3%

Score:

95

Avg:

4.51

| pDev:

5.32%

Reviews:

13

Ratings:

From:

Avail:

Retired (no longer brewed)

Wants

Gots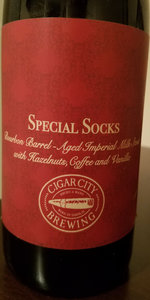 Notes: El Catador Club bottle #3

Style: Bourbon Barrel-aged Imperial Milk Stout with Hazelnuts, Coffee and Vanilla.

The first Tampa-centric release of El Catador Club 9th Edition, with our friends from Angry Chair Brewing. For this collaboration, we chose a finely brewed cup of hazelnut coffee as inspiration. The addition of vanilla beans for sweetness plus real hazelnuts and coffee round out that familiar morning treat. The bourbon and barrel qualities are present but play a supporting role to the hazelnut and coffee, though the bourbon aroma really shines through as the beer warms up.

Founded in 2014, Angry Chair Brewing has been setting the beer world on fire with their massive imperial stouts and barleywines. This collab is especially meaningful, as two of the driving forces behind Angry Chair, Ryan Dowdle and Ben Romano, both spent many years working at Cigar City Brewing.
4.77
/5
rDev
+5.8%
look: 4.5 | smell: 5 | taste: 4.5 | feel: 5 | overall: 5
From a 750 into a snifter
IBU: 45
SRM: 38
El Cat 9th Edition
Bottled 21 November 2018
Collaboration with Angry Chair Brewing
Bourbon barrel aged imperial milk stout with hazelnuts, coffee and vanilla
APPEARANCE: Pours out thick, pitch black and yields a three finger, thicker looking, creamy, dark mocha head with excellent retention. Jet black body and no real carbonation evident. Head slowly recedes to a full, creamy cap. Thick ring remains leaving falling lacing down the glass on every sip. Beastly looking. Thick, menacingly black with a top-class cap to boot.
SMELL: Hazelnuts all over this one. A good dose of vanilla cream, milk chocolate, roasted coffee beans, light notes of oak and bourbon, all meshing with a whack of hazelnuts. The combination makes it very much like fudge and cookie dough. Bold and impressive. The barrel is definitely a weak bystander to the adjuncts.
TASTE: Hazelnuts, sweet vanilla cream, milk chocolate and an oak, bourbon sweetness up front. Lots of cookie dough and fudge flavors. Some alcohol at the swallow, moving into a bold finish of light bourbon and barrel character, hazelnuts, cookie dough, fudge brownies, vanilla cream and a light touch of roasted coffee lingers nicely on the palate. This is very flavorful. Lovely.
PALATE: Full body and slightly lower carbonation. Thick, heavy, and creamy smooth, goes down smooth, no burn, and finishes quite sticky. A slight bit of heat lingers. This is big, silky goodness.
OVERALL: Awesome. This is why these guys are consistently my favorite stout brewer in the world. This is big, thick, heavy and chewy, with a menacing look, bold aromas and flavors to write home about. The bourbon barrel and coffee additions are restrained perhaps, but they definitely combine with the hazelnut and vanilla character to make a big, fudge filled, cookie dough extravaganza! I think a touch more coffee character and this would be perfect. Perhaps it was that way right out of the gate. I will never know, but I'm glad I know the beer now. More undeniable, utterly convincing evidence that FL stout beer is brewed just for me. Thanks again, desp!
2,135 characters
4.4
/5
rDev
-2.4%
look: 4.25 | smell: 4.75 | taste: 4.25 | feel: 4.5 | overall: 4.25
Thick looking and dark pour with minimal head.
Smell was a gargantuan hazelnut with lactose.
Taste was hazelnut, lactose and roast with a little alcohol as it warmed. I'm not sure if the roast was from a darker coffee blend or the darker malts.
Feel was thick and well done.
Overall it was dominated by hazelnut and roast, both of which sort of overpowered the rest, nice alcohol warming when warmed, enjoyable!
417 characters
4.29
/5
rDev
-4.9%
look: 4.5 | smell: 4.25 | taste: 4.25 | feel: 4.5 | overall: 4.25
Received in a trade and shared with JLindros.
A - Poured into a Kate the Great tulip a nice dark brown almost black with a thin mocha head that fades to leave light wisps but great legs.
S - Aromas of hazelnuts galore. Super rich and nutty hazelnuts and dense chocolate brownies. Super nutella notes. Big bourbon barrel notes along with loads of lactose and sweeter milk stouts. The nuts though are absolutely front and center.
T - Taste is similar to the nose with just as much deep, rich hazelnuts. Super, super dense and rich. The chocolate is rich and fudgy which becomes a very dense Nutella flavour. The bourbon is lovely and slightly vanilla forward. The only knock is the coffee is rather subtle and faint.
M - Mouthfeel is nicely carbonated, creamy, alcohol hidden very well.
O - Overall this was a very enjoyable imperial milk stout. The lactose is pleasant, as is the bourbon element....but it's the hazelnuts that are front and center. Big time. I just wish the coffee was more prominent.
Serving Type: Bottle
1,028 characters
4.29
/5
rDev
-4.9%
look: 4.5 | smell: 4.25 | taste: 4.25 | feel: 4.5 | overall: 4.25
Thanks to rudzud
Pours a black colored thick frothy but smaller head, fair lacing, long thick legs and glass coating, pitch black color
Nose big nuts, hazelnut bomb, some peanuts and general nuts like, a bit of dark chocolate cocoa, vanilla caramel and a hint of coffee, lactose milk chocolate stout, some bourbon characters and toasted oak
Taste brings roasted malt notes, but big cocoa and milk chocolate, lactose, plenty of hazelnut and general nutty flavor, some chocolate nutella like,fair bitterness some roast and spicy hop notes, thick heavy roasted malts, little fudge, some bourbon and vanilla barrel notes, no real coffee other than the roasted malt
Mouth is med to fuller bod, rich foamy creamy carb, light warming alcohol
Overall not bad, decent base stout, hazelnut, OK vanilla and roast with nice cocoa chocolate, a bit heavy but not bad
856 characters

4.76
/5
rDev
+5.5%
look: 4.25 | smell: 5 | taste: 4.75 | feel: 4.5 | overall: 4.75
We popped this for a breakfast beer, and quickly found it to also be a dessert beer.
Appearance is stark black but less viscous than other CCB stouts, with burnt brown edges and a persistent creamy tan blanket.
Smooth velvetty and luscious but not overly sweet, it tastes like hazelnut mocha ice cream in a waffle cone. Decadent vanilla bean pairs with unbelievably vibrant and floral hazelnut as earthy coffee and a smoothly milky base of chocolatey malt all pummel me with absolute winningness.
The medium body is filled by a fluffy but smooth carbonation finishing just semi-dry, and not at all sticky. The barrel comes out after the swallow with a very mild heat and an added vanilla-caramel oak undertone.
713 characters

4.75
/5
rDev
+5.3%
look: 5 | smell: 5 | taste: 4.5 | feel: 5 | overall: 4.75
750ml bottle. Bottle 3 of the 9th edition of the CCB El Catador Club. Poured into a snifter. Bottling date of 11/21/18 etched on the neck of the bottle. Collaboration between Cigar City and Angry Chair.
At first whiff, I knew I was in love with this beer instantly. Hazelnut and vanilla galore. Coffee and bourbon are present as well but not quite as prevalent as the two primary notes. The bourbon really comes through the more the beer warms in the glass. The taste is sweetened coffee up front. The bourbon barrel comes through in the finish and the high ABV creates a lingering warmth. The mouthfeel is thick and full bodied. Amazing beer!
645 characters
4.04
/5
rDev
-10.4%
look: 4.5 | smell: 4.25 | taste: 4 | feel: 4 | overall: 3.75
Pours basically black with a mocha-ish head. Very strong hazelnut presence on the aroma. Oh, and can you guess what flavor I picked up on? You guessed it, hazelnuts. I would never have guessed this beer to be either 12% or barrel aged. You know why? Hazelnuts.
266 characters

4.77
/5
rDev
+5.8%
look: 4.75 | smell: 4.5 | taste: 5 | feel: 4.5 | overall: 4.75
This was delicious, and came off as either coffee with hazelnut creamer, or like a boozy nutella coffee... either way, it worked great. Was pretty sweet initially, but as it warmed the profile shifted to present a lot more of the barrel and less of the pastry stout base. Awesome beer
284 characters
4.45
/5
rDev
-1.3%
look: 4 | smell: 4.5 | taste: 4.5 | feel: 4.25 | overall: 4.5
Beautiful beer. Certainly, a rich offering with all of the typical qualities of Angry Chair. A heavy, slightly sweet imperial stout with a large hazelnut presence and a strong vanilla and Cocoa balance. It works. The perfect amount of adjuncts and booze to balance things out. Easy to sip after dinner. Absolutely delicious.
324 characters

3.5
/5
rDev
-22.4%
look: 3.5 | smell: 3.5 | taste: 3.5 | feel: 3.5 | overall: 3.5
If I'm resurrected, I want to come back as a bottle for an El Cat beer. Would there be any better way to spend your next life than bathed in CC glory? (Narrator: there is not) 750ML bottle split with my wife.
Barely any hiss upon removal of the cap, & there's a corresponding lack of head with even a hard, erect pour. Oh, it's black. The nose is mostly hazelnut, with a blink of sharp bourbon & touch of vanilla.
Special Socks = hazelnut. Hazelnut is a delicate thing – too much & your beer just tastes like hazelnuts touching your balls. Which is pretty much where we're at. All hazelnut, all the time. The bourbon is just a faint, slightly imagined layer on the back of the tongue. There might be a little vanilla concealed in the thickets of sweetness. No lactose, no milk, no coffee. It is beautifully thick, as I'd expect.
Of the first four bottles from El Cat 9, this is easily the weakest, & easily the most disappointing, like watching the first hour of The Hobbit. No, I apologize, this beer isn't nearly so appalling. This is all hazelnut, all the time, & I expected much better from two of the best stout makers in the business. Just pretty good.
1,179 characters

4.7
/5
rDev
+4.2%
look: 4.5 | smell: 5 | taste: 4.75 | feel: 4.25 | overall: 4.5
L: Pours a dark motor oil mahogany with a thin sandy head
S: Incredible rich hazelnuts and roasted coffee
T: Smooth Nutella integrated with a rich dark roast coffee with French vanilla creamer and a hint of cacao bitterness
F: Medium bodied with ample carb
O: Not since Nutulhu have I had such a monster, hazelnut-forward beer! Wow. The combination of lush vanilla beans with a full-fat latte makes this brew a creamy sweet ride that is well balanced by more bitter coffee grounds and dark chocolate notes. Really well done - might be my favorite of this El Cat series.
569 characters
4.75
/5
rDev
+5.3%
look: 4.75 | smell: 4.75 | taste: 4.75 | feel: 4.75 | overall: 4.75
Delicious Hazelnut Bomb! Nose is wonderful hazelnuts and some coffee. Wish this was my daily am cup of coffee!! Creamy but not thick. Very smooth. Awesome beer.
160 characters

4.62
/5
rDev
+2.4%
look: 4.25 | smell: 4.75 | taste: 4.5 | feel: 4.75 | overall: 4.75
750mL bottle acquired through the El Catador Club. Bottled 11/21/18. Served in a Cigar City teku. Enjoyed 1/27/19.
Pours oil black with a generous cap of deep khaki froth. The head fades to a still, midnight pool resting in the glass.
Inviting hazelnut mocha leaps immediately to the front of the aroma. Bourbon, roast character, vanilla and caramel round things out.
Wow, this is a bit hot but delicious! Dark chocolate fudge, espresso, hazelnuts, sweet bourbon, charred barrel, burnt caramel, a hint of piney bitterness, vanilla cream and some earthy wet wood. Every sip leaves me wanting more.
Satisfyingly full feel with gentle carbonation. Whiskey-enriched, hazelnut coffee fudge lingers on the palate for a delightful finish.
Another boozey decadent delight from Cigar City, this time partnered with Angry Chair. Special Socks is an outstanding barrel aged coffee stout that delivers all the usual flavor plus some fantastic hazelnut cream. I hope this returns and frequently.
992 characters
Special Socks from Cigar City Brewing
Beer rating:
95
out of
100
with
42
ratings