Jai Alai IPA - Cedar Aged (Humidor Series)
| Cigar City Brewing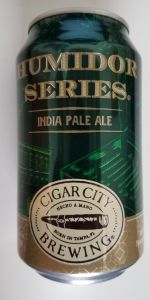 BEER INFO
Brewed by:
Cigar City Brewing
Florida
,
United States
cigarcitybrewing.com
Style:
American IPA
Alcohol by volume (ABV):
7.50%
Availability:
Year-round
Notes / Commercial Description:
Our flagship beer in the Humidor Series is Humidor Series India Pale Ale. We start with Jai Alai IPA as a base beer and add the cedar during secondary fermentation. The cedar provides a perfect balance with the assertive hops of Jai Alai to create an entirely new experience.
70 IBU
Added by tpd975 on 05-26-2009
Reviews: 449 | Ratings: 924

4.43
/5
rDev
+9.9%
look: 4.5 | smell: 4 | taste: 4.5 | feel: 5 | overall: 4.5
Poured from a 750 into a belgian beer goblet. Beer pours a delightful tan with one finger head which recedes into a patchy lace. Smells of cedar, caramel, and aged hops. Tastes of cedar almost like an old cedar chest that is warm and inviting. Followed by caramel and almost the slightest touch of a cigar. Later after the pour I enjoyed this beer with a mellow cigar and the two paired perfectly. The mouthfeel is good, nicely carbonated and a bit drying at the finish which comes to be very enjoyable and has me anticipating it in every sip. Overall I like this beer and find it to be a comforting, sit down and relax brew. As I have only had oak aged ipa's before this, and this beer is right up my alley. Many who enjoy wood aged ipa's will enjoy this beer quite a bit. First I've had of cigar city's beers and it is a winner.
830 characters
4.35
/5
rDev
+7.9%
look: 4 | smell: 4 | taste: 4.5 | feel: 4.5 | overall: 4.5
Great beer. I got this from the only store in Alabama that sells beer in bottles greater than 16oz...weird huh? Poured a cloudy copper color. Had a huge creamy white head with spotty lacing. Cedar is all over the place, and is accompanied by citrus and earthy aromas. Great mouthfeel with a wonderful balance of sweet malty flavor up front followed by crisp hops. Nice beer, I will definitely be buying another if I'm lucky enough to come across it again.
455 characters
5
/5
rDev
+24.1%
look: 5 | smell: 5 | taste: 5 | feel: 5 | overall: 5
Poured in a Pint Glass
A: Goldish amber color with about a quarter of an inch of light brown head, great looking IPA
S: The smell is like walking into a Humidor it is unreal Cigar City Brewing is just on the money
T: It taste like a Humidor,the spanish cedar really comes out with every sip, it is by far the most interesting IPA that I have ever had
M: the flavor makes the mouthfeel great and it has good carbonation
D: I could drink this all day its a good Session beer even with the higher ABV. everything CCB touches turns to gold
You have to try this Humidor series from Cigar City Brewing its like nothing you have ever had A+
639 characters
4.88
/5
rDev
+21.1%
look: 5 | smell: 4.5 | taste: 5 | feel: 5 | overall: 5
This beer is amazing.
A - Nice, foamy head with a light amber color. Impressive.
S - Cedar, Pepper, subtle smoke and tobacco.
T - Wow. Lots of flavors as described in the nose. Mostly the Spanish Cedar and Pepper are predominant, with a nice balance of hops and a slight bitterness as expected by the Jai Lai IPA. The palate is well balanced and the finish has me craving more. I'm not sure if this could be any better.
M - Medium bodied, nothing too over-bearing. I'm not sure if this could be anymore well balanced.
D - Give me another bomber please.
I think any experienced beer aficionado will appreciate and understand the magnitude of how wonderful this beer is. The Spanish Cedar really provides personality that easily conquers any other wood dominant beer that I've ever had. Easily one of my top ten favorite beers. Exceptional job, Cigar City. As usual.
873 characters

5
/5
rDev
+24.1%
look: 5 | smell: 5 | taste: 5 | feel: 5 | overall: 5
A - Pours a hazy amber-orange, beautiful lacing.
S - Orange, grapefruit, cedar. It all adds up to an aroma near to sinsemilla.
T - Wow... sinsemilla again, in a good way. This is a very complex beer.
M - Refreshing. Makes you look forward to the next sip.
D - I loved this beer. It rivals the best IPA's I've ever had, bar none.
332 characters

4.75
/5
rDev
+17.9%
look: 4.5 | smell: 4.5 | taste: 5 | feel: 5 | overall: 4.5
Big thanks to mikesgroove for this amazing brew!
Porange hazy orange with a big thick sticky head. Smells awesome with the cedar nose I was expecting. Taste is unlike anything I've had before. Nice bitter hop bite with tropical fruit then finishes dry with cedar aftertaste. More beers should be aged in cedar because this just adds a great dimension to the overall flavor. This is a spectacular beer!!
403 characters
4.22
/5
rDev
+4.7%
look: 4 | smell: 4.5 | taste: 4 | feel: 4 | overall: 4.5
A - Poured from a growler into a beer mug. The color on this beer was a real nice amber, with very little head. I made two pours from this bottle though and on my second pour there was about a finger of head so I think it had more to do with my pour than the carbonation.
N - Real nice nice, not too overwhelming, but solid nose with your typical IPA notes.
T - Loved the malt/hoppy taste on this beer. Has a natural, earthy taste to it. It leaves a real nice feel that makes you want to take another swig.
O - Excellent IPA in my opinion. Doesn't have as much typical bitterness as you might expect from the American IPA's, but definitely feels more like what IPA's were originally meant to taste like.
707 characters
4
/5
rDev
-0.7%
look: 4 | smell: 4 | taste: 4 | feel: 4 | overall: 4
had this on tap at CCB earlier this evening...
medium orange pour, thick foamy head, average lacing. cedar adds an interesting twist. drinkable, smells of light citrus and black pepper...earthy taste. thoroughly enjoyable, but i prefer the jai alai...
252 characters
4.05
/5
rDev
+0.5%
look: 4.25 | smell: 4.25 | taste: 3.75 | feel: 4.25 | overall: 4.25
been drinking craft a good while now and finally got around to posting my first review on here!
Poured from a 12oz bottle into a Three Floyds teku. Bottled last week.
A: Appearance is a deep hazy orange. Head is pure white and goes away fairly quickly. leaves bits of white lacing around the glass but not a whole lot.
S: Holy Cedar! Cedar absolutely dominates the nose. Maybe a tad bit of citrusy fruit on the end as well.
T: The nose does not lie on this one. Cedar immediately punches you in the mouth. Closest you'll get to taking a bite out of a cigar box. At first 1 or 2 sips you get a lot of cedar but as you continue to drink your palate gets used to it and you pick up a bit of pine as well. Still very cedar forward just not quite as dramatic as the first couple sips.
M: No more than medium body on this one. Not like water but definitely not quite as big as the traditional Jai Alai.
O: Overall this is a great specialty beer. If you do not like beer aged on cedar wood spirals to the max, this isn't the one for you. Don't expect Jai Alai with a hint of cedar. It's clearly part of the "humidor series" for a reason. Drink this on tap at CC all the time and will continue to buy it in 4pks every release. Cheers!
1,232 characters
1.37
/5
rDev
-66%
look: 1.5 | smell: 2 | taste: 1 | feel: 2 | overall: 1
Served on cask at Capone's in Norristown on 06/08/2011 during their Deschutes event.
Appearance - Looks like grapefruit juice mixed with protein powder. A mudish, orangish brown. No head what so ever with a bit of lacing. Honestly doesn't look like anything that I have ever seen before.
Smell - Like a lumber yard. I actually had a flash back of walking through a lumber yard with my father when I was a kid. There is some citrus mixed in there, but the cedar masks it almost entirely.
Taste - OMG. Cedar. It just kicks you in the teeth, hard. I almost spit it back in my glass. There is some grapefruit and black pepper notes, but yikes, the cedar just simply wrecked my palate. And not in a good way. The aftertaste is pure cedar, which compounds with each additional sip. One word comes to mind, gross. I couldn't get halfway through it before I sent it back.
Mouthfeel - Like it should be consumed with a spoon. I like my Stouts thick, but not my IPAs. Almost no carbonation.
Notes - When I looked at the taplist, I said, "Hmm, never had a cedar aged beer before." Now I know why. Oak or Bourbon barrels compliment or enhance the beer it is aging. Based on this initial encounter, cedar completely changes a beer into cedar juice. Perhaps this would have tasted better ice cold as opposed to from a cask. Maybe a little chill on it would have helped mellow out that hash cedar taste.
I found this video review AFTER I penned mine http://www.youtube.com/watch?v=l9Ypfid_5dM , their faces are priceless
1,514 characters
4.32
/5
rDev
+7.2%
look: 4.5 | smell: 5 | taste: 4 | feel: 4.5 | overall: 4
Okay, this reminds me exactly like one of my grandmother's hand knit afghans....maybe one that we used as kids outside for picnics once before and then it was put away, with grass blades still stuck to it, and left in her ancient cedar hope chest for months, until it came time to shake it out and wrap up in it while decorating the Christmas tree.
Weird review I know but it is how it makes me feel. This beer is good.
420 characters

3.61
/5
rDev
-10.4%
look: 4.5 | smell: 3.5 | taste: 3.5 | feel: 3 | overall: 4
A- Some lacing, pours a nice amber color.
S- Strong cedar, but not overpowering. Slight alcohol burn, but not much and it is pleasing with the wood character.
T- Hops up front, citrus and sweet fruit. Then caramel malts, blending into a nice smooth hop bitterness.
M- Medium body with tiny bubbles makes for a great mouth feel in this experimental beer.
O- This is my favorite cigar city beer. The base IPA is great, but aged on cedar makes it a nice occasional treat.
474 characters
3.48
/5
rDev
-13.6%
look: 3 | smell: 2.5 | taste: 3.5 | feel: 5 | overall: 4
Served in a pint glass from a 750ml bottle. Pours an opaque orange that has absolutely no clarity to it. Has a one finger head that is slowly diminishing with great lacing. Smells is overwhelmingly strong from the citrus, namely grapefruit and some orange. There is no cedar in the nose which is disappointing. There is no cedar anywhere which is even more disappointing. If it weren't cedar aged then it would be a pretty good IPA but since it is supposed to be cedar aged it is a little bit underwhelming. That being said, it is still a very good, very drinkable IPA that should be experienced by anyone who likes the hops. The finish is slightly acidic because of the grapefruit taste that dominates the entire body of the beer. It is not balanced with the hops commanding most of the taste, with little regard to malts anywhere in the body of this beer. It has a good mouthfeel but feels oily on the palate afterwards.
I was originally excited to try this beer but it was underwhelming. It is still good to drink but the cedar is not prevalent whatsoever. Good IPA but I wouldn't go too far out of my way to get it.
1,121 characters
3.74
/5
rDev
-7.2%
look: 4.5 | smell: 3 | taste: 4 | feel: 4.5 | overall: 3.5
Pours a very pretty orange hue, resembles apricots to me, but I'm mildly colorblind, so who knows! I like the color but the head is only decent so I can't give this a 5.
The smell is very boring, some mild piney hops and presumably cedar, and definitely didn't impress me as I tilted the glass back for the first time.
The taste, on the other hand, is pretty impressive. A very good balance between the moderate citrus hops and the cedar keeps the beer from getting in to hop bomb territory. I'd be very interested to try the normal Jai Alai to see how these good hops taste when they're on their own.
The mouthfeel is very good, a nice amount of carbonation gives the beer some life in the mouth. Drinkability started out pretty high but it definitely feels boozier as you get down the bottle. Unfortunately for all other IPAs, the standard to me is Pliny and it's pretty damn hard to come close to PtE in drinkability.
Overall, a solid buy and one I might revisit later after I've tried the regular IPA.
1,012 characters
Jai Alai IPA - Cedar Aged (Humidor Series) from Cigar City Brewing
4.03
out of
5
based on
924
ratings.