Marshal Zhukov's Imperial Stout - Brandy Barrel Aged
| Cigar City Brewing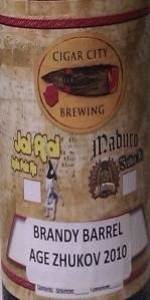 BEER INFO
Brewed by:
Cigar City Brewing
Florida
,
United States
cigarcitybrewing.com
Style:
Russian Imperial Stout
Alcohol by volume (ABV):
11.50%
Availability:
Limited (brewed once)
Notes / Commercial Description:
No notes at this time.
Added by Gtreid on 01-17-2010
This beer is retired; no longer brewed.
Reviews: 61 | Ratings: 104

4.4
/5
rDev
+2.1%
look: 4.5 | smell: 4.5 | taste: 4.5 | feel: 4.5 | overall: 4
Had this at at Hunahpu day 2011.
A: Black! Similar the other Zhukov's. Small, dark brown head, that fades rather quickly.
S: Big notes of whiskey, vanilla and apple, with some coffee and chocolate. Wow was the first impression!
T: You get hit with the roasted malt, coffee then a hint of chocolate. Finishes with a hint of vanilla, apple and bourbon.
M: Thick, heavy body. Good carbonation.
Overall impression: Had this along with the 4 Roses Zhurkov at Hunahpu Day. This is definitely a good BA of a great imperial stout.
528 characters

4.58
/5
rDev
+6.3%
look: 5 | smell: 4.5 | taste: 4.5 | feel: 5 | overall: 4.5
Enjoyed on-tap at Hunahpu's Day 2011.
Pours a jet black with a nice deep, thick head that retaines amazingly all the way through the sample. Looks awesome. The smell is some smooth chocolate, apple Jolly Ranchers (in a good way), a bit of coffee and vanilla, and some roastiness. The taste was very good! Plenty of green apple and vanilla from the barrel aging process, and some very substantial chocolate. Roastiness is a little more subdued, but still a huge part of this beer's character. A great choice of barrel to age this on.
The mouthfeel is amazing, it's super thick and very creamy for a barrel aged beer. I savored every sip. The drinkability is surprisingly good for the ABV and thickness, my pour didn't last very long. Ah, what a day Hunahpu's Day was! I may not have gone nuts on the endless arrays of tantalizing taps because I had to unfortunately drive home after getting my bottles, but any day I have four A+ brews in a row is a good day for me.
967 characters

4.44
/5
rDev
+3%
look: 4 | smell: 5 | taste: 4.5 | feel: 4 | overall: 4
Reviewed from notes. On tap at the Hunahpu's release.
Pours near black with a thin mocha head. Quickly dissipates. The aroma is super strong and nicely complex. Great aromas of boozy brandy, chocolate, oak, vanilla, dark roasted malts, caramel, and dark fruits. The taste is very, very good as well but doesn't retain as much complexity as the nose and falls a bit with some excess booze. The full is thick and heavy and not horribly boozy. Drinks very well; I preferred this to the bourbon version.
500 characters
4.55
/5
rDev
+5.6%
look: 4.5 | smell: 4.5 | taste: 4.5 | feel: 5 | overall: 4.5
A: Pours pitch black with a deep mocha colored head that is almost an inch thick. It held pretty well for a growler pour and leaves nice lacing.
S: Big chocolate notes with hints of coffee and roastiness in the background. also the barrel is quite present bringing some vanilla notes and some green apple notes as well.
T: The barrel is very present bringing out notes of caramel and green apple with some vanilla. tons of chocolate and some woodiness as well. A slightly roasted bitterness and a nice booze like presence with a lingering bitter chocolate note.
M: Rich and creamy. incredibly smooth with no real heat present or chalkiness. the abv is hardly detectable, exactly what i am looking for in a stout
D: this is one outstanding stout that I am extremely happy to have gotten to try. i would not hesitate to try this one age if given the chance
858 characters
4.5
/5
rDev
+4.4%
look: 4.5 | smell: 4.5 | taste: 4.5 | feel: 4.5 | overall: 4.5
I had this on tap at the Cigar City taproom. This was dark brown/black, completely opaque, with very little head (probably due to the 11.5% ABV). Initially sweet, after the first whiff I can tell that the beer has strong brandy notes. Reminds me of several great barrel aged beer aromas (OADL, 110K+OT I tried at 2009 DLD).
The beer was delicious and a little less boozy than expected, sweet and rich, roasted malts and a little smoke. Thicker than your usual barrel aged beer, I'd love to try the standard Marshal Zhukov's sometime to see how thick it is. Creamy and mouthcoating, lovely.
This was hands down the best beer I tried at CC, better than Hunahpu's (also on tap), just an extremely well made beer aged to what seemed like perfection in a brandy barrel. Also, one of the best names for an RIS that I've heard, nearly as good a name as Old Rasputin.
862 characters
4.33
/5
rDev
+0.5%
look: 4.5 | smell: 4 | taste: 4.5 | feel: 5 | overall: 4
Special tap at CCB for Craft beer week. Poured into a snifter.
A: Black as night. The pour dropped a nickel size dark brown head that faded pretty quickly, left very little lace, but vigourously reappears when swirlled.
A: Big roasted malt, chocolate, earthy hops, and big brandy notes. Notes of vanilla, grass, oak, and toffee. As the brew warms I also get a hefty dose of alcohol.
T: Much of the same. Huge roasted malt and chocolate. The brandy plays very well with the Zuchovs. Tasty notes of vanilla, and toffee, with slight coffee and earth.
M: Thick and viscous. Heavy body, low levels of carbonation.
D and overall impression: Drinkability is ok. Overall, this one gets a little boozy as it warms, but don't get me wrong, this is one fine brew. The brandy barrels do wonders for the CCB stouts. And although this one isn't as good as the BA Hunahpu, it still is right up there. Skal.
897 characters
4.88
/5
rDev
+13.2%
look: 5 | smell: 4.5 | taste: 5 | feel: 5 | overall: 5
G - Cigar City snifter
A - Evil crude with a nearly black head that lasts forever. The look of this brew is only rivaled by Hunahpu; it is the most ridiculous, sinister and striking brew you could ever see.
S - Ridiculously decadent. Strong everything: booze, coffee, cocoa, wood, vanilla. It smells ominous or dangerous, which it is.
T - This delicious barrel treatment of the Marshal Zhukov RIS is just ridiculous beyond description. The base brew is really enhanced, revealing serious layers of added complexity. Boozy, of course, but not crass; the heavy impressions are subdued and as a result the flavor is more focused on very light and delicate flavors such as suggestions of sweet Fuji apples and crème Brulee. The heavy stuff is also there, the bitter cocoa, the espresso and chicory, the tobacco and charred wood, but it is so beautifully tempered by the barrel treatment. Outstanding.
M - The ultimate in viscosity. This stuff will stain your teeth, it is so intense.
D - If you are even in a position to question its drinkability, then you are in the right place my friend.
1,092 characters

3.87
/5
rDev
-10.2%
look: 4 | smell: 4.5 | taste: 3.5 | feel: 3.5 | overall: 4
Pours a dark chcolate brown color with lighter golden brown edges and a two finger head that slowly fades into a lasting cap that leaves sporadc lacing.
Sweet brandy aroma with light fruit notes, alcohol and leathery malt. Hints of toffee, caramel, leather and dark fruit, especially raisin, plum, date and fig.
Slightly chewy medium body with tight carbonation and slight oxidization.  Lots of earthy leathery malt with caramel, toffee, nut, dark fruit notes and slight alcohol wamth.  Slightly spicy and buttery with a slight dry finish.  Sweet but alcohol is relatively well masked.    
596 characters

4.08
/5
rDev
-5.3%
look: 4.5 | smell: 4 | taste: 4 | feel: 4.5 | overall: 4
Tried this fantastic treat at the Hunahpu's Release Party (CCB). The aroma was nice and mellow but very full . . . lot of subtleties. Noticed vanilla, dark fruit, some alcohol and butterscotch right up front on the nose. Upon tasting, a lot of these aromas were confirmed, specially got the vanilla (more so, IMO, than in the bourbon version) right up front. Also got some oak and the heat from the alcohol intensified a bit , but did not overpower or undermine the flavor. This is the perfect beer to sip with a good cigar on a cool evening.
542 characters
4.03
/5
rDev
-6.5%
look: 4.5 | smell: 4 | taste: 4 | feel: 4 | overall: 4
The beer pours a dark brown to black color with a brown head. The aroma is oak with some roasted malt, soy sauce and chocolate. The flavor is oak, smoke, chocolate and soy. Oily, thick mouthfeel and low carbonation. Really happy I got to try this beer.
252 characters
4.55
/5
rDev
+5.6%
look: 5 | smell: 5 | taste: 4.5 | feel: 4.5 | overall: 4
On tap at the Hunahpus release.
A: It's a Cigar City stout. Dark Evil and awesome when it comes to appearence.
S: Wonderful barrel aromas right from the start. Tons of brandy and woody oak. Very bold roast boardering on char. Notes of espresso and deep earthy chocolate.
T: Very much like the aroma but the barrel helps this one really stand out. Very roasted with strong chocolate. Hints of earthy char and coffee. Big big barrel notes but in such a good way. Oak and pure Brandy goodness.
M: Very full in body, smooth rich, great.
D: About as drinkable or should I say sippable as a beer this big can be.
611 characters
Marshal Zhukov's Imperial Stout - Brandy Barrel Aged from Cigar City Brewing
4.31
out of
5
based on
104
ratings.