Jai Alai IPA - White Oak
| Cigar City Brewing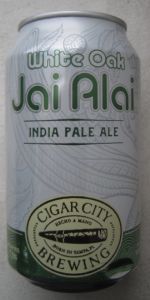 BEER INFO
Brewed by:
Cigar City Brewing
Florida
,
United States
cigarcitybrewing.com
Style:
American IPA
Alcohol by volume (ABV):
7.50%
Availability:
Year-round
Notes / Commercial Description:
This is an American White Oak-aged version of Jai Alai India Pale Ale. The white oak adds smoothing notes of vanilla and slight hints of dill to the aroma and flavor profile. The finish is elegantly dry due to the light tannin notes from oak aging and though still loaded with hop flavor, hop bitterness is more restrained.
70 IBU
Added by tpd975 on 06-13-2010
Reviews: 455 | Ratings: 2,106
4.27
/5
rDev
+2.9%
look: 4 | smell: 4.5 | taste: 4 | feel: 4.5 | overall: 4.5
Growler shared by Lee - much obliged!
Pours a slightly hazy copper color with a one-finger off-white head. The head recedes into a patchy layer on top leaving solid lacing.
Smells of smooth pale malts with good amounts of pine and citrus hops. Also present are mild amounts of vanilla aromas.
Tastes very similar to how it smells. Pale malts with hints of darker caramel malt flavors kick things off and are joined quickly by bright citrus hop flavors. Midway through the sip the hop flavors fill out a bit with the addition of pine flavors and shortly thereafter vanilla flavors make an appearance. The vanilla flavors carry through to a solidly bitter ending.
Mouthfeel is very good. It's got a smooth thickness with grainy carbonation.
Drinkability is also very good. I finished my glass quickly and could easily have a few more.
Overall this was a very nice example of an oak-aged beer - the influences were subtle but undoubtedly there. Well worth a shot.
966 characters
4.5
/5
rDev
+8.4%
look: 4.5 | smell: 4.5 | taste: 4.5 | feel: 4.5 | overall: 4.5
Poured into a pint glass at CCB on the Double Barrel MZ release.
A: Hazy, copper, orange color, pretty much just like the other Jai Alai's. A big quarter of off white head shows up and then leaves great lace.
A: Man, where do I start? Coconut, macadamin nuts, grapefruit, orange, vanilla, and yes the oak. This has got to be, hands down, the most complex nose on an Ipa I have had to date.
T: Taste is just as good as the nose. The sweet coconut, vanilla, and islandy nutty flavor is balanced so well with the base Jai Alai. The caramel malt and big citrus hops play perfectly together. And the white oak gives is a dry, woodsy finish that is just sublime.
M: Great carbonation, medium body. Just fantastic.
D and overall impression: Drinkability for an IPA that is so complex is really quite nice. Overall, this is the best IPA CCB has done to date, and maybe the best IPA I have ever had. Skal.
901 characters
4.57
/5
rDev
+10.1%
look: 4 | smell: 4.5 | taste: 4.5 | feel: 4.5 | overall: 5
Another instant classic from CCB, I was beyond thrilled when this one hit my porch yesterday. Thank you soo much. Served cold and poured into a pint glass, this one was consumed on 07/10/10.
Pour is immediately cloudy with a thin wispy head of white that caps the top rather nicely I might add. Settles down into a dark amber color that really puts on quite a nice show.
Aroma is soo different then anything else it is hard to put into words. Spicy, lots of oak, hints of pepper, light hops. Really very nicely done. A whole nother world here folks. As you let it warm it really starts to show off. Really such a woody beer as all I can really taste are spicy notes of oak, hints of light peppery hops, some herbal qualities and that wonderful sense of oak. I really cannot describe it any other way. Light hints of booze in the finish with a dry spicy note again to close the show.
Overall one of the best treatments I have seen them do by far Simply amazing.
964 characters
4.94
/5
rDev
+19%
look: 4 | smell: 5 | taste: 5 | feel: 5 | overall: 5
The beer has been tweaked since my initial review. The oak has been dialed back a bit, and the result is nothing short of phenomenal. I already expect a lot from CCB, but they have exceeded all that with this offering.
The change is in the aroma, taste, and feel, and thereby drinkability. The appearance remains the same.
The nose is so complex; notes of coconut, anise, boozy barrel, vanilla and absolute fabulousness emanate prodigiously. To be clear, this is not barrel-aged, nor touched by any spirit liquor, but many of its characteristics mimic fine BA traits.
The feel is velvety-rich and ultra-luxurious. So nice.
The taste is fantastic; the base IPA has been beautifully transformed resulting in strong vanilla, coconut and anise flavors. I am thinking of Sambuca, buttery Coconut Rum, vanilla Cognac- and Bourbon-like impressions; I am also strangely reminded of Nemesis 2009 and Backwoods Bastard, like this is their flavor-cousin. And yet there is still a very aggressive bitterness that should be expected from an IPA; the total balance of the brew is outstanding.
CCB! You've done it again!!!
1,112 characters
4.1
/5
rDev
-1.2%
look: 4 | smell: 4 | taste: 4.5 | feel: 4 | overall: 3.5
On Tap at Brass Tap.
A: Pours a nice copper orange with a tall off white head. Nice retention and lace.
S: Nice sweet malt aroma with loads of citrus and pine. The oak is there for sure, smells fresh cut.
T: Oak, oak, and more oak. Damn this beer is woody. That being said it is not the spent oak that you usually see in beer. This is fresh and sappy oak. The base Jai Alai stands strong in the background, but the oak rules this one.
M: Medium in body, smooth, sweet, and woody.
D: Not the most drinkable to be honest, but it is one of the better pints I have had in awhile.
590 characters
Jai Alai IPA - White Oak from Cigar City Brewing
4.15
out of
5
based on
2,106
ratings.