Marshal Zhukov's Imperial Stout - Double Barrel Aged
| Cigar City Brewing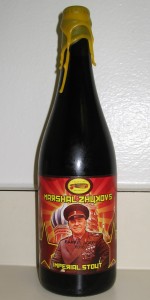 BEER INFO
Brewed by:
Cigar City Brewing
Florida
,
United States
cigarcitybrewing.com
Style:
American Double / Imperial Stout
Alcohol by volume (ABV):
11.50%
Availability:
Limited (brewed once)
Notes / Commercial Description:
Double barrel aged version of Marshal Zhukov's Imperial Stout for 2010. A blend of bourbon and brandy barrel aged Marshal Zhukov's Imperial Stout.
Limited Release: 216 bottles
Added by Gtreid on 07-11-2010
This beer is retired; no longer brewed.
Reviews: 58 | Ratings: 88

4.05
/5
rDev
-2.4%
look: 4 | smell: 4 | taste: 4 | feel: 4.5 | overall: 4
Bottle shared with some of the Chicago crew and a special guest, Brad Clark, brewmaster at Jackie O's. Masterski was the wax-remover on this one...thanks buddy!
A - Pours black, maybe chocolate brown, very little head. Looks like motor oil in my glass.
S - Chocolate, oak, alcohol, burnt sugars. Pretty sweet, but right on as far as what I was expecting. Perhaps a little better when compared to other versions of Zhukov I've had.
T - Chocolate, roasted malts, oak, lots of brandy and boubon. I really like the rich chocolate and alcohol variants in here. The bourbon and brandy actually make the base beer a little more "mild" and smooths it out a bit. Milk chocolate and oak finish.
M - Full, rich, viscous, semi-dry on the finish.
D - I liked this one! I think some months in the cellar will smooth this beer out even more. Another great CCB BA beer.
859 characters

4.24
/5
rDev
+2.2%
look: 3.5 | smell: 4.5 | taste: 4.5 | feel: 3.5 | overall: 4
I think this was contributed by nerd or Deaconbluez - thanks to whomever it was.
A - Pours with no head, a few bubbles and the typical Zhukov's glass-coating brown film. Oily pitch black body.
S - Surprisingly sweet for a Zhukov variant, with far less astringent and burnt character. The apple brandy and bourbon barrels have done a fine job contributing notes of apple, butterscotch, vanilla, coconut, and earthy barrel. There is plenty of oak, chocolate, and roasted malt too.
T - Taste is quite a bit more mellow than I expected, with far less harshness and scorched earth than the regular version. There's a good deal of richness and depth on par with the nose with a heavy emphasis on sweet apple notes.
M - Sludgy, almost non-existent carbonation, and a roasty tannic finish. A smooth body with some alcohol heat. Needs a bit more in the way of bubbles.
D - This was quite good, and would probably be my favorite Zhukov variant if it was carbonated. I definitely couldn't down a 750ml on my own, but it'd be a nice dessert beer to share with friends.
1,061 characters

3.92
/5
rDev
-5.5%
look: 4 | smell: 4.5 | taste: 4 | feel: 4 | overall: 3
Thanks, Michael.
Double Barrel Zhukov's pours an oily flat black. There's almost no carbonation, no head and no lacing, though the legs are impressive.
The aroma has a big barrel character that lends a pleasant sweetness, hinting at vanilla, caramel and toasted coconut. There's a mild scent of earthy oak, while the blackened malt and dark chocolate of Marshal Zhukov's resides beneath it all, mellowed by months in brandy and bourbon barrels.
Very layered on the palate, displaying prominent flavors of molasses, burnt malt, bitter baking chocolate and brandy-like sweetness. There are subtleties of black licorice, pepper, spicy oak and a sweet apple liqueur flavor that reminds me of Calvados. The body is full and rich with no perceptible carbonation. The bitter and burnt assault of regular Zhukov's is still present, but tamed with age and balanced by the sweetness of the barrels. This is quite good, one of the best Cigar City beers I've tried, but still not top-tier for the style.
994 characters

4.44
/5
rDev
+7%
look: 4 | smell: 5 | taste: 4.5 | feel: 4 | overall: 4
750mL yellow-wax bottle from a super generous FL BA.
Pours a viscous oily black with very little carbonation - just a collection of brown bubbles around the edges. It does leave some brownish legs along the sides, almost tinting the glass a bit.
The aroma is complex and fantastic. It's all in there - bourbon, vanilla, cocoa powder, charred black malts, oak, tobacco. I mean, it's just a massive nose.
The taste doesn't disappoint either. The burnt malt character is even more dominant than in the aroma. There is bitter chocolate, espresso and dark fruits. The barrel character hits hard in the finish and the bourbon especially burns going down.
The mouthfeel is where this one falls short of excellent as it's hardly carbonated at all. I had a regular 2010 Zhukov last week and it had the same issue. It doesn't completely take away from the beer but does affect the overall impression.
This is a massive, heavily charred impy stout that has a solid but not overpowering barrel character. If the carbonation had been a bit better this one would be a world class beer. It's still an excellent beer.
1,106 characters
4.64
/5
rDev
+11.8%
look: 3.5 | smell: 4.5 | taste: 5 | feel: 4.5 | overall: 4.5
Poured into my Cigar City Snifter
A- Pours jet black...the Gulf of Mexico isn't this black. A fingers worth of a mocha head that recedes quickly and leaves a thin ring around my glass. Not much lacing left.
A- A lot like the base beer in that I get tons of dark fruits,chocolate, smoke, leather, and a hint of coffee. However, this one is packed with huge notes of brandy and bourbon from the barrels. The barrels really steal the show here. The brandy has somewhat of a sweetness to it. The bourbon isn't as dominating as the brandy, but you definitely know it's there.
T- This is my second favorite BA brew that CCB had produced. The chocolate and dark fruits are the first thing that really hits me. The brandy and the bourbon are nice and warming. They play well off of each other and the flavors of the base beer do not get muddled. I'm really happy that it's not overly sweet.
M- Nice and thick all the way down. Carbonation is on the lighter side. A finish that leaves me yearning for the next sip.
D- A stout of this magnitude is definitely a sipper. You will want to crack this when you have enough time to fully enjoy it. I found that as it warmed the flavors really accelerated.
1,197 characters

4.29
/5
rDev
+3.4%
look: 4 | smell: 5 | taste: 4.5 | feel: 3.5 | overall: 3.5
750ml bottle
A- Beatiful 750ml bottle with yellow wax covering the cap. Looks great! Poured into a Cigar City tulip glass. Pours a pitch dark black color with not much of a head. Just a thin ring of tan lacing.
S- The aroma is fantastic. Just like the nomal Zhukov, this one is packed with dark roasted malts. A lot of wood from the barrel aging infiltrates the nose as well. Finally, some of the heat from the alcohol is shining through.
T- The taste like the aroma is the original Marshal Zhukov's Imperial Stout just kicked up a little and enhanced by the barrel aging. Fantastic dark and roasty, with delicious woody notes from the barrels. The finish is warming from the alcohol.
M- The mouthfeel like the appearance suggests with the lack of a large head is very lightly carbonated.
D- The high ABV and extreme flavors definitely makes this one a sipper. Overall, another enjoyable release from Cigar City. Can't wait to see how this one ages after a few years!
973 characters
4.79
/5
rDev
+15.4%
look: 4 | smell: 5 | taste: 5 | feel: 4.5 | overall: 4.5
Sampled several times pre release, Thanks Joey.
A: Pours a nice rich deep black hue with a small tan head. No real retention or lace here.
S: Wonderful rich deep aromas. Tons of barrel here. The apple brandy really sticks out with notes of the oaky bourbon barrel as well. Very rich and earthy. Lots of roast, smoke, and chocolate. Coffee is there with hints of asphalt and dark fruits.
T: Not as bold as the flavor but still reallly good. Loads of barrel goodness. The rich brandy plans well off the oaky bourbon. Tons of charred malt with hints of dark fruit and booze filled chocolate candy.
M: Rich and thick, low on the carbonation when I tried it (as it was bottle conditioning). Lack of carbonation does not hurt at all though. Light carbonation is actually pretty nice here.
D: Not the most drinkable, but very sippable which is how you should rate a beer of this style.
883 characters
4.42
/5
rDev
+6.5%
look: 4 | smell: 4.5 | taste: 4.5 | feel: 5 | overall: 4
This is Marshal Zuhkov's aged in a Laird's Apple Brandy barrel and a Woodford Reserve bourbon barrel. I count myself quite lucky to have had the chance to try this brew. Poured into a CCB snifter.
A: Jet black, but with little head. What head did appear quickly fade and left no remenants of it's existance. No real lace either.
A: I get the underlying notes of the base stout, smokiness, roasted coffee, chocolate, and earthy hops. But the barrels, mmm, the barrels. Mostly bourbon, but I do get a whiff of the brandy as well.
T: Pretty hot, but nice. The brandy and buorbon barrels really play very well with Zhukov. Chocolate, coffee, charred malts, and molasses, with notes of vanilla from the barrel. It finishes clean with a hefty amount of alcohol.
M: This is just about perfect. The double barrel aging creates a smoothness I have yet to encounter in a beer. Little carbonation, heavy body.
D and overall impression: Drinkability is slightly lower. The barrels and the high ABV will limit it some. Overall, I have had both the apple brandy and bourbon versions by themselves, and I think this one beats them both. Very nicely done. Skal.
1,150 characters
Marshal Zhukov's Imperial Stout - Double Barrel Aged from Cigar City Brewing
4.15
out of
5
based on
88
ratings.