Either
| Cigar City Brewing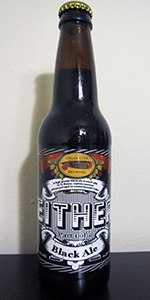 BEER INFO
Brewed by:
Cigar City Brewing
Florida
,
United States
cigarcitybrewing.com
Style:
American Black Ale
Alcohol by volume (ABV):
11.20%
Availability:
Limited (brewed once)
Notes / Commercial Description:
No notes at this time.
Added by CampusCrew on 11-12-2010
This beer is retired; no longer brewed.
Reviews: 112 | Ratings: 165
4.33
/5
rDev
+9.6%
look: 4.5 | smell: 4 | taste: 4.5 | feel: 5 | overall: 4
12 oz. bottle from the fine folks at Kingdom Spirits in Brandon, FL. Poured in to a brandy snifter.
Appearance: Pours a nearly jet ebony, pitch at the center and only faintly lighter - approaching a heavily burned sepia - around the very outer edges. The most magnificent aspect of this beer's appearance is the head, a finger and a half of dense, creamy, sticky, whipped topping, regal in consistency and amazing in retention. It manages to last quite some time, and even after it's faded in to oblivion (and it does fade in to near oblivion, leaving only a faint swirl of dusting on the surface of this one), it leaves a nicely uniform collar and a surprising amount of sticky side lacing, glittery and runny in some places but finely proportioned and splotchy in others.
Aroma: Spanish cedar is larger in the nose than in the taste, though this is unsurprising, given what I've experienced of CCB beers thus far. Sweet honey notes intermingle very interestingly with the astringent, pungent, resinous hop notes - mostly acidic, but also leafy, earthy, and a little dank.
Taste: Delicious. The malt bill on this one is a thick, chewy monster: a healthy amount of black patent gets at notes of toast, dark toffee, bittersweet chocolate (less bittersweet now that it's warmed and the honey is coming through, but definitely not milk chocolate ... more like the pure cocoa notes of bittersweet chocolate mixed with the sweetness of milk chocolate, but without the sugars being lactose in origin), and full roast coffee, but the dry, earthy, toasty astringencies are juxtaposed nicely with a faintly spicy, sweet honey addition. The aforementioned is also enhanced nicely by the hop presence on this one. A slew of hops contribute not only a healthy amount of bitterness (N.B.: I'm going to institute a 1 to 10 bitterness perceptibility scale from here on out on all my reviews, and this one gets a 7), but also a ton of earthy, spicy, tobacco- and mowed lawn-like notes. Both the aforementioned are juxtaposed nicely with AND augmented by the toasted cedar. That is, the sweetness of the honey addition benefits slightly from the presence of some slightly caramelly, toasted wood sugars (which I never would have been able to recognize in a beer three years ago - hurrah for barrel aging), but the spiciness of the cedar also does a lot for the earthiness and bitterness of the hop addition. Any hint of alcohol is completely masked by the bitterness and earthiness of the malt astringencies, the hop bitterness, and the spiciness of the cedar. A very complex, well-rounded, and intensely flavored beer.
Mouthfeel: Immaculately creamy, smooth, soft - velvety is definitely an appropriate adjective to use here, as the body is thick and chewy but has just enough fine, subtle lift to help it slide back the tongue. I'm tempted to give it a 5.0, as the carbonation level really does strike a near-perfect level of creaminess that augments the toasted malty notes and the sweet, sugary honey contributions ... near-perfect, though. Ah, screw it - as the carbonation dies down just a tad, it really does become amazingly creamy. Fantastic.
Drinkability: An amazing beer, and an excellent black barleywine ... I'm still stuck in the Black IPA/Black Barleywine terminology, so it's going to take me a while to get in to transition over to the new BA terminology. This one was a little more subtle than the 2010 Founders Nemesis, though it did remind me of it in many ways. The Spanish cedar was a great touch, and I really love what CCB is doing with it - keep it up. The 11.2% was also definitely up there, but, you know what? Not enough to keep me from cracking the "Or" - part II of this series - immediately following this. Definitely recommended.
★
3,749 characters

3.94
/5
rDev
-0.3%
look: 5 | smell: 3.5 | taste: 4 | feel: 4 | overall: 4
Picked up at Cold Spring Beverages in Yardley, PA. Poured from a 12oz bottle into my Koningshoeven small snifter glass. Pours a jet black stout like color. I can't believe how dark this beer is! Even for a "black IPA", it still looks more like a stout. A very small, brown head rises late(about a half finger), with mild retention. Leaves a very nice creamy, slow sliding lacing around the glass. As head dissipates, it finishes to a thin cream ring. A GREAT looking beer!
Aroma is very nice, yet a bit faint. Hops are pretty obvious above all, along with a tad boozy. Some citrus and wood. I'm not picking up "cedar" though as the wood, which I thought I would.
Flavor is very unique. Hops are very forward, which is no surprise. Booze is a little hot, and finishes with a nice sweetness, from the honey I assume. Again, to my surprise, I'm not gathering the hint of cedar here...but no worries, this beer is very interesting and tasty! Carbonation is mild to low, medium body. Finishes with a bitterness bang on the back of the palate. Definitely a good beer!
★
1,063 characters
4.25
/5
rDev
+7.6%
look: 4.5 | smell: 4.5 | taste: 4.5 | feel: 4 | overall: 3.5
Served poured from a 12 ounce bottle into a glass.
A - Black in color, this bad boy looks like an imperial stout, but don't be mistaken.
S - The spanish cedar is prevalent, which I am glad because it reminds me of their humidor IPA. Also getting some toasted malts and hops.
T - Lots of complexity. You get a sweetness as in barley-wines provide with the high alcohol, although it isn't an unbearable amount of heat on the palate. There is also the bitterness from the hops, and subtle spanish cedar. This is packed with flavors that uniquely bring together several flavors of different beer genres into one.
M - Lightly silky, medium bodied, bittersweet.
D - One or two at most.
Overall - a unique, powerful, and bold beer.
★
733 characters

3.28
/5
rDev
-17%
look: 4 | smell: 3.5 | taste: 3 | feel: 4 | overall: 3
The aroma is very strong with toasted burnt malt, molasses, plastic, and hops. The appearance is dark brown almost black with a tan head. The taste is like the aroma with an astringent alcohol finish. The palate is smooth. Overall I am not that impressed by this one.
★
267 characters
4.21
/5
rDev
+6.6%
look: 3 | smell: 4.5 | taste: 4.5 | feel: 4.5 | overall: 3.5
From bottle to wine glass, poured side by side with "Or." "Either" is part 1 of 2 in the collaboration between Cigar City, Grassroots Brewing (Denmark) & Hill Farmstead. Both beers are brewed at CCB.
$10.75 for the 12oz bottle.
A: Half of a finger of medium-dark brown head is produced on the pour and fizzes out rather quickly. The body is the darkest brown imaginable with tawny tints along the top edges of the glass. Lacing is spare.
S: Heavily malted, this brew has deep roasted aromas of molasses and pumpernickel bread. The hop bill is big too with a fresh pine wood scent mixed in with other citrusy notes. It seems that, what would normally be considered huge hop aromas, are actually just big hop aromas that are being elevated by the toasted Spanish cedar, something that Cigar City does very well. This combination is strong and brings in a light acetone character. Leather, dank earth and mushrooms come to mind as the contributing yeast qualities.
T: From nose to mouth, Either is relatively consistent. The cedar and hops remain at the front while not exactly pushing the malts out of the way. Flavors of tar and sasparilla add to the appeal. The monstrous ABV is integrated rather than concealed. General sweetness is evident, but I think it is more of a result of the fermentable sugars than the Ty Ty* honey which, in my mind, has a greater impact on the mouthfeel than anything else.
M: Either has a more supple mouthfeel than it's counterpart. The body is medium full, slick and creamy. A big hop bitterness comes through at the finish which is more than likely accentuated by the dryness that the honey provides.
D: Above average drinkability, all things considered. An inventive, very bold and assertive brew with an addictive nose and great flavor. I didn't have any trouble finishing the 24 ounce side by side for comparison's sake. Both beers are fantastic, but I think Either is the runner up here.
*Ty Ty honey comes from a native American chestnut tree that is said to produce large, honey sweet kernels of unparalleled taste and quality.
★
2,073 characters

4.4
/5
rDev
+11.4%
look: 4.5 | smell: 4.5 | taste: 4.5 | feel: 4.5 | overall: 4
Wow! Thanks to sorellenator for tossing this one as an extra in a recent trade! Review is from notes taken on 11/20/2010 and poured from the bottle to a pint glass.
Appearance: Whoa - pour looks kind of thick and viscous and it's deepest, darkest brown/near black; starts with a 1 and 1/2 finger creamy, dark tan head with good retention; body is opaque; head fades to a thin, uneven cap; a few spots and strands of lacing are left holding on to the sides of the glass; I'm most impressed by how thick this beer looks, just... awesome.
Smell: Tons going on here -- lots of hops right up front that are sweet and citric in nature (grapefruit, orange); sweet syrupy chocolate; a little bit of honey; a sweet fruity presence, perhaps? Or perhaps it's the hops that are swirling around my nostrils; touch of cedar that starts to come out more as it warms.
Taste: Very unique -- the cedar is quite potent and right up front, followed by those strong and citric hops, but rather than being entirely sweet and citric, there's a touch of grassy earthiness to them; very strong malt presence that brings about a strong presence of sweet and bittersweet chocolate; definite burnt and roast coffee flavors as well; slight presence of alcohol is blended in there, but for being just over 11%, it's very well masked. Really quite outstanding
Mouthfeel: The looks on the pour are quite accurate -- this sucker is thick! Body is of a solid, medium weight; carbonation is present, but really comes across as smooth; a thick, semi-dry coating is left on the roof of the mouth; belly is left warm from the high ABV.
Drinkability: An excellent beer that rivals any Black IPA/CDA out there, but more unique with the cedar aspect that only Cigar City seems to be doing (and they make me want to experiment with it in my own homebrewing as well); it would sit a bit heavy after a while though, and the ABV is certainly too high for too much, but I will say, for what it is, it is really quit solid and definitely worth checking out.
★
2,015 characters

3.9
/5
rDev
-1.3%
look: 4 | smell: 4 | taste: 4 | feel: 4 | overall: 3.5
On tap at the brewery.
This is a monster of a beer. It's black like a stout but with a hoppy aroma.
The flavor is boozy with notes of cedar, but the wood notes are kept in the background by the malt and alcohol flavors.
Glassy body, but what else would you expect from a beer that's 11.2 percent?
This is a special brew to be enjoyed slowly and in moderation. I don't think it really fits into any style -- not that that matters. Check it out.
I liked Or better (by a hair and not enough to rate differently) because it was even hoppier.
★
543 characters
2.88
/5
rDev
-27.1%
look: 4 | smell: 3.5 | taste: 2.5 | feel: 4 | overall: 2
Poured into a snifter. It looks like an imperial stout except that it doesn't appear to have the viscosity of one. And the thin foam is a little lighter in color. Otherwise, it's really dark.
Hops are right up there at the forefront of the nose, as expected. Pungent piney green hops, and a little of the acetone I sometimes get from CCB's stronger beers.
While cold, initially quite tasty. Tastes like candied hops with an underlying roast. As it opens up more, though, I'm not sure I'm that crazy about where it's going. This has a building menthol bitterness that to me starts to taste medicine-y. Wintergreen. Like being a little kid, getting used to the kiddie medicine, then all of a sudden you get a spoonful of Nyquil shoved down your throat. I liked it cold, so I guess I should have downed it faster.
Good moderate-heavy greasy, sticky mouthfeel through.
I'm probably not going to finish the glass. Ultimately, if it's Friday, I got out of work, and I can't finish a beer...that means I just wasn't that crazy about the beer. I think this would be a better "Black IPA," at least to my liking, if it was dialed down to around 9%. As it stands, I'd much rather have a Sublimely or a ST Iniquity.
★
1,211 characters
4.3
/5
rDev
+8.9%
look: 4.5 | smell: 4.5 | taste: 4 | feel: 4.5 | overall: 4.5
Pours pitch black with a one finger tan head with nice sticky lacing.
Tons of floral hops on the nose, a subtle sweetness behind it. Some roasted malt as well.
The taste is similar, lots of floral hops, but with a grapefruit/citrus character not present in any other Black IPA I've had. It has a roasted malt backbone and the alcohol does come through but in a somewhat unique masked way. This definitely tastes not only darker than any other Black IPA I've had, but also hoppier.
This is well carbonated, medium bodied, and silky smooth.
The best Black IPA I've had. Very solid. The high ABV does catch you a bit, so it's not something you can drink a lot of, but it's definitely something I would pay for again.
★
717 characters

4.28
/5
rDev
+8.4%
look: 4.5 | smell: 4 | taste: 4.5 | feel: 4.5 | overall: 4
A-Viscous and black with a one finger mocha colored head that has very good retention and leaves an admirable amount of sticky lace. Great looking beer.
S-Earthy, grassy hops greet you first, followed by some bakers chocolate. A bit smoky and woody.
T-A sweetness is immediately apparent, a bit of chocolate and maybe some of the honey used is contributing. At first the sweetness is a bit surprising, but then my taste buds are bombarded with earthy hops and dark roasted malt. The cedar contributes (as with the nose) with a smoky, woody characteristic. Very interesting, complex and different, but very enjoyable. No hints of booze which is surprising given the abv.
M-Full bodied and lush, slick and oily. Coats the palate thoroughly. Relatively low carb level.
D-Its a sipper no doubt, but very enjoyable and easy to drink.
This pours, has the look and mouthfeel of an Imp. Stout. A very interesting and different beer from the great folks at CCB! I love this brewery! Can't wait to try "Or" tomorrow night.
★
1,017 characters
4.32
/5
rDev
+9.4%
look: 4 | smell: 4.5 | taste: 4.5 | feel: 4 | overall: 4
Head to head of Either and Or, will try to keep this mostly about Either.
Pours a pitch black with one finger khaki head, fades to a thin later leaving a wispy ring of fine lace.
Smell: big citrus hops, slightly green, dark chocolate syrup, sweet, mild roast, a touch of cedar (looks at label, ok, aged on cedar, makes sense).
Taste: milk chocolate sweetness upfront, then a mild roastiness gets obliterated by ridiculous amounts of earthy and leafy hops with lemon peel coming in amidst a hit of booze then fading to a hoppy, sticky, and honeyed finish. Cedar in the aftertaste.
Mouthfeel: viscous, it could maybe use just a little more carbonation. Building alcohol.
This leaned more towards a lighter impy stout with a crapton of hops. My favorite of the pair.
★
769 characters

4.5
/5
rDev
+13.9%
look: 4.5 | smell: 4.5 | taste: 4.5 | feel: 4.5 | overall: 4.5
Ok... sometimes styles get hard to describe. This one is hard. but I spoke with Joey Redner and he said Black IPA would be close. I guess imperial Black IPA..
Nice beer. honey does not stand out in either beer but the "or" beer is a little sweeter. Both are very hoppy and I think he said the "or" beer uses the hop extract where the neither doesn't. Both beers are made to the same style but have different ingriedents and intrepretations. Well.. .whatever the story is CC hits another homerun.
★
499 characters
Either from Cigar City Brewing
3.95
out of
5
based on
165
ratings.