Vuja De
| Cigar City Brewing
BA SCORE
80
good
86
Reviews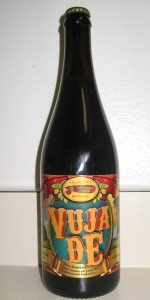 BEER INFO
Brewed by:
Cigar City Brewing
Florida
,
United States
cigarcitybrewing.com
Style:
American Wild Ale
Alcohol by volume (ABV):
9.96%
Availability:
Limited (brewed once)
Notes / Commercial Description:
Ale with Black Currants, Locally Foraged Lemon Leaves, Hibiscus, Cane Sugar and Elderberry Flowers.
Added by djmichaelk on 01-19-2011
This beer is retired; no longer brewed.
Reviews: 86 | Ratings: 159
3.64
/5
rDev
+4%
look: 3.5 | smell: 4.5 | taste: 3.5 | feel: 3.5 | overall: 3
Vuja de pours a dark murky brown with a .5 inch white head that settles to a ring along the perimeter of the glass.
Smells of funky sour cherries, lemon and sweet flower nectar. Quite confusing to narrow down, but very intriguing.
Taste is a smack in the face of very sour cherry, berries, and lemon. Sweet but not too sweet. Slight heat of alcohol at the end.
Mouthfeel is extremely crisp, like a champagne. Sting of high carbonation and a acidic aftertaste.
Drinkability for me is low due to the higher alcohol content. I really enjoy a glass every now and then, but no more than one.
Vuja De is a very complex beer.
★
625 characters

4.18
/5
rDev
+19.4%
look: 5 | smell: 4.5 | taste: 4 | feel: 4 | overall: 4
appearance: garnet red wine like color with lots of stick lacing, decent head rentetion for the style
aromas: subtle cherries and huge wild yeast aromas
taste: another huge sour from CC. lots of bing cherries, some barnyard in there, garden flowers. it's funky, but the sour finish is a little off.
mouthfeel: medium bodied
drinkability: better than the last sour they did. decent sour overall.
★
398 characters

3.87
/5
rDev
+10.6%
look: 4.5 | smell: 5 | taste: 3 | feel: 4 | overall: 4
A-dark brown, almost reddish. has thick reddish tan head to it.
S-wow this smells ridiculous! in a great way! very funky with a mix flavors that I just can't put my finger on. it smells very floral and sweet. i'm getting a bit of a chocolate scent, i'm pretty sure its not brewed with any chocolate malts, but i'm getting the scent.
T-it comes in with a great floral sour, funkiness. there could be some cherries in there. it ends with a grapefruit bitterness that goes in the after-taste. there's also a faint taste of caramel in there as well. its not bad but its a let down from what i was hoping from the smell. it isn't as complex as i was hoping for, but its not bad. the bitterness does seem to be a tad bit odd and almost annoying.
M-has a good medium carbonation with the the sourness always playing its part. has a nice crisp finish.
D-there aren't many 750mL bottles of a 10% brew that i'll drink by myself...but i could drink this one all night long. Its a really unique beer that i truly enjoy drinking. i wanted to drink it slowly but it has a mystique that makes me want to keep drinking it at a fast pace.
★
1,126 characters

3.92
/5
rDev
+12%
look: 3.5 | smell: 4 | taste: 4 | feel: 3.5 | overall: 4
A: murky brown, with a soapy white head. This is beyond haze, bordering muddy.
S: funk is upfront, with plenty of red wine vinegar and barnyard funk.
T: extremely dry, with heavy vinegar, bing cherries, and green apples.
M: dry and puckering, with little in the way of carbonation.
D: this was a pleasant surprise from fermentation lounge in Tallahassee. I hadn't heard anything about this beer, but I am delighted to have tried it.
★
436 characters
4.24
/5
rDev
+21.1%
look: 3.5 | smell: 4.5 | taste: 4.5 | feel: 3.5 | overall: 4
Had a snifter of this in the tasting room yesterday. This is a sour ale / wild ale that was brewed in collaboration with Bob Sylvester of Saint Somewhere Brewing.
A - pours a cloudy reddish almost brown color that almost looks as if it's separating as it settles. Pen width off-white head that remains present almost to the bottom of the glass.
S - Very sour at first with notes of lemon and hibiscus, un-ripe grapes, vinegar and a little bit of cherry mixed in. Definitely funky.
T - The first sip is a biting sour with citrus and black currant. This reminds me somewhat of Guava Grove. Further sips and the flavor starts to mellow and some berry notes become present. For a 10% beer, the alcohol is covered up very nicely.
M - Very nice combination of funky sour and a little bit of sweet.
D - I originally stopped in just for a growler fill and while I was there sampled this beer. Decided to stay for a glass and could have easily thrown a few more back.
★
965 characters

4.46
/5
rDev
+27.4%
look: 3.5 | smell: 5 | taste: 4.5 | feel: 4.5 | overall: 4
Fortunate enough to be able to try this collaboration brew with Saint Somewhere, served on tap at the CCB tasting room. If I remember it correctly, it's aged in wine barrels with currants.
A - Pours a murky ruby red, with a sizable off-white head, maybe two fingers. Good retention and lacing, and some gentle agitation brings it back quickly. Score would be higher with the exception of the murky quality.
S - Quite a bit of sour fruit upfront. Currants and dark cherry notes dominate, with plums, apricots, and peaches. A bit of brown sugar sweetness around the edges. A bit of funk at the end. Outstanding and very inviting. I found myself smelling this all afternoon.
T - Similar to the nose, with LOTS of that currant and black cherry. Not quite as sweet as the aroma made me think, but definitely more funkiness, especially in the finish. For a 10% beer, there's hardly any alcohol present. It's like a cross between Wisconsin Belgian Red and Consecration. If I could give it a 4.75 I would.
M - Like almost all CCB beers, the carbonation is spot on. Thick without being heavy, and strikes a great balance between dry and sweet.
D - Normally I'd knock a beer with this high an abv, but I sampled this one on a whim, and five glasses of it later I was still there. If it has been a weekend I'd probably STILL be there.
O - Tom said that there were a couple barrels of this around. I'm thinking it's only going to get better (and funkier) with a bit more time in them. Here's to hoping that this is still available during the Hunahpu release. And can CCB please bottle it?
★
1,584 characters
Vuja De from Cigar City Brewing
3.5
out of
5
based on
159
ratings.