José Martí India Porter - French Oak
| Cigar City Brewing
BA SCORE
81
good
54
Reviews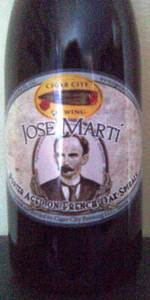 BEER INFO
Brewed by:
Cigar City Brewing
Florida
,
United States
cigarcitybrewing.com
Style:
American Porter
Alcohol by volume (ABV):
8.00%
Availability:
Limited (brewed once)
Notes / Commercial Description:
No notes at this time.
Added by jsanford on 03-21-2011
This beer is retired; no longer brewed.
Reviews: 54 | Ratings: 98

4.03
/5
rDev
+13.2%
look: 4.5 | smell: 4 | taste: 4 | feel: 4 | overall: 4
675th Review on BA
Bottle to Flute
750 ML
App- A dark dark brown. A lot darker than Bolita and had about the same head. Nice cling and some sheety lace.
Smell- A classic porter smell but not as thin. Dark roasts, a little coffee, some booze, some vanilla.
Taste- In the forefront is a very strong porter with the above nose taking over on the taste. On the backend you get a unique little treat from the barreling of this beer. The roast and chocolate are most upfront with a small vanilla.
Mouth- Medium bodied and medium carbonated. A little bit of the chocolate and oak flavors remain. A little dry.
Drink- This was a unique take on a very classic style. The French barrels really added a new dimension to this tasty beer. This was only my second CCB and it just happened to be a very unique one.
806 characters
4.03
/5
rDev
+13.2%
look: 4.5 | smell: 4 | taste: 4 | feel: 4 | overall: 4
Appearance: A rocky beige head caps the fudge brown-colored liquid and delivers an impressive lacing performance
Smell: Strong, oaky aromas underpin black bread, coffee, chocolate and vanilla
Taste: Black bread and molasses, up front, with the coffee, chocolate, vanilla and oak flavors building through the middle; after the swallow, however, the oak dominates though pithy hops also enter the profile; rather tannic in the finish
Mouthfeel: Medium body with moderate carbonation
Overall: Although the oak is powerful in this beer, there are a lot of other flavors present and I was rather pleased with the outcome
619 characters
4.05
/5
rDev
+13.8%
look: 4 | smell: 4 | taste: 4.5 | feel: 3.5 | overall: 3.5
A: The beer is very dark amber (near black) in color and poured with a finger high beige head that has good retention properties and consistently left a thin layer of bubbles covering the surface.
S: There are strong aromas of chocolate, coffee, oak and roasted malts in the nose along with some hints of vanilla.
T: Similar to the smell, the taste is very complex (due to the barrel aging) with flavors of chocolate and mocha along with notes of vanilla and hints of licorice.
M: It feels relatively full-bodied and smooth on the palate with a moderate amount of carbonation. There is a bit of dryness, which is most apparent in the finish.
O: The oak aging definitely adds an interesting level of complexity to this beer, which makes it a nice one to sip and savor.
767 characters
4.07
/5
rDev
+14.3%
look: 4 | smell: 4.5 | taste: 4 | feel: 3.5 | overall: 4
Pours a hazy very dark brown with two finger thick dense khaki head, settles to a quarter inch leaving a sheet down the glass. Smell: mild roast, a little plum, powdery chocolate, quite oaky, earthy hopping, hint of vanilla. Taste: moderate roast, bitter chocolate, plum skin, earthy and slightly citric hopping (toned down vs. the base beer), vanilla. Very nice but the finish is a bit dry and oaky for me. Stamped July 06 2011.
429 characters

4.13
/5
rDev
+16%
look: 4.5 | smell: 4 | taste: 4 | feel: 4.5 | overall: 4.25
2010
Huge frothy milk chocolate colored head. Brew is pretty dense for a porter. Great lacing
Lots of subtle leather and smoke. Caramely vanilla, tobacco, leather, only thing that detracts is the camp fire aroma.
Definitely loads of vanilla spice. Chewy, robust and deep. Carbonation starts high and has a smooth even finish. Bitterness is spot on, dry, true, earthy. Heat is non-existent.
Something to chew on. Definitely recommended with some time on it. Can't imagine what it's like fresh...intense.
508 characters
4.15
/5
rDev
+16.6%
look: 4.5 | smell: 4.5 | taste: 4 | feel: 4 | overall: 4
dark brown in color with no light cracking through this one at all. A smallish head, maybe a half an inch in height coming up over the top, never really did fade away as it kept that nice layer there throughout the session.
The aroma was just rife with whiskey and oak. roasted malts and chocolate like notes hiding right under its surface. Letting it warm really let the oak and vanilla start to become dominant, and a hint of alcohol started to present itself in the back end. The flavor was more of the same, rich, full bodied, I would have swore this was a stout in a blind tasting, but no, this indeed was apparently a robust porter. Luscious, velvet like feel in the carbonation never gave way. The flavor started with that warm influx of vanilla and whiskey, lots of caramelized malts and a light roasted or smoky note to it. This then rolled over with nice touches of chocolate rippling throughout
907 characters
4.18
/5
rDev
+17.4%
look: 4.5 | smell: 4 | taste: 4 | feel: 4.5 | overall: 4.5
From the 750ml bottle, I pour this dark brown liquid into my trusty snifter. Good pour - dark but not quite opaque. Solid foam retention - carbonation looks pretty near perfect.
My first impression sniffing this was "hops" rather than oak or roastiness, not unlike a Black IPA aroma. Brief impression, though, as there's more than that, thankfully. With just a little warming, it overwhelmingly turns to vanilla from the oak - oh yeah, definitely a super-oaky beer. I would probably guess American Oak, but French Oak it is. Those spirals have done their work for sure.
Somehow I wasn't expecting this to be as breezy a drink as it is. I have been critical of some CCB beers in the past for being too boozy, but 8% this one seems to have it spot-on, almost drinking like a 6% porter. Oh, it's oaked to hell and back, sure - so if that's not your thing I'd probably pass on this one. Lot of vanilla and a dry, flinty pine bitterness reminding you that underneath all the wood, this is a pretty hoppy porter.
If I'm throwing minor criticisms, I could actually do with it being less hoppy...so I'm probably going to sit on my other bottle for a few months.
1,159 characters

4.2
/5
rDev
+18%
look: 4.5 | smell: 4.5 | taste: 4 | feel: 3.5 | overall: 4.5
Big thanks to sendsilk for this bottle. It ranks as one of my top 3-5 CCB beers to date.
Black with a tan head. leaves excellent lacing on my glass.
Wow the aroma is flush with white oak. The French oak is actually distinguishable - it has a new furniture and more floral quality than American oak does. Nice char aroma from the malt with green hoppiness.
The flavor begins with big oaky notes as well. The oak tastes fresh, dry, and grainy. Loads of bitter green hops - the base beer is considered an "India Porter" by the brewery I believe.
Super dry mouthfeel from all that oak.
Overall the oak is borderline overpowering, and I do feel like half the people i shared this with at Jackie O's felt as much. But for me this was extremely delicious and showcases just how powerfully positive oak can be in the right beer.
825 characters
4.2
/5
rDev
+18%
look: 4 | smell: 4 | taste: 4.5 | feel: 4 | overall: 4
Thanks to phelps for sharing this.
A: a dark ruby, brown with a brown head. left some lacing.
S: nice aromas of dark chocolate, cocoa nibs, and smoke. i get some burnt sugar, roasted malt, and vanilla and oak. there is some sweetness in the aroma as well.
T: a nice mix of sweetness and roasty bitterness. a lot of the aroma comes through. dark chocolate, smoke, and roasted malt. there is some malty sweetness at the front, and then it finishes bitter with flavors of coffee, dark chocolate, and burnt malts. there is some toffee, oak, and vanilla notes.
M: medium-thin with decent carb.
O: this is a great beer. easy drinker, and very delicious.
657 characters
4.2
/5
rDev
+18%
look: 4.5 | smell: 4.5 | taste: 4 | feel: 3.5 | overall: 4.5
Picked this up at the tasting room probably about a month ago. Poured into my CC snifter
Very dark brown with light brown creamy head that slowly fades leaving solid lacing. Looks great. 
Nose is an excellent blend of dark chocolate espresso and oaky vanillin. with warming the oak starts to take over.
The first sip starts with a burst of espresso beans quickly becomes smooth chocolate with a hint of oak in the finish. Reminds me of chewing on a bitter chocolate covered espresso bean. As it warms the French oak becomes much more prominent and some slight funky acidity as it hits the tongue. 
The body is thick but slighlty oily; thinner than the bold flavors with moderator carbonation.
Overall this is an excellent Porter and the oak is adds a great new dimension. The oak spirals seem to create more of a "harsh" oak flavor than a barrel, but this is not a flaw. The richness and robustness of the porter can handle the oak spirals and create an extra flavor dimension that is very enjoyable.  I bet this will become even better with some age. If only I had more.
1,080 characters

4.25
/5
rDev
+19.4%
look: 4 | smell: 4 | taste: 4.5 | feel: 3.5 | overall: 4.5
Received in trade from MeadMe, thanks for the opportunity!
Pours a solid dark brown with a huge bubbly tan head that slowly recedes to lots of sticky lace. Smells of chocolate and roast with a hint of licorice, earthy and herbal with some faint woody notes. The flavor comes through with chocolate and roast up front that segue's to a vinous and earthy herbal flavor. The finish is a bit heavy on the woody, but nothing like the cedar aged stuff I've tried. Medium body with a moderate to heavy level of carbonation and a bubbly earthy oaky almost ashy mouthfeel. I've gotta hand it to Cigar City for always surprising my taste buds, this is another wonderfully unique beer that I'm glad I was able to sample.
709 characters
4.32
/5
rDev
+21.3%
look: 4 | smell: 4.5 | taste: 4.5 | feel: 4 | overall: 4
On-tap at Brewvival 2011.
Pours a very dark brown with a slight khaki-colored head. Wonderful aromas and flavors of dark malt, coffee, caramel, and milk chocolate with a definite oaky character that matches up perfectly and contributes nice vanilla and spice characters. Medium-bodied, very creamy with lowish carbonation. Already one of my favorite Porters, the French Oak really kicks it up a notch!
404 characters
4.35
/5
rDev
+22.2%
look: 4 | smell: 4 | taste: 4.5 | feel: 4.5 | overall: 4.5
awesome porter here. great bittersweet chocolate flavor. mild coffee notes. robust yet not too strong of a roasted taste. barrel ageing adds layers of oak and wine flavor that is subtle. not way strong a beer but still packs a punch with a cautionable abv at 8% and a lot of complex flavors. extremely smooth with a full mouthfeel. an excellent complex porter that is very unique yet very approachable. one of the best new style porters out there.
447 characters

4.36
/5
rDev
+22.5%
look: 5 | smell: 4 | taste: 4.5 | feel: 4 | overall: 4.5
Poured from 750 mL bottle into shaker pint glass.
A: Pours a very dark brown--nearly black--with very nice 2 inch frothy dark mocha head. Excellent retention and beautiful sticky sheets of lacing. Best porter I've seen...hands down.
S: Roasted malt, dry chocolate, sweet cream, vanilla, and a hint of oak. Mild coffee and alcohol notes. Very pleasant.
T: All sorts of stuff hits at once...and all good. Coffee with cream, roasted and nearly charred malt, soft vanilla/oak influence, dark chocolate, and a boozy kick. There is also a faint floral note in the background which is beguiling.
M: Medium bodied...but seems heavier. Initially soft and smooth, but quickly transitions toward an oily feel with an alcohol bite. A dry and bitter finish.
D: Extremely enjoyable and drinkable. Complex and not too much alcohol (8% seems perfect). One of my new favorite porters. Kudos to CCB on this brew.
894 characters
José Martí India Porter - French Oak from Cigar City Brewing
3.56
out of
5
based on
98
ratings.