Florida Cracker Belgian-style White Ale
| Cigar City Brewing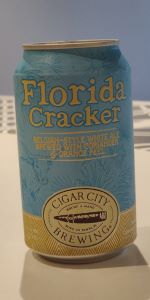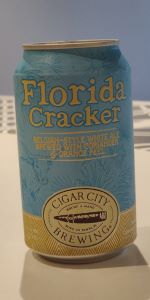 BEER INFO
Brewed by:
Cigar City Brewing
Florida
,
United States
cigarcitybrewing.com
Style:
Witbier
Alcohol by volume (ABV):
5.50%
Availability:
Year-round
Notes / Commercial Description:
Pours cloudy straw in color with moderate notes of orange peel, coriander and hints of vanilla. Flavor has upfront citrus with coriander notes that lead into lemon/lime like notes and finishes with citrus and flowers.
18 IBU
Added by ktrillionaire on 05-19-2011
HISTOGRAM
Ratings: 1,560 | Reviews: 233

3.2
/5
rDev
-13.7%
look: 3.5 | smell: 3.5 | taste: 3 | feel: 3.5 | overall: 3
A-golden slighty cloudy yellow. thin white head
S-good and spicy taste of fresh wheats and bananas. faint scent but decent
T-comes in with an aged taste of tobacco leaves, spices, wheats, and a lot of bananas. this taste lasts awhile along with some alcohol bite which is odd considering the ABV. not a clean beer.
M-medium and creamy carbonation with a dry finish
O-i always expect a lot from CCB so this beer lets me down. its fairly harsh for a witbier. it actually reminds me of the harshness of many wits from Belgium. this style should the kind you want to drink large amounts of all night long, but this just isn't the case here.
640 characters
4.05
/5
rDev
+9.2%
look: 4 | smell: 4 | taste: 4 | feel: 4.5 | overall: 4
A: quarter finger head with a murky straw color.
S: sweet lemon citrus. fairly aromatic.
T: more lemon up front with a spicey/peppery finish
M: crisp, refreshing. Light to medium body but more than I expected. Semi dry finish.
Overall: Very nice beer for the Florida heat. The peppery notes add flavor without taking away from the refreshing nature of the beer.
365 characters
3.59
/5
rDev
-3.2%
look: 4.5 | smell: 3 | taste: 4 | feel: 3 | overall: 3.5
Had this on-tap at CCB, poured into a pint glass.
A: looked exactly like pineapple juice with a particular and intriguing yellow color. Small head that managed to stay on for a while. Little to no lacing.
S: a bit mute on the nose, some sweet scents along with citrus aromas.
T: followed the nose with emphasis on the citrus (lots of orange), some lemon and strong wheat presence.
M: medium body, very refreshing.
O: an excellent choice for hot summer days, this is a very refreshing and good tasting beer.
512 characters

4.3
/5
rDev
+15.9%
look: 4 | smell: 4 | taste: 4.5 | feel: 4 | overall: 4.5
I had this one on tap at Cigar City.
A: Mildly cloudy, light mustard yellow, with about a half finger or so head that stayed at least a bubble formation throughout the session.
S: Straight up orange peel and coriander. Pretty intense!
T: I got a smooth, honey-infused taste (along with the other ingredients I mentioned on the nose), with a very tropical flair from the fruit.
M: Mild lacing, and very organic fruit sweetness that wasn't cloying in any way. My wife said it best: "It was like biting into a Florida orange." Minimal lacing.
O: Awesome stuff, and if I lived in Tampa, I'd pick up growlers of this stuff all the time.
636 characters
4
/5
rDev
+7.8%
look: 4 | smell: 4 | taste: 4 | feel: 4 | overall: 4
hazy golden yellow. Lots of carbonation rippling up to the surface of this one. A nice three inch head of white foam came up and capped the top of this one, but settled down very slowly, leaving behind copious amounts of side glass lace.
The aroma started out very light. Nice touches of light malts, grains, with a touch of light fruit mixed in. Very floral with a light earthy tone to it and a really nice touch of coriander or orange peel way in the back. The flavor was more of the same, very light, with a very well carbonated and airy feel to it. Started out with a good bit of light grain, and started to mix in some light fruit and touches of orange and lemon as you go. Nice light earthy flavor in the middle, like flower petals, or light heather almost. Clean taste, with a quick finish that really just gets started before it dries out enough that that you are going back in for another one
902 characters
3.82
/5
rDev
+3%
look: 3 | smell: 3.5 | taste: 4 | feel: 4 | overall: 4
Pours a very lightly hazy golden yellow with a white head of foam on top. Head dissipates very quickly and leaves no lace.
Smell is malty with notes of citrus and floral and wheat.
Taste is malt, hops, citrus, vanilla and spices. Alcohol present but just warming after the swallow.
Medium body and effervescence with a slightly drying aspect. Nice lingering aftertaste though. I like this brew. Probably the lightest one of CCB's I've had to date but just as good as the reputation would lead you to believe.
508 characters
3.23
/5
rDev
-12.9%
look: 3.5 | smell: 3 | taste: 3.5 | feel: 3 | overall: 3
Poured on-tap at the Cigar City Brewing tasting room in Tampa. The beer was served in a pint glass, and it poured a slightly hazy, pale gold color with no head. The nose is very muted, with floral (juniper?) smells, and very light spicing. The beer is light and smooth, with flavors of slight sour citrus and a smooth, bready spicing. Light in mouth, this beer has an aftertaste that is mostly coriander spicing. The finish is minimal and quick, making an easy drinker.
469 characters
4.09
/5
rDev
+10.2%
look: 3 | smell: 4 | taste: 4.5 | feel: 3.5 | overall: 4
Growler poured into a tulip.
A: Hazy straw yellow color. Not much of a head to speak of, and what was there quickly faded to nothing, no lace either.
A: Spicey clove and herbal notes. Small citrus and grass followed by a nice malt backbone. Notes of banana and floral honey.
T: Really nice blend of sweet and spicy. Not spicy in the heat sort of way, more of a peppery note. The summertime floral notes balance well with the grassy hops and sweet malt. Finishes slightly dry and smooth.
M: Light body, slightly under carbonated. A touch slick, but in no way bad.
O: Very good summer brew. I could drink quite a lot of this in the hot summer days here in FLA. I hope this one makes it way back on in the future. Skal.
721 characters
4.3
/5
rDev
+15.9%
look: 4 | smell: 4 | taste: 4.5 | feel: 4 | overall: 4.5
Pours a murky light amber with two fingers of white foam, settles leaving wispy rings of lace along the way. Smell: spicy and slightly citric with light fruit esters, lightly toasted. Taste: pale sweetness, wheat cracker, a little sweet caramel, quite spicy, lemon, notes of clove and greenish banana. Light-medium bodied, active carbonation, spicy and mineral finish. More than your usual wit; amped up all around, except for the abv. From growler filled 5/21.
461 characters
4.1
/5
rDev
+10.5%
look: 4 | smell: 4 | taste: 4 | feel: 4 | overall: 4.5
On-tap at the tasting room. I wonder how long this brew will keep the name 'Florida Cracker' before someone gets up in arms over it.
A - The brew pours a hazy banana-yellow hue, and is capped with a moderate dollop of white froth that deposits a fair amount of lace upon the glass.
S - The nose is fairly dry and somewhat spicy, with suggestions of white pepper and clove, as well as some grassy notes.
T - This is just a nice beer, all-around, and perfect for the summer in Florida. Pale and mineral notes comingle with zesty yeast-imparted notes of pepper and clove. There is some dry lemon zest and some herbal-earthy continental hop towards the finish. It is more spicy and less fruity, on the whole, but it is quite well-balanced and certainly replete with nuance.
M - The feel is nice and refreshing, with soft carbonation; on the light side of medium-bodied.
O - Great summer beer, no doubt.
903 characters
Florida Cracker Belgian-style White Ale from Cigar City Brewing
Beer rating:
3.71
out of
5
with
1,560
ratings