Dismiss Notice
Dismiss Notice
110K+OT Batch #5
| Cigar City Brewing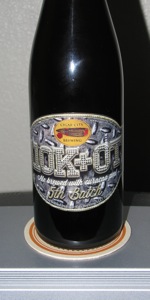 BEER INFO
Brewed by:
Cigar City Brewing
Florida
,
United States
|
website
Style:
American Double / Imperial IPA
Alcohol by volume (ABV):
11.00%
Availability:
Limited (brewed once)
Notes / Commercial Description:
No notes at this time.
Added by shand on 05-25-2012
This beer is retired; no longer brewed.
Reviews: 24 | Ratings: 117

3.78
/5
rDev
+0.5%
look: 4 | smell: 3.5 | taste: 4 | feel: 4 | overall: 3.5
Thanks to my cousin for this one.
A- Tulip pour with a dark amber body and a big creamy white head. Great head retention and immediate lace rings.
S- Big citrus and big caramel. The malt shines through like a strong ale lends caramel while the hops are citrus and herbal.
T- Again a balance between malt and hops. Big tasty caramel is smoothed out by big citrus peel, herbal and floral notes. Malty double IPA but still quite hoppy.
MF- Thick and oily body with moderate silky creamy carbonation. Bitter finish but not hugely so.
Solid orange peel citrus flavor on a big caramel malty base.
★
595 characters

3.33
/5
rDev
-11.4%
look: 4 | smell: 3.5 | taste: 3 | feel: 3.5 | overall: 3.5
A: clear, deep, dark yellowish orange in color. Forms a moderate sized off white head. Some light lacing.
S: not overly aromatic, but what is there is sweet orange and orange peel.
T: sweet, almost cloyingly so. Lots of orange, orange juice, orange peel. Actually this tastes just like a glass of curaçao, but not necessarily in a good way.
M: on the heavier side of medium. Slick, sweet, oily, and borderline cloying. Lower carbonation. Surprisingly mild bitterness.
O: This beer just misses the mark. Not a very good DIPA.
★
533 characters
3.88
/5
rDev
+3.2%
look: 4 | smell: 3.5 | taste: 4 | feel: 4 | overall: 4
750ml bottle poured into a Stone Imperial glass. A cloudy dark orange color. Tiny and few carbonation bubbles lead to a pretty large 2 finger head that is barely off white in color and creamy in appearance. Lace is incredible already.
Smell is on the malty side at first. Some darker citrus smells of maybe a pink grapefruit. Some over ripe orange and some bread and some alcohol.
Taste is extremely sweet but very similar to the nose. There are some of the darker citrus flavors I smelled, like blood orange and the pink grapefruit that really add to the sweetness. There is a bit of the alcohol burn I smelled but not at all overpowering.
Mouth is medium bodied with a bit of a bright carbonation. The finish is rather long and on the wet side. The alcohol burn is very minor for this 11% brew.
Overall I really enjoyed this but in the same way I enjoyed 120 Minute. This is a very big IPA and not the one your going to enjoy as you mow the lawn. This is a sipper of a beer and for the style not a strong suit to me but I did enjoy this quite a bit. Thanks to bluedevil23 for this poker payout.
★
1,102 characters
3.58
/5
rDev
-4.8%
look: 4 | smell: 3.5 | taste: 3.5 | feel: 4 | overall: 3.5
750ml bottle. Dated: 5/28/12. Poured into Philly Beer Scene Chalice.
A: Pours a deep amber like orange color. Very cloudy. I didn't get a lot of head. Off white ring around the edges. Alcohol feet. Lacing bits.
S: I get some fruit right away. I guess it's the curaçao peel. Then just sweet malts. The citrus pretty much dominates any really hop presence, even though I know it's there.
T: On the tip of the tongue, I got very faint hop bitterness. I was surprised by this. In the middle of the mouth, I get more sweet malt and fruit. It almost reaches a barleywine like flavor, but not entirely. The finish leaves you with more sweet malt notes.
M: Medium bodied. Thinner than I thought.
★
692 characters
3.65
/5
rDev
-2.9%
look: 4 | smell: 4 | taste: 3.5 | feel: 3.5 | overall: 3.5
750ml bottle I picked up at the brewery on Thursday. Poured into a matching Cigar City snifter, the brew appears a clouded burnt copper color. It has quite a deep orange look to it that nears more copper towards the middle. A rich yellowish stained froth is quite creamy and sticks atop the brew. As the cap slowly fades, it leaves a webbing of lace sticking to the glass. A light swirl revives nearly a finger back to the surface.
The aroma is quite pleasant with a citrus quality that is bold with an orange character. There is a bit of a melon note mixed with some cheese and mild caramel graininess. The alcohol is present with a solvent to fusel touch that initially accents the fruity citrus qualities and as it warms becomes more apparent with its own standout qualities that draw out more of an herbal to grassy and pine smell.
The taste is herbal and hoppy with fruity and citrus quality. A bit of melon character is present which blends with an earthy and pulpy rind element. It is impossible to miss just how much residual sweetness is left in this brew which helps to mask the alcohol but by the same token also downplays some of the hop flavoring. The combination of bold fusel alcohol, sticky sweet residual sweetness and aggressive citrus/rindy bitterness is a bit taxing on the palate.
This is a medium to heavier bodied brew with a modest amount of carbonation. All elements you would expect for a DIPA are present but the sticky sweet quality really degrades the overall experience for me. This really reminds me of the last 110k+OT brew I had (batch 3) that I really did not like because of the ridiculous sweetness that overpowered everything else. While I feel this brew has too much residual sugar, it is nowhere near as cloying as batch 3. It is worth a try but not something I would seek out unless you really dig overly sweet IPAs.
★
1,859 characters

4.04
/5
rDev
+7.4%
look: 4 | smell: 5 | taste: 3.5 | feel: 4 | overall: 4
750ml bottle
A- Poured into a Cigar City tulip. Pours a dark amber color with an off-white head with good retention and lacing.
S- The aroma is very citrusy, most notably oranges from the curacao peel added during the brewing process. There is also some sweet malt and citrusy hops in the nose as well but the orange notes dominate here. Very nice!
T- Wow! As citrusy and full of orange notes as the aroma was, the taste may even have it beat. Sweet malt up frog with a ton of bitter orange peel, grapefruit and other citrusy flavors with a lot of bitterness in the finish from the hops and some warmth from the alcohol as well. 
M- The mouthfeel is medium bodied with a moderate level of carbonation.
O- Overall, another delicious beer from CCB. Can't believe this is the 5th year for 110K+OT, this is a very worthy batch. Can't wait for next years installment to the series!
★
882 characters
4
/5
rDev
+6.4%
look: 4 | smell: 4 | taste: 4 | feel: 4 | overall: 4
Pours a clear dark orange with a big, off-white head that lingers and laces.
Smells of piney, floral citrus, grapefruit, and some sweet bready character. Surprisingly malty.
Taste is maly/pine up front that goes into a more dank/pine middle before ending on a bitter yet slighty caramel finish. There are some lighter fruit notes but they do not jump out.
Full body and low to medium carbonation with notes of alcohol.
This is a big brew that has a good balance of alcohol, malt, and hop with the hop character just barely edging forward.
★
543 characters
4.04
/5
rDev
+7.4%
look: 4 | smell: 2.5 | taste: 4.5 | feel: 5 | overall: 4.5
Arrives a solid medium brown with a good fingerwidth head of light tan perched upon it. Clear with decent light penetration. Good lace.
Smell is light malt and sweaty armpits. A mildly acidic, mustiness. Honestly, the first time I've ever encountered that note!
Taste is malty, hoppy, rich, woody, slight evergreen, apple and wheat notes. Very interesting, quite complex with a good balance.
Full bodied, rich, smooth, somewhat drying, slightly warming. Light effervescence. A really good brew, too bad its another one-time beer by CCB. If you aren't put off by the nose, this is really good.
★
592 characters

3.79
/5
rDev
+0.8%
look: 4 | smell: 3.75 | taste: 3.75 | feel: 4 | overall: 3.75
750ml bottle, huge thanks to dolfan54fl. Picked up from the brewery this Sunday. Served in Hunahpu snifter.
A- Pours a fairly opaque dark golden reddish brown. Definitely darker then your average DIPA. About a quarter finger of yellowish-brown off-white foamy head that quickly recedes. Below average carbonation of small slowly rising bubbles.
S- Tropical fruity hop smell of guava, papaya, oranges, bananas, a little bit of grapefruit (not as much grapefruit as a lot of DIPAs, but more tropical fruit). A little bit maltier then your average DIPA. Sweet and definitely a little bit more aromatic then your average brew, not the most aromatic DIPA but smells good.
T- Sweet, malty, and lots of hops. Tastes of papaya, guava, oranges, honey, bananas, etc.. Definitely can taste the malts almost as much as the sticky hops. Not too well-balanced- malts dominate the hops a little bit too much for a DIPA in my mind, also a little bit too sugary. Pretty sweet fruity aftertaste.
M- Medium bodied, not too much carbonation. Finishes a little bit sticky and a bit syrupy. Easy to drink, abv well hidden.
O- This was a pretty good DIPA, however I've been spoiled by NorthEast DIPAs (Heady Topper, HF, Gandhi-Bot, etc.) and I can say this definitely isn't world class. I liked how it had a nice tropical fruit aroma + taste too it, which was a little bit different since it wasn't dominated by grapefruit hops. The downfall I thought was that the beer was too malty for a DIPA and was a tad bit too sugary/syrupy. Overall not bad for a DIPA- enjoyable to drink, just not as good as some of them out there. I recommend trying it.
★
1,628 characters

4.32
/5
rDev
+14.9%
look: 4 | smell: 4.5 | taste: 4.5 | feel: 4 | overall: 4
If you like fruity IIPAs, this is the new benchmark
A: Pours pretty dark for an IIPA - deep dark golden color, almost brown. The soapy head is pretty small for a beer of this gravity, decent retention
S: Tropical fruit-forward IIPA...tons and tons of either guava or papaya notes along with sweet, ripe citrus (grapefruit, orange). You can tell that this beer has some residual sugar in it. Malts give a seemingly sturdy caramel balance to it. Alcohol is noticeable as this decants.
T: This is a big, sweet beer. Not too sweet by my standards. Again, tons of tropical fruit notes in the flavor (guava, pineapple, mango, orange), solid bitterness that definitely helps to balance the sweetness. Malts give a little support and balance, but this is a fruity, hop forward Double IPA.
MF: Creamy velvety feel to it. Pretty big in body as well. Carbonation is right on par. The massive 11% ABV is surprisingly well hidden but warms your face and chest.
O: One of the most tropical-fruity beers I've had - drastically surpasses CITRA, Just Outstanding, Yulesmith, and anything else that I have put in a glass in terms of fruit. Very solid offering from CCB, but splitting a bomber is probably best
★
1,196 characters
2.76
/5
rDev
-26.6%
look: 4 | smell: 3 | taste: 2.5 | feel: 3 | overall: 2.5
Thanks to Dixonian for sharing this bottle. This is the first of the 110K+OT beers that I have tried and I am looking forward to it.
The beer pours an orange color with a white head. The aroma is incredibly sweet with a ton of sugar and toffee and a hint of fruit. Definitely not what I expected from a DIPA. The aroma is unfortunately more of the same. I get a lot of sweet orange and toffee notes, with some sugar thrown in. The beer tastes about like orange marmalade or jelly, with not real bitterness or other notes that resemble a DIPA. This beer is simply a sugary, sweet mess that doesn't work at all. Medium mouthfeel and medium carbonation. I don't understand the higher ratings because this is a mess that is just simply not drinkable.
★
748 characters

3.95
/5
rDev
+5.1%
look: 4 | smell: 4 | taste: 4 | feel: 3.5 | overall: 4
Reviewed from notes. Had on-tap at CCB tasting room. Poured into a CCB snifter.
A: A nice, deep reddish brown. Forms a small, just off-white head.
S: Tropical fruit, citrus hop aroma.
T: Dried tropical fruit (mango, maybe guava? figs?), citrus & pine hop flavors, but not overly bitter. There is a bit of spiced character. The sweetness in the beer reminds me of caramelized sugar.
M: Heavy, sticky mouthfeel. There is certainly an alcohol presence but, given the ABV, I think well-hidden.
O: Definitely good, and I left the tasting room with multiple bottles. I was just a touch underwhelmed though. Personal opinion - I think this leans more toward a hoppy barley wine, although my drinking buddy disagreed.
★
715 characters
4.67
/5
rDev
+24.2%
look: 4 | smell: 4.5 | taste: 5 | feel: 4.5 | overall: 4.5
750mL bomber poured into a snifter
Bottled on: May 23rd, 2012
per the Brewery this is billed as a "double IPA or hoppy barleywine", let's see
A: Pours a murky, very dark amber with reddish hues, and 1 fingers width of light tan head, which dissipates down fairly quickly and leaves a small amount of spotty lacing.  
S: Tons of citrusy hops and tropical fruits.  I get pineapple, lemon zest, mango.  The curaçao peel is certainly noticeable and is nice. There is a touch of malt sweetness and some booze.  Smells incredibly light, fruity and citrusy.  Just awesome.  
T: The initial sip is much heavier than the nose implies, very malty, and lots of sugary sweetness, with citrus on the finish. The first couple of sips I thought this was merely alright, but wow does it grow on me as I drink it.   The citrus from the nose comes out in the taste, and is strong, and there is a degree of hop bitterness as well.  The hop presence is big, in fact huge, but the malts are equally large.  It is such a great combination of hops and malt sweetness.  As it warms in the glass the malts becoming stronger, as does the booze, but never to a fault.  The palate profile here is terrific.  
M/D: Very smooth, with moderate carbonation that allows it to coat the palate nicely, a fairly chewy mouthfeel, on the fuller side of medium bodied.  The 11% ABV is extremely well masked, and drinkability is impressive.  
O: Overall, this is great. This is hands down my favorite non imperial stout offering from CCB, and that says something. The only negative I can find in this beer is giving ratebeer.com a shoutout on the label but not beeradvocate. As far as if it's a double IPA or Barleywine, well Id lean towards IIPA due to the huge hop presence, however, the geek in me did some research and found the OG and SG's (which are printed on the label) don't meet the standard qualifications of a double IPA, but do for a Barleywine.   But really who cares, its all arbitrary.  Whats important is this beer is absolutely fantastic.
★
2,042 characters

4.5
/5
rDev
+19.7%
look: 4.5 | smell: 4.5 | taste: 4.5 | feel: 4.5 | overall: 4.5
Enjoyed on tap at the Cigar City Brewing taproom.
This beer pours a hazy orange color. It has a full, hoppy aroma with a strong malty presence as well. Very strong smelling. The taste is ridiculous. Lots of hops. Lots of malts. Lots of everything. Very strong, and very delicious. The mouthfeel is full and very carbonated, and the drinkability is good. Overall, this is a great beer that toes the line between a strong DIPA and a barleywine. In the end, I feel the very strong hop presence tips it over farther to the DIPA side of the scale. Semantics aside, it's a very good beer that is much better than last year's 110K+OT.
★
630 characters
110K+OT Batch #5 from Cigar City Brewing
85
out of
100
based on
24
ratings.