Moat Water
| Cigar City Brewing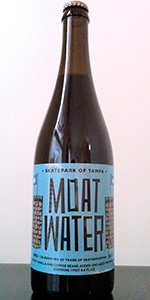 BEER INFO
Brewed by:
Cigar City Brewing
Florida
,
United States
cigarcitybrewing.com
Style:
American Double / Imperial Stout
Alcohol by volume (ABV):
8.00%
Availability:
Limited (brewed once)
Notes / Commercial Description:
A big stout brewed with vanilla and coffee and aged on maple veneers.
Added by Lare453 on 10-29-2012
This beer is retired; no longer brewed.
Reviews: 65 | Ratings: 364

4.39
/5
rDev
+1.2%
look: 4.75 | smell: 4.5 | taste: 4.25 | feel: 4.25 | overall: 4.5
A - Black with some brown around the edges when held up to the light
S - Chocolate and Vanilla bomb. It's like a liquid s'more. A nice roasty aroma and sweetness.
T - Not as smooth on the taste. Slightly overly bitter with the coffee. A nice vanilla kick on the back though.
M - Not as thick as anticipated, but still coats your mouth.
O - Sweet smelling and tasting with lots of roast and vanilla. Nicely done.
★
415 characters

4.53
/5
rDev
+4.4%
look: 4.25 | smell: 4.25 | taste: 4.75 | feel: 4.5 | overall: 4.5
Bottle from 10/26/12
Poured into Cigar City snifter.
Pour: Black, minimal head
Smell: Great! Coffee, very balanced coffee. Vanilla, roasted, wood and a sweet note.
Taste: A very balanced coffee up front. Not over the top but perfect. Vanilla, maple, and the awesome wood. Big roasted notes mingles with the sweet lactose notes creating an exceptional complexity.
Mouthfeel: Medium, silky smooth.
Overall: In a word...Fantastic!!
★
434 characters

3.91
/5
rDev
-9.9%
look: 4.5 | smell: 3.5 | taste: 4 | feel: 4 | overall: 4
Appearance - pourd a deep dark black with a mocha head
Aroma - strong scent of mud and funk followed hints of chocolate
Mouthfeel - thick and slick with a slightly dry finish
Taste -up front I get a tiny amount of maple then strong amount of bitter dark chocolate that finishes a little roasty
Overall- this beer is insainely unique . I have nenevr had a beer with this kind of funk(and I love sours and flanders reds) its strangely amazing .
★
447 characters

4.39
/5
rDev
+1.2%
look: 4.25 | smell: 4.5 | taste: 4.25 | feel: 4.5 | overall: 4.5
Pours a pitch black with a half inch brown head that fades away in about a minute, leaving the slightest of whispy heads on top. Carbonation appears strong and lacing is evident. Looks a little lighter than the usual motor oil consistency you see in a lot of big stouts. Good looking beer.
Smell is milk chocolate sweetness, vanilla, and coffee. A very pleasant smell, with all the notes playing off each other well. The more I smell it I can start picking up a bit of the maple, but I don't know that I can differentiate it that much from the vanilla at this point.
Taste is sweet up front and, well, never really comes that far off of it. A bit of a bitter coffee note lingers in the finish. No real hop presence to speak of. This is a desert beer for sure. I wouldn't call it cloyingly sweet, like ST Choklat for example, but the notes that dominate (chocolate, vanilla, maple) are all sweet notes for sure. The coffee comes in to try to even things out a bit, but I'm not totally convinced it succeeds.
Mouthfeel is a high point, as it is with all the CC stouts i've had to date. Coats the mouth and palette wonderfully. Creates a great vehicle for the flavors conveyed in this beer.
Overall, I really enjoyed this beer but have some reservations about the relatively unbalanced sweetness. Given the ingredients used, one can't help but assume that this is intended to end up on the sweet side of the IS spectrum, so how can I really hold it against them? With that said, this is still a silly drinkable beer and obviously one made with a great deal of skill. CC continues to impress me with the stout offerings. Would get this one again if I could.
★
1,657 characters
3.76
/5
rDev
-13.4%
look: 5 | smell: 4 | taste: 3.5 | feel: 3 | overall: 4
Cigar City Moat Water
Poured from a 750ml bottle into my Duvel Tulip.
A: Dark Brown/ Black with a brown head. Nice lacing. Looks very attractive.
S: Coco, Vanilla and minor caramel notes. Like coco puffs in chocolate milk with Hershey's syrup poured on top (ya a ton of coco).
T: Chocolate, Vanilla. Sweet, extremely sweet like Moo Hoo or Moloko.
M: Lots of coco in the mouth and nostrils.
O: Meh, its good but its too sweet. I wanna see what it ages into.
★
458 characters

4.27
/5
rDev
-1.6%
look: 4.5 | smell: 4.25 | taste: 4.25 | feel: 4.25 | overall: 4.25
Bottle received in trade poured into cigar city snifter. dark brown/black with a half finger cocoa tinted head that lingered. Smell of roasted malt, chocolate, vanilla and fresh coffee. Taste is creamy and full of coffee and vanilla. Heard this beer had fallen off but I was not disappointed. Excellent beer.
★
308 characters

4.53
/5
rDev
+4.4%
look: 5 | smell: 4.5 | taste: 4.5 | feel: 4.5 | overall: 4.5
2012 bottle
A: dark as night, black, with a 2 finger milk chocolate colored head on top. creamy looking delicious head.; a thick sticky lacing hangs around on the sides of the glass.
S: smells like breakfast. freshly roasted coffee with chocolate chip pancakes, vanilla, black coffee, and roasty malts with a toffee and caramel background
T: chocolate, vanilla, coffee beans, woody undertone from the maple aging. delicious tasting beer
M: thick chewy, creamy, medium carbonation
O: highly recommended. i had high expectations and am not disappointed
★
555 characters
4.45
/5
rDev
+2.5%
look: 4.5 | smell: 3.75 | taste: 4.75 | feel: 4.75 | overall: 4.5
750ml bottle. Out of my Sierra Nevada Tulip.
A- Pours a pitch black. The head is foamy and tannish mocha, and last forever. The beer and foam lace the glass heavily.
S- Somewhat faint. Vanilla, chocolate, and nice roasted malt.
T- A nice thick chocolatey flavor kicks things off with touches of coffee. The aftertaste is primarily vanilla, wood, and roasted chocolate malt. It's quite delicious. Everything just works well together, and is balanced.
M- It is rich and thick, and one could argue a bit heavy for an 8% ABV beer. I think it's just great though. CCB always kills it on mouthfeel with the stouts.
O- Overall this was very nice. Somewhat reminiscent of Victory at Sea, but much heartier and richer. I'd drink tons of this if I had it. It's relatively low ABV, and full of flavor.
★
797 characters
4.92
/5
rDev
+13.4%
look: 4.5 | smell: 5 | taste: 5 | feel: 4.5 | overall: 5
750ml bottle on Nov 14, served in a Tulip
A: A cloudy dense milk chocolate brown pour with a small amount of head that dies slowly
S: Fresh coffee, toffee, melted brown sugar
T: Yum, very coffee forward (which I like), followed by creamy milk chocolate and condensed milk. Very similar to a Vietnamese coffee with alcohol, very delicious.
M: thickish, but not as thick as I'd prefer. Carb was perfect.
O: Aside from BCBCS, this is my favorite coffee stout to date. Much better than say WnB.
★
491 characters

4.39
/5
rDev
+1.2%
look: 4.5 | smell: 4.25 | taste: 4.5 | feel: 4.5 | overall: 4.25
Bottle shared by Jaap. Thanks Jeff!
A-Pours black with a beautiful dark brown head. A quick swirl leaves sticky brown bubbles on the side of my glass.
S- Coffee, vanilla and chocolate. Pretty sweet and not very roasty.
T- Creamy, smooth chocolate milkshake. Very sweet with coffee, vanilla and subtle maple notes. Super tasty.
M- Mouthfeel is medium to full body, very creamy with lingering espresso on the tongue. NIce carbonation too.
O- Sooo drinkable for a big stout .Cigar city has this stout thing down. Every one ive tried to date has been fantastic and this one is no different.
★
591 characters

4.39
/5
rDev
+1.2%
look: 4.25 | smell: 4.5 | taste: 4.25 | feel: 4.5 | overall: 4.5
Drove an hour out of my way to Leuken's Liquor in Dunedin, FL. Awesome store and they had a bottle waiting for me. It was worth it.
Appearance: Pours a midnight black with 2 fingers of a dark brown head. Looks a lot like Marshal Zhukov's but not quite as dark.
Smell: Smells of huge syrupy chocolate, vanilla, cocoa, coffee, more dark malts, chocolate and some oak.
Taste -Taste is absolutely delicious. Huge chocolate upfront, syrupy sweetness, vanilla, and coffee.
Mouthfeel: Thick mouthfeel, syrupy mouthfeel. No alcohol detected.
Overall: One of the best coffee stouts and one of the best beers I've ever had in my life.
Solidifies Cigar City as one of my favorite breweries ever.
★
695 characters
4.42
/5
rDev
+1.8%
look: 4 | smell: 4.5 | taste: 4.5 | feel: 4 | overall: 4.5
Moat Water is a good beer. It looks(without the cream), tastes and feels like a good ol cup of joe. What you initially see is murky black lagoon and when held up to the light you can see the brown hue coming off the top; it's the darkest brown Crayola could conjure up. The head is nice, creating a one to two finger top that dissipates soon thereafter . There is nice lacing, but not long lasting.
The smell is a wake up call and the cock goes cock-a-doodle-doo. It's coffee, straight up. There is a sweetness I guess one can discern from smell that lingers, but it doesn't register as maple or vanilla definitively to me. I think it's there but I need to go through another bottle to be sure because I drank this one rather easily and fast. The coffee is strong with this one and tasty.
Taste follows the nose but leads to a much better place than a Toucan in the morning. It's that cup of coffee again that is well roasted with a touch of semi sweet chocolate with milk and sugar. I'm not sure I get anything from the maple wood whether distinctly maple or woody. This beer is delicious with barely a hint of alcohol present if not for the warming feeling in your belly. There's that dry, semi bitter aftertaste you get from coffee yet it's also sweet from the vanilla bean/chocolate malt notes and lactose. I like my sugar with coffee and cream. A nice balance on the rails of Tampa's skate park.
Mouth feel is good and what I want from a stout. Smooth with a medium to full body that you can feel fill your mouth up and journey downward. I would say there is room for more body. It's more medium bodied than what I would want, but that's a small complaint barely worth mentioning.
If I were to sum up drinkability I guess I could say I went through my 750ML bottle faster than a bottled water on an August afternoon in Florida. Perhaps a bit too fast, as I should have waited for it to warm a bit. I will need another bottle or case to truly evaluate this good beer. I say good again because for some reason I want to say great but hesitate as it does seem to be more coffee than anything else. The chocolate chip pancakes mentioned on the bottle are there but not as substantial as it sounds. The vanilla and maple wood are minimal and add sweetness along with the lactose but not a distinct flavor. Again, I need more of this beer to conclude my thoughts. However, this beer leaves you with the jingle, the best part of waking up is beer in your cup. (this was an awesome beer despite my quibbles about the beer.)
★
2,526 characters

4.22
/5
rDev
-2.8%
look: 4.25 | smell: 4 | taste: 4.25 | feel: 4.5 | overall: 4.25
Bomber into a snifter shared with friends. The brew appears deep black in color with few thin bubbles and minimal lacing. Half a finger of tan head retention quickly dissolves, but can be resummoned with a quick swirl of the glass. .
The aroma is earthen with strong notes of vanilla. Chocolate, coffee, and a hint of wood make appearances as the beer warms but the vanilla still dominates.
The taste is sweet vanilla, cocoa, and roasted malt but with very little to no bitterness. Coffee notes are drowned out to the vanilla. Minimal "maple wood" flavors detectable, but given how dense maple wood is I am not surprised it did not offer much flavor. Ethanol is minimally detectable. Very sweet stout overall makes a nice desert beer.
This is a full bodied brew with a small amount of carbonation. Extremely creamy, even more than a typical milk stout.
Overall, great beer that I would definitely drink again.
★
915 characters

4.7
/5
rDev
+8.3%
look: 4.5 | smell: 5 | taste: 4.5 | feel: 4.75 | overall: 4.75
Another delicious beer from the crew at Cigar City. The vanilla and espresso belong together as they blend so well. The smooth feel of the beer keeps you coming back for more. I have always enjoyed CCB's ability to mask high alcohol content with great flavor. I mean, you know you are drinking alcohol but its not in your face or spicy. I enjoy that.
Thanks and Cheers
★
370 characters
4.41
/5
rDev
+1.6%
look: 5 | smell: 4 | taste: 4.5 | feel: 4 | overall: 4.75
Drank at room temp, stored in a hidden compartment within a closet.
A: Pours an opaque midnight, bronze coffee head, mildly carbonated
S: Rich roasted black coffee, With notes of vanilla, Berries and maple syrup
T: Tastes of black coffee, dark chocolate, with a bit of alcohol, a reduced maple syrup and vanilla, with an essence of berry
Overall, Moat Water is a favourite of mine! A delectable, one time only brew! Bravo CCB and SPOT!
★
437 characters
Moat Water from Cigar City Brewing
4.34
out of
5
based on
364
ratings.