Life Is Like...
| Cigar City Brewing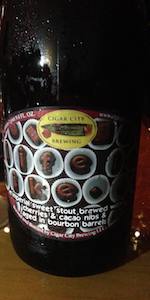 BEER INFO
Brewed by:
Cigar City Brewing
Florida
,
United States
cigarcitybrewing.com
Style:
Milk / Sweet Stout
Alcohol by volume (ABV):
15.00%
Availability:
Limited (brewed once)
Notes / Commercial Description:
Imperial sweet stout brewed with cherries & cacao nibs & aged in bourbon barrels.
Added by MatthewPlus on 08-15-2013
This beer is retired; no longer brewed.
Reviews: 58 | Ratings: 621

4.45
/5
rDev
-0.7%
look: 4.25 | smell: 4.75 | taste: 4.25 | feel: 4.5 | overall: 4.5
Bottle at World of Beers. Huge cherry and bourbon aromas. Dark brown pour with a light brown head. Monstrous Marciano cherry notes that give way to the smooth bourbon heat. Velvety chocolate, rich caramel, dark toasted malts, oak, and lactose undercurrents. Great mouthfeel with an above average body. Impressive and actually worth the $48 we paid for this bottle. Über complex with good balance.
397 characters

4.31
/5
rDev
-3.8%
look: 4.75 | smell: 3.75 | taste: 4.5 | feel: 4.25 | overall: 4.5
Poured from bottle into a snifter.
A: Pours just like a CCB stout. Black with hints of dark red/purple with very little light peeking through. A small tan head forms but quickly retreats into a very thin sheet on top of the beer. Nice lacing is creeping down my glass.
S: At first sniff I was overwhelmed with bourbon and sweetness. I liked it but it lacked the cherry scent I was hoping for. As she warms I began picking up hints of cherries.
T: The taste follows the smell. I got big bourbon flavor with hints of cherries on the back end. I couldn't find the chocolate taste in my first few sips. About halfway through this one I reached what I'll call the perfect temperature. Nice amounts of Bourbon with tart cherries following on the back end. I still couldn't pick up on much chocolate flavor in this one. Very sweet but not so much as to overpower the beer.
M: I feel like CCB always puts out stouts a little light for my personal taste but, they always coat the mouth so nicely I don't really mind it at all. Not much carbonation in here but enough to keep things very nice. If this was thicker it might not have been as drinkable.
O: A good sweet stout. If you enjoy a nice Bourbon flavor this beer is right up your alley. These two breweries made a beautiful collaboration(What else do you expect from these two though?). For an Imperial it's very smooth and drinkable. The mixture of bourbon and cherries is excellent in the taste. If you can try it I wouldn't pass up the chance.
1,497 characters
4.1
/5
rDev
-8.5%
look: 4 | smell: 4 | taste: 4.25 | feel: 4 | overall: 4
750 mL bottle poured into a snifter.
Appearance - Jet black. Thick and viscous. Like other Cigar City stouts, it stains the glass. Not much of a head.
Smell - Bourbon, sweet caramel, dark chocolate and fudge. Cherry is bright and a little bit acidic.
Taste - Bourbon incorporates well. Some vanilla. Lots of dark chocolate and fudge. Very sweet. Cherry flavor is a bit tart and lingers in the aftertaste.
Mouthfeel - Very thick and fudgy. Medium carbonation and boozy, especially as it warms.
Overall - I'm impressed. All the components are nice, but it's a huge beer. It gets very sweet as it warms.
609 characters
4.16
/5
rDev
-7.1%
look: 4 | smell: 3.5 | taste: 4.5 | feel: 4.25 | overall: 4.25
First full BA review!
Poured from 750ml bottle bought from The Brass Tap Gainesville.
A- What you would expect from this style, and, being a CCB Imperial Stout, then some. Head is small and retention is short, but stylistically typical nonetheless. The brew coats the side of the glass BEAUTIFULLY, a la Huna. Okay, I mean mini-Huna. But impressive.
S- The most disappointing aspect, but still quite good. Sweetness is most prevalent, but not overtly "cherry". Followed by vanilla then just a touch of bourbon. No alcohol or fusel notes. NONE. It does not prepare you for what is to come.
T- Wow. An additional sip is required for your taste buds to adjust and make sure the first impression was not a cruel lie. Three very distinct phases as it passes over the tongue. First is stout, rich and creamy, void of coffee "roastiness" and bitterness, which suits me just fine. The middle third is the bourbon character which is not overpowering. Lastly comes the cherry. And boy did CCB and Mikeller save the best for last. Sweet but not too sweet, powerful but not too powerful- you get the idea here.
M- At first glance, mouthfeel may be a bit thin. But I think this slightly thinner mouthfeel is what makes it so drinkable. Any thicker and they may have run the risk of the cherry sweetness becoming cloying and destroying the delicate barrel notes. As it is, the mouthfeel sustains a nimble and approachable consistency that is easy to overlook and dismiss as lacking.
O- A simply great beer. While the aroma may be more subdued than what is expected, it serves as "the calm before the storm" which makes this sweet gal even more of an experience. What impresses me the most is the placement of the bourbon barrel. Many BBA beers, most of which which are excellent in their own right, choose to showcase the bourbon characteristics right up front, or as a palate slamming uppercut in the finish. That is if the entire damn thing doesn't taste like bourbon. The integration, craftsmanship, and restraint is what sets Life is Like apart. I don't want to end on a negative comment, but $25 at CCB and much, much more at the select bars and bottle shops seems a little pricey. Believe me, I don't mind spending (way too much) money on beer, but this is on par with BBA Big Sound, which was $20.
I blame Mikeller.
2,318 characters

3.55
/5
rDev
-20.8%
look: 4.5 | smell: 3.75 | taste: 3.5 | feel: 2.75 | overall: 3.5
Last bottle in town. Yay! Pours deep dark black with a small dark brown head. Aroma of fudge, fudge, fudge, some light licorice, vanilla. Smells so freakin' rich. No cherry to start on the nose. Thick rich mouthfeel with medium carbonation. Flavor is sweet rich chocolate, tart cherry, vanilla, and finishing with a fudge bourbon left on the palate. Just a hint of alcohol burn. Not as much barrel as I was hoping. Definite dessert beer...guess I should have opened with a friend. Oh well. Not sure if I dig the cherry, as it adds an over the top sweet to this. Something to be enjoyed in smaller quantities. Gonna be a long night. 2 days later: only had a small glass fist night then let this sit in the fridge with a wine stopper for a couple days. Came back to it and while still crazy sweet, seems less so this time and a little creamier with lower carb. Still not keen on the cherry but a slight uptick and more vanilla today.
Yeah I'm just that guy that doesn't dig this. Wish I would have traded it for the crazy crap people offered up on the trade forums.
1,067 characters

4.65
/5
rDev
+3.8%
look: 4.5 | smell: 4.5 | taste: 4.75 | feel: 5 | overall: 4.5
A - dark in color with a light brown head which fades quickly
S - wonderful bourbon and chocolate aromas. as it warmed some, faint cherry smell came through some, but not as much as I'd hoped for
T - Starts out with big chocolate notes with bourbon mixing in as well. Not as much cherry as I would have liked initially. I let this warm for a bit, and yes! There it is! The cherry starts it off, and layers in so well with the chocolate and bourbon. A tad bit of heat here, and the bourbon does kick in towards the end. But this is simply delicious, and a wonderful dessert stout.
M - perfect. but what did you expect from these 2 brewers? It's not overly thick, which I rather like in this style of stout. It has a smooth velvet-like mouthfeel.
O - Phenomenal. Another homerun from CCB & Mikkeller, and truly a great dessert beer. Definitely let this warm up, as you get much more cherry flavor. Once it warmed, this beer really impresses with the layers of flavor on both the nose and mouth. I think the brewers hit the nail on the head for what they were going for on this one.
1,084 characters
4.73
/5
rDev
+5.6%
look: 4.5 | smell: 4.5 | taste: 5 | feel: 4.25 | overall: 4.75
Snagged this yesterday from the tap room. Debated on trying this so soon but I now need another to cellar
A- Pours a medium thickness , pitch black with the traditional creamy-brown head. DIssipates quickly, no crown.
S- Bourbon straight up, definitely hints of cherries and chocolate, slight vanilla. Almst concerning the little amounts of cherry scent since most flavored stouts I've encountered typically dont stack up to what Im hoping for.
T- Dear Lord, this might be a perfect dessert beer. Tons of sweet cherries and chocolate right up front. Bourbon comes in on the back end like a freight train but after the bourbon burn wears off all you can taste is chocolate cherries. Simply magnificent. You honestly could take one sip and be completely satisfied but youd be yearning for more
M- not as thick as i would like in an imperial but its nice because it coats the mouth well. It does have a slight syrupy feel afterwards or is that justnme drooling...cant tell, nor do I care.
O- Im not quite sure how to sum this one up, it really is a Cherry Cordial in liquid form. Theres plenty of Cherries for one not to be dissappointed or wonder if theres enough. I really would love to try this when it mellows out a little but I couldnt resist. Hats off to Wayne and Mikel for making this unbelievable beer. Seek this one out if you can, I'll definitely try to get some more.
1,382 characters
4
/5
rDev
-10.7%
look: 4.75 | smell: 4 | taste: 3.75 | feel: 4.5 | overall: 4
750ml poured into a Wakefield snifter.
Pours a deep, opaque black with hints of plum highlights. Even with an aggressive pour it's difficult to get much of a head; the one that is produced forms a rocky, garnet/khaki thin slice and dissipates quickly.
Nose is pretty impressive on this one... Black cherry, dark chocolate, a light alcoholic sweetness, bourbon, oak, and a hint of licorice.
Wow. The bottle says that the beer is an attempt to replicate biting into a cherry cordial, and i think they hit that pretty well! Follows the nose, with dark chocolate and candy cherries up front, supported by a slightly roasted malt base. Intermingled is a mild booziness with a light alcohol burn. The bottle doesn't state the ABV, but I'm guessing somewhere in the 9-11% range. Make no mistake, this is definitely a sweet stout, sweeter than what i typically prefer, but well done with well-integrated flavors. This is also being reviewed on the first day of release, which could be contributing to the heat on the palate.
Mouthfeel is pretty spot-on for the style, with very little carbonation leading to a rich, velvety texture. Not the chewiest stout I've ever had, but it certainly comes with a coating effect. Medium-long, sweet cherry aftertaste. But legit cherry, not a medicinal cherry flavor like i've found in some other cherry stouts.
Overall- I think it is a really well-produced beer, that accomplished exactly what the brewers set out to do. It is too sweet for my personal taste, and i likely wont seek this one out again, but for fans of the style, or if you're looking for a great dessert beer, you'll find it in this one.
1,640 characters
Life Is Like... from Cigar City Brewing
4.48
out of
5
based on
621
ratings.